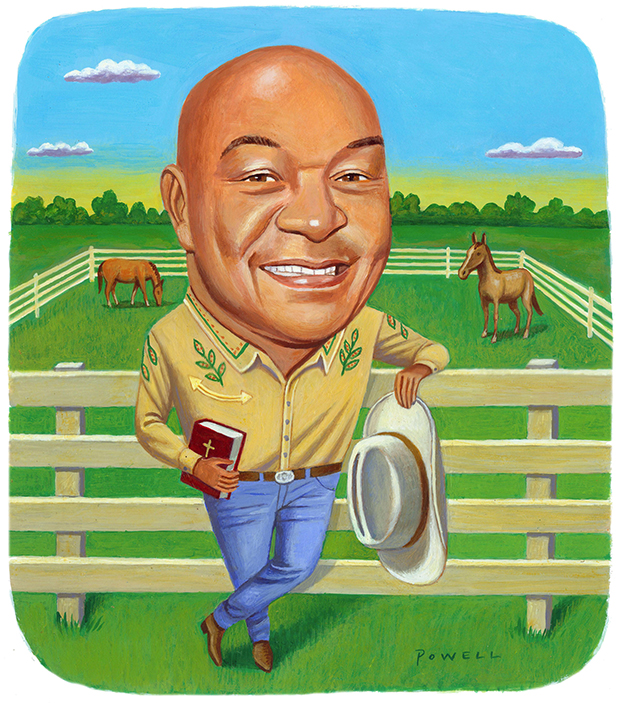 Maybe you know George Foreman the boxer. "Big George" notched a 76-5 record in his legendary career, including an Olympic Gold Medal in 1968, a world heavyweight title in 1973, and, following an improbable comeback at age 45, a second world heavyweight title in 1994.
Read more about George Foreman on his website.
Maybe you know George Foreman the pitchman. He sold more than 100 million George Foreman Grills before parting ways with the maker of the electric, indoor "lean, mean, fat-reducing grilling machine." (George says he still uses his grill; his favorite dish is salmon steak.)
Maybe you know George Foreman the preacher. Following his second professional boxing defeat in 1977, George experienced a religious conversion and started evangelizing. He now presides over the nondenominational Church of the Lord Jesus Christ in Houston.
Or, maybe you know George Foreman the entertainer. George travels internationally as a motivational speaker and recently starred in the NBC reality show Better Late Than Never, which chronicled his travels across Asia with Henry Winkler, William Shatner, and Terry Bradshaw.
At 68, Foreman, who was born in Marshall and grew up in Houston's Fifth Ward, has overcome significant odds since dropping out of high school and joining the Job Corps at age 16. George, the father of 10, and his wife, Mary, split their time between Houston and a ranch in Marshall.
Q: Do you still box? How do you get your exercise?
A: If I am going to do what I love more than anything, and that's eat, I am going to have to pay the price. And I have about 3,000 square feet of gym right next to my kitchen, so I work out as much as I can. I have bicycles, a punching bag, and lot of weights, but I don't box at all anymore.
Q: Do you miss competitive boxing?
A: I fell in love with boxing, which is the worst thing in the world to do because it's too much abuse. Sometimes I miss the workouts but not the actual fighting.
Q: How much of your time do you spend traveling?
A: A major portion of my time is traveling. As a matter of fact I just got back from Germany this Monday, and I'll be traveling to England at the end of this month by way of New York. I'm always invited out to speak and tell my story, the American story of which I'm so proud. And of course, I'm invited out to give my testimony about how I found God. A major portion of my time is in the sky. I sleep better in an airplane than in my king-size bed.
Q: What are some of your favorite places in Texas?
A: I love East Texas, and I know every inch from looking for places—farms roads and old roads—where I can get my trailer out and ride my horses. About twice every year I travel to Nacogdoches and visit my friends, and we have these trail rides around Nacogdoches. That is the most wonderful thing that I have going for me in my life, trail riding in East Texas.
Q: You bought your ranch in Marshall in 1976?
A: Yes. Of course, I had family that lived in Marshall. Occasionally my mom would go down and visit my grandmother, and we spent maybe a day or two. But once I traveled there in '76 with my uncle to take him home, and I discovered the beauty of springtime in East Texas, and I decided I was going to live there. I stopped what I was doing, and we bought a ranch instantly.
Q: What's the ranch like?
A: The ranch consists of about 600 acres. I raise a group of Brangus cattle, and my wife loves fresh eggs, so we keep a lot of chickens. It's a pig farm, too. And most of all it's a place where I love to fish. There are a lot of ponds with catfish and bream, perch, and bass. That's where you'll find me, under a tree, 80 percent of the time in Marshall. And I raise horses called gaited horses, and I love those horses. I raise them and ride them and train them myself, and I'm always being bucked off.
Q: Why have you stayed in Marshall and Houston?
A: I lived in California for a long time, and there's a lot of beauty to California. But springtime in East Texas captured my heart, going through Nacogdoches, looking at the green rolling hills and the horses. I knew then that this would be my permanent life. Of course, I have my church work. I got into the ministry in 1977, which means I have to keep my ministry going in Houston and then take care of my ranch in Marshall. I couldn't live without either place.
Q: What have you learned from raising 10 children?
A: The biggest thing about raising children is stability. I learned I couldn't do what I wanted whenever I wanted to do it. I was going to have to build my life on what was best for the family. Children teach you that. And I learned that if you raise children, you've really got to love them all the same, and none will ever think you love them all the same, though. You can't prove it; you've just got to do it.
Q: What's next for you?
A: The most important thing I'm working on now is a George Foreman comfort shoe. Those of us who call ourselves retired or whatever, we can't forget the most important thing and that's activity, that's walking. I'm designing a shoe you can dance in, play shuffleboard with your kids, go to the airport, go to Florida—a shoe that's so comfortable that someone will have to make you take it off.
From the February 2017 issue