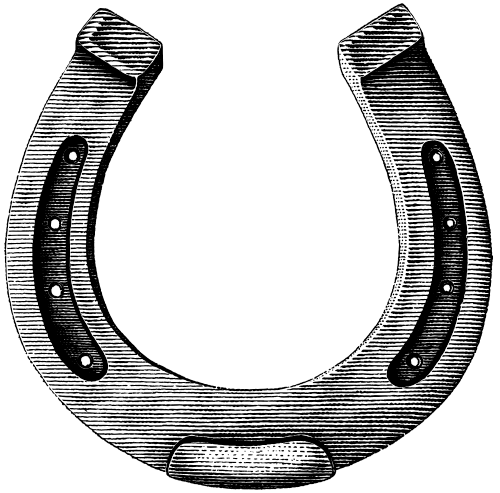 The evolution of the
Texas
Cowgirl
Cowgirl mythology can often obscure the genuine articles. From hardscrabble farm workers to bronc-riding beauties, cowgirls contain multitudes.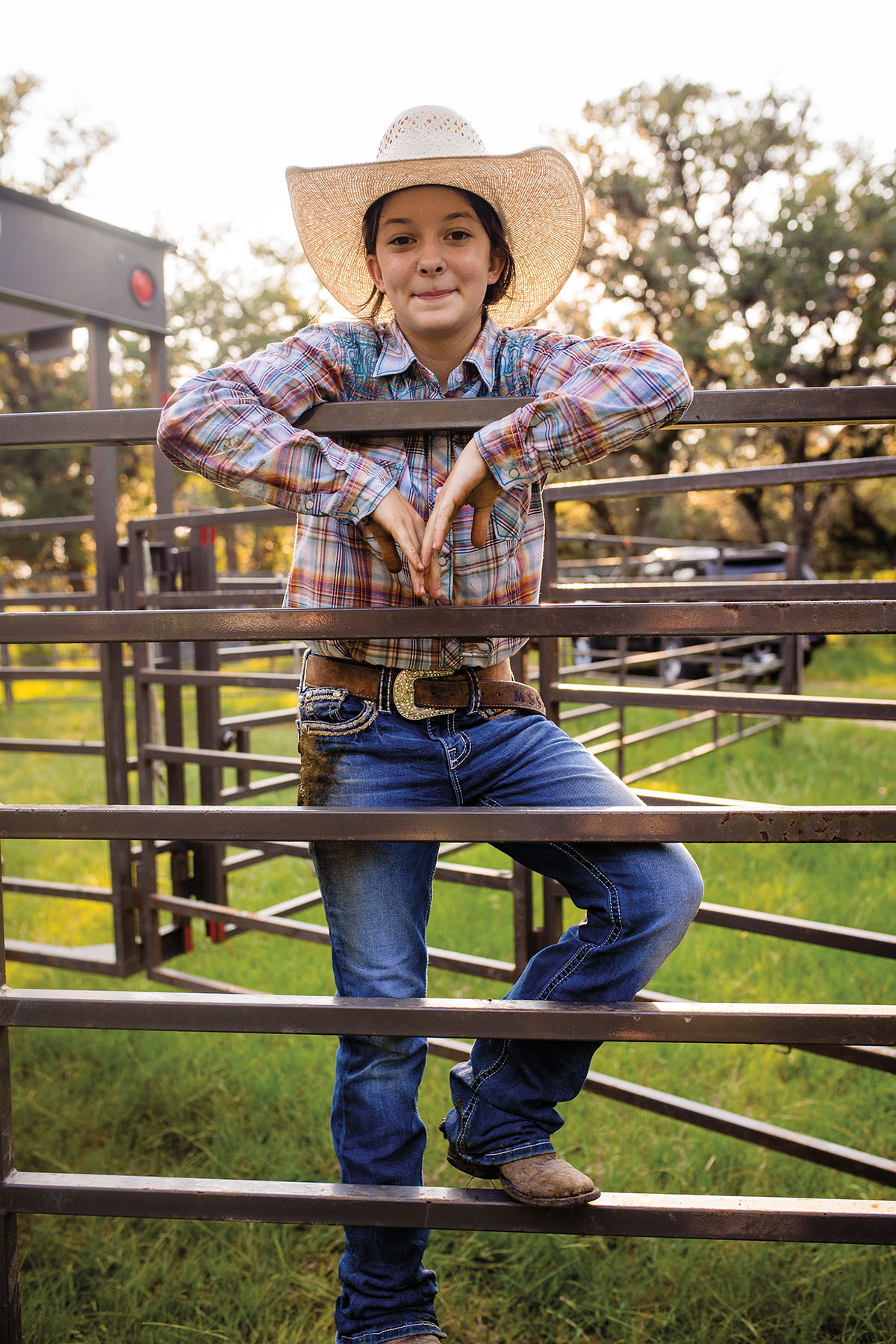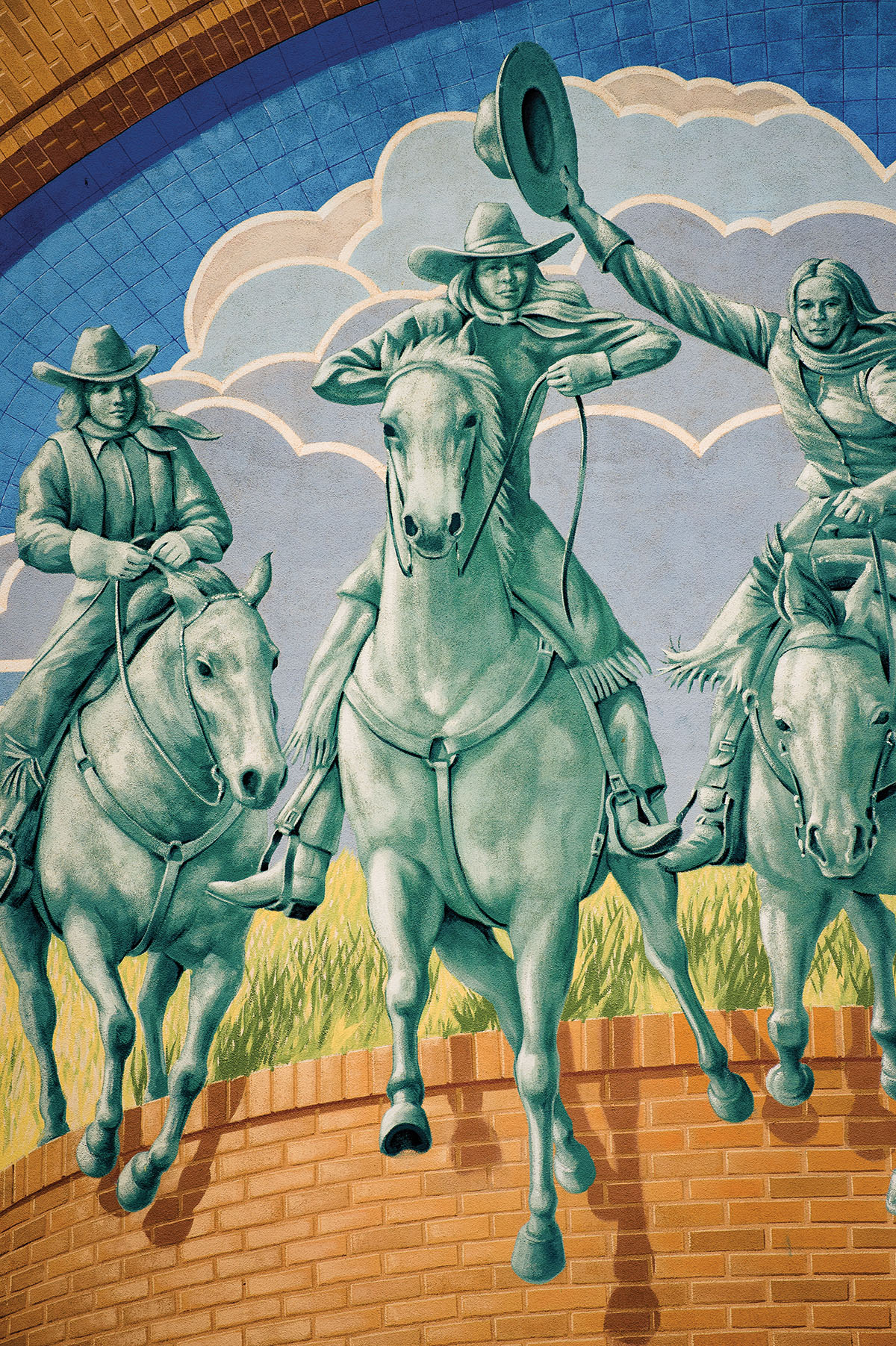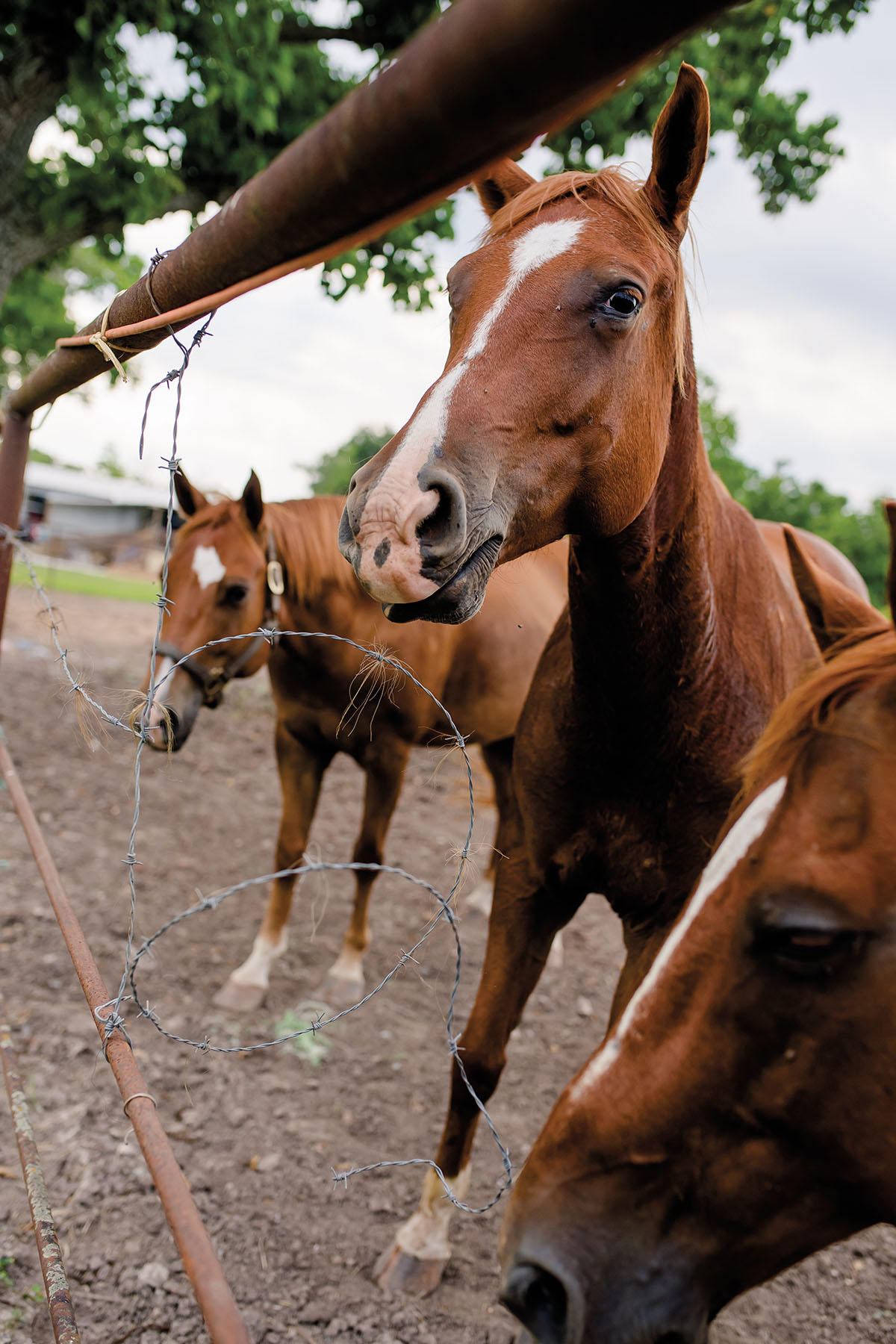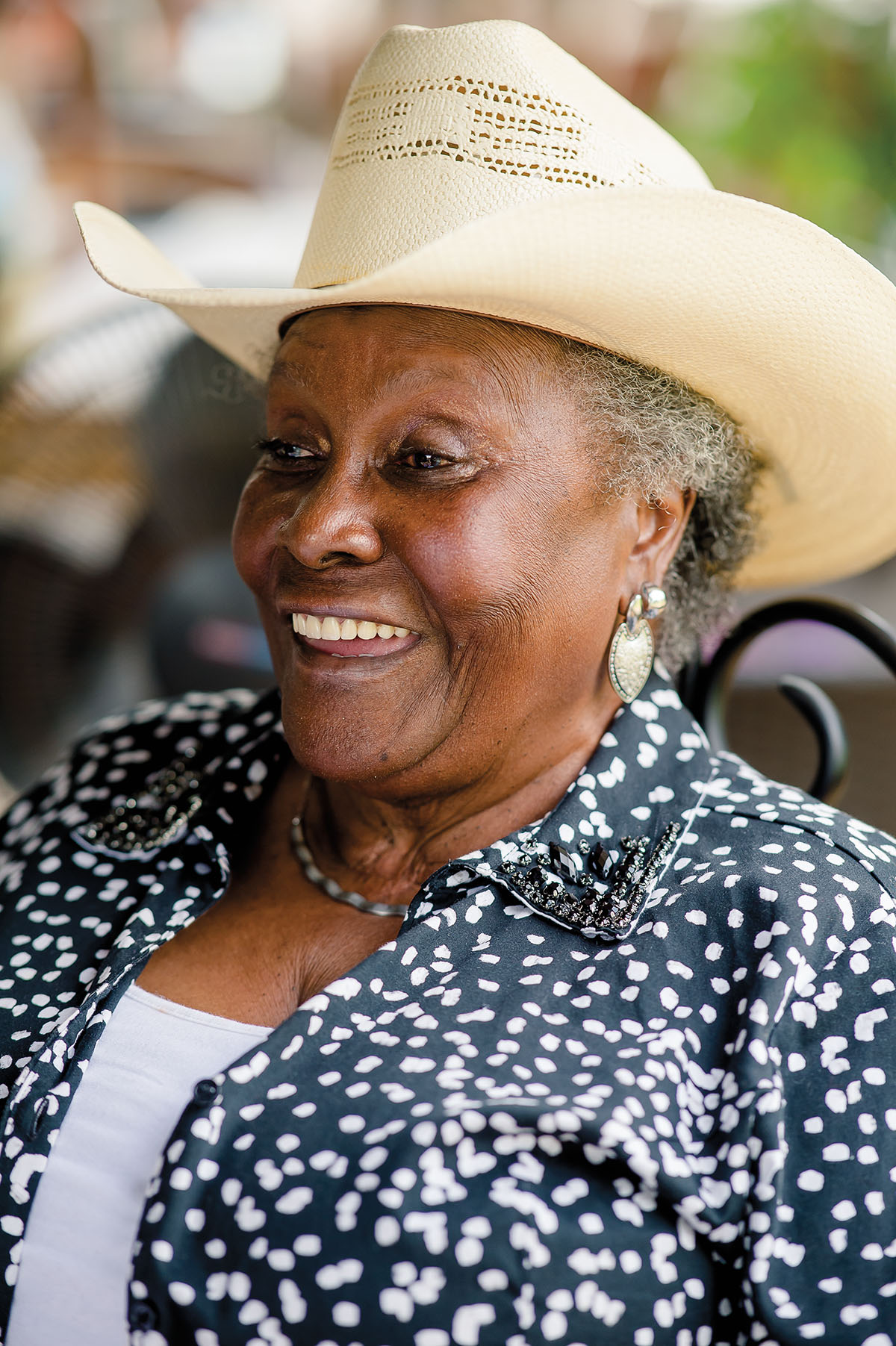 Mama Sugar swore she'd never move back to the country. "I didn't want to see the back end of a horse again," she says, offering the kind of chuckle you might expect from a woman nicknamed Mama Sugar. A chuckle with an entire narrative arc. Born in 1939 as Nathan Jean Whitaker—a boy's name; she got used to it—Mama Sugar was raised by her uncle in a tiny East Texas community called County Line, and by age 6, she had learned the land. Working the fields, herding the cattle and horses, picking the corn and peanuts and watermelons, which were the worst—so much labor to grow those danged watermelons she refused to eat them for years.
It was a cowgirl's childhood, though she didn't see it that way. It was just life. At an age when other kids rode bikes, she rode a sled, a homemade wagon with a mule in front used to plow the fields. She remembers her uncle setting her on the flat metal bed and handing her the reins. "Now get on to the house," he instructed, and she cracked the reins and let the mules glide her back.
The cowgirl is a figure both iconic and overlooked. The word calls to mind rodeo stars, or a fashion line of rhinestones and turquoise, but a cowgirl could refer to any woman tasked with the enormous upkeep of rural life. She might be outlaw or helpmate, cattle driver or keeper of books. Ranch wives like Henrietta King of the legendary King Ranch certainly qualify as cowgirls, although history has a way of only counting the women who did "men's work," rendering many cowgirls of the past invisible, even as their lore grew. The cowgirl became a romantic fable.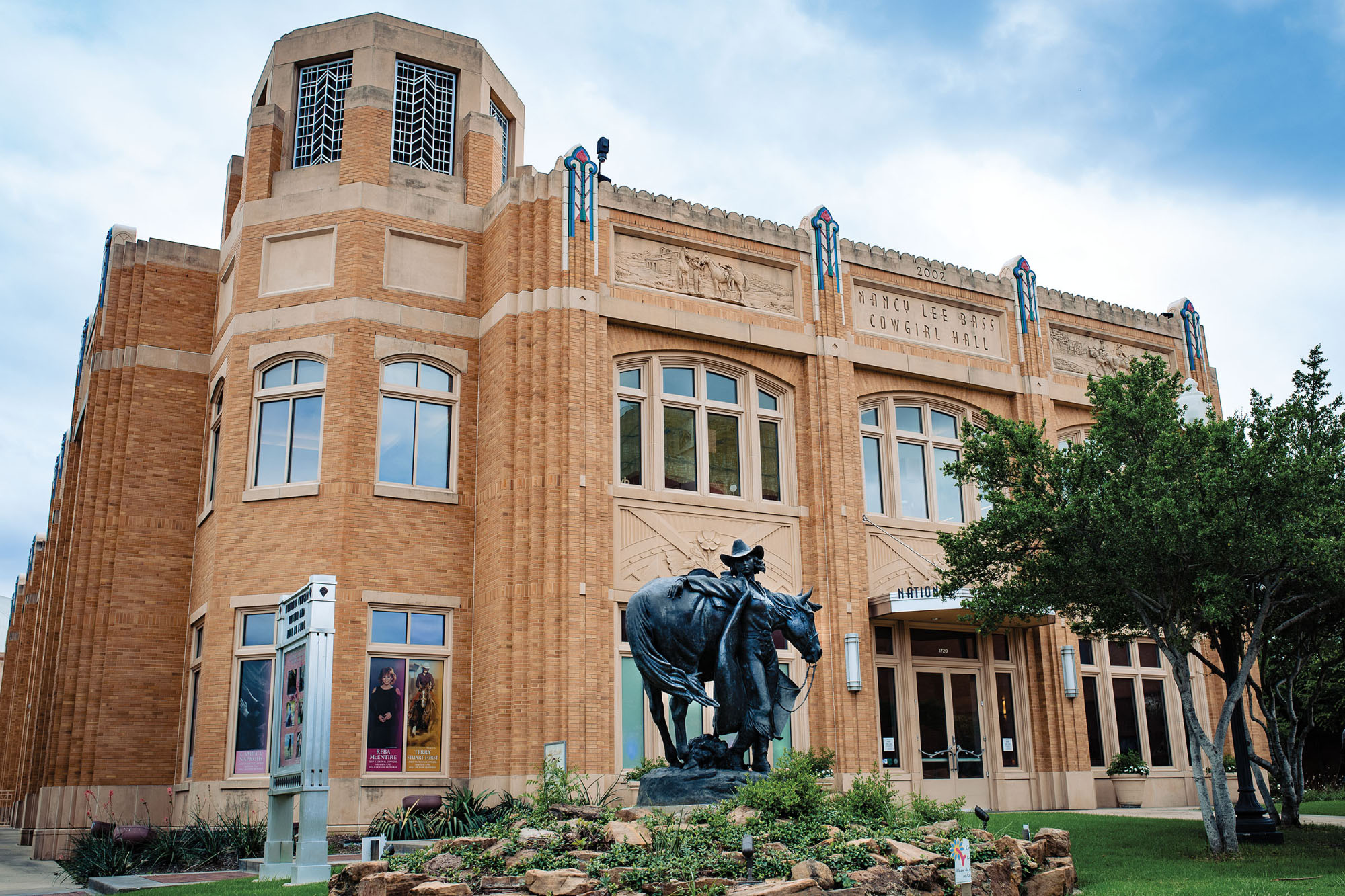 Mama Sugar didn't ride horses for fun; horses were for work. No time to gallop through the fields when they demanded so much attention. She liked school, though it was a 2-mile walk, and when she returned home each afternoon, she placed her books alongside the road while she tended the earth till the edge of dark, occupying herself by singing and reciting poetry. Give to the world the best you have and the best will come back to you. That Madeline S. Bridges poem was her favorite.
When she finally made it off the farm—to Houston, where she became a beloved fixture known, among other things, for her cooking and teaching Black folks to two-step—she swore up and down she'd never return to the country.
But life has a way of tugging you back. She spoke to me from the porch of her property in Fresno, a 30-minute drive south of Houston and four-and-a-half hours south of the fields she plowed in County Line. Now 82, Mama Sugar uses a wheelchair, but her daughter Vanessa positioned her so she could look at the horses swishing their tails.
Years ago, she had a hip replaced after she started limping. The doctor brought back the X-ray, and she remembers his exact words. "Lady, I don't know where the hell you come from, but you have done some hard-ass work in your life."
"The life I've seen?" She chuckles again. "Nobody knows."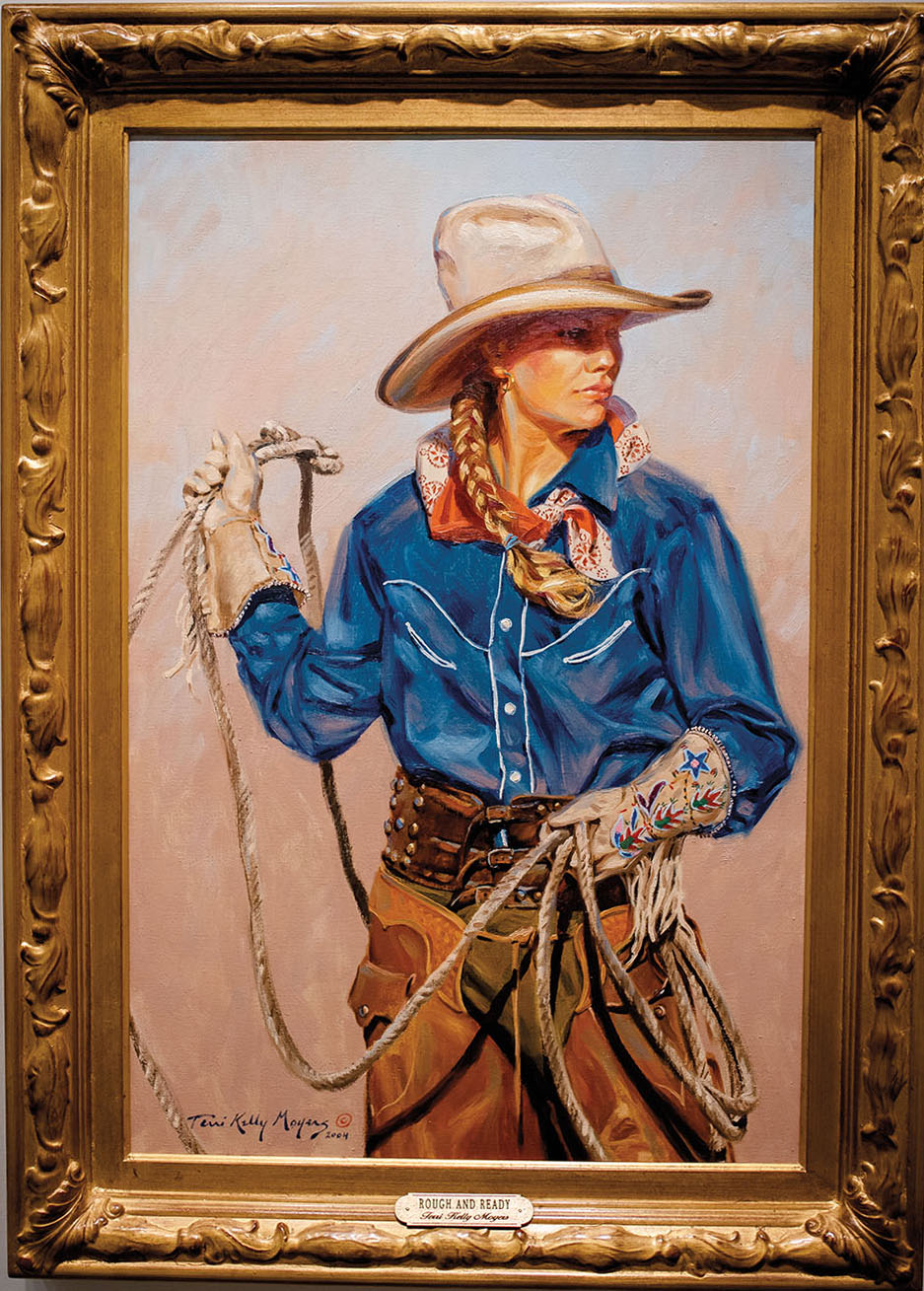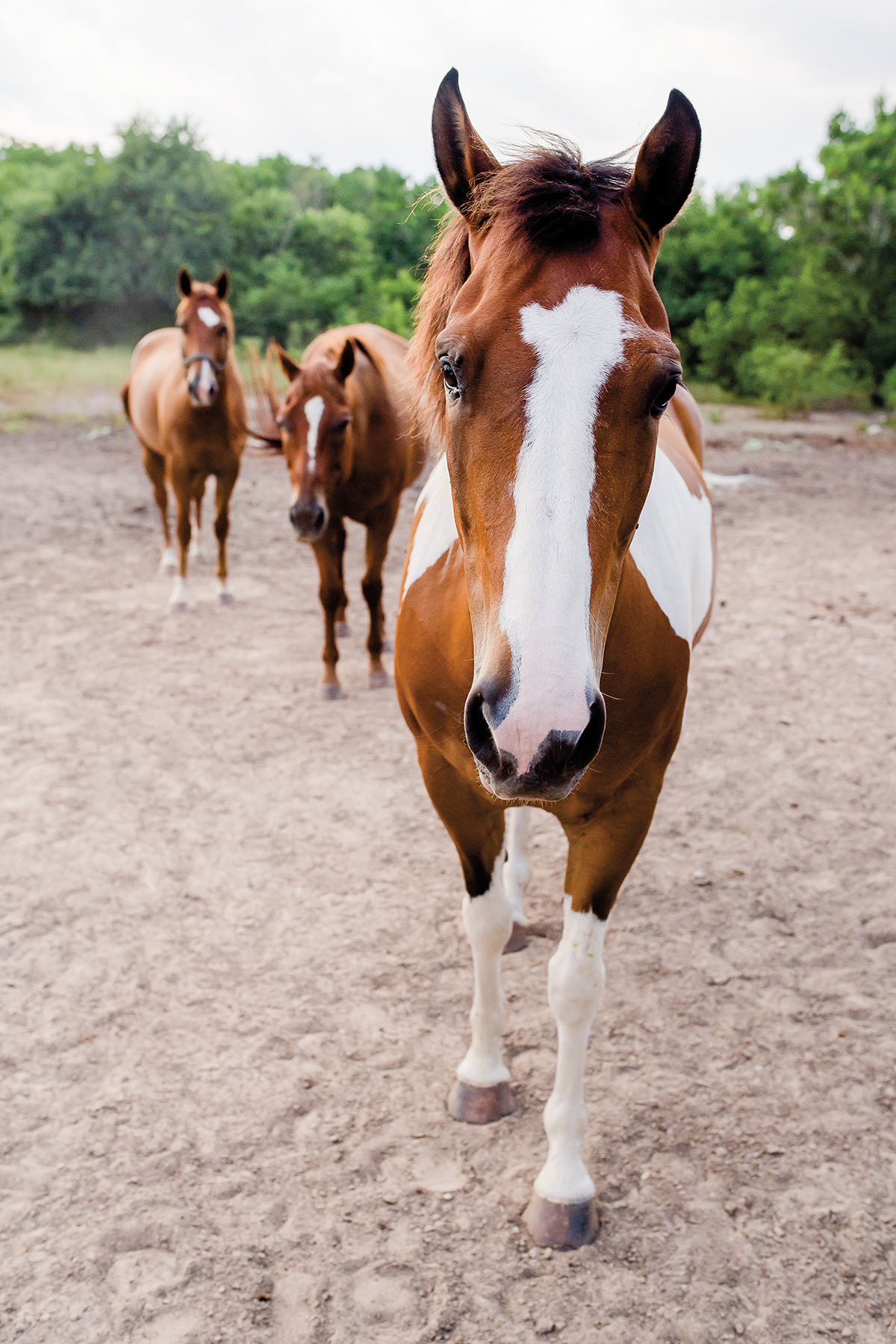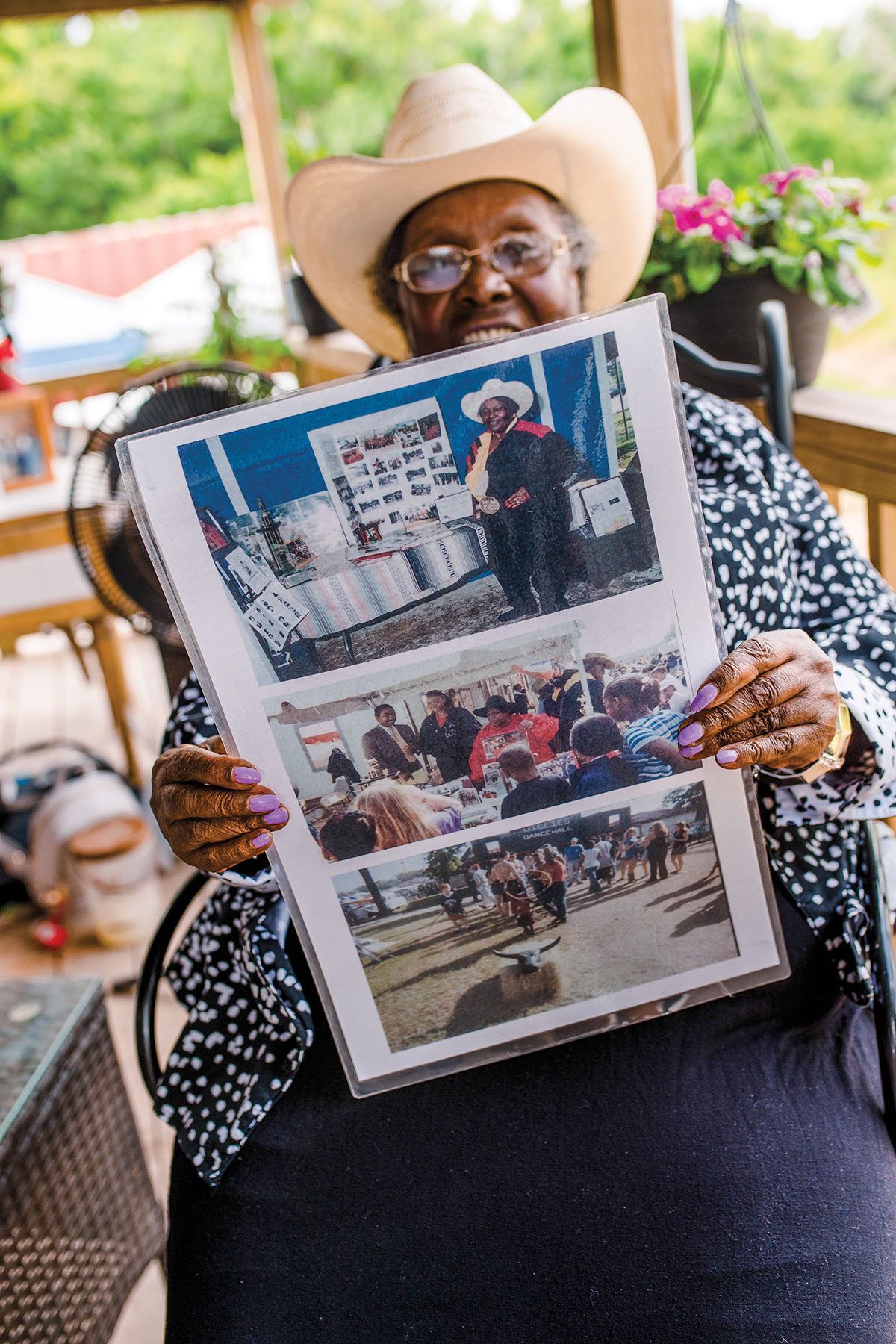 I reached out to Mama Sugar because I wanted to meet a real-life cowgirl. I'd become fascinated by the cowgirl mythology, though my education had been mostly relegated to gift shops I browsed on trips through Texas and the Southwest. The stores sold feisty T-shirts and postcards of pin-up types in hot pants and ten-gallon hats. A bit kitschy, but I was drawn to their spirit: defiant and glamorous at once.
I grew up in Dallas, only an hour and a half southwest of County Line but spiritually another planet. Dallas is a city of highway squiggle and tall glass boxes, and I considered my family hardscrabble because we never got cable. I was obsessed with Hollywood—not the Westerns I flipped past at the end of the dial but the glittering tales of Manhattan and Los Angeles, two great cities I have spent enough time in to realize I don't belong there. So, much like Mama Sugar, I moved back to the place that shaped me.
But I travel quite a bit, one more modern woman roaming the prairie in a two-door sedan. Five years ago, I stayed in the Calamity Jane room of the Silver Saddle Motel in Santa Fe, New Mexico, and as I read about the woman born Martha Jane Cannary—hard-drinking, dressed like a man but deeply maternal, an orphan who did what she could to survive, which included leveraging her body for money—I wondered why I didn't know more about these characters. They were so much more complicated than the cinematic mythos or the cutesy Varga girls who'd come to represent the brand. Cowgirls struck me as forgotten feminists, whose tales of making their way in a man's world remained untold in an era that loves to celebrate women's transgressive power.
Cowgirls have long operated outside the mainstream culture, though. "Many of the cowgirls preferred working cattle to campaigning for the vote, and riding broncs to discussing women's newfound independence," writes Elizabeth Clair Flood in her coffee table book Cowgirls: Women of the Wild West. The book is a primer on this fertile territory, reminding us of legends like tiny Victorian sure-shot Annie Oakley and Texas horse thief Belle Starr, whose unsolved murder (shot in the back in an ambush) made her the subject of paperback novels and landed her in two Bob Dylan songs. But Flood also introduced me to new heroes. Trick rider Alice Sisty rode two horses "Roman style" over a convertible in 1938 (Google it), looking like a female Evel Knievel. In 1925, Gene Krieg Creed rode bucking broncos to the title of "Champion Cowgirl of the World" at the Cheyenne Frontier Days in Wyoming. Her career ended in 1941 when her horse got spooked during a show and she fell, dangling from the saddle as the horse bolted around the ring. By the middle of the 20th century, concussions and fatalities contributed to the end of women riding broncs, though the practice is on the rise again as women claim a larger space in the rodeo circuit. But American audiences tend to fold the tent on anything deemed too dangerous for women (while football reigns as the country's favorite spectator sport), and whether such caution demonstrates respect for women or disdain for women is a debate for another time.
Flipping through the glossy black-and-white photos in the book, I noticed how contemporary these outsiders from the 1920s and '30s looked, with their short wavy hair, dirt-spattered pants, and slash of lipstick for good measure. Chic, pretty, with a touch of androgyny.
Many of those photos come from The National Cowgirl Museum and Hall of Fame, which began in a Hereford basement in 1975 but later moved to Fort Worth's Cultural District, a modest gem beside the opulence of the Kimbell Art Museum and the Amon Carter Museum of American Art. Recent renovations brought cool interactive features like a photo booth and a mechanical bull, but I was disappointed that many of the pictures that dazzled me in the book were not on display when I visited. Instead, an exhibit on women and their horses somehow included Miranda Lambert's pink guitar, Reba McEntire's TV script, and a display on Supreme Court Justice Sandra Day O'Connor, raised on an Arizona ranch.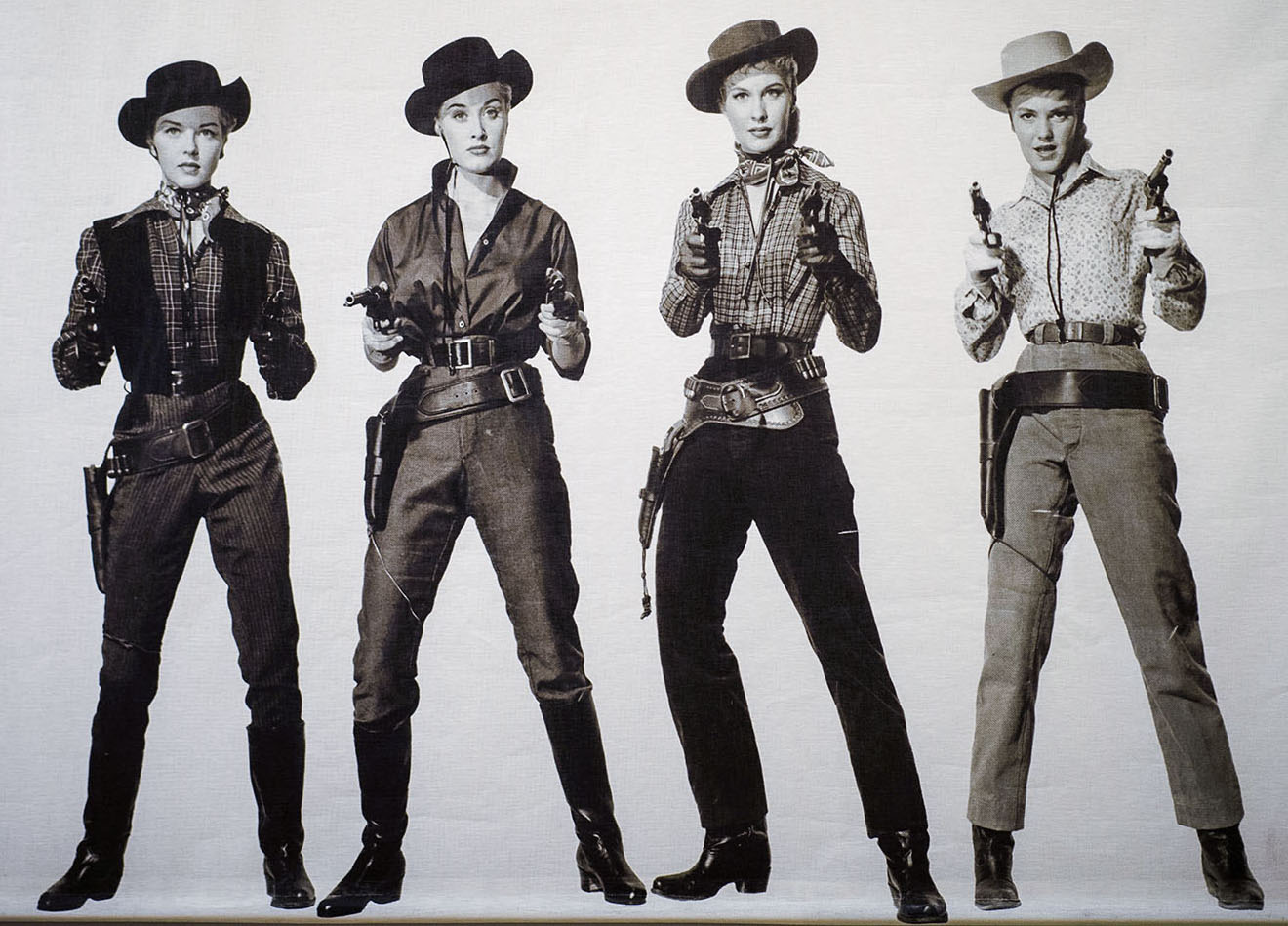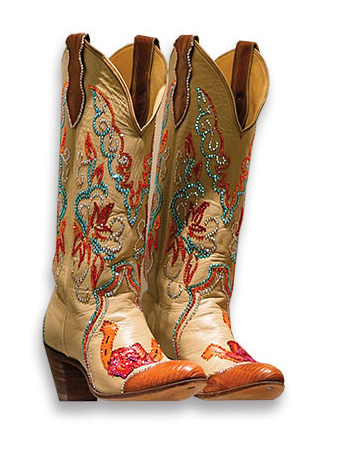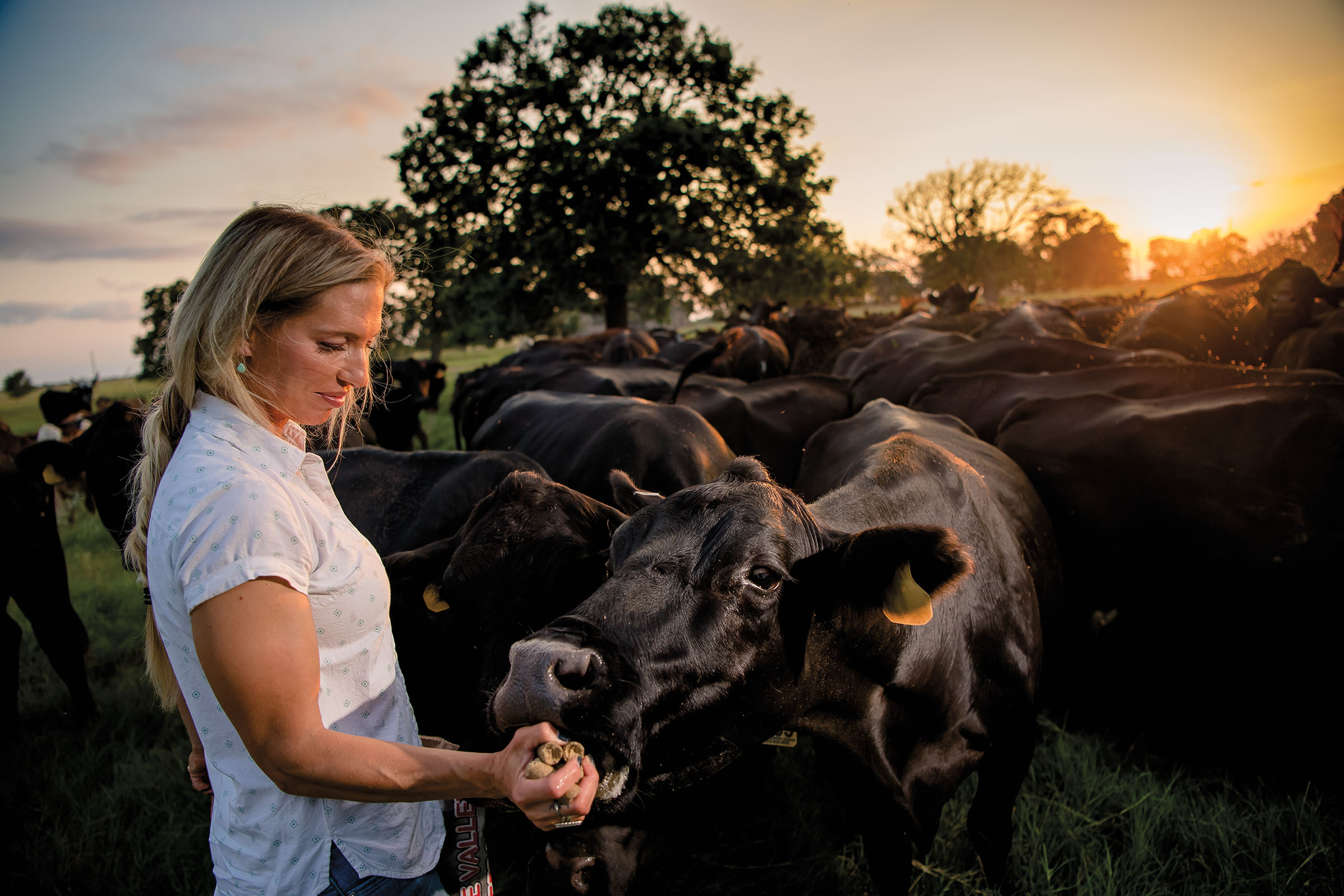 I got a richer sense of life as a cowgirl from the 2020 documentary Good Ol Girl, which follows three women steering the ranching world into the 21st century. Good Ol Girl was made by Austin-based filmmaker Sarah Brennan Kolb, who grew up traveling across Texas with her lawyer mother. At 7, she moved to an Arlington home where she could see horses in a pasture down the street but also Mr. Freeze, the reverse-blast roller coaster at Six Flags, and if that isn't a Texas girlhood, I don't know what is. Sarah struggled to find her place.
"I had a boyfriend in college who said, 'You're ambitious,'" Sarah told me over the phone from Coleman, where she was screening the documentary. "I was like, 'Thank you,' and he was like, 'That was not a compliment.'" She went on to pursue filmmaking in New York City but was tugged back to Texas. Her mom was representing a woman in South Texas who owned a cattle ranch. "I thought girls weren't allowed to do this," Sarah remembers thinking. But while some Texans may tut-tut ambitious women, that has not kept ambitious women from thriving.
The conflicts of Good Ol Girl will be familiar to audiences, even if the landscape is not. The protagonists are caught between work and family, old ways and new, being a lady and doing a "man's work."
"We're going through a huge period of transition environmentally, politically, and gender-wise," Sarah says. "I think that's scary for a lot of people, but it doesn't have to be. We can love where we're from, we can honor our traditions and our past, but also talk about things that need to change."
At a time when farms are collapsing and urban creep is endless, I had to wonder if the cowgirl was disappearing, but Sarah thinks the opposite is happening. "I've seen the rise in a few short years of young women joining the industry. The cowgirl isn't just going to survive in that realm, I think she is going to save it."
I asked Sarah to name her favorite cowgirls, and she expounded on Ann Richards, but then she mentioned a name I did not know, Cowgirl Hall of Fame inductee Mollie Taylor Stevenson Jr.—and my education expanded.
Before you meet Mollie Taylor Stevenson Jr., you must hear the extraordinary tale of her family. It begins pre-Civil War, when 16-year-old Edward Taylor contracted tuberculosis and moved back to his parents' ranch outside Houston near what is now NRG Stadium. This being 1856, the family purchased an enslaved woman named Ann George to nurse Edward back to health, but something else happened. They fell in love and lived as man and wife, though they weren't allowed to marry. Ann urged Edward to buy his parents' property in 1875, and they passed it on to their six children, who turned it into one of the oldest Black-owned ranches in the United States, the Taylor Stevenson Ranch.
Born in 1946, Mollie is the great-granddaughter of that couple. She learned to ride a horse named Hildegard barefoot when she was about 5. "Oh we had a time," she says. But the children also had to work the land. They took care of 30 or 40 cows, and Mollie remembers waving down cars on Almeda Road to let the cattle cross.
Mollie's cowgirl childhood was not typical, although maybe no childhood is. Her mother, Mollie Sr., traveled to the Yucatán Peninsula and returned with three serapes and enough items to open their own shop. Mollie Jr. (one of only a few female juniors she knows of) loved designer clothes so much she became a model, first in New York City and later in Kansas City, but eventually she moved back to the ranch. She once toured Oklahoma's National Cowboy and Western Heritage Museum and was struck by the fact that the exhibits included so few Black people. That's just how it was then.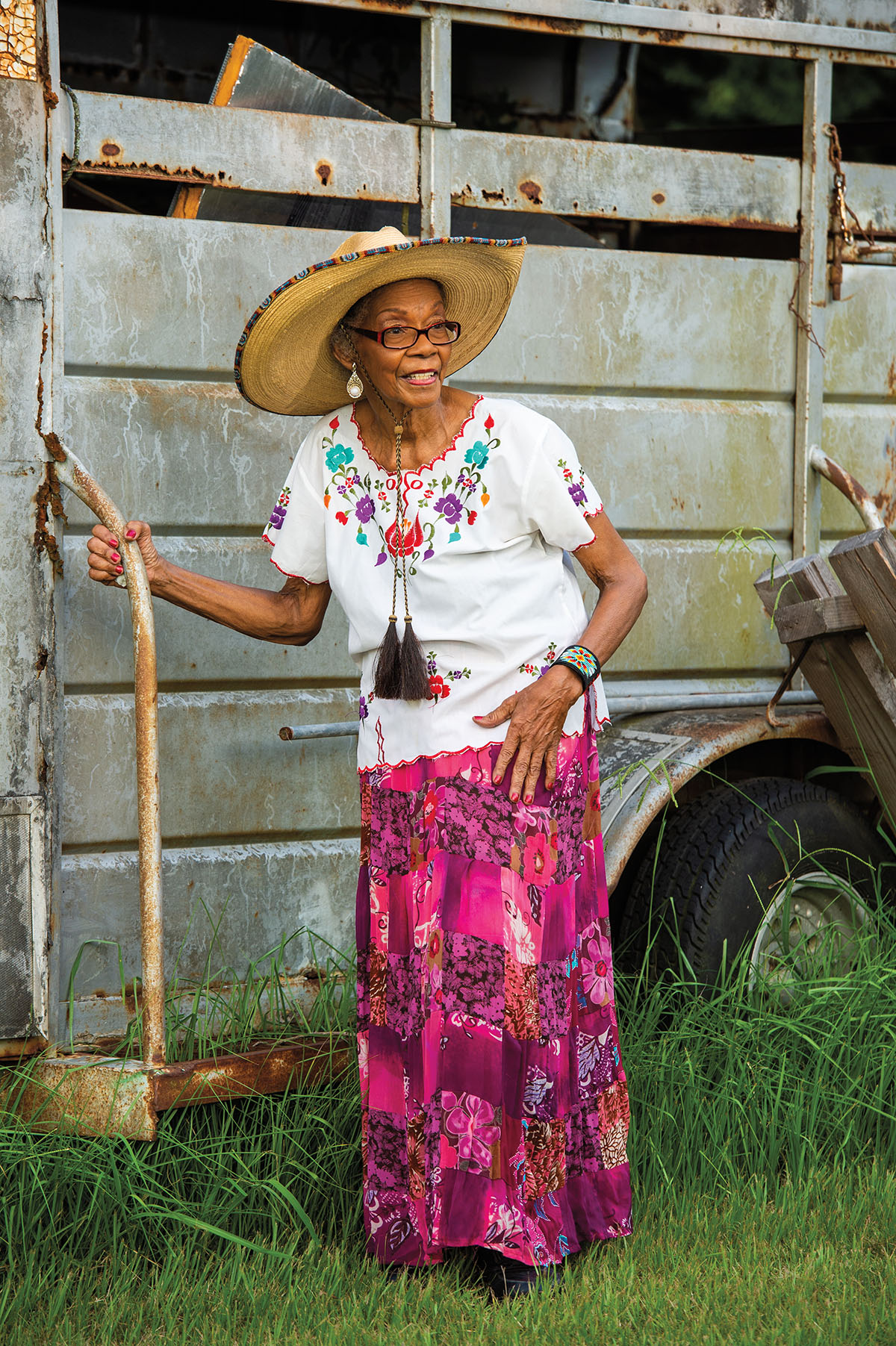 Mollie changed that, opening the American Cowboy Museum on the Taylor Stevenson Ranch two decades ago. It's a place that preserves and interprets "the art, history, and culture of the contributions of African Americans, Hispanics, Native Americans, and women to the development of the American West," according to the museum's website. There is a petting zoo and a collection of handmade quilts Mollie calls "a whole language." And of course there is Mollie, 74 and still living on the ranch, where she wears bright jewelry and Resistol hats, the straw kind easily shaped by the hands. "The more tattered they are, the more I like them," she says.
Mollie and her mother were the first living African American women inducted into the National Cowgirl Museum and Hall of Fame in 2001, but when I told her what this story was about, she informed me my cowgirl education was not complete.
"Have you talked to Mama Sugar?" she asked.
Now I had my next marching orders.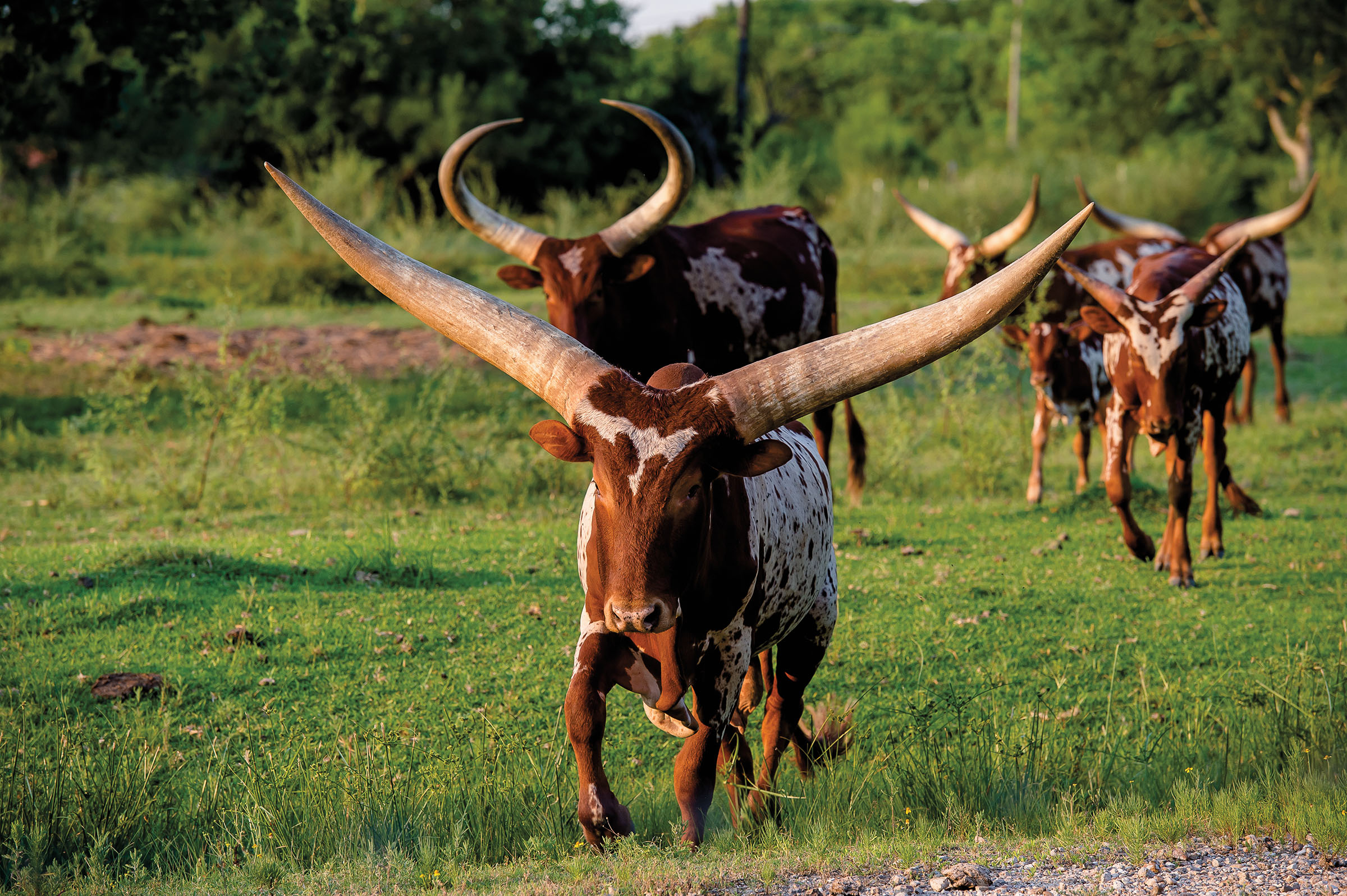 Mama Sugar was still young Nathan Jean when her father went into the Army, and when he returned, he settled in Portland, Oregon. Her mother lived in Lufkin, but our heroine wound up living in County Line with her father's brother, who showed her country ways and how to cook.
"Oooh he could barbecue," she tells me. "He could barbecue goat, and you'd never know it was goat."
After high school, she moved to Nacogdoches to be closer to her mother, where she worked at Grant's Boarding House, run by a woman whose decadent pecan pies helped round out Nathan Jean's burgeoning culinary skills. She married a man named Lonnie, though everyone called him Lonesome, and they settled in Houston to start a family.
They had five daughters, which became six when she took in another girl, but the marriage ended after 10 years. She traded long days in the field for long days as a domestic worker and nights doing janitorial shifts. She took the bus from Third Ward to Sunnyside to drop off the girls at a babysitter, then went back to the babysitter after work, and rode the bus to Third Ward again. She loved to garden. She could grow just about anything in a plot of earth, and she tried to enlist the girls to help, but they mostly played with the water hose and ate the tomatoes instead of bringing them inside.
She got her nickname because she was hanging out at a joint in Arcola called the Sugar Shack, where she taught two-step when disco was all the rage. Country radio was all she'd known. Her favorite was Kenny Rogers, but she loved Dolly Parton, too. She spent much of the 1980s at that place, and her girls started referring to her as, "Mama—you know, Mama at the Sugar Shack." Thus Mama Sugar was born.
"I messed around and married Mister Sugar," she says, meaning Sugar Shack owner Ron Mitchell, who liked his nickname so much he legally changed his name, though the marriage was done after seven years together.
The American Cowboy Museum is currently open to visitors by appointment only. Call 713-478-9677 to schedule a visit. 11822 Almeda Road, Houston.
theamericancowboymuseum.org
National Cowgirl Museum and Hall of Fame
Closed Mondays. Open Tue-Sat 10 a.m.-5 p.m. and Sun noon-5 p.m. 1720 Gendy St., Fort Worth.
817-336-4475; cowgirl.net
During the '80s, she met "the cowboys," a group of men including Myrtis Dightman, the first Black man inducted into the Cowboy Hall of Fame. Those cowboys introduced her girls to the Black rodeo circuit, where they excelled at roping, barrel racing, bull riding, and mule-skinning (a kind of mule racing). They became fixtures on the growing scene and competed in the Bill Pickett Invitational Rodeo, named after the legendary Black cowboy from Central Texas who invented bulldogging.
Mama Sugar kept finding new adventures, too. She was a cook for her riding group, the Sugar Shack Trailblazers. Her Juneteenth barbecue became so fabled that Gourmet magazine wrote about it in 2006, and the recipe for her sweet potato cobbler made it into the 2012 cookbook Texas Eats. Mama Sugar comes from a long line of preachers, and she is a natural storyteller. For years she gave lectures around Houston and at Mollie Taylor Stevenson Jr.'s American Cowboy Museum.
She'd moved back to the country by then. "The girls wanted to be on the land," she says with a sigh. They loved their horses, and Mama Sugar might be tough, but as a mother, she is the unconditional type that doesn't like saying no. Her girls Vanessa and Beverlyn live with her on the property these days, helping to care for her since she fell ill.
She has four grandchildren who scamper around when they visit, and she'll put them to work with a wheelbarrow. "Mmm-hmm," she says, pleased with this inheritance.
The only thing that bothers Mama Sugar is that she doesn't have a garden. She was in the hospital for a while having a disc placed in her neck, and she misses a plot of earth she can cultivate. "I had greens, I had cabbage, I had beets, carrots, you name it." Her voice takes on a singsong quality. "Peas, cucumbers, squash. A nice garden."
I think what drew me to cowgirls was a sense these women knew something I did not—how to travel unpaved roads, how to be strong and soft at once. The cowgirl story is about finding your way in a place that was not built for you, though perhaps no place ever is. The story of human progress is one of taming an unforgiving landscape, and the journey shapes all who take it.
"What does it mean to be a cowgirl?" I ask Mama Sugar before we part.
"The main thing it means is relaxing," she says, which is not the answer I expected. "You wear your boots, you wear your hat, you wear your long-sleeve shirts, and you wear your jeans. It's a relaxed thing. And the second thing is, it's fun. Riding the horses, loving the outdoors, loving the animals."
"Do you have to grow up on a farm to be a cowgirl?" I ask.
Mama Sugar chuckles in a way that makes me know I'm going to miss her, even though we just met, and she gives me one last piece of parting wisdom. "Anybody can be a cowgirl," she says.
From the September 2021 issue