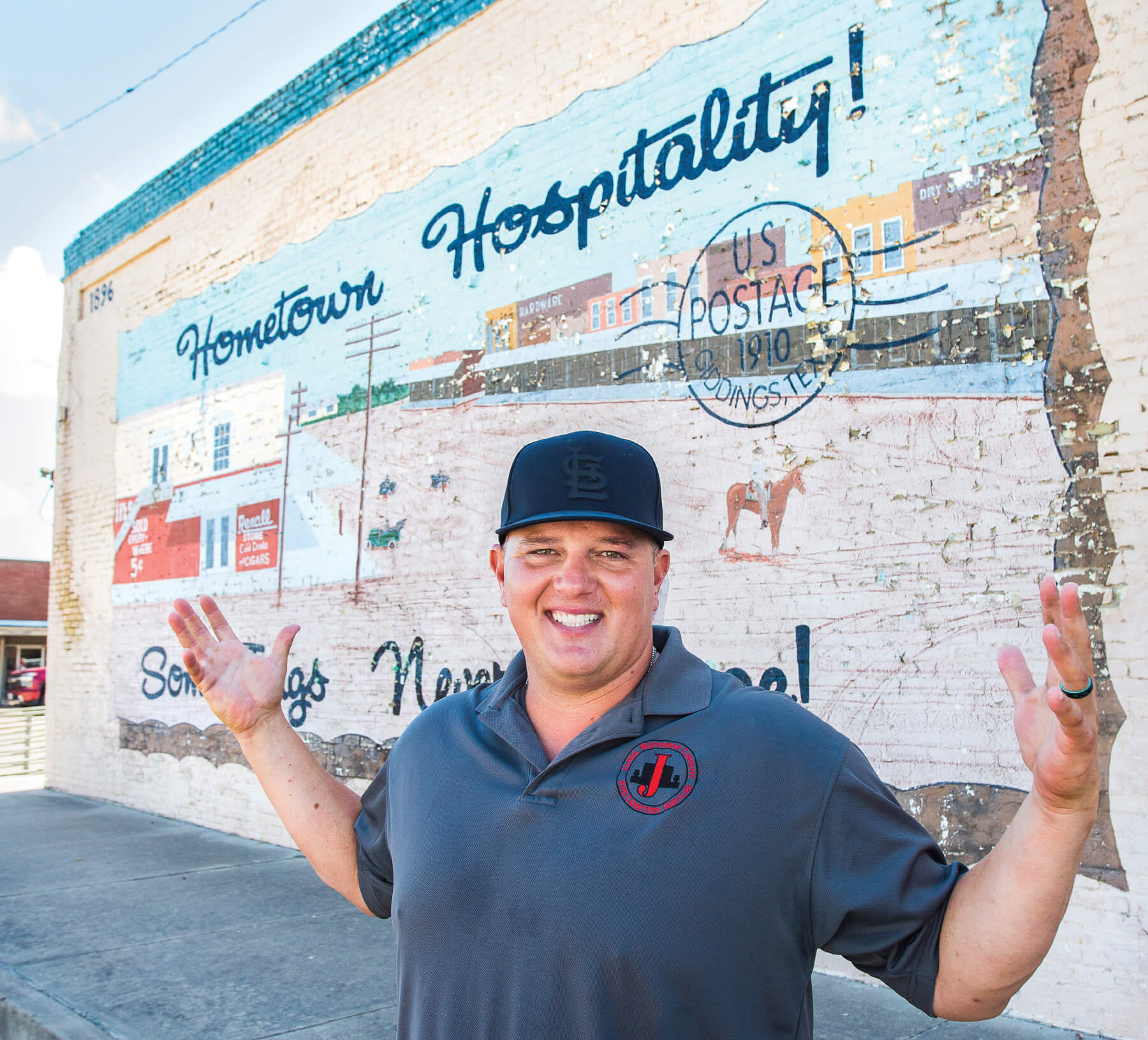 G
iddings is a town that keeps to itself. Ask the locals, and they'll tell you they live here because they always have, as did their grandparents. That's the case for Jacob Janda, whose family has been in the area for 160 years. Founded as a railroad town in 1871, Giddings grew and contracted on the fortunes of cotton and oil, a history that's recalled at the Lee County Museum, the Texas Wendish Heritage Museum, and in murals around town. Janda's grandfather managed the railroad depot, and his father sold gravestones. These days, Janda stakes his own claim in Giddings' history as a gravestone restorer and designer of custom memorial monuments. Janda's work has taken him all over Central Texas, but he says he will always call Giddings home. In this tightknit town, memorializing the dead comes with heightened responsibility. Cleaning headstones is sacred work, and in designing stone memorials, Janda serves as both a grief counselor and a storyteller. Giddings may be a quiet place that holds its cards close—but the gravestones speak loud and clear.
Finding Closure
"When families come to me, they're grieving. Most times people don't want to talk about their loss. But the more they get to know me and talk throughout the whole process, the more they can talk through it finally. Then I create this custom work to help them find closure. I had a good friend whose daughter passed away after a battle with cancer, and they had come to me in advance about the monument. I think it helped them to have someone they know and trust to envision a monument for her. I have a little girl, too. So it hits home for me."
Capturing the Essence
"I start by asking questions about the loved one. I try to understand what was most important to them, and I try to put that on the monument. One family brought in pictures of their loved one, and in every picture, he had his hand raised up with the Longhorn fingers, like 'Hook 'em Horns.' I decided to make a monument the shape of his hand, with all the details. I suggested that to the family, and they were like, 'Yep, that's it.'"
Wendish Heritage
"For those with Wendish heritage, like my family, you can go to the Wendish Museum, tell them your family name, and they'll help you trace back to find your ancestors' listing in the boat register, when they came, and any other records. In fact, my German ancestors came in 1854 on a boat called the Ben Nevis. They are buried right nearby in Serbin and Warda, and I can go visit those sites any time. I'll take my daughter when she's older, so she can understand our history."
Ice Cream Social
"Our usual is to take walks around the neighborhood, go to the park, let our daughter run around. Our favorite stop is Eyescream at El Patio Food Park—sundaes, shakes, everything ice cream. We stop there after our walks to hang out. Everyone wants to talk and see the kids. A 30-minute walk becomes a three-hour outing real quick."
Fun on the Fourth
"I love July 4th here. It's a whole day. We start out over at Round Top with the annual parade. The Lee County Sheriff's Posse puts on a rodeo where star bull-riders come out to ride and win some money. For the evening, our fire department puts on the best fireworks show. We just grab our lawn chairs and go."
Coming Home
"The younger people need to get out of Giddings to see what else is out there, what life is all about for them. But there's nothing wrong with coming back. I left for a while. Then I got married and moved back home to raise a family. When my first daughter was born, she came so early. She was only 1 pound, 15 ounces. We didn't know what the future would hold for us. The community got together for a fundraiser to help us pay the hospital bills. One day, I came home and my yard was mowed. I went to the office, and the office yard was mowed. I never asked anyone to do it. So when something happens, Giddings will come together to lend a hand."
Town Trivia:
Population:
5,043
Number of Stoplights:
4
Year founded:
1871
Nearest City:
Austin, 55 miles west
Marquee Event:
The Firemen's Fourth of July Celebration and the Sheriff's Posse Fury on the 4th Championship Bull Riding, July 4
Map it:

Lee County Museum & Visitors Center at the Schubert-Fletcher Home, 183 E. Hempstead St.
From the October 2020 issue