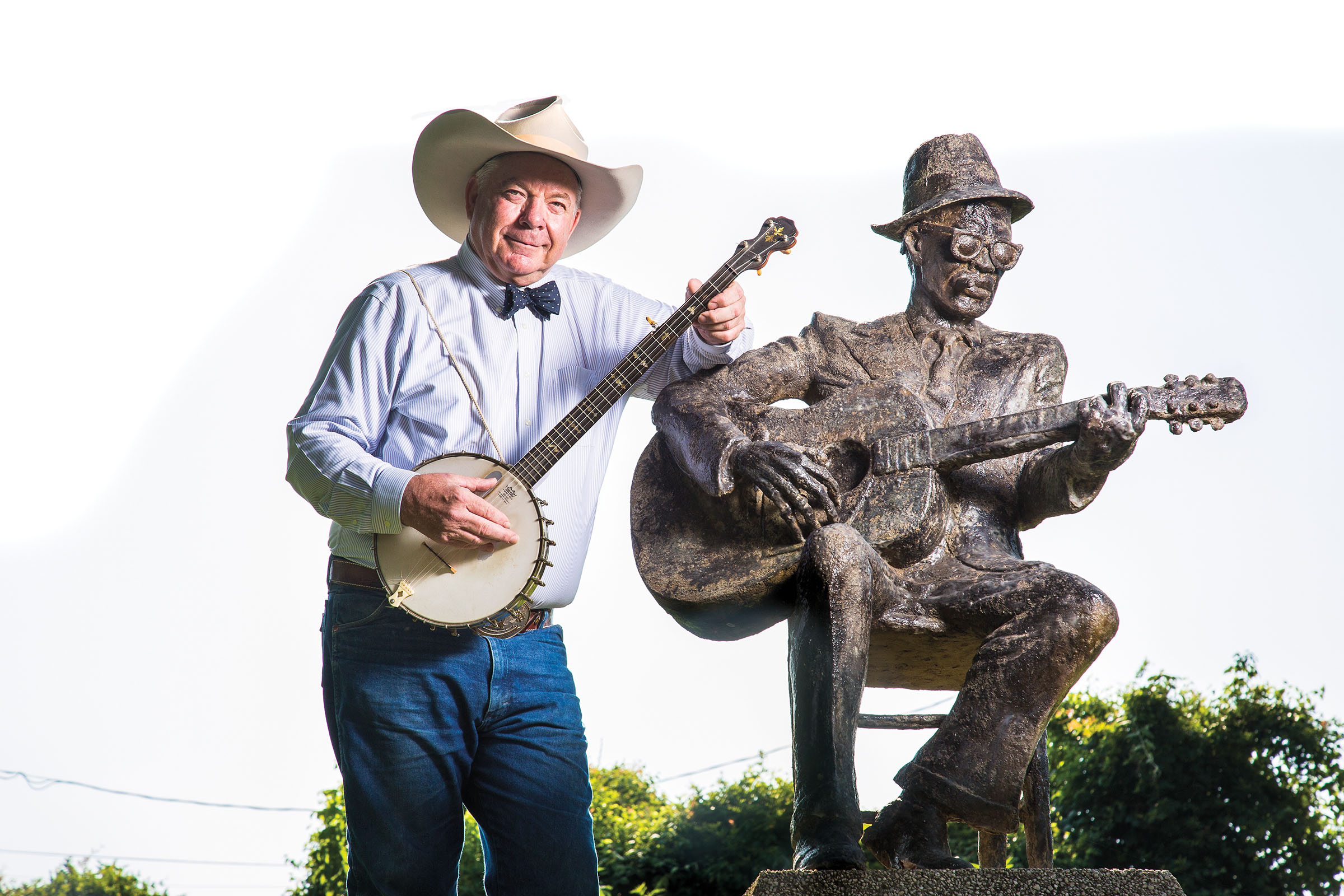 Nestled in the Piney Woods of East Texas, Crockett was established shortly after the Texas Revolution and named for famed frontiersman Davy Crockett. With an economy based on lumber, agriculture, oil, and the railroad, Crockett grew into a busy crossroads, and by the early 1900s, it was a common stop for Black performers on the Chitlin' Circuit. Crockett's stages also attracted local musicians, including the legendary bluesman Lightnin' Hopkins, from nearby Centerville, who was a common sight in town. Only one of those old venues still exists—now known as the Camp Street Café & Store. Pipp Gillette, who moved to the area in 1983, restored the historic building in 1998 with his brother, Guy, who has since passed away. Gillette hosts regional and national acts at Camp Street and also takes the stage himself, playing traditional cowboy music. Gillette's family has deep roots in the area, and today he lives on the same ranch in nearby Lovelady where his grandparents once raised cotton and cattle and where he spent summers as a boy.
Notable Namesake
"Houston County was the first incorporated county in the Republic of Texas in 1837, and the oldest road in Texas runs through it—El Camino Real de los Tejas. David Crockett took that road from Nacogdoches and camped here. A fellow here named Elijah Gossett from Tennessee heard there was someone camping out by this spring and went to investigate. He found out it was his friend Davy Crockett from Tennessee. The next day, Crockett headed on to San Antonio, and we know what happened there. After the revolution, the Gossett family gave the community the land and named it Crockett."
Cotton and Cattle
"From the earliest days, folks were coming from places like Alabama and Georgia, and some were slaveholders. They brought their slaves with them, and it became huge cotton country. Crockett used to have four or five cotton gins. Timber and cattle have always been a big part of the local economy too. When I was a kid, there was still cotton around, but it was being phased out. Crockett has many big, historic homes that come from the heyday of the cotton period."
Camp Street
"The African American population is still here, and that's one of the reasons Black music and the blues thrived like it did. Camp Street [now South Third Street] was in the African American business district in the days of segregation. My grandfather owned the buildings on this street as rental properties. The Camp Street Café & Store building used to be the Starlight barber shop, café, taxi stand, and pool hall. Lightnin' Hopkins would stroll up and down this street playing for tips. Since 1998, many touring musicians have played at the Camp Street Café & Store. It's got good sound and acoustics. I always give credit to Lightnin' Hopkins for the ambiance. It's a place where he played, and there aren't many of those left."
Monumental Figures
"We put up a statue of Lightnin' Hopkins across the street from the Camp Street Café & Store in 2002 on the 20th anniversary of his death. The whole community really got behind it. Another building on Camp Street also has a mural of some of the musicians who played here. We put up a second statue of local cowboy Myrtis Dightman on the east side of town. Myrtis unveiled it himself in 2011. He competed in bull riding in the National Finals Rodeo seven times [beginning in 1964] and was considered the Jackie Robinson of rodeo."
Shop Local
"We have a number of cafés on the square: the Moosehead Café, Keshia's Café, and Betty Boop's Sandwich & Soup. Another place that's quite remarkable is Stories of Texas. It's a gallery with a lot of Western art, pottery, and antiques. I carve [bird] decoys, and it has my decoys in there right now. Almost everything is made in Texas."
Davy Crockett's Fiddle
"Davy Crockett was the first fiddler to come through town, and Crockett has hosted
the annual World Champion Fiddlers Festival since 1937 [on the fourth Saturday of September]. Some amazing fiddlers have come here from all over the country."
Town Trivia:
Population:
6,447
Number of Stoplights:
2
Year founded:
1837
Nearest City:
Houston, 119 miles south
Marquee Event:
Christmas in Crockett on the Square, Nov. 20; Davy Crockett Festival, April; Myrtis Dightman Rodeo, September.
Map it:

Camp Street Café & Store, 215 S. Third St.
From the October 2021 issue