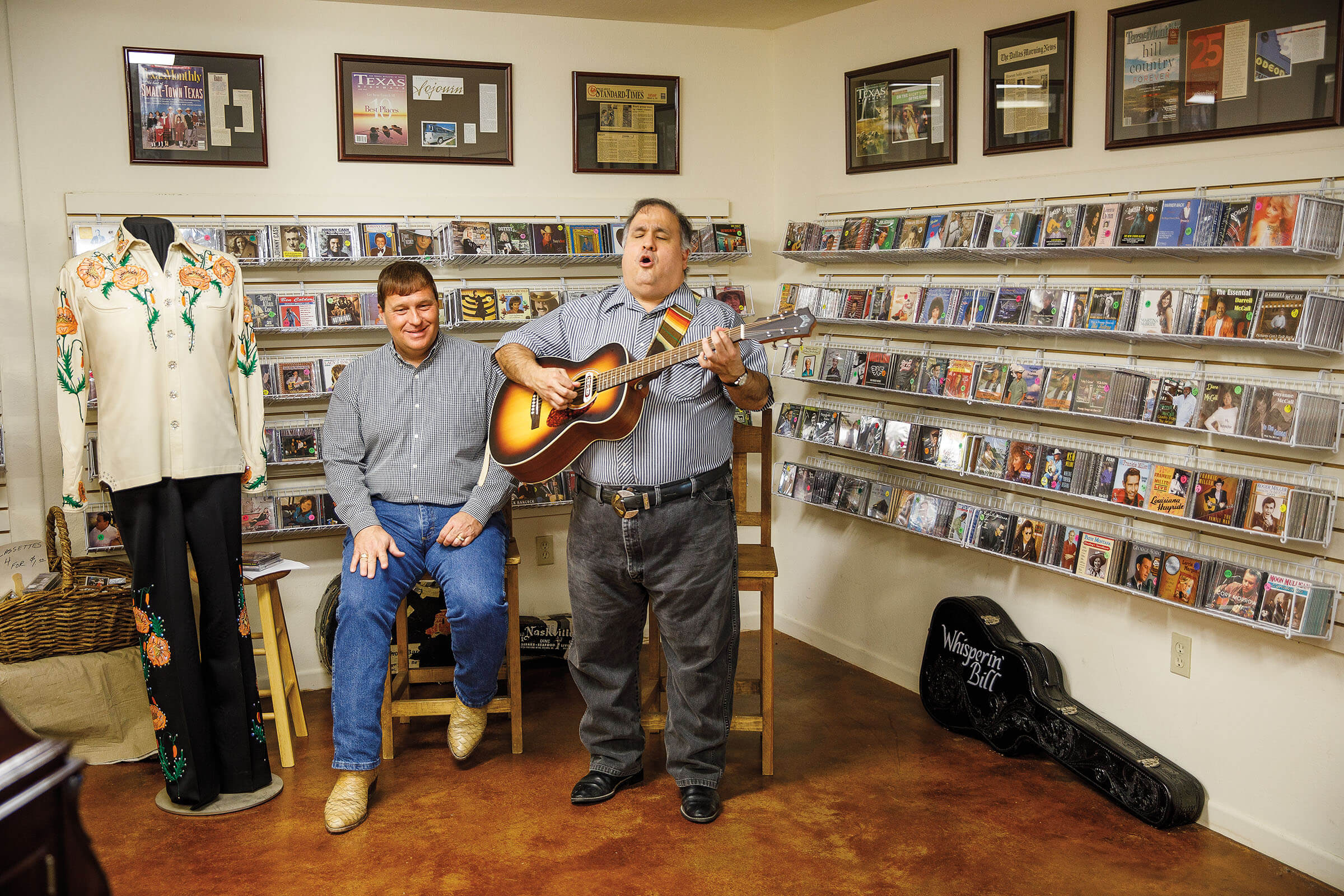 To go to the heart of Texas, literally, you must go to Brady. On the northwestern edge of the Hill Country, Brady is the town closest to the geographic center of the state. But this little ranching and farming community is the heart of Texas in another way, too—it's the epicenter of traditional country music, what locals call "hardcore country." And that's why musician Justin Treviño calls Brady home. Blind since birth, Treviño grew up in Brownsville and Austin. He learned to sing and play guitar from his dad's records and has released 13 albums of country music, including his classic tune, "Texas Honky Tonk." Treviño was living in San Marcos, engineering and producing records for Heart of Texas Records, when in 2008, the label's president, Tracy Pitcox, invited him to move to Brady. With a community of musicians and the Heart of Texas Country Music Museum, Brady's got more than enough honky-tonk inspiration to keep Treviño singing, playing, and recording.
Ace of Hearts
"Tracy Pitcox has basically single-handedly launched the Heart of Texas music scene. Of course, everything around here is Heart of Texas something—Heart of Texas Ford, Heart of Texas Bed and Breakfast. Tracy's had the Heart of Texas Music Association for years and his radio show, Hillbilly Hits. And in the late 1990s, Tracy started Heart of Texas Records. I work on the record label and recording."
Tribute to the Greats
"The Heart of Texas Country Music Museum is the crown jewel of Brady as far as I'm concerned. Oh man, we've got some good instruments in here. We've got Floyd Tillman's old guitar and Hank Thompson's old guitar. We've got instruments from Justin Tubb, Billy Walker, and we've got all kinds of suits from various artists and things they wore, like Ray Price's 'Cherokee Cowboy' headdress. A lot of it I can't actually see, but every once in a while we break an instrument out, and I'll play. Because those guys are such heroes of mine, I can be a vocal chameleon and slip into character a little bit. So if I'm playing Billy Walker's guitar, I'll sing a Billy Walker song. It's easy for me because I grew up listening to those guys. I remember vividly what they sounded like."
Country Music Festival
"People come from all over the world, and that's not an exaggeration, to attend this event. The Saturdays are the big days when most of the artists play. Whoever is available on the Heart of Texas Records label, you're going to see—everybody from Norma Jean, Darrell McCall, Tony Booth, myself, Amber Digby. Tracy always manages to bring in some others—Johnny Rodriguez, Moe Bandy, Gene Watson, and Johnny Bush have
all played."
The Trucountry Inn Hotel
"Heather Myles is passionate about bringing this traditional old hotel [built in 1932] back to its original form. It means something to her—she loves that it's from another time, when Brady was really a booming town. She told me all the stories about Bonnie and Clyde staying there; she's really into that kind of thing, silver screen cowboys and Texas outlaws. She's busy—these windmill companies that are putting in windmills all over West Texas, that's a lot of who's staying in the hotel right now."
Tex Mex
"Understand that in the business I'm in, I've played and eaten while venturing out in a lot of small-town Texas. Everywhere we play is usually rural areas. I'll tell you this, Brady, for a town its size, has more good food than you'd expect. My favorite restaurant hands down in this town is a little Mexican restaurant on Third and Elm behind the Methodist Church called Tex Mex."
Making Music with My Friends
"We have a community of like-minded people that like to sing, that have the same goals, in trying to preserve and promote real country music. So I think that's why we're all drawn together. It's a family, it's a community, and that's what it's all about."
Town Trivia:
Population:
5,302
Number of Stoplights:
18
Year founded:
1875
Nearest City:
San Angelo, 75 miles west
Marquee Event:
Heart of Texas Country Music Festival. After this year's event was canceled because of COVID-19, the 2021 festival is scheduled for March 19-27.
hillbillyhits.com
Map it:

Heart of Texas Country Music Museum, 1701 S. Bridge St.
From the September 2020 issue