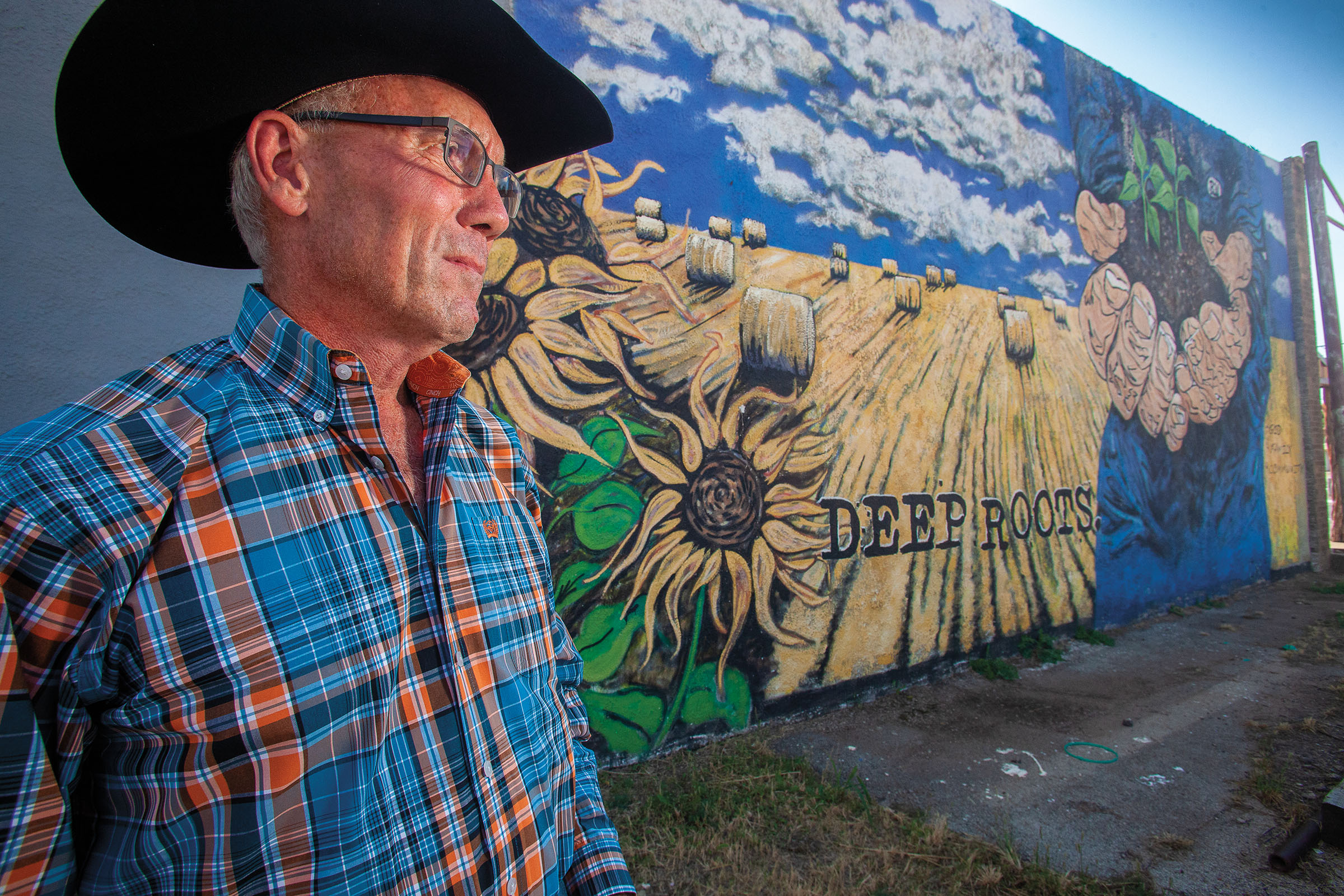 Before Western settlers arrived and settled Haskell, nomadic bands of Apache, Comanche, Kiowa, and Kickapoo hunted bison across northwest Texas. Today, these vast Rolling Plains surround Haskell—the Haskell County seat and a local economy anchored by mom and pop businesses. Pharmacist Lonnie Meredith moved to Haskell in 1991 to work at the local pharmacy, The Drug Store, a business he bought nine years later. Living an hour's drive from Abilene and a 90-minute drive from Wichita Falls, residents in this slice of the Big Country rely on the local pharmacy for prescriptions and other medicines. Though he retired in 2020 and sold The Drug Store to another independent owner, Meredith remains active in the community as a cattle rancher. Ranching has long been a cornerstone of the regional economy, along with farming and oil production. "The town square is an exciting place because we have a vibrant downtown with an art gallery, great antiques stores, a floral shop, and a bunch of other businesses," Meredith says.
Land of Opportunity
"I was raised in Marble Falls in a ranching family. By the time I was ready to raise a family, the community had grown so much it no longer had the feeling I was looking for. Haskell fit the bill because it's a small agricultural community with wonderful people. I wanted to raise my children in a small town because there are more opportunities to learn a good work ethic and be exposed to experiences urban children never see."
Healthy Choices
"Being a pharmacist for 36 years, I served the community by helping people maintain their health. We tried to be a one-stop shop by providing services a lot of big-box pharmacies don't provide so the community didn't have to drive an hour away. We provided medicine compounding, home medical equipment, and deliveries within a 30-mile radius, and we took the time to really know our customers and their needs. Being a small business owner has been one of the most fulfilling aspects of my life—identifying a need in the community and experiencing the community's gratefulness in serving them."
News and Notes
"The best place to get info on what's going on around town used to be Tommy's Barber Shop. Before Tommy passed away last year, he'd cut hair at the same place for 40 years. It's close to city hall, and me and others would go hang out there even when we didn't need a haircut. You'd go there to find out the stuff that you can't get on the internet. Since he died, the local development corporation is looking for a new barber to take over."
Local Eats
"Like other businesses in Haskell, many of our best restaurants are family-owned. I like the Double A Drive Inn. They have the best steak fingers and soft-serve ice cream in West Texas. For good Mexican food, I'll pick Mi Familia over all of them. For Asian cuisine, you can't beat China Wok. There's also The Ugly Mug Kitchen, which is kind of like a redneck Starbucks. They've got different kinds of coffee and a variety of breakfast and lunch dishes."
Ranch Rodeo
"The Working Ranch Cowboys Association puts on a ranch rodeo the first weekend in June. It's called Wild Horse Prairie Days and is named for an elevated knob in western Haskell County that was used by the Indians to look for wild horses. The Fort Sam Museum & Auxiliary is also a nice attraction. It has a military flair to it. Sam Baker is the owner, and he has a lot of old Jeeps and other military vehicles. He also has a Mustang car collection."
Nickel Tour
"Haskell is a small place, so it doesn't take long to drive through town. But I tell people to drive around the area and see all the pretty farms and ranches. Go southeast of town and you'll see one of the nation's largest solar farms [Alamo 7]. When you are back in town, go by Heads or Tails Hats. They're local hat merchants who've made custom hats for several Miss Rodeo America and Miss Rodeo Texas title holders. Aside from that, anywhere on the edge of town is a wonderful place for sunrises and sunsets. They are the best out here."
Town Trivia:
Population:
3,153
Number of Stoplights:
1
Year founded:
1907
Nearest City:
Abilene, 55 miles south
Marquee Event:
Wild Horse Prairie Days ranch rodeo.
Held annually the first weekend of June.
Map it:

Haskell County Courthouse, 1 Ave. D
From the April 2022 issue