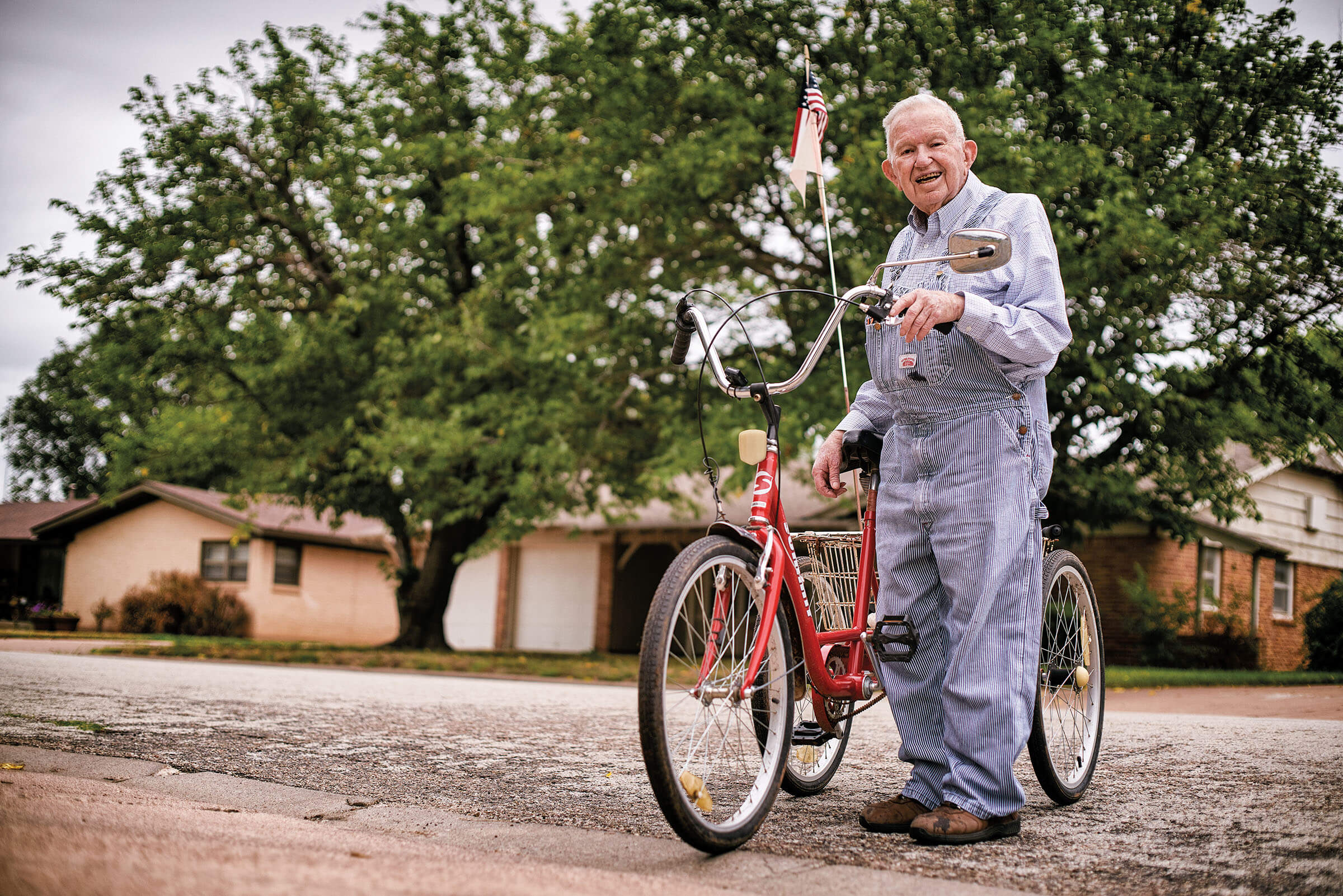 At the Frontier Texas museum in Abilene, visitors are greeted by eight life-size buffalo sculptures that graze across the sky on 30-foot posts. Inside, the museum explores the 19th-century history of the region, in part with holograms and mannequins of Native Americans, buffalo hunters, and Buffalo Soldiers describing their lives during a tumultuous time in West Texas. The museum sets the stage for the birth of Abilene, which the Texas and Pacific Railway Company founded in 1881. Abilene was primarily an agricultural town before the establishment of an Army post during World War II, followed by Dyess Air Force Base in 1952. Abilene is also an education hub as the home of Abilene Christian University, Hardin-Simmons University, and McMurry University. Education brought Ross Blasingame to town in 1955. He studied the Bible and Greek at Abilene Christian before spending 12 years preaching in Texas and New Mexico. Blasingame returned to Abilene in 1970 with his wife, Ruth, to raise their five kids, and he worked for 23 years for the ACU maintenance department before retiring in 1993. Since then, the 95-year-old has been known for riding his tricycle around town and handmaking wooden boxes as gifts.
Tricycle Trials
"When my eyesight started going bad, my three-wheel Schwinn bicycle became my only source of transportation. It was stolen from my porch five years ago. When the police found the bike, it was in 32 pieces. The Abilene police paid to have the bike put back together and brought it to me. One of my favorite stops is visiting Abilene Christian School. Everybody there loves me."
On the Frontier
"When Frontier Texas first opened [in 2004], I took some visiting family members. The museum has a great movie about the Old West that includes Abilene. I like the holograms of the people from the Old West. It's like you're talking to them yourself. To me, when a person is telling the history, it's a lot better than reading it out of a book."
Outdoor Art
"My favorite outdoor Abilene sculpture is the buffalo skull between North and South First streets. You can't keep but from noticing it along the right of way of the railroad tracks. I think of the old days when I look at those sculptures."
Mr. Fix It
"I grew up on a farm in Grassland [40 miles south of Lubbock]. We couldn't take things to town to be fixed—we had to fix things the best we could. I was the supervisor of general maintenance at ACU in 1989 when we installed the World Missions Globe [a 1,000-pound rotating sphere] on campus. The globe arrived on a train, and I was told that there was no way to get the globe on the pedestal. I told them, 'We need to assemble our scaffold and lower the globe with a chain hoist.' It worked. Simple!"
Home Base
"I go to church with airmen who came to Abilene because of Dyess Air Force Base. When they retire, they get jobs and stay. One of them is [retired Master Sgt.] Larry Prince, who calls me 'Pops.' He and his wife, Nancy, had a deaf son named Andrew [now deceased]. I learned sign language, and I used to preach in sign language. The airmen see something that they like here in Abilene. It's a good place to raise children."
Heff's Burgers
"When I walk in the door at Heff's Burgers, they holler, 'Hi, Granddaddy.' One time I brought my granddaughter, Kimberly Lewis, to treat her to lunch. The cashier asked for a name, and before I could say it, Kimberly said, 'Granddaddy.' The cashier smiled and wrote it down. When I came back for my next lunch and they asked me my name, I said, 'Granddaddy.'"
From the Heart
"In 1976, I started making wooden heart boxes using my band saw and a drill press. I gave the first one to my wife, Ruth [who died in 2012], and soon I started getting requests to make more. The boxes are the shape of Texas with a cross on top. We made the last four heart boxes in 2021 for the people who took us in during the ice storm. These boxes are a gift of love."
Town Trivia:
Population:
125,070
Number of Stoplights:
170
Year founded:
1881
Nearest City:
San Angelo, 90 miles south
Marquee Event:
Outlaws and Legends Music Festival, March 31-April 1
Map it:

Frontier Texas, 625 N. First St.
From the November 2022 issue