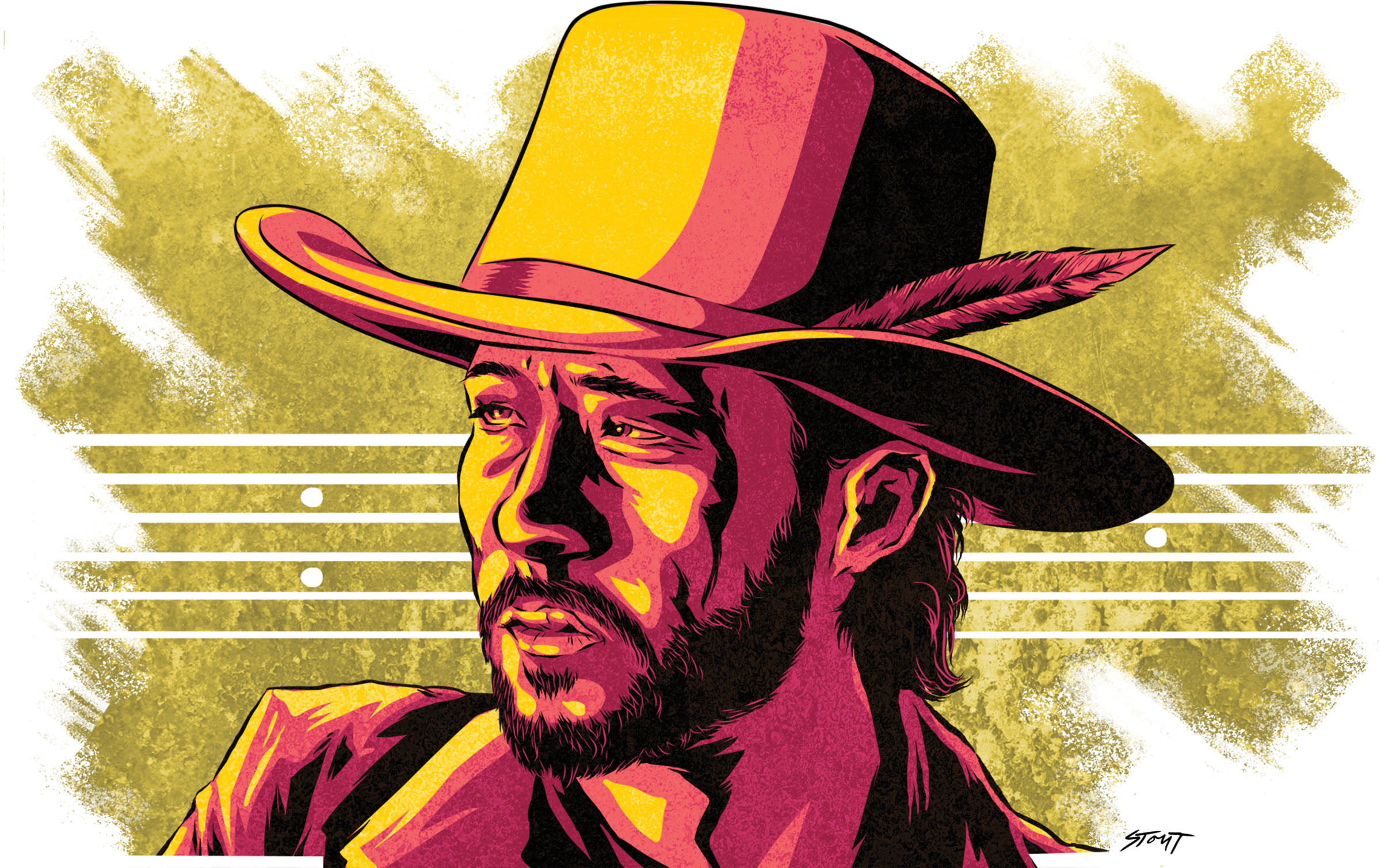 Singer-songwriter Ryan Bingham won an Oscar, a Grammy, and an Americana Artist of the Year award all before he turned 30. He'd also endured a turbulent adolescence and lost both of his parents prematurely, his mom to alcoholism and his dad to suicide.
Thanks to the healing nature of music and the love of his wife, Anna Axster, the 39-year-old Bingham has since found peace as the father of three young children. His sixth studio album, last year's American Love Song, was a hit, and he's got an acting role in Yellowstone, a TV drama starring Kevin Costner. But there remains a lingering sadness in Bingham's Texas rasp.
It's all there in the starkly autobiographical song "Nobody Knows My Trouble," which takes listeners from Bingham's aimless upbringing to a turning point at age 17: "But I found me a guitar / one lonely night in a border town / my pain, I started to write it down / but it wouldn't stay away from me."
"After my daughter was born, it became less about me writing songs about my problems and more writing about other things I see in the world."
Bingham was born in New Mexico, where his dad had been a star quarterback for Hobbs High School and his mom the homecoming queen. He was 5 when his family sold their ranch and started chasing oil-field jobs—from California, to the Permian Basin, to Houston. He attended four high schools, and after graduating in Stephenville, he joined the rodeo circuit as a bull rider. Bingham soon discovered songwriting, and with his distinctive voice, mentors like Terry Allen and Joe Ely discovered him. Bingham released his debut album in 2007, and three years later he won an Academy Award for the song "The Weary Kind," the theme of the film Crazy Heart.
Axster, who directed Bingham's breakout videos for "Southside of Heaven" and "Bread & Water" in 2007, is a partner with her husband in every way. The pair organized the inaugural Western Music Festival in Luckenbach in 2019, and after COVID-19 canceled this year's event, which was scheduled for June, they're already planning for a 2021 festival.
Q: Did you play in Luckenbach when you were starting out?
A: Yes, sir. It's such a special place to me. Some nights in the winter there would be only 10 people there, so we'd sit by the wood-burning stove and pass the guitar around. That's where I really learned to write songs. Luckenbach has that hippie vibe, but cowboys are also welcome and part of that, too. The culture is friendly and nonjudgmental. It's just a place to
be yourself.
Q: What's the first song you wrote where you thought, "Maybe I've got something here?"
A: "Southside of Heaven." I wrote it when I was living in Stephenville. I was trying to learn how to play the harmonica, with one of those neck racks like Bob Dylan and Neil Young, and I kept going from the G chord to the C chord on the guitar. I found a melody on the harmonica and wrote it right there on the spot. It's still the one song I have to play every show.
Q: Were you still bull riding at the time?
A: Yeah, but things were starting to shift toward music. Moving around so much as a kid, I didn't know who I was or where I was from. The rodeo became my family. But then I discovered the guitar and found my new sense of identity. My mother gave me my first guitar when I was 16 and moving from Houston to Laredo to live with my father. I didn't ask for it. I guess she just felt that I needed it, but I didn't have any ambition to learn how to play. I didn't think I had any ability. Then a fella who hung out with my dad played "La Malagueña" on it, and he showed me how to do it, a little bit at a time.
Q: Had you been a big music fan before you started playing?
A: Oh, yeah! My family owned a joint called the Halfway Bar because it was halfway between Hobbs and Carlsbad. My Uncle Clay ended up with all the records [after the Halfway closed in the early '90s]. He played me everything from Merle Haggard and Bob Wills to Led Zeppelin and the Rolling Stones. Then there was the Waylon and Willie stuff, and Townes Van Zandt. Commander Cody and His Lost Planet Airmen Live from the Armadillo was one of our favorites. I was about 13 when I heard Bob Dylan sing "A Hard Rain's A-Gonna Fall," and that changed everything for me.
Q: I was hoping to meet your dog, who's become a bit of a folk hero among your fans. Where's Boo?
A: He's home [in Los Angeles] protecting the kids. He sees that as his job now. He won't leave them. But he was a great dog to take out on the road. He's a shepherd, so he was good at rounding up everybody. He'd wake us up in the morning. Plus, when you're in some sketchy situations out on the road, it's good to have a big dog with you.
Q: You've performed "Wolves" as your character in Yellowstone. Did you write it for the TV show?
A: No, it was inspired by the epidemic of gun violence in this country, and the kids from Parkland, Florida, who organized the March For Our Lives. The way I saw grown men and women respond to these kids with hateful rhetoric had me thinking about the bullies I had growing up.
Q: Why did you and your wife decide to start your own label—Axster Bingham Records—in 2012? This was not long after the Academy Award for "The Weary Kind."
A: At the time I was getting a lot of pressure to do stuff like American Idol, and I refused to do it. So my management dropped me. Then the Lost Highway label went under and became a part of Universal. The people who had been behind me were all gone. Anna and I had already been handling everything on the road, and the head of Lost Highway saw that. He said, "There's this new thing starting up in Nashville called Thirty Tigers, and they'll handle your distribution. You can own your masters and just put out your records on your own." It's worked out pretty well.
Q: A theme throughout your songs is trying to find your way home, or at least to a place where you feel whole. Do you think you've gotten there?
A: I do, finally. Having children will do that for you. When I met my wife we were both vagabonds, just roaming around the country. Then we got a place in LA, and it was the first time I ever had my name on a lease. I had an address! That was big to me. When we got the keys and went inside, I just cried. I felt secure, finally.
Q: What's next for you, musically?
A: I want to make an all-acoustic solo record, just me and the guitar and a bunch of new songs. When I started, my songs were based on my experiences as a kid in West Texas and New Mexico, but in the last 15 years I've gone from LA to New York and every town in between. I've got a new perspective. These days I have to think, "How does a kid in Pittsburgh, maybe a steelworker, relate to this song?" After my daughter was born [in 2015], it became less about me writing songs about my problems and more writing about other things I see in the world.
---
Keep up with Ryan Bingham at ryanbingham.com. Plans for Bingham's second annual Western Music Festival in Luckenbach this June were stymied over COVID-19 concerns. He plans to bring the event back in 2021.
From the June 2020 issue