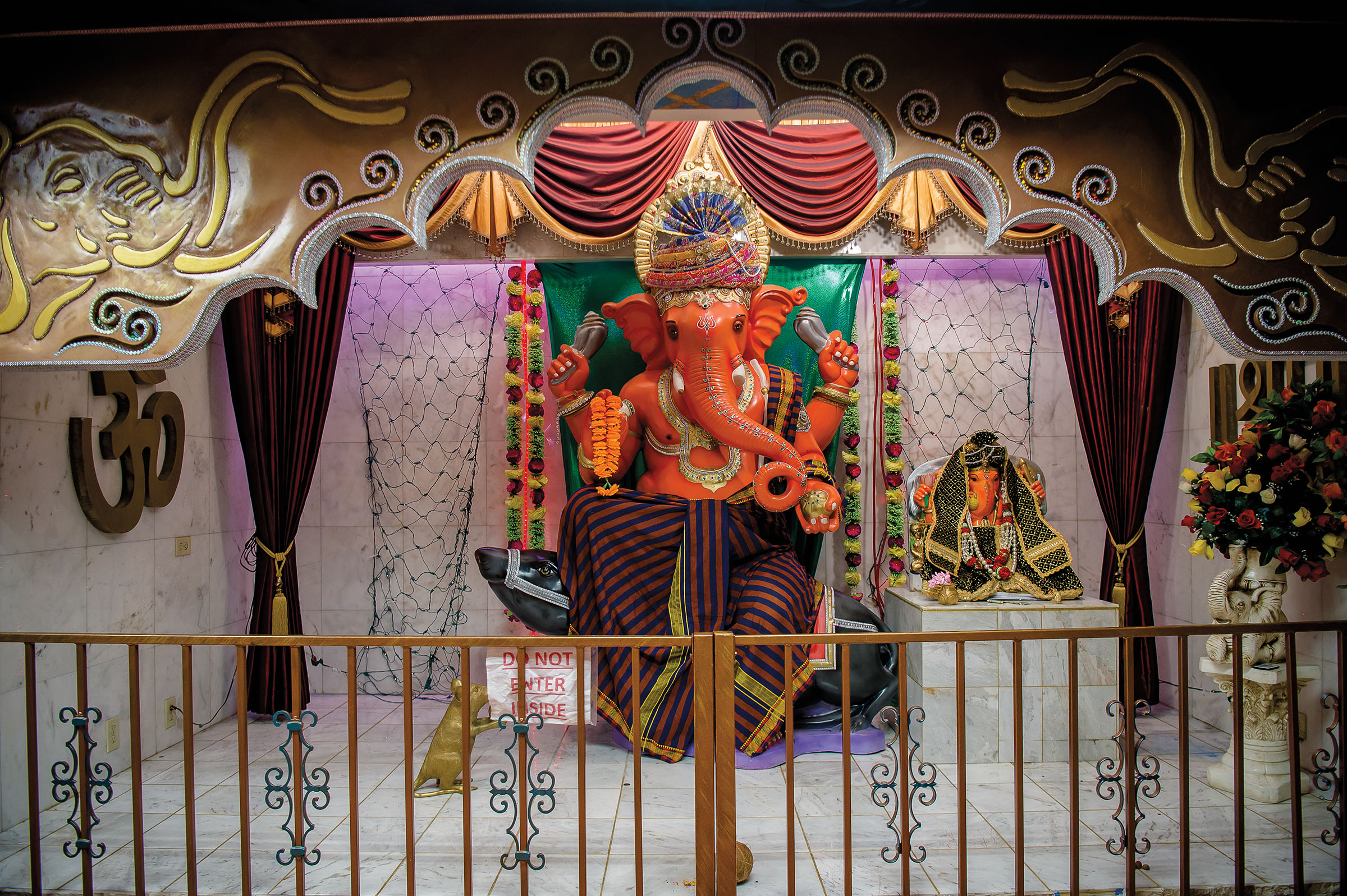 Spicy onion pakoras and a cup of warm chai pair well with the August downpour I'm watching from inside Udipi Cafe in Houston's Mahatma Gandhi District. As I bite into a hot crispy pakora, a type of Indian fritter, I consider Gandhi's statue a few miles away in Hermann Park. The words by Einstein inscribed beneath the robed leader who freed India from British rule in 1947 come to mind: "Generations to come will scarce believe that such a one as this ever in flesh and blood walked upon this earth."
Mahatma Gandhi District
Hillcroft Street, between the Southwest Freeway and Westpark Tollway, Houston
My fellow lunch guests at Udipi Cafe are doing their part to guarantee generations of Houstonians will remember Gandhi. Across from me are Ramesh Cherivirala and Vale Subramaniya, both former presidents of the India Culture Center, a nonprofit founded in 1973. The group spearheaded the installation of the statue in Hermann Park's McGovern Centennial Gardens, as well as the effort to give Gandhi's name to this roughly mile-long triangle along Hillcroft Street between the Southwest Freeway and Westpark Tollway.
"Most Indians live very close by here—in Sugar Land, Pearland, and Clear Lake for NASA," Cherivirala says. "So, everybody comes to this area because it is like a weekend go-town. You go here, go shopping, go get the saris, the jewelry, you name it. Everything is here."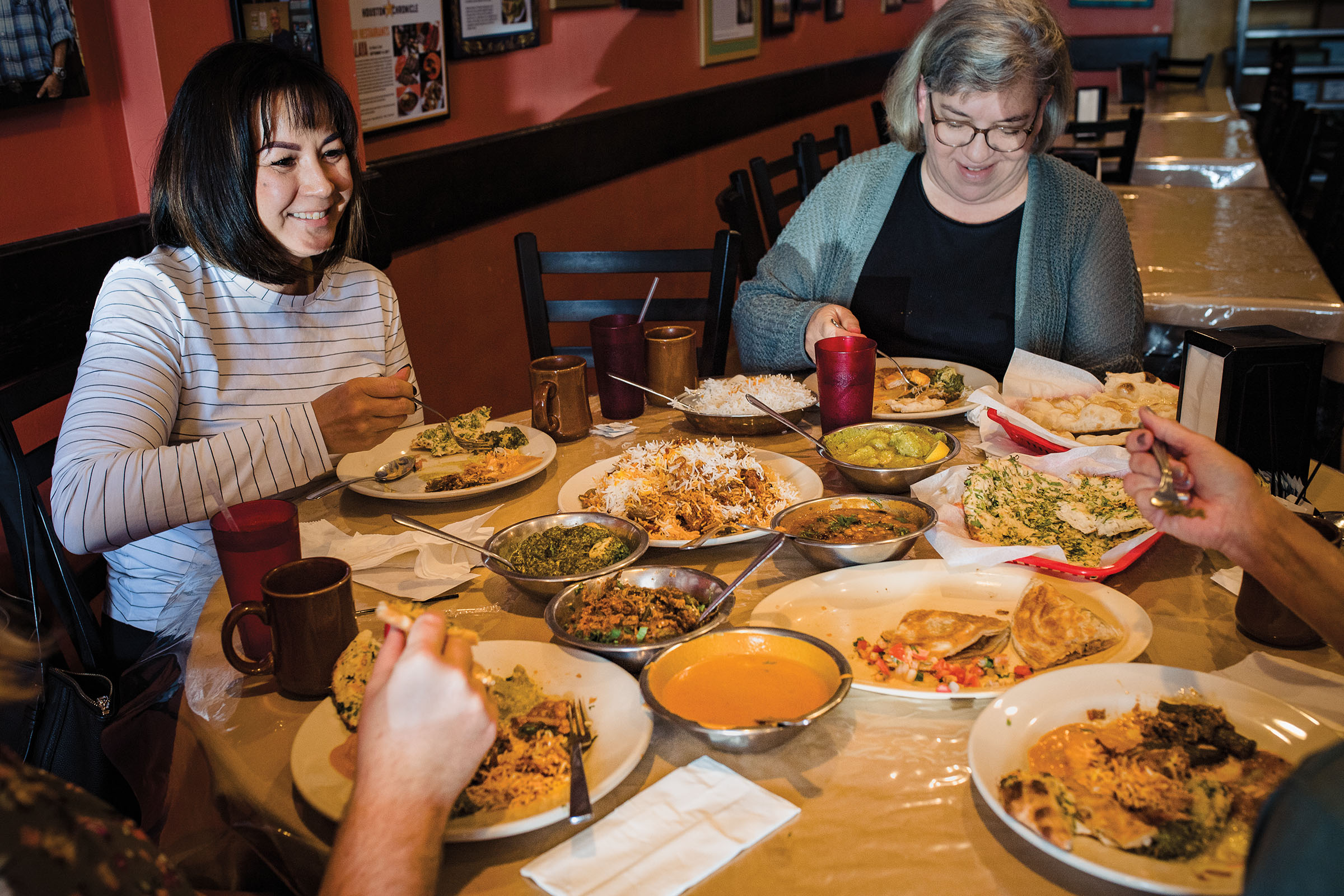 In the 1980s, a critical mass of Indian immigrants settled in Houston for jobs in engineering, academics, and medicine. As the community flourished, entrepreneurs in this southwest Houston pocket began to open restaurants and shops offering a taste of home. This humming hive of South Asian businesses became the center of the city's well-established Indian community. In the early 2000s, members of the India Culture Center began petitioning the city of Houston for an official designation, and on Jan. 16, 2010, then-Mayor Annise Parker obliged, also proclaiming it Mahatma Gandhi District Day. Now there are small, red-trimmed street signs with Gandhi's visage sprinkled throughout the area.
"The naming of the Mahatma Gandhi District was part of a continuum of initiatives to highlight the various ethnic and cultural communities of Houston," Parker says. "This is about claiming turf and saying, 'We're a vital part of Houston,' but it's also a message that Houston is a welcoming place back to those countries."
After the pakoras, Udipi's chef, Sathish Rao, who named his restaurant after his hometown in India famous for its vegetarian cuisine, brings out a 2-foot-long dosa. The crepe-like creation is golden, crispy, and filled with warm potatoes.
Rao shows me how to break open the jumbo-size dosa with my hands (all at the table agree hands are the best eating utensils for many Indian dishes) and dip it in his house-made tamarind and cilantro-mint chutneys. I also dunk it in a small bowl of sambar, a lentil-based soup ubiquitous in Udipi that, I was told, is totally fine to slurp.
"Everyone makes a dosa, but we do it differently," says Rao, an upbeat world traveler who has cooked for Indian presidents, swamis, Bollywood stars, and Anthony Bourdain—their photos grace Udipi's walls. "The recipe came from my grandfather, who had a restaurant in India. Everyone in my family—my father, my mother—cooks. We had a small shack with one table in the kitchen, and I'd come home from school and read a book in the corner and watch and learn."
I realize how lucky Houston is as I share idli and medu vada—a rice cake and a lentil donut, respectively—with three Indian Americans conversant on topics ranging from Bombay's street food to raising American-born children in the Hindu religion. Without leaving Texas, you can easily taste-travel to Rao's family kitchen in southern India, imagine pots bubbling with sambar, smell the cardamom.
In Houston, one in four citizens is foreign-born, according to the Greater Houston Community Foundation. The opportunities for taste-travel in Asia alone are everywhere, whether to China, Vietnam, or other countries that have helped establish Houston as one of the most diverse metropolitan areas in the United States.
The Mahatma Gandhi District is like one big food-centric classroom for travelers unfamiliar with the Hindu religion and Indian geography. Just across the street from Udipi I find the wondrous Subhlaxmi grocery store, where 95% of the products are from India. The produce section overflows with fruits like spiky green Indian bitter melons that look like cucumbers with pointy spines, and sitafal, aka custard apple, which looks like an oversized Granny Smith with thick scales. A stroll down the cookie aisle reveals Karachi biscuits, a confection from Hyderabad in south-central India made from candied fruit and cardamom, and soan papdi, flaky sweets regarded as India's version of cotton candy.
Most intriguing of all are the puja items on sale to celebrate Hindu holidays (puja is Sanskrit for "reverence"). When I was there, shiny brass baby cradles were on display in preparation for the Aug. 30 birthday of Krishna, the Hindu god of protection and love. And there were sparkly bracelets for Raksha Bandhan, an annual rite in which a sister ceremoniously ties a talisman on her brother's wrist to symbolize sibling responsibility. An hour in this grocery store feels like a crash course in Hindu and Indian culture.
It helps to have someone like Animesh Patel, the friendly owner of this family business, explain meanings you can't decipher on your own. The store, for example, is named after Lakshmi, the Goddess of Prosperity. Patel finds Lakshmi's avatar on a box of ginger chips, showing me how her hands are full of gold coins and flowers. "You should come back this weekend," Patel says. "Everyone will be out for Raksha Bandhan. Then Krishna is coming up in two weeks, then Ganesh, then it's Diwali. Now is Indian party season."
I'm realizing there is so much I don't know. This is reinforced by the menu at Himalaya Restaurant, a popular Pakistani-North Indian establishment just a short walk from Subhlaxmi. The outgoing owner, Kaiser Lashkari, grew up in Mumbai and Karachi, and with his big funky-print shirt and grayish ponytail, resembles Jerry Garcia. The immense menu Lashkari created is a doorway to the diverse cuisine and geography of South Asia.
Taste of India
Get your fill in Houston's Mahatma Gandhi District.
Biryani
An Indian dish common throughout South Asia, biryani is basmati rice with an array of ingredients: mutton, chicken, veggies, paneer, and seasonings. Himalaya chef Kaiser Lashkari calls his Anthony Bourdain-approved mutton biryani "the Indo-Pakistani version of Spanish paella."
Himalaya, 6652 Southwest Fwy. 713-532-2837;
himalayarestauranthouston.com
Chat
Chat (or chaat) is the term for a range of Indian street snacks usually made with fried dough. Samosas, the popular triangular potato and pea-filled pastries, are chat. Another common chat is dahi puri, crispy wafer balls stuffed with sprouts, potatoes, and yogurt.
Chowpatty Chat, 5711 Hillcroft St. 832-203-7965;
chowpattychat.com
Dosa
A dosa is a thin South Indian pancake made from a fermented batter of lentils and rice. The most common is the masala dosa with savory potatoes tucked inside. The Mysore masala dosa is a spicy version.
Udipi Cafe, 5959 Hillcroft St.
713-334-5555; udipicafeusa.com
Beside each curry dish listed on the menu, Lashkari has indicated where that curry is from. For example, chicken Karhai, a dish spiced with aromatic Balti masala, is from Peshawar, a city in Pakistan near the Afghan border. The chicken Hara masala, with tangy green sauce made from chiles, is from Hyderabad. It's one of Lashkari's signature dishes and so good I came back the next day for another serving to take home to my family.
"For the first two decades of my life, I lived off in a different country on a different continent," Lashkari says. "I want to share that with the people here—all the food that I ate growing up and that I like. It's what gives me the most satisfaction."
A young man approaches our table on the way out. He introduces himself as Jason Jones from Jasper. He and his friend had just feasted on the grill platter deluxe, a smorgasbord of kebabs. "We were in a little Indian grocery store in Beaumont," Jones says, "and we told the owner how much we enjoyed Indian cuisine, and she told us, 'If you want authentic, you must go to Himalaya in Houston.' Two months later, here we are."
While Gandhi probably would not condone my profound enjoyment of Lashkari's steak tikka (Gandhi, like many Hindus, was vegetarian), I bet he would appreciate how the district named after him is bringing different types of people together. Visitors can learn more about Gandhi and his beliefs when the Eternal Gandhi Museum opens off Beltway 8 in southwest Houston in late 2022. As Lachhman Das, a retired Indian engineer and another former president of the India Culture Center, tells me, "Gandhi's message is eternal. People can disagree without hurting each other. We can live in peace."
From the November 2021 issue