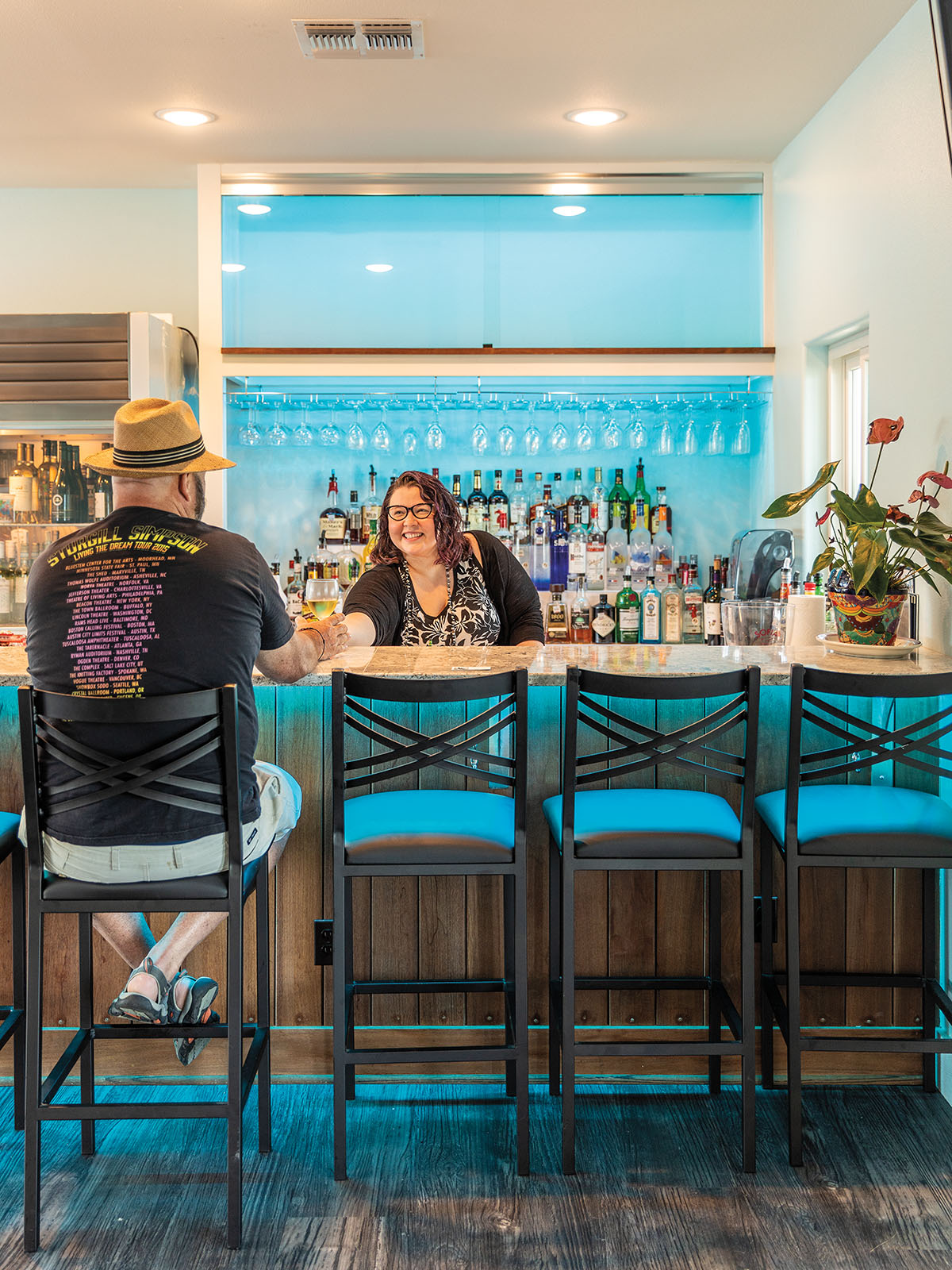 Terry Brooks doesn't really know where the name for his restaurant Crab-N came from. Something he does know, however, is that it takes more than a hurricane and a global pandemic to prevent his popular coastal spot from doing what it's always done: serve fresh seafood and drinks, and look after customers, employees, and friends. The Brooks family has been through hell and high water but continues the restaurant's mission with grace and pride.
Perched on pilings and overlooking a residential canal, Crab-N was established in 1976 by Terry's dad, Woodrow Wilson "Ted" Brooks, in the tiny community of City-by-the Sea, between Aransas Pass and Rockport. Terry and his twin brother, Randy, took over operations in 1978, and it's been a convivial local destination ever since. Known for its BYOF (bring your own fish) option and fresh cocktails, locals and visitors alike congregate to meet and eat.
Sadly, in the past few years, the Brooks family has experienced multiple tragedies. "Aug. 25, 2017," Terry says quietly. That's the day Hurricane Harvey slammed directly into Rockport, smashing much of the Coastal Bend to smithereens, including the Crab-N restaurant 5 miles away, which was damaged beyond repair. Then, three months later, Randy died of pancreatic cancer. "We didn't consider not starting over," Terry says. But his daughter Natassia Brooks recalls being daunted by the obstacles. "We had no idea of the challenges we were taking on," she says.
Start again they did. As many Texans discovered, insurance payouts after Harvey didn't come close to the sums required to rebuild. The Friends of Crab-N, a coterie of customers, put together a loan to cover the shortfall, and the restaurant reopened on Feb. 1, 2020, after being closed for two and a half years. "We added a deck and reoriented the dining room to take best advantage of the views," Terry says. "People like to look at the water while they eat."
The reopening wasn't meant to be grand. "We didn't advertise, and we wanted to start slowly, working out the kinks," Terry explains. "Although 80% of our former employees returned, there were some new ones too, and everyone had to learn the new computer system." But word of mouth and social media did their thing; 150 people showed up the first night, including some Friends of Crab-N who met face to face for the first time. One was Alto resident Ron Rose, who's kept a weekend home in City-by-the Sea since 1994. "It's a testimony to the family that so many employees came back after two and half years," he says.
Server Beverly Trent has worked at Crab-N since 1980. She's one of a handful of employees who's been there longer than 20 years. She's remained involved so long because of the Brookses. "The family has always been supportive to the staff, helping us out when we've needed help," she says.
Although the Brookses claim no Louisiana roots, Crab-N bills itself as a Cajun/Creole-style restaurant. "In the early '80s, we were looking for menu ideas," Terry says. "On vacation in New Orleans, we loved eating at K-Paul's, and I bought their brand-new cookbook [Chef Paul Prudhomme's Louisiana Kitchen]." Crab-N used a couple of Prudhomme's original recipes when starting out. Over the years, the dishes have been adapted and changed, and new recipes have been added.
"Being a small-business owner obviously has a lot of challenges, but we've learned that you can do more than you think you can."
Some of the restaurant's popular dishes are crab and shrimp bisque, pecan-crusted flounder topped with crab relish, and crab cakes. Natassia notes they're experimenting with some Asian-influenced dishes. "We just like good-tasting food, and we want to keep innovating," she says. The restaurant also features a full bar with signature drinks including a pear martini and a variety of margaritas made with fresh fruits, fruit juices, and housemade simple syrup.
About 30% of the fish the restaurant cooks is brought in by customers. Nearby Redfish Bay and Estes Flats teem with sport fish like spotted seatrout, redfish, black drum, flounder, and sheepshead. The kitchen can prepare these catches in a variety of ways, including grilled, fried, blackened, and pan-seared, and pair them with a signature sauce such as crab-and-shrimp buttercream or crawfish.
As the revitalized Crab-N was humming along, getting its groove back, disaster struck again with COVID-19. "After only six weeks open, we had to close again on March 15," Terry says. But he remained optimistic during the downtime, tweaking recipes, updating seasonings, and applying for aid to help pay employees. "If you aren't improving things, you're falling behind," he says.
Because there were few COVID-19 cases in sparsely populated Aransas County, the county allowed Crab-N to open at 50% capacity on May 1. "Business is steady, mainly local people," Trent says. Efforts have included disinfecting chairs, tables, and menus; directing customers to the sanitizing station as they enter; and requiring masks and gloves be worn in the kitchen.
"God's been good to us, and we'll be OK," Terry says, reflecting on the roller-coaster ride. "Being a small-business owner obviously has a lot of challenges, but we've learned that you can do more than you think you can."
From the July 2020 issue