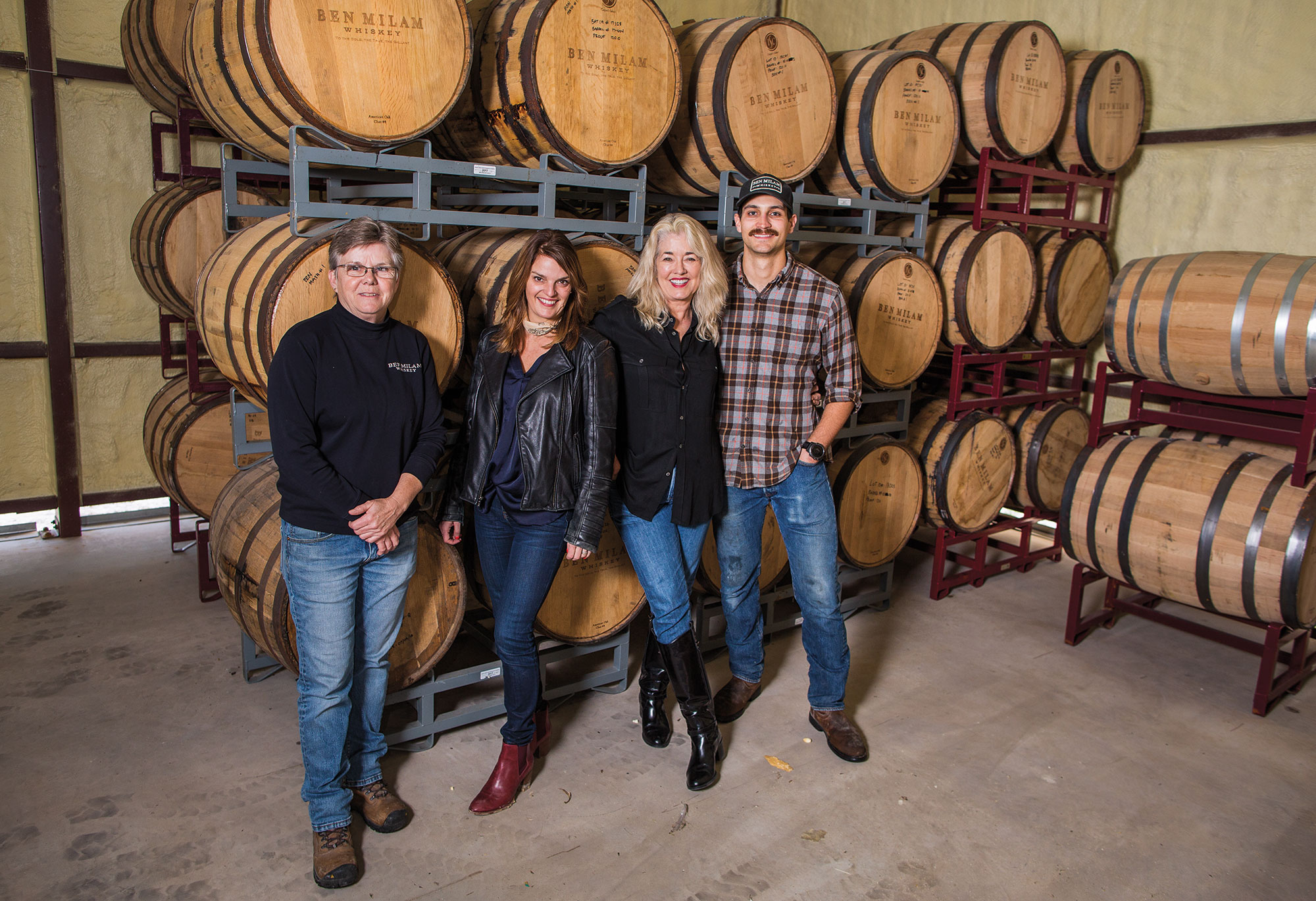 Texian revolutionary Ben Milam may not be as famous today as James Bowie, Davy Crockett, and William Barret Travis, but he should be. After all, Milam led the Siege of Bexar in late 1835 that drove Mexican forces out of San Antonio and the Alamo and set the stage for the Republic of Texas to win its independence the following spring. Felled by a sniper, Milam gave his life to the cause.
Distant cousin Marsha Milam is out to remedy that gap in repute. Her Ben Milam Whiskey, distilled in the Hill Country town of Blanco since 2017, pays tribute to her adventurous ancestor. By contrast, the Davy Crockett brand of Tennessee-made whiskey was recently renamed Ole Smoky. Garrison Brothers Distillery of Hye offers a Jim Bowie cocktail recipe, but no whiskey namesake. And poor Travis' legacy in spirits remains dry as a Texas drought.
A co-founder of the Austin Film Festival and creator of Austin summer music series Unplugged at the Grove, Marsha Milam spent 25 years in the production and promotion side of the music business. "I experienced an epiphany in 2015," she says, "when I assisted Jimmie Vaughan with his participation in the Rock & Roll Hall of Fame's induction of his brother Stevie Ray. It was such a perfect night that it felt like a phase of my life had been completed and I had been freed to move on to the next chapter." The direction of that "next" crystallized in 2016 on a trip to Kentucky, Ben Milam's birth state, when she took a tour of the "bourbon trail."
In a moment of what she describes as "mountaintop clarity," Milam decided to come back home and get into the whiskey business. "Everything about bourbon, from the way it's made to the way it's sipped, requires us to slow down," she explains. "It was exactly what I needed." It took a year to find the perfect 2 acres for her distillery and tasting room on the north side of Blanco.
"Everything about bourbon, from the way it's made to the way it's sipped, requires us to slow down."
Today, the company offers three products: Ben Milam Barrel Proof Bourbon, Ben Milam Small Batch Rye Whiskey, and Ben Milam Single Barrel Bourbon. The last, which features notes of cinnamon and caramel with a vanilla finish, took first-place honors in its category at the prestigious San Francisco International Spirits Competition in 2017 and '18.
Tuesdays through Saturdays, visitors to Ben Milam Whiskey can take a tour led by distiller Marlene Holmes to see how she and fellow distiller Jordan Osborne cook, ferment, distill, and age the corn, barley, water, and rye that go into the smooth-sipping spirits. After the educational experience, guests are welcome to sit at the bar and order cocktails made with Ben Milam whiskey, from bourbon bloody marys to Old-Fashioneds and Manhattans. Holmes came to Ben Milam after 27 years with Jim Beam. "I wanted to be part of an upstart distillery," she explains of the career move. "Plus, this is the best whiskey I've ever tasted."
Cousin Ben would be proud.
Ben Milam Whiskey
1919 Main St., Blanco.
830-833-3033
benmilamwhiskey.com
Tasting room opens Tue-Sat
11 a.m.-5 p.m.
From the March 2019 issue