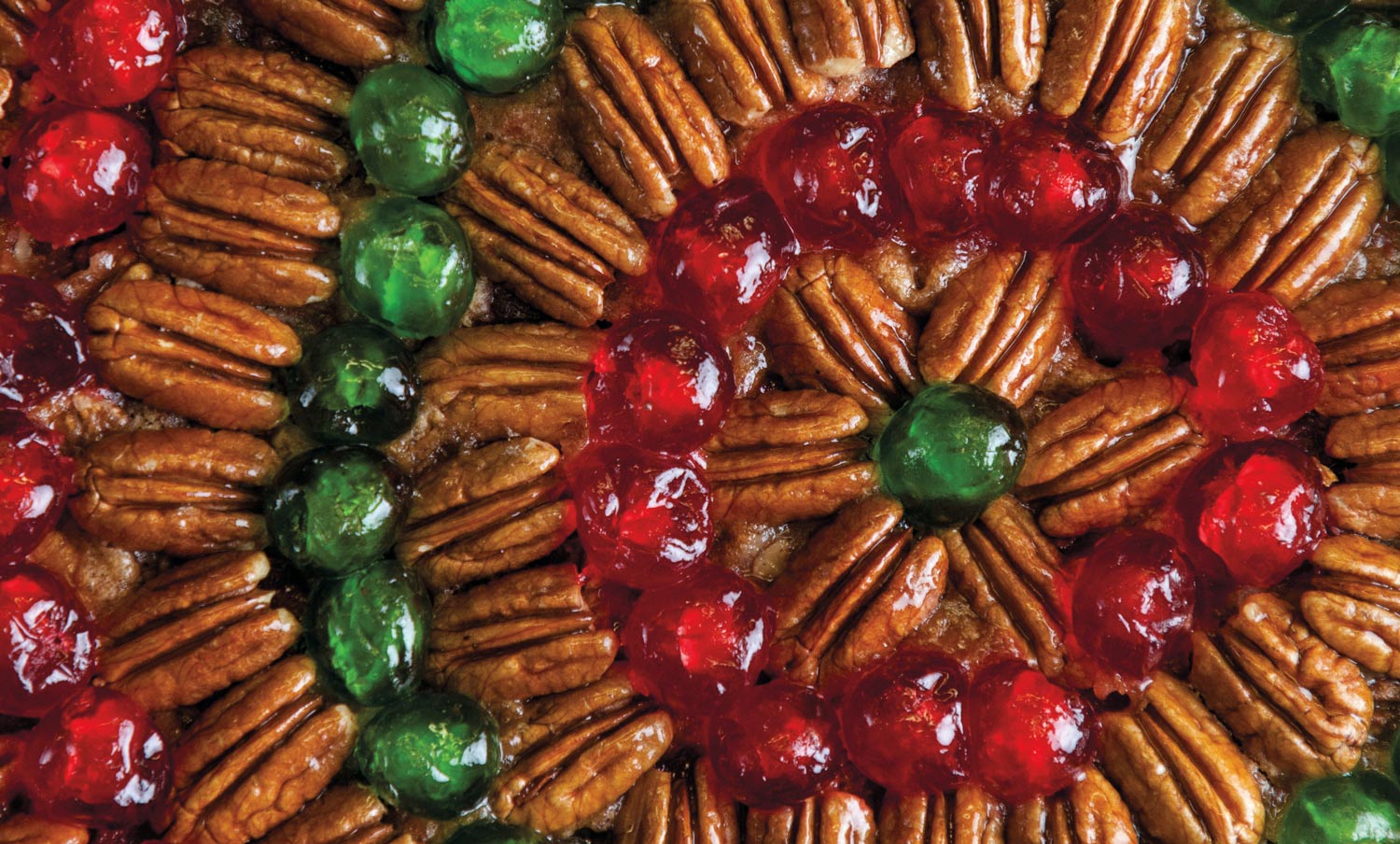 Texans didn't invent the fruitcake, but in our state's tradition of braggadocio, we made it better (and bigger, in some cases).
A holiday delicacy with a sometimes stodgy reputation—thanks in part to Johnny Carson's long-running gags in the 1970s and '80s—fruitcakes were imported to Texas in the 1800s by German immigrants who packed their original family recipes and brought them to their new home. Though the recipes stayed basically the same, the fruitcake benefited from one crucial Lone Star ingredient: fresh pecans.
Fruitcake Finds
Collin Street Bakery
401 W. Seventh Ave., Corsicana, with other locations in Corsicana, Greenville, Waco,
and Lindale.
800-475-3589
collinstreet.com
Gladys' Bakery
3239 Dubina-Weimar Road, Weimar
Open Oct. 15-Jan. 10, Mon-Sat 8 a.m.-5 p.m.
800-725-5254
gladysfruitcakes.com
Eilenberger's Bakery
512 N. John St., Palestine.
800-831-2544
eilenbergerbakery.com
In fact, in an effort to rebrand the fruitcake and distance it from being a corny punchline, it's often called Texas pecan cake now.
Any way you slice it, you'll find similar ingredients (pineapple, cherries, and dates, for example), but the nuts get top billing, and for good reason: Bite into a Texas-made fruitcake, and you'll find a dessert that has a lot more crunch. Here are three Texas bakeries making fruitcakes for the holidays—and year-round—that are no joke.
Collin Street Bakery
Corsicana
The oldest and best-known fruitcake manufacturer, with five North Texas locations, is also one of the nation's leading suppliers of the holiday confection. Founded in 1896 by German baker Gus Weidmann, Collin Street began to attract attention from visiting celebrities like John Ringling and Will Rogers during the Corsicana oil boom at the turn of the 20th century, spurring a mail-order business.
"We have this amazingly loyal customer base," says Hayden Crawford, a bakery partner and spokesman. "We have customers that put it in their wills that their estate has to buy our fruitcake and give it out as gifts."
To attract new generations of customers, the company markets its "pecan cakes," using the same tried-and-true fruitcake recipe, but without the vibrant-colored fruit that some find passé, and is also working on producing a fruitcake-inspired energy bar.
Crawford says much depends on branding: The company often informally surveys customers and has found that though most people say they don't like fruitcake, only a few have actually tried it before. "Just the name turned them off," he says. "It's pecans and fruit—what's not to like?"
Gladys' Bakery
Weimar
Gladys Farek Holub certainly had a way of attracting attention to her business. Her fruitcake recipe, loosely based on her Czech heritage, made national news in the late 1980s and early '90s—and landed her on The Tonight Show with Johnny Carson and The Late Show with David Letterman—when she decided to bake a 150-pound fruitcake in the shape of Texas.
Holub's daughter Melissa Varley now runs the business. Though she doesn't produce the 150-pound cakes anymore, she still makes a 25-pound version.
"It's a very simple cake: pecans, cherries, pineapples, and some really good batter to hold it together. It's the cake itself that is so good—that's what brings our customers back year after year," says Varley, who looks forward to chatting with long-time customers when they call in orders. (The bakery does mail-order business year-round.)
Varley says the success of her mother, now 84, was due in part to her outgoing nature. "She would always say, 'I might not be able to spell, but I can figure.'" And she was bold. "Mom even shipped one to the pope one year."
Eilenberger's Bakery
Palestine
For 120 years, Eilenberger's Bakery has made fruitcakes using Fred H. Eilenberger's secret family recipe—it's kept in a vault—from Germany. Decorating the bakery walls are photos of Eilenberger with his horse-drawn carriage, which he drove to deliver bread from the same historic building since 1915.
The company has changed hands several times, and until recently, production had moved to Nebraska. Palestine-born entrepreneur Bill Jones purchased the company in 2013 and brought production back to the town, along with the original recipe. During peak production, Eilenberger's, which also does a brisk mail-order business, can make 1,000 fruitcakes per day.
"We're hand-done. We still do it the old-fashioned way, with [paper baking] liners," says Sharon Grizzle, marketing and sales director, noting that the recipe is 90 percent pecans. "People love it because when they slice it, they see nothing but nuts."
From the December 2018 issue