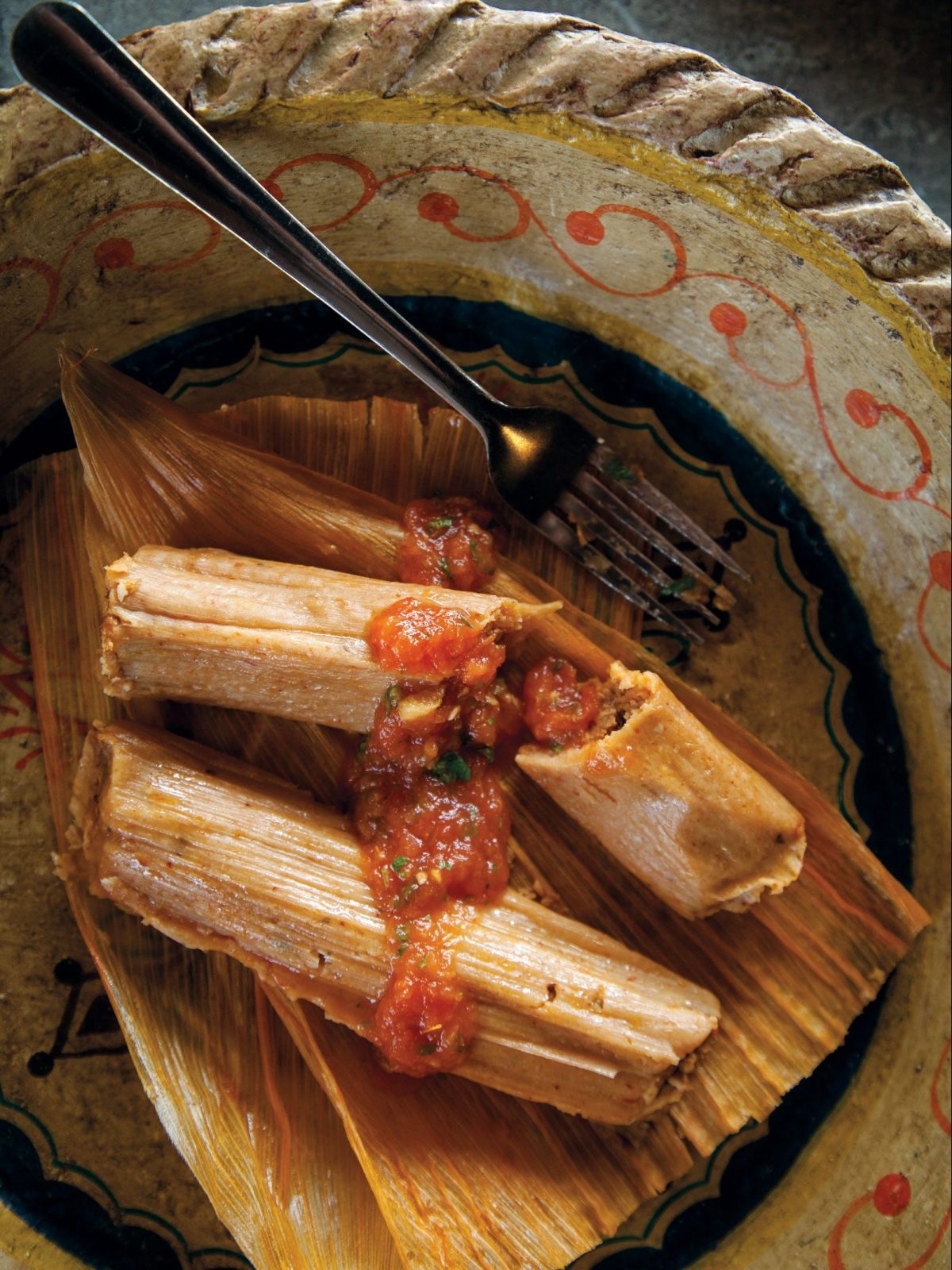 It's the week before Christmas, and lines of people snake around a nondescript building in McAllen. Security guards direct traffic and monitor the throng, keeping a watchful eye out for any trouble. The crowd buzzes with excitement and impatience as it waits for one of the most important ingredients of Christmas in the Rio Grande Valley: tamales. And everyone knows you can't go wrong with Delia's.
Delia Lubin, the namesake of this holiday season staple, started her tamale empire—which includes six restaurants, a food truck, and a mail-order business—with just 5 pounds of masa and the need to provide for her young family.
Where to Find Delia's Tamales
Along with her husband and three daughters, Delia moved from Chicago to McAllen in the 1980s to be closer to family. Though the cost of living was lower in South Texas, wages were too. Not wanting to accept government assistance, Delia recognized she'd need to supplement the family income. So she looked to her past to shore up the future. As a child in Mexico, she'd taken part in many family tamaladas—gatherings of friends and relatives to cook tamales—a long, labor-intensive process. "I knew I needed to do something, and I honestly didn't know what else to sell. But I knew how to make tamales. I figured I'd make them like my mom used to," Delia recalls.
Delia and her sister Maye made tamales the way their family had for years. They soaked the corn husks and ground chiles; they kneaded masa (corn flour dough) and marinated and stewed pork shoulder in a blend of secret seasonings. They crafted the tamales with the sabor perfecto they still strive for today—a firm yet silky masa stuffed with spiced and shredded pork.
The sisters wrapped their first 10 dozen tamales in aluminum foil, stacked them in a cooler, and started knocking on doors. The $10 they made from that batch paid for the next. The proceeds from the second paid for the third. And so it went, each consecutive effort funding the next. "It was challenging, going around like that," Delia admits. "I was afraid that when I'd show up at the door, people wouldn't buy from me." But, she adds modestly, "I was very blessed that everyone loved them."
Delia and her then preteen and teen daughters Sofia, Laura, and Lorena worked together each day to cook, assemble, steam, and sell. Based on word of mouth, local businesses began requesting her tamales. She'd stop in regularly at the offices of attorneys, doctors, and insurance companies. After school, her daughters joined her on the route. "We'd ride with mom to the business, and when people put in their order, we'd run to the car to get it," Sofia remembers. "With us along, she could sell more quickly."
Delia's reputation found its way to Houston, where renowned Mexican restaurant Ninfa's contracted her to supply tamales. To meet production needs, Delia rented a south McAllen storefront in 1998 and hired family, friends, and neighbors to help. For dine-in, she added two tables and took cash and checks only. Despite minimal seating, Delia's did brisk business. At Christmas that year, the Lubins learned just how beloved their tamales had become when customers swarmed the restaurant in what Valleyites fondly remember as "the tamale riot."
Over the last two decades, Delia has opened six fast-casual locations around the Valley, plus a food truck. She also launched a website, deliastamales.com, for fanatics all over the country to order tamales shipped via FedEx. Delia's goes through a million pounds of chicken per year, sourcing many ingredients from the Rio Grande Valley region. And she's not finished growing yet. Two new storefronts are in the works in San Antonio and Weslaco for 2019, and Delia's is expanding its production space.
Despite numerous franchising offers, Delia's remains 100 percent family-owned, with Sofia serving as chief operating officer, Laura as chief financial officer, and Lorena as human resources chief. As to why they've kept ownership so close, Sofia says, "We just feel more comfortable growing at a slower pace, and it helps us ensure the quality of our product." She adds there might be the possibility of franchising once Delia's adds production capacity, but for now, it's all in the family.
When you walk into one of Delia's restaurants, it feels welcoming, the air redolent with fresh corn masa, garlic, onions, and roasting meats. The employees staffing the counter wait patiently while customers decide which of the 18 flavors they'd like to try. (The chicken and cheese and traditional pork are favorites.) On weekends, the restaurants fire up a plancha in the corner of the store and cook fresh tortillas for menudo, a Mexican beef tripe soup that's the only other item on the menu.
Tables fill with people from all walks of life—workers in paint-splattered jumpsuits, families crowded at the salsa bar, the lone worker with a laptop. "We wouldn't dream of going anywhere else," longtime McAllen resident Audrey Huston says. "In fact, whenever we visit family, we have to stock their freezer [with tamales]. I'm not sure if they want us to visit or if they just want Delia's tamales," she jokes while unwrapping a steaming jalapeño-and-cheese tamale.
A Holiday Tradition

Although tamales are eaten year-round, they have come to be associated with Catholic holidays celebrated in Mexico, from Our Lady of Guadalupe Day on Dec. 12 through Three Kings' Day on Jan. 6.
Delia is taken aback by the success. "I never imagined it could be what it is," she says. "But I've always made food with love. Also, I use the best ingredients, and I won't ever change that."
Though she spends less time in the kitchen now, Delia takes an active role in the business, dropping in on stores, spot-checking service, and taste-testing tamales. During December, when sales triple, Delia's adds 50 temporary employees—and no one gets a break. That includes Delia herself, who spends every day working in the production facility.
"My mom has told us that if she passes away during peak season, we are forbidden to have a funeral until afterward because our customers need to be taken care of first," Sofia says.
Delia's tamales, for all their humble beginnings, have become more than the sum of their parts. Not just a lunchtime and holiday treat, the tamales are a cultural touchstone for Valley residents, intertwined with what it means to be from here. For her customers around the country, Delia's provides a little piece of South Texas on their family's table.
Now 71, Delia doesn't plan on passively enjoying her success. "As long as God continues to give me the strength I will still work every day," she says.
From the December 2018 issue