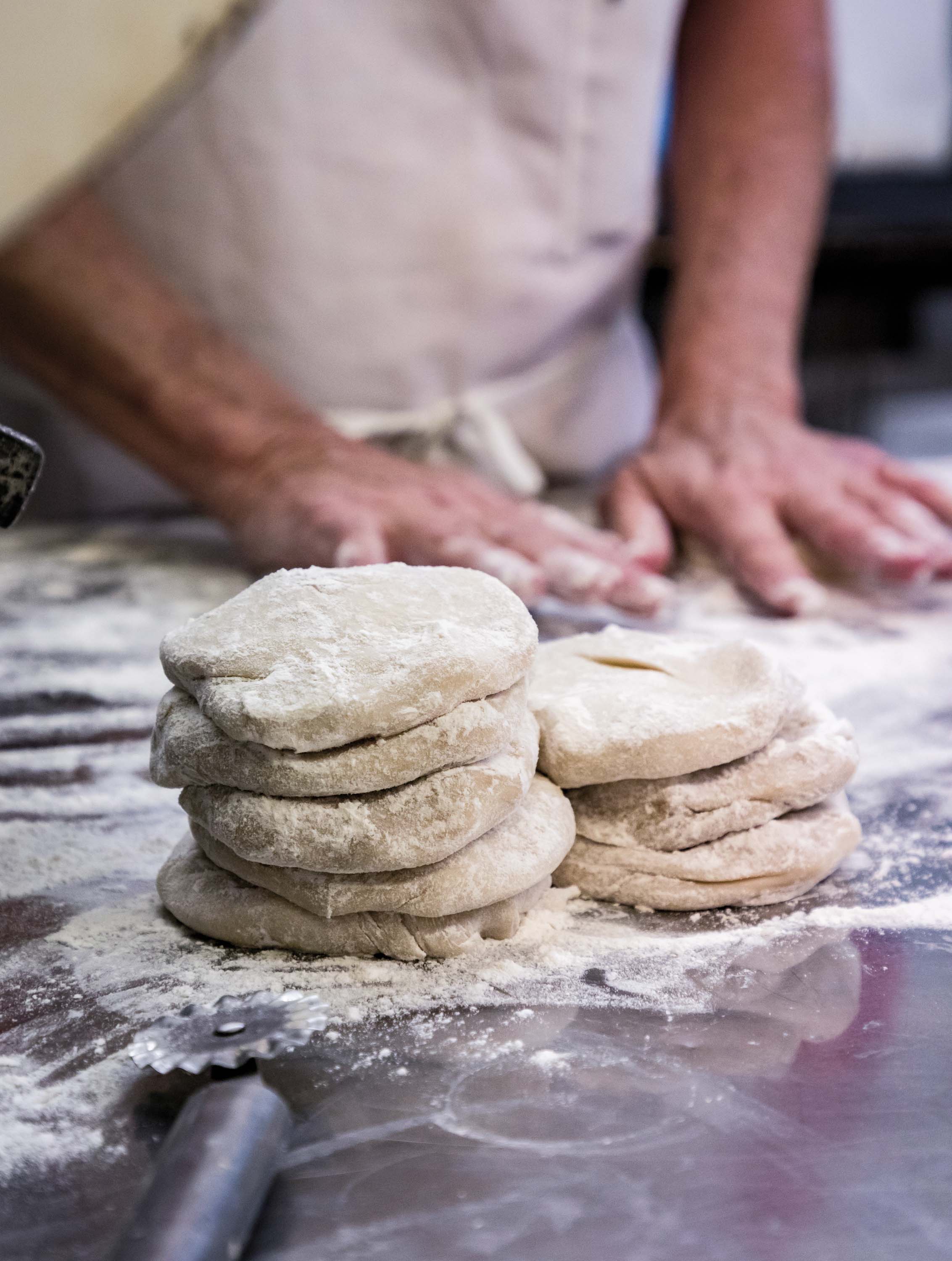 You know a place is important to a community when people use it as a way to give directions. "You hear people all the time saying, 'Well, you know where Hutch's is, right?'" says David Hutchens, the second-generation owner of Hutch's Pie and Sandwich Shop in Weatherford, which has been serving handmade fried pies in the area for decades. 
Despite selling around 3,000 fried pies a week, Hutch's is a humble operation run by the same family that founded it more than 80 years ago. Hutch's started in 1935, when David's dad, R.F. Hutchens, and pal Frank Grimes decided to try to revive an old café in town. (R.F. went by "Hutch.") Like the previous owners, they were unsuccessful—people didn't eat out much during the Great Depression. 
They made another failed attempt at selling chili and found some success selling chili bricks—frozen chili, cut into bricks and wrapped in paper—to stores around town. Once the weather warmed, chili sales plummeted, though, and Hutch suggested a new venture: fried fruit pies. 
Hutch's Pie and Sandwich Shop, 145 College Park Drive, Weatherford. Mon-Sat, 6 a.m.-3 p.m. 817-594-0751.
Traditionally shaped like a half-moon, with crimped edges and a gooey fruit filling, handheld fried pies are considered a Southern delicacy. They were often made from leftover dough, lard, and preserved or dried fruit, which made them easy to make year-round since dried fruit and preserves don't spoil quickly. 
Hutch's father showed him and Grimes how to make fried pies. They tweaked the recipe to their liking and began selling fried pies to mom-and-pop grocery stores and cafés around town for 3 cents each. Grimes' mother agreed to let the duo use her garage as a pie shop. They leveled the dirt floor, laid down a piece of linoleum, and brought in a stove and a pot of grease.
A few weeks later, Grimes dropped out to pursue a different career. Meanwhile, Hutch married Grimes' sister, Eula Fae Grimes, who started making the pies while Hutch went around delivering. Eventually, Hutch purchased a 1931 Model A Ford with a rumble seat—an exterior folding seat in the rear that opened to reveal a bench—fixed for pies to sit in. It became Hutch's first delivery vehicle.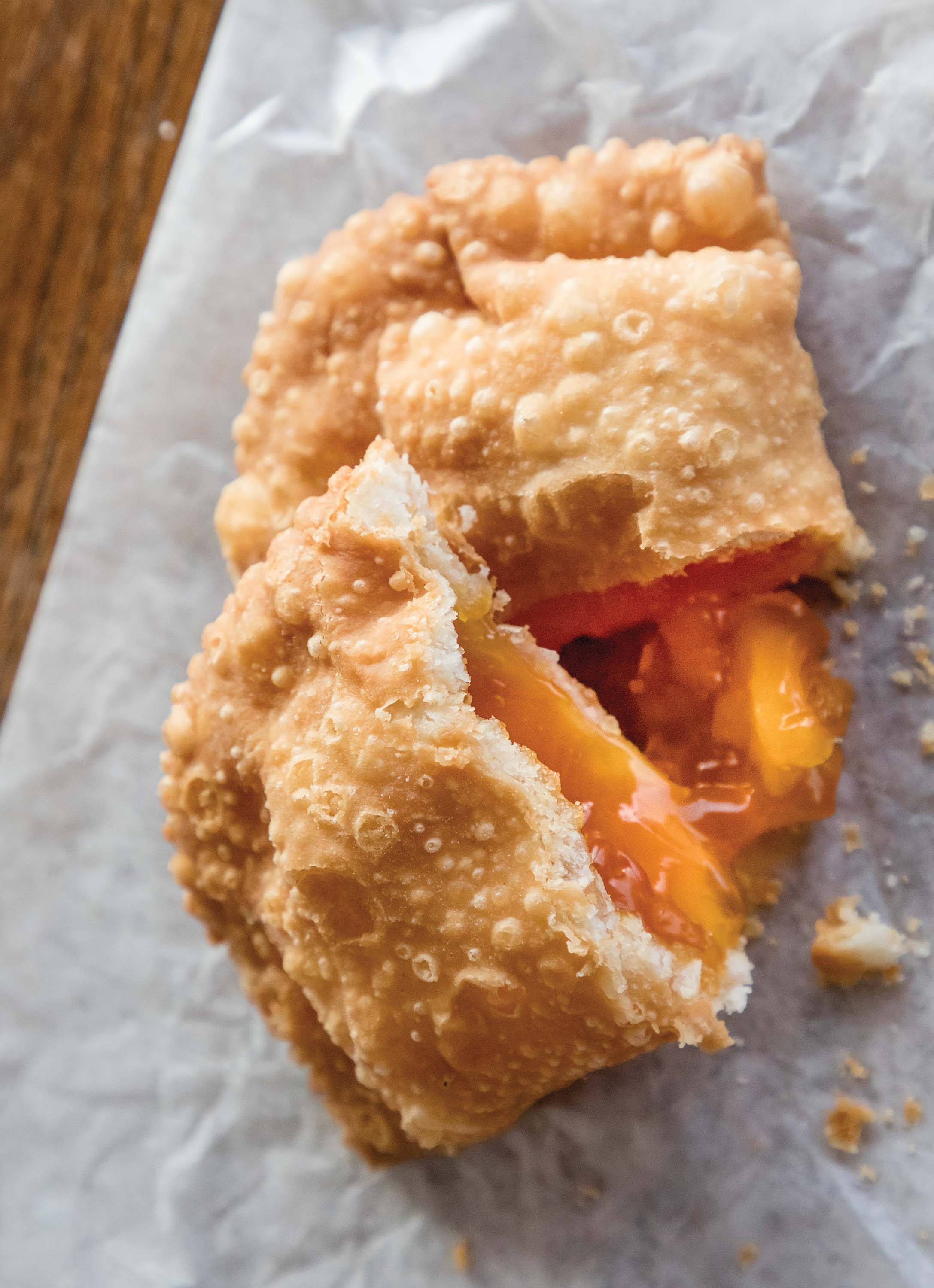 After building up the delivery business, Hutch retired in 1977 and sold the business to his son, David. In an effort to generate more cash, David began wholesaling the pies (which ended in 2017) and opened the Hutch's storefront in 1985, the same year that he and his wife, Sue Hutchens, started making fried breakfast pies and serving lunch. 
"The breakfast pies are our big money maker," David touts. On a recent Saturday morning, patrons were lined up to order sausage, egg, and cheese fried pies; bacon, egg, and cheese pies; sausage and gravy pies; and the ham and cheese roll. The last is a generous serving of ham, rolled up with American cheese stuffed inside pie dough and fried to crispy perfection. 
The recipes used today are essentially the same as the originals, except David uses modified food starch instead of corn starch to make fruit pies creamier and sturdier when you bite into them. Fruit fillings are made from scratch, with popular flavors including apple, apricot, cherry, and peach, although the chocolate, pineapple, and lemon also hold their own.
Despite selling around 3,000 fried pies a week, Hutch's is a humble operation run by the same family that founded it.
What sets a Hutch's pie apart is its crust. David's son, Brandon Hutchens, who oversees daily operations, says there is no secret ingredient. There's just a balance of the key ingredients: flour, salt, and butter. "We've tested other pies out there, but our crust is flakier and has more flavor," Brandon says. Freshness is also a factor in Hutch's pies, as other fried pies found in the area probably come from gas stations or franchised companies, where the pies are coming in frozen and are flash-fried on-site. 
Hutch's has been there through the highs and lows, the recessions and booms, and the changes of the surrounding landscape. And after all these years, the pies still serve as a staple, giving Weatherford a piece of golden-fried history to hold onto.
From the January 2020 issue