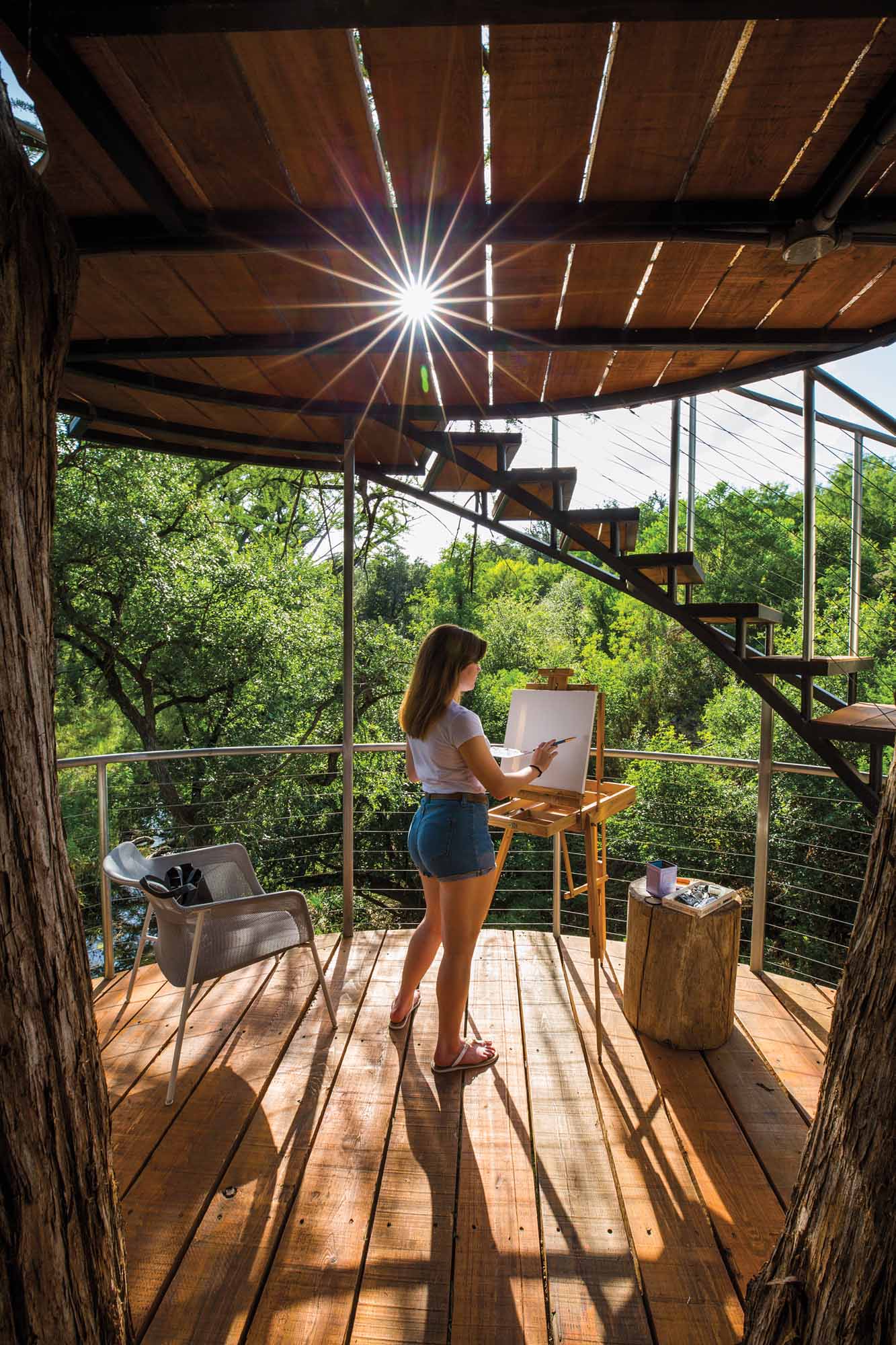 There is something about being suspended high in an ancient tree that makes you see the world in a new way. It's a rare vantage with which Will Beilharz is intimately acquainted. As a teenager, Will worked for his family's business, Cypress Valley Canopy Tours. It was one of the first zipline courses in the continental United States to send adventurers flying along cables through the treetops—in their case, centuries-old bald cypresses in the Hill Country.
ArtisTree at Cypress Valley Canopy Tours, 1223 Paleface Ranch Road S, Spicewood. 512-264-8880; artistreehomes.com
But while on a retreat to the forests of northern California after the 2011 Pedernales wildfire ripped through his family's land, Will's wheels started turning on another lofty venture. As he and some buddies spent the night suspended 275 feet high in a redwood tree, which the group had climbed, Will remembers thinking, "Wouldn't it be cool if everybody in the world could sleep in a tree? How would that change people's perspective on our relationship with nature, with life?"
Fast forward eight years, and Will has made his dream a reality by starting ArtisTree, a treehouse design and build company he co-founded with his mother, Amy Beilharz. In addition to five treehouse rentals on the family's Hill Country ranch, ArtisTree has designed treehouses and tiny homes in such far-flung places as the Pacific Coast of Mexico and a lava field in Hawaii, all available for rent. The mission of ArtisTree is to not only explore the limits of high-end sustainable design, but to also share the magic that happens when we reconnect with nature and experience the playfulness and whimsy of our childhoods.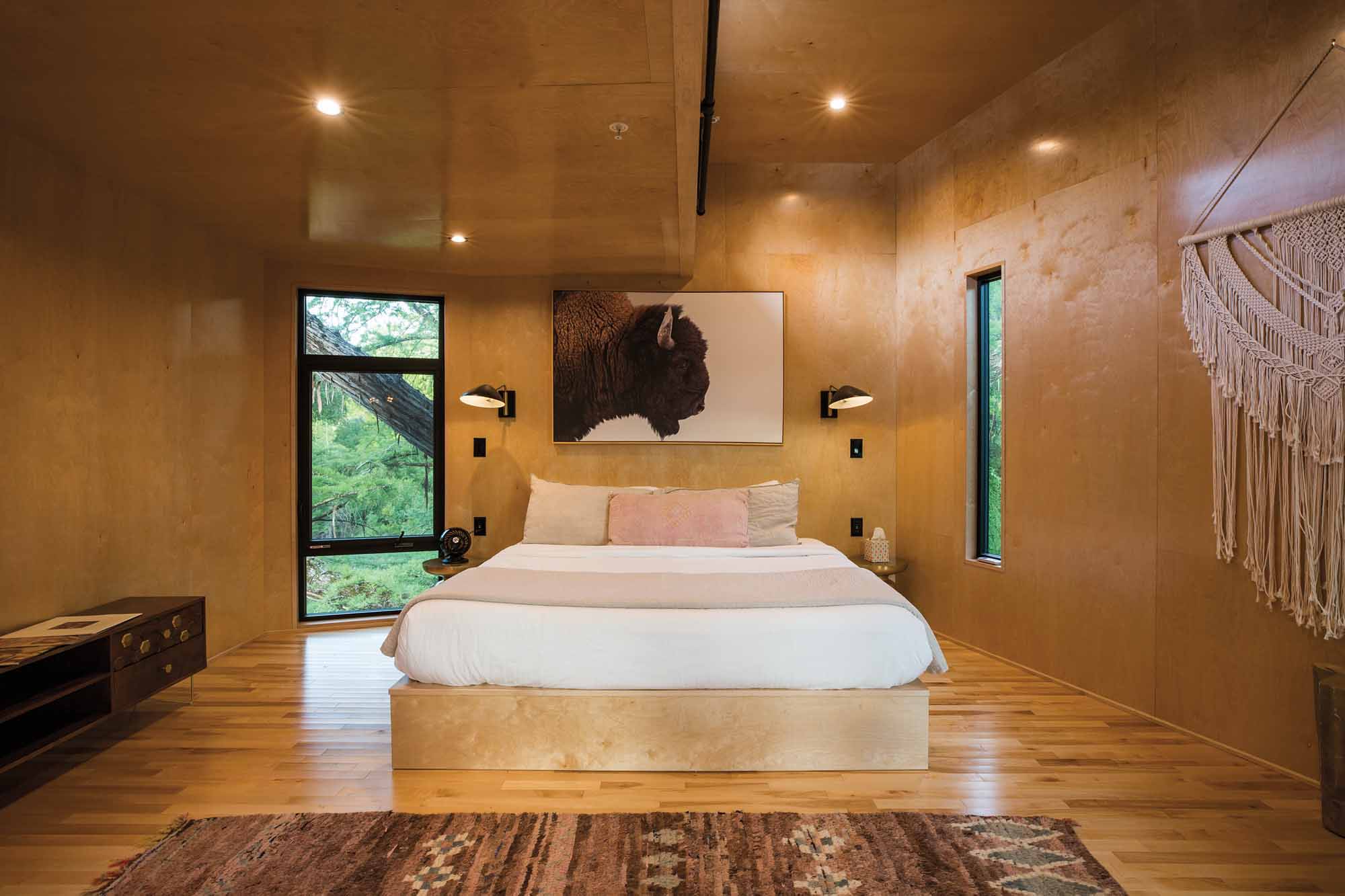 Spend a night in Yoki, the most recent of ArtisTree's rental properties on the Beilharz ranch, opened in 2018, and you will instantly become a convert. Cradled between two giant cypresses and suspended 25 feet over a creek, the treehouse combines all the amenities and cool-kid design of a bohemian boutique hotel with the natural wonders of the forest. (There's no Wi-Fi because, hey, you're in a tree and you shouldn't be surfing the internet.)
The 500-square-foot structure is an enchanting experience by any measure, with a comfy king bed, small kitchen, den, and Japanese soaking tub in the separate bathhouse. When you step out onto the porch to a morning filled with birds and butterflies flitting about against the soundtrack of droning cicadas and Van Morrison on the record player, the allure of sleeping in a tree is undeniable.
By his own account, a young Will would have been surprised by the path his life has taken. In 1998, he was 10 and trying to come to terms with his parents' decision to move the family from the ritzy Westlake suburb of Austin to rural Spicewood. After working in the communications industry, Amy, along with her husband, David, began to worry that technology and the changing culture were causing their kids to grow up too fast. She wanted something different for them.
So, decades before digital detoxing and forest bathing became popular wellness trends, the couple made a radical move. They found 88 untouched acres in Spicewood and decided to try living off the land. First order of business: build a yurt for the six-person family to live in.
"It was a wild adventure," Amy says. "Everybody thought we were nuts."
Will was one of those people. "I thought they had gone off the deep end," he says. He remembers thinking, "Why would you give up the house with the pool and the nice cars, and sell it all and move out to the country?"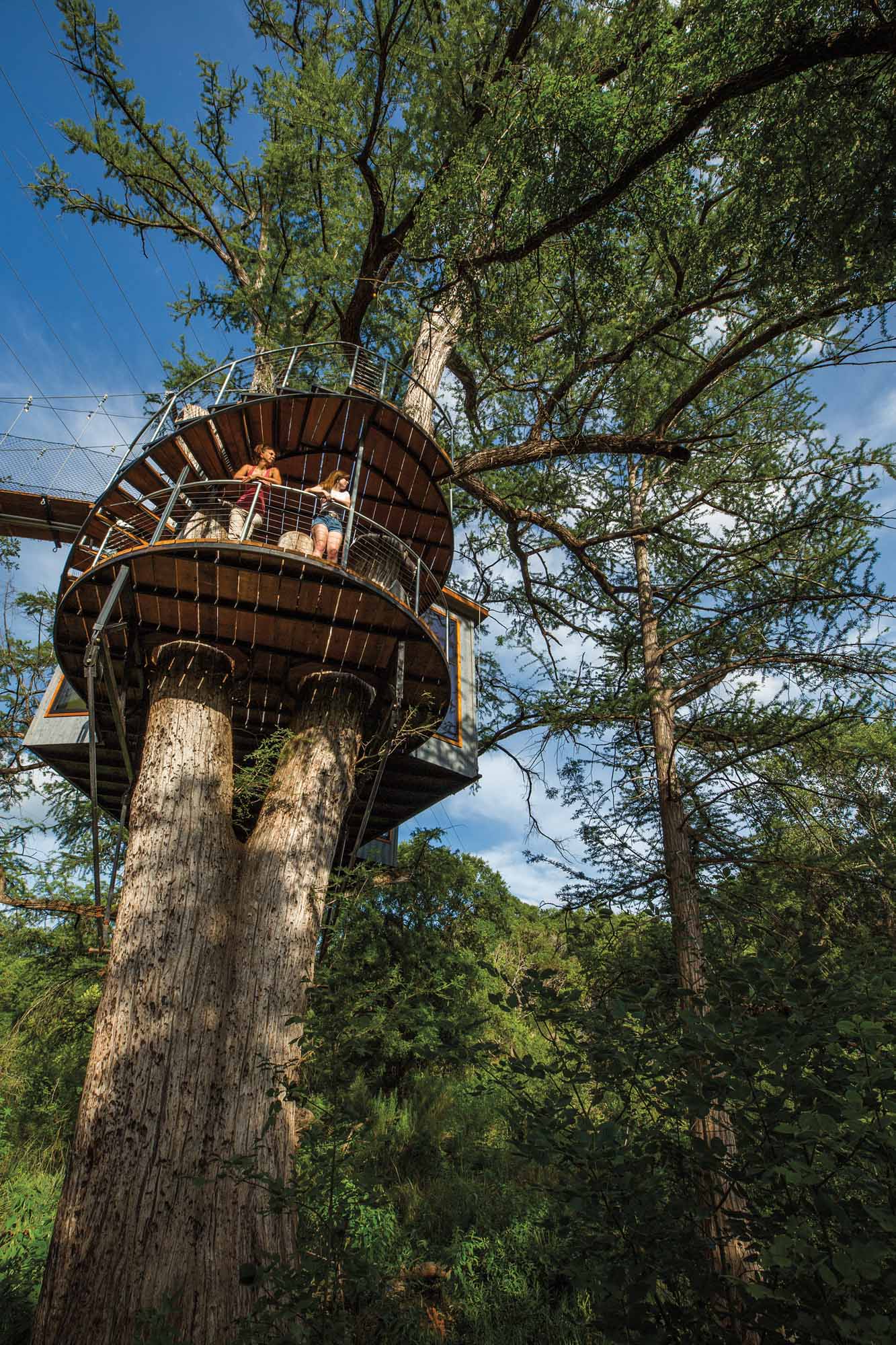 But as the years passed, Will's experience living closer to nature slowly infiltrated his psyche. He helped his father build a series of structures starting with that first yurt and culminating in a traditional family home, though one that utilized materials found on the property, solar panels for electricity, and techniques to maximize natural air flow.
The move to Spicewood wasn't just an experiment in a simple and sustainable lifestyle; Amy and David chose to buy land on both sides of a creek in order to protect the waterway. In 2005, they took their environmental efforts one step further when they opened Cypress Valley Canopy Tours as a fun way to both monetize the ranch and, as Amy says, to get people "inspired about environmental ideas without beating them on the side of the head with a two-by-four." The very next year, they built Lofthaven, a treehouse with a queen bed and canvas exterior, to serve the chorus of zipline guests who had expressed the desire to stay longer in the trees.
"My first step in any design process is just really deep listening," Will says. "What are the trees asking for? Where are the beauty points?"
The business carried on until 2011, when the wildfire broke out and swept through nearly two-thirds of the Beilharz land, destroying several 600-year-old cypress trees, part of the zipline course, and Lofthaven. After taking a moment to process their losses, the family decided to reopen the zipline tour. Then, when Will returned from the California redwoods, where he had retreated in the wake of the fire, he offered to make the family zipline business the very first client of his new luxury treehouse company.
Will's first build on the Spicewood property, Lofthaven II, was an homage to two structures destroyed in the fire: the yurt of his childhood and the original treehouse. The circular roost is perched above a ravine and surrounds a giant tree that grows directly through its center. The interior is the picture of romantic glamping. Gauzy, white netting envelopes a king-size bed that sits next to a macramé hammock. Outside, lights are embedded in the suspension bridge that leads back to land and a bathhouse complete with a waterfall hot tub.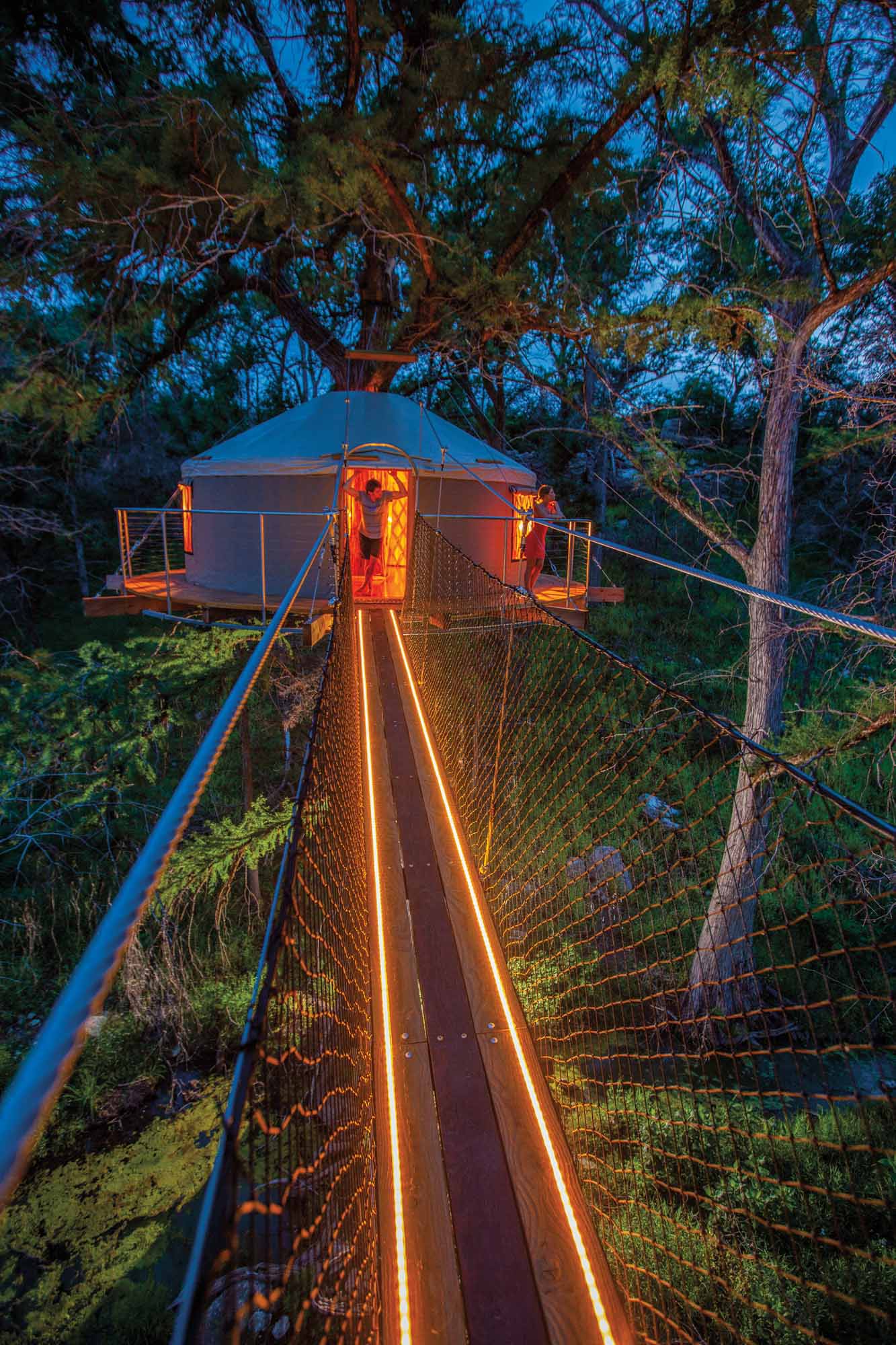 "My first step in any design process is just really deep listening," Will says. "What wants to happen here? What are the trees asking for? What are they able to hold? What's the ecosystem that it's in? Where are the beauty points?"
What started for Will as a one-off commission for Cypress Valley Canopy Tours to gain experience for the launch of ArtisTree has resulted in five luxury treehouses built in the cypresses on the ranch of his youth. The success of these, the family's rentable treehouses outside of Texas, and client-based ArtisTree projects around the country have allowed Will to build something of a creative collective, assembling a group of craftspeople focused on elevating green design and protecting the environment.
Ben Newman, a designer, project manager, and partner in ArtisTree, is an artisan who says he often rummages through local dumps to find discarded objects that can be repurposed for each new project.
"Creating environments where people can play again, and dream and feel that sense of creativity, is really what inspires me to design spaces," says Newman, who loves the challenge of figuring out how to take as much reclaimed material as possible and "spin it to have a new look to it."
As modern life becomes ever more frenetic and as concerns for the environment grow ever more serious, it's no surprise that there is an increasing interest in eco-tourism, conservation, and the restorative powers of nature. But there is also something special about exploring these ideas through treehouses.
"I hope the guests get a sense of what it means to be held by a living, breathing thing," Will says. "I think part of what we're seeing is just the human psyche needing places of sanctuary. And treehouses were the original childhood sanctuary, right?"
From the December 2019 issue