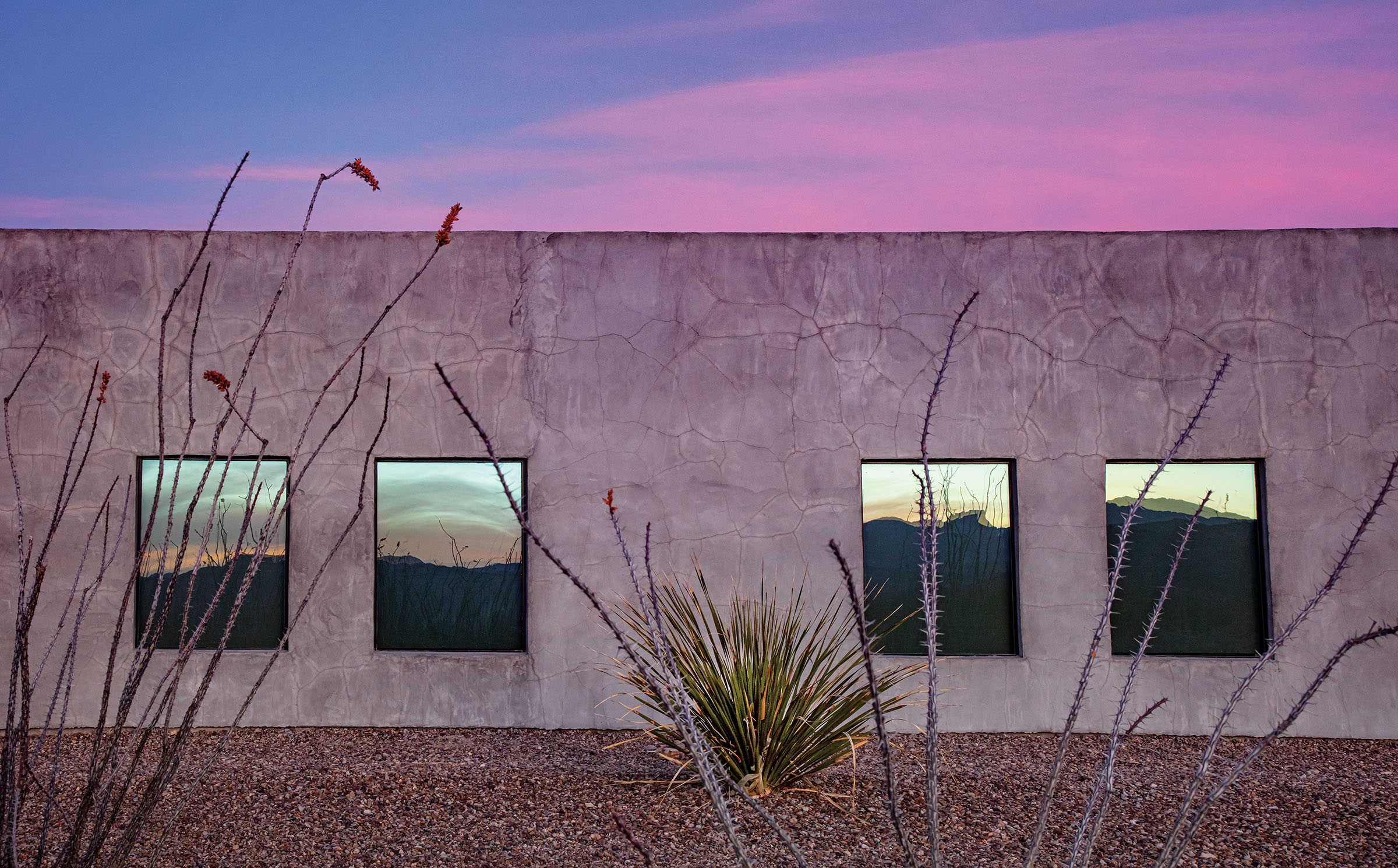 If the desert is a play, then Willow House owner Lauren Werner is its set designer. Every detail of her singular Terlingua hotel, comprised of small concrete boxes located 6 miles from Big Bend National Park, has been arranged for visitors to bear witness to the wild pageant of nature. The porch of each casita is a front-row seat to the Chisos Mountains and their ever-shifting drama of color, shadows, and light. Werner designed the hotel with the goal of making sure no one misses the show.
Willow House
23112 FM 170,Terlingua.
Rates begin at $630 per two-night stay.
432-213-2270; willowhouse.co
Take what I call the "star bed." Near the ravine that edges the arid 287-acre property of rocks and creosote brush, Werner has installed a padded platform that dangles from a steel frame, suspended in midair. It's the place to be at night, when the cosmos reveals itself. As stars overtook the Dark Sky territory, I settled in and would not leave until I saw a shooting star. The golden blaze finally came, and when it did, I whooped from the thrill of it.
Willow House, which opened in September 2019, is Werner's first hotel. The 29-year-old began planning it when she was in her early 20s. Although she has no formal education in architecture—Werner studied pre-law at Southern Methodist University in Dallas—she designed and served as the main contractor for the project. Her parents are developers, so she grew up with blueprints and knows her way around a construction site.
Many have assumed Willow House was inspired by Donald Judd, the artist whose installation piece of concrete boxes in a field in Marfa could be the cousin of Willow House. "That's not a bad thing at all," Werner says about the comparison to Judd. But Werner's muse was painter Georgia O'Keeffe's home in Abiquiu, New Mexico. "I love how her windows frame the land," Werner says. "Every window and every patio at Willow House are a perfect frame of either the Chisos or Santa Elena Canyon without any sort of obstruction in between."
The layout of Willow House is modeled after a Texas ranch property with a balance of private and communal spaces. Guests stay in one of 12 private casitas, which vary in size from roughly 300 to 700 square feet and are decked out with decadent touches: alpaca throw blankets, Aesop bath products, fluffy robes. The spacious main house is the hub of communal action, as are the many outdoor dining areas, fire pits, and patios. Guests can cook their own meals using the outdoor grill or gourmet kitchen. No guests under the age of 12 are allowed, unless you rent the entire property.
The main house is streamlined luxury, with smooth concrete walls and a built-in, sunken lounge pit. Even the kitchen shelving feels like art, with rows of pottery and silver wine glasses. I find myself lifting up the earth-toned coffee mugs and soft Turkish towels—available to take on your trip to Boquillas Hot Springs—to see who makes them. It takes time to find so many gorgeous things, and to gather it all here out on the edge of nowhere seems like a feat worth bowing down to.
When I walked into the main house for an early morning coffee, no one was there, but music from an iPad made the space welcoming in the darkness just before sunrise. I took note of the music, and Dan Auerbach and Khruangbin are now also on my playlists. I'd planned to sit by the big glass doors overlooking the Chisos to watch the sunrise alone, but it was so startling—a fiery swatch of pink and orange—that I had to run back to the casita to make sure my husband was awake to see it, too.
Guests are encouraged to mingle with one another even in the relative solitude of the environs. The people we met, mostly couples, were excited by the beauty around us. "I grew up in Africa, so I saw the Milky Way every time we went on safari," a dental hygienist who had just moved to Texas from Washington, D.C., told my husband by the fire pit. "This is my first time to see it in the U.S." Another guest chimed in: "I'm from Boston, where I guess we only have about two stars. So, this is nuts."
Not until we were tucked away on our casita's front porch did we realize just how much voices carry in the desert. Eavesdropping was inevitable, part of the desert play. A guy in his early 30s walked nearby, talking on his cell phone. "Dude. I'm in Terlingua. It's near Marfa. You should see the sunset." Or the newly engaged couple by the fire pit: "What's that bright one? A planet? I don't know. Well, don't you have your star app thingy?"
The setting is so spectacular, it's hard not to constantly snap photos. We were a small band of sky watchers, phones in hand, stumbling over desert rocks because our eyes were turned upward, smiling as we passed each other.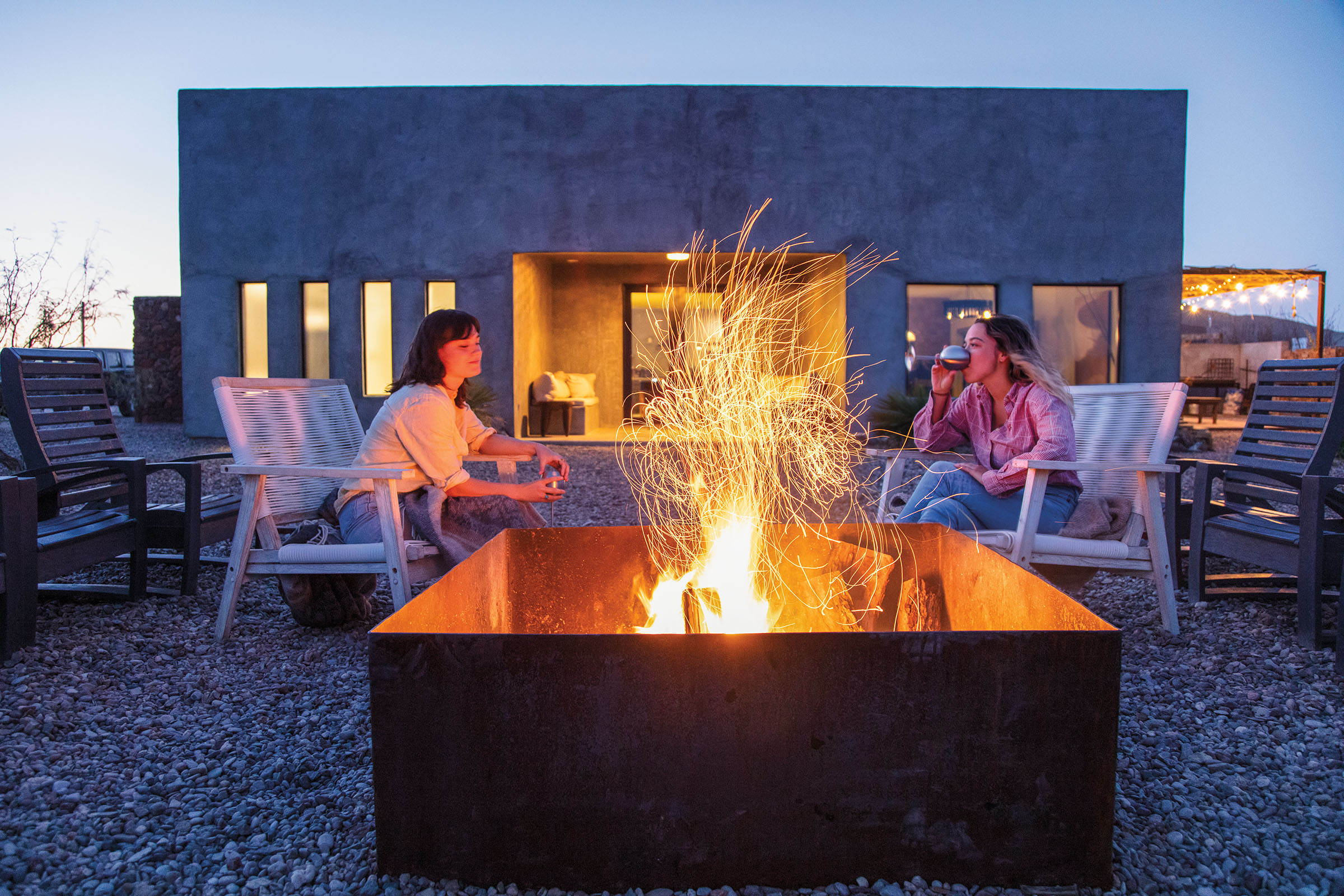 Harmony between space and nature underscores every detail of Willow House. Werner lived on-site for much of the year it took to build the hotel, so her relationship with the land informed the design. The hues of rocks around the property inspired all of her choices, from furniture to art to dishware. Werner decided to leave the casitas in their natural brown concrete color because the brown blended into the topography. She and three friends handpicked red rocks from the volcanic fault line that runs through a remote section of the property to build the gabions (wire cages filled with rocks) that edge the main house. "We hauled up 45 truckloads of these rocks, and you still can't notice a dent in the land," Werner says.
Ocotillo, a long and spindly succulent whose tips bloom red in the spring, also plays a role in the aesthetic. Werner transplanted a few dozen of them to line the drive to the main house, and the roof over the outdoor dining area is built from dried ocotillo branches. If you're lucky enough to be there when it rains, you'll see their lanky grey limbs burst with green leaves. "People are mesmerized by these ocotillos," Werner says. "I think it's because they just stand out so much in comparison to this stark landscape."
Listening to Werner talk about rocks, ocotillo, and the way the light at dusk hits the craggy face of Willow Mountain, it's hard to imagine her in law school. That had been the plan, but then a family friend encouraged her otherwise. "He said, 'You're creative and also extremely impatient,'" Werner explains. "'I know you're going to want to start your own thing, so you shouldn't spend five years of your life figuring that out.'"
Werner took his advice. After a yearlong stint working in commercial real estate development, she bought this patch of rough land in Terlingua. She drew construction plans using basic architectural design software. Once a roof was on, she slept on a mattress in whatever room wasn't being worked on so she could be on-site. There wasn't electricity, but sleeping there was the only way she could keep the project moving. "I was here morning until night for the framers."
After a day in Big Bend, my husband and I are on our casita porch looking back at the Chisos, where we had just hiked. The furry tarantula that darted across our trail, the red-headed woodpeckers that made the piney woods sound like a carpenter's studio, the mama bear and two cubs that some fellow hikers spotted but we missed—they are all there in those distant purple mountains we'd just explored. The golden light across the landscape crests, plateaus, and descends, highlighting first one mesa and then another, as if it's saying, "Look at this! Now, look at this!" And we look because we don't want to miss the best show in town.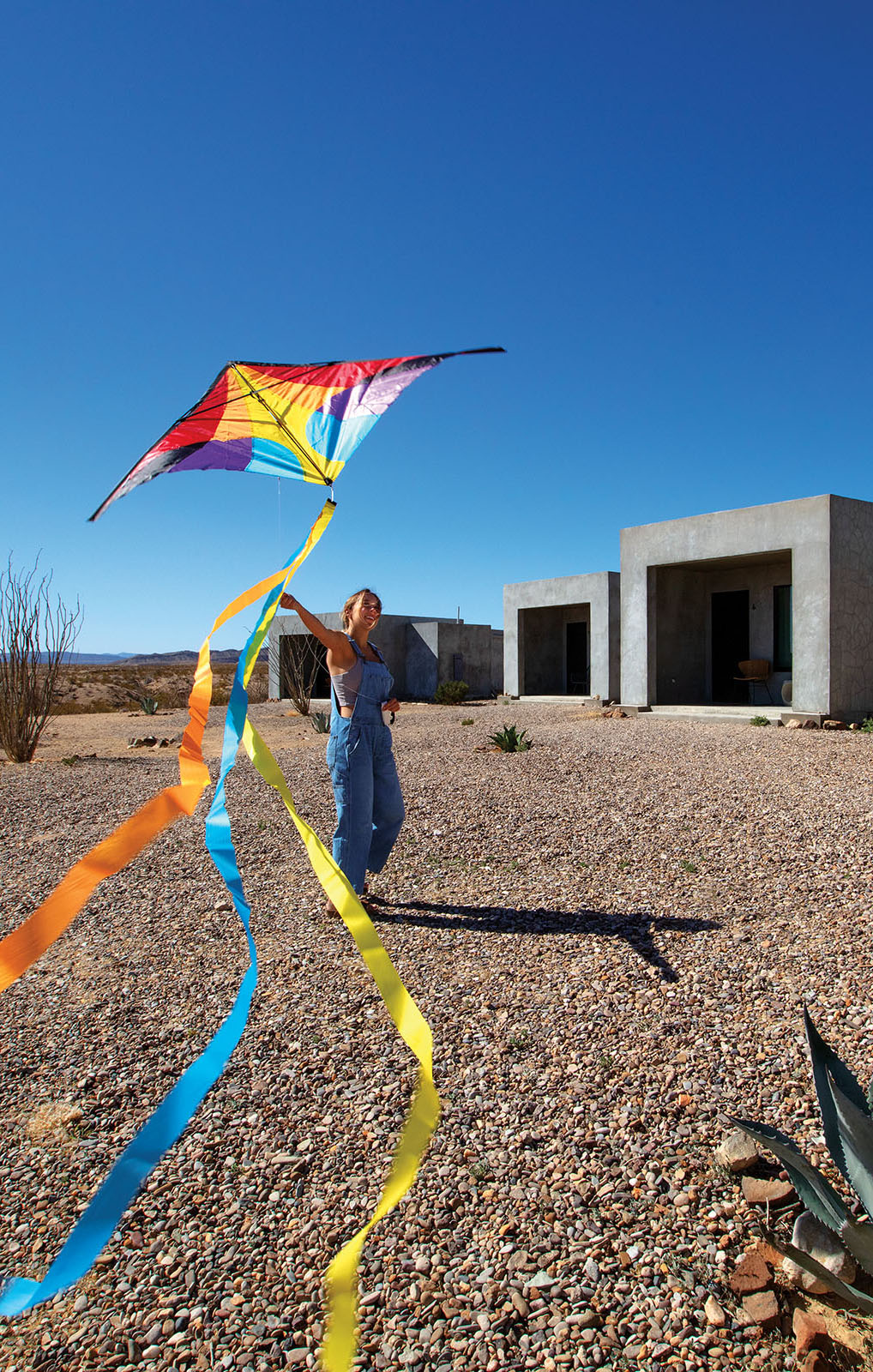 Superlative Stargazing
Big Bend National Park and Big Bend Ranch State Park, on either side of Willow House, are International Dark Sky Parks, marking this area as ideal for stellar observations.
Highly rated phone apps like Stellarium and Google Star Walk let you know what you're seeing, and they have red-light night mode to preserve your eyes' adaptation to darkness.
Easy-to-spot constellations include Pleiades, for about four months in autumn and winter, and Orion in late spring. Many other constellations are also viewable.
Bring binoculars. When the moon is full, you can get a good look at its surface.
From the April 2021 issue