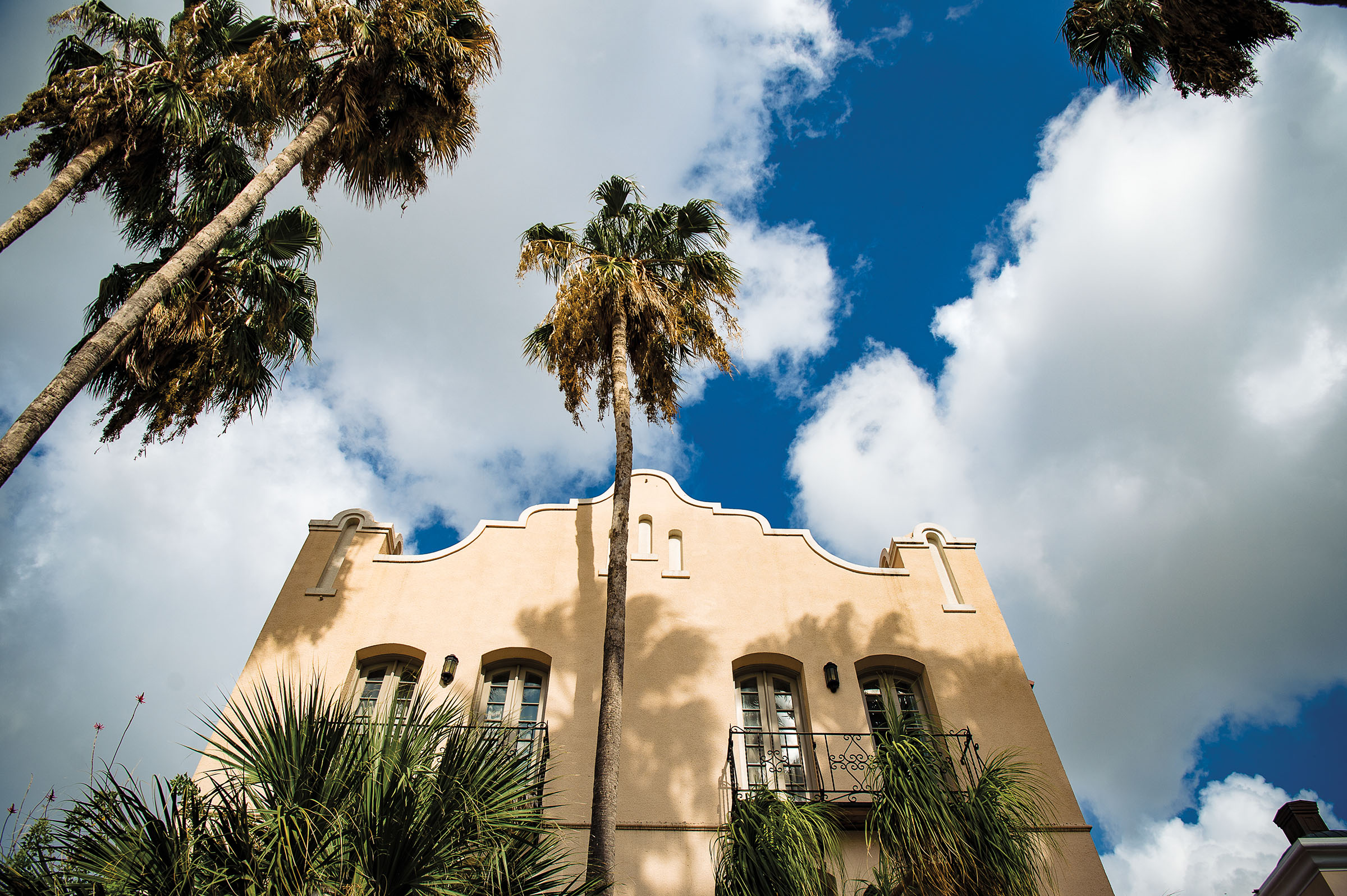 Sometimes known as the "City of Palms," McAllen has reinvented itself time and again, yet still remains true to its roots. The town is named for John McAllen, an Irish settler and businessman who donated land along a new railroad in 1904. From its early days as a ranching and farming economy, the city has become an important hub for international trade on the Mexican border. The arrival of maquiladoras, or factories, in the 1980s turbocharged trade. Today, McAllen anchors a sprawling Rio Grande Valley metro area that encompasses the cities of Edinburg, Mission, and Pharr, along with several international bridges, where trucks import and export everything from auto parts to vegetables. Though celebrated for world-class citrus and produce, McAllen's mild winters also draw winter Texans from the north, and the city's retail shopping districts lure visitors from south of the border. But McAllen isn't all business. It's also an ecotourism destination known for its diverse birdlife, and it hosts numerous popular festivals, including Fiesta de Palmas. The three-day event (Oct. 22-24) features art vendors, live music, an "Octubrefest," and a food park.
San Antonio
3.5 hours
Austin
5 hours
Houston
5.5 hours
Dallas
8 hours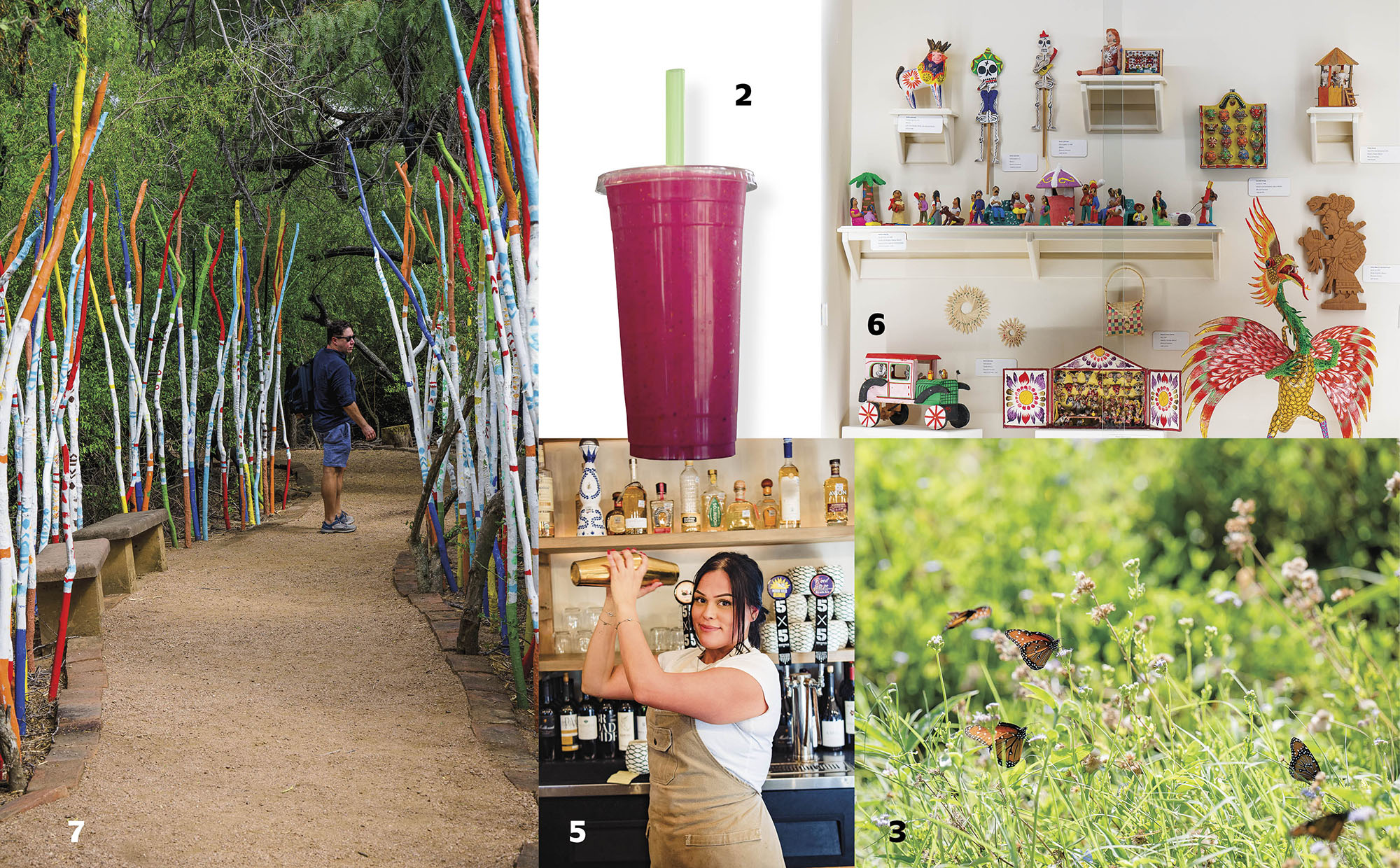 Stay

Eat

See

Learn

Shop

Drink

1 / Casa de Palmas
This 1918 hotel (starting at $125/night) strikes a balance between modernity and the glamour of a bygone era. Set in the heart of downtown, just blocks from the city's nightlife, the restored Spanish Revival hotel offers contemporary amenities, such as a restaurant and cantina, but the hacienda-style courtyard and pool set it apart.


2 / Earth Born
Earth Born Market is a family-owned farm in McAllen that grows the valley's signature lemons, limes, tangerines, and grapefruit. During the harvest from October to April, visitors can pick organic citrus off the tree (call first to check availability). Year-round, Earth Born's two McAllen retail shops offer cold-pressed juices sourced from the farm's fruit.

3 / National Butterfly Center
This restored riverfront habitat in nearby Mission harbors 240 species of butterflies. The 100-acre preserve is also an ideal setting to view birds, including the ringed kingfisher, the continent's largest kingfisher. Exhibits in the visitor center explore butterfly biology from migration to diets.

4 / Cine El Rey
Built in 1947, the downtown McAllen theater celebrates its 75th anniversary this year, hosting free movie nights, live comedy, concerts, and Mexican wrestling. During its heyday of the 1940s and '50s, Mexican actors appeared here—such as Pedro Infante and Cantinflas—and even Freddy Fender graced the stage of the 500-seat theater.

5 / Salomé on Main
McAllen's star chef, Larry Delgado, and his wife, Jessica, bring the cuisine of interior Mexico to the Texas border. In their third restaurant, the Delgados embrace Central Mexican influences with a menu that emphasizes poblano peppers, mole sauces, and masa ground from six varieties of Mexican corn. A photo of the restaurant's namesake, Salomé Ballí McAllen, hangs on the wall.

6 / international museum of art and science
The museum's 50,000 square feet of exhibit space feature an expansive collection of Mexican and Latin American folk art, fine art, and rotating science and history displays from the Smithsonian Institution. Open Wednesday through Sunday, the museum regularly offers hands-on art activities designed to complement the bilingual exhibits of the natural world and beyond.

7 / Quinta Mazatlan
Built in 1935 as a sprawling adobe hacienda, the Spanish Revival country estate is now one of nine World Birding Centers in the Valley. A system of trails weaves through 15 acres of Tamaulipan thornscrub forest where plain chachalacas, green jays, and clay-colored thrushes flit among the tangle of branches. The center also offers nature tours.

7 / Riverside Club
Set along the Rio Grande in Mission, this club features live music every Sunday, with winter Texans scooting across the floor to rollicking country tunes. The restaurant slings a mean pork tenderloin sandwich, and best of all, the family-owned club offers a rare chance to see the Rio Grande's serene beauty with tours on the Riverside Dreamer pontoon boat.
Museum of South Texas History

Ground yourself in the Rio Grande Valley by visiting this Edinburg museum's exhibits on local history. Last year, the museum reopened its 1910 Jail building after almost a decade of closure and repairs. The building also formerly served as Edinburg city hall, a firehouse, and a police station. The restored building chronicles the history of Abram Ortiz, the only person to be executed in the jail, and houses rotating exhibits. Through June 4, see Borderlands—An Illustrated History by José Cisneros, featuring original artwork by the late El Paso artist.
200 N. Closner Blvd, Edinburg. 956-383-6911; mosthistory.org
Located less than a half-mile from Bentsen-Rio Grande Valley State Park, Bentsen Palm Village RV Resort in Mission provides a range of RV sites with full hookups. Amenities include a full-service clubhouse, pickleball courts, and a woodworking shop. Guests have free access to the state park, where activities include birding, biking, and paddling. Weekly pontoon boat tours and pontoon boat rentals are also available.
bentsenpalm.com/active-adult/rv-resort
From the October 2022 issue