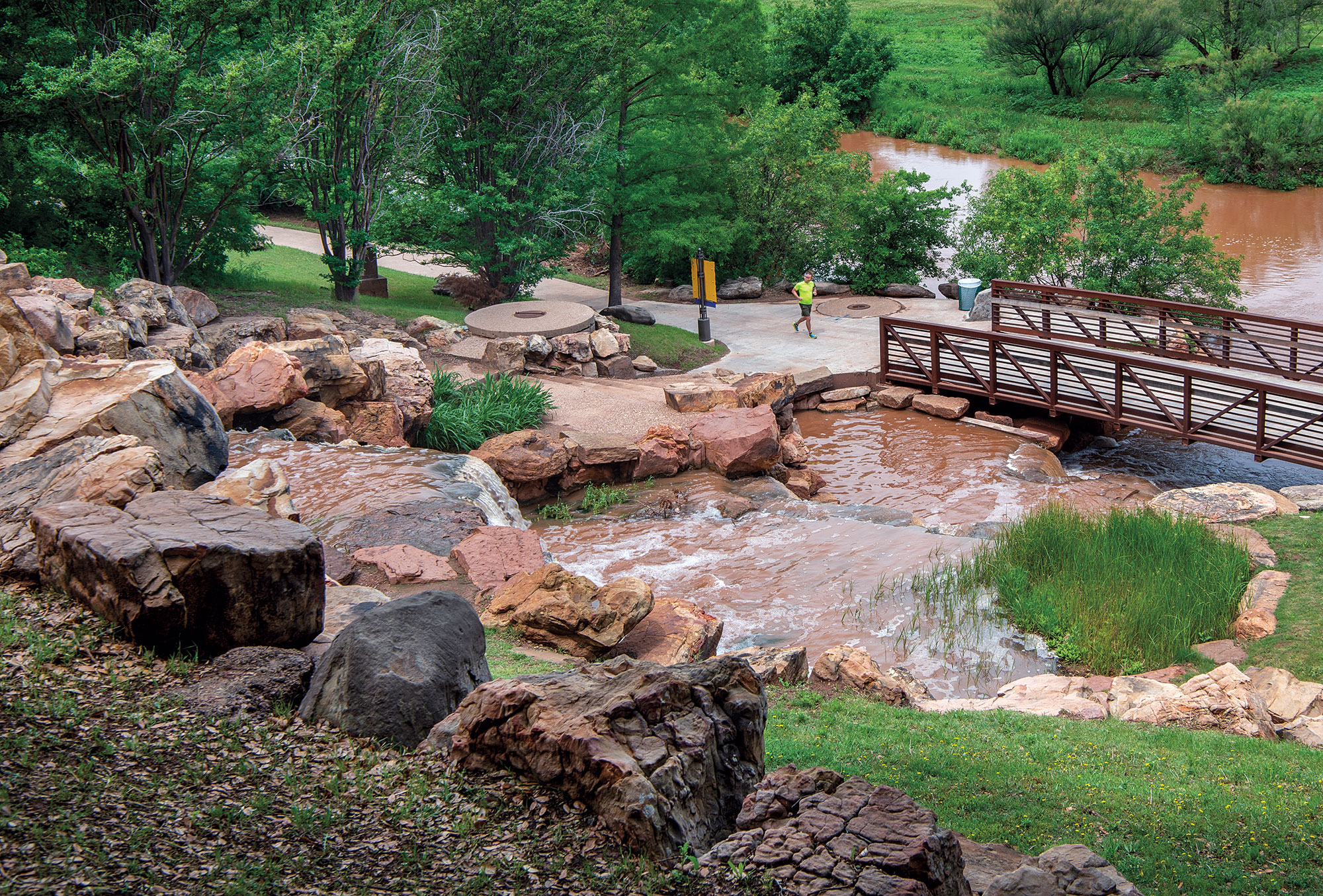 A Texas legend tells the story of a Comanche woman who was testing the depths of the Red River and called to her companions on the bank, "Wee-Chi-Tah!" meaning "waist deep." With time, her assessment was adopted into the name of a town that grew nearby—Wichita Falls. Located a 30-minute drive from the Red River border with Oklahoma, Wichita Falls is a close-knit community of approximately 104,000 people accustomed to traveling around Texas—not Texas traveling to them.
Growing up in Wichita Falls, I noticed my hometown didn't attract many visitors. Downtown was full of empty aging buildings. Restaurants opened and closed every other year, and stores in the mall changed constantly—none offering the fashionable choices found in bigger cities like Dallas. Locals were content with driving more than two hours to Dallas for entertainment or one hour north to Oklahoma to hike the Wichita Mountains and stop at the Comanche Red River Hotel Casino on the way home.
But there were a few events that brought tourists to the city, like Falls Fest, an outdoor festival that showcased musical acts including Stevie Ray Vaughn, Tracy Lawrence, and the punk-pop band Bowling for Soup (which originally formed in Wichita Falls in 1994). Falls Fest held its 30th and final festival in 2015, but the city still hosts three annual favorites in the hottest months of the year: the Texas-Oklahoma Fair, an annual tradition dating back to the 1920s; the Texas Ranch Roundup, North America's first ranch rodeo (events featuring working ranchhands rather than rodeo cowboys); and the Hotter'N Hell Hundred, one of the oldest, largest, and sweatiest cycling events in the nation that welcomes 13,000 visitors every August.
In the past five years, I've witnessed the atmosphere changing in Wichita Falls. People are excited. My parents have events to go to every day of the week. There are new restaurants popping up around town—and they aren't shutting down within a year. Shops, boutiques, festivals, markets, live music venues, a brewery, and events have sprung up, too—like the After Hours Artwalk, a monthly celebration on the first Thursday evening of April through October where visitors can explore downtown's art studios, galleries, restaurants, and shops to meet local artists.
Now, it seems Wichita Falls has everything a larger city offers, but with the added appeal of small-town charm and comfort. Here's how to make the weekend count.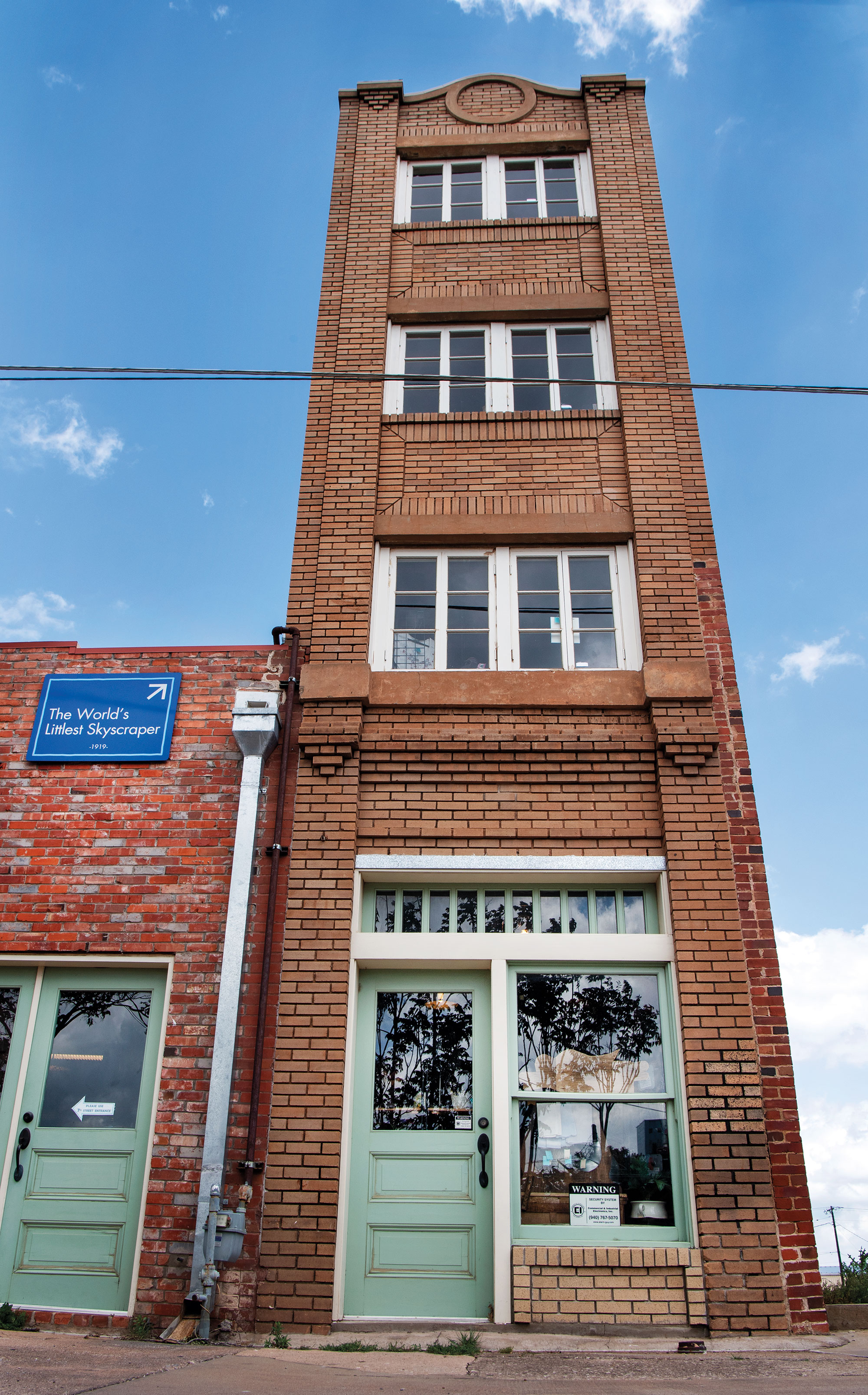 Friday
1 P.M.
On Brand

Begin a trip to Wichita Falls with North Texas barbecue at The Branding Iron, a 43-year institution with a rustic vibe and cafeteria line. Then, head downtown to visit the city's noteworthy and quirky attractions. At the Museum of North Texas History, you'll learn about the Wichita Falls Motor Company—created in 1911—which built heavy duty "Wichita" trucks and was Texas' most successful motor vehicle manufacturer until it shuttered in 1932. Explore Heritage Hall, a Western exhibit with a 500-hat collection, including one signed by race car driver Lloyd Ruby. Take pictures of the World's Littlest Skyscraper, a 40-foot-tall building built as a scam during the oil boom. Then grab a snack at The Yard food truck park before going to "Big Blue," a blue building that's home to the Professional Wrestling Hall of Fame and Museum.
6 P.M.
Decisions, Decisions
After dark, downtown comes alive with eateries, bars, and entertainment. Find a Texas-size steak dinner at McBride's Land & Cattle Co., an old-time restaurant with a Western theme, then catch a theatrical performance at the Backdoor Theatre. If you time your trip just right, concerts, comedy shows, or rodeos at the Wichita Falls Multi-Purpose Event Center or Kay Yeager Coliseum are great late-night fun—especially chased with a beer and a band at the Iron Horse Pub, or a craft cocktail and pub snacks at the Highlander Public House.
Saturday
10 A.M.
Off to Market

After coffee at 8th Street Coffee House, explore downtown Wichita Falls, home to a Saturday morning farmers market and boutiques such as Ramble & Company, which sells trendy Wichita Falls-themed souvenirs, and Alley Cat Vintage Mercantile. Art lovers should head to 9th Street Studios or the Wichita Falls Arts Association Gallery. The Kell House Museum is a terrific place to learn about the history of Wichita Falls and the family of Frank Kell, an entrepreneur who played an integral part in the development of the city in the early 20th century.
1 P.M.
A Walk in the Park

When hunger hits, make your way to P2-The Deuce, a drive-in bar where waitresses serve food and drinks straight to your car. The Red Draw—tomato juice and ice-cold beer—is the unofficial beverage of Wichita Falls.
Then make your way to see the city's picturesque namesake falls in the 178-acre Lucy Park. The original falls washed away in a flood in the 1880s, but in 1987, the city constructed a 54-foot-tall multilevel cascade on the Wichita River. A scenic walk along the trail leads to a wonderful photo op, as well as picnic tables, an 18-hole disc golf course, sand volleyball, playgrounds, and a swinging bridge across the river. Don't miss the River Bend Nature Center, a 15-acre family-friendly education center inside Lucy Park featuring forest tours and a butterfly conservatory housed in a stunning 7,000-square-foot glass structure.
6 P.M.
Grill Power

The west side of Witchita Falls, dominated by the mall and restaurants, makes a good evening destination. Samurai of Tokyo lures locals willing to wait more than an hour to sit at a communal table and watch chefs cook up their hibachi-style dinner. Fill up on yakitori skewers or chicken karaage, a Japanese spin on fried chicken. Afterward, end the night Texas-style with drinks at Whiskeyta Club and two-stepping at Lonestar Bar.
Sunday
8 A.M.
Full Circle

On your last day in town, rise early for a cycling adventure on the 18-mile Circle Trail. The trail, which wends along the Wichita River and Holliday Creek to Lake Wichita, will eventually encircle the city on a continuous 25-mile loop once construction is completed in the next few years. At Lake Wichita, SUPWF rents kayaks, bikes, and paddleboards. A hike to the Dirt Hill at Lake Wichita Park offers stunning lake views, or you can watch people fly radio-controlled planes on the only model airplane landing strip in the Texas park system. For those looking for more of a challenge, the Wee-Chi-Tah 13-mile mountain biking trail includes twists, steep ramps, hills, and swinging bridges.
For your last stop, refuel at Sevi's Burritos, a favorite hole-in-the-wall restaurant. Its nearly footlong burritos made with handmade, hand-rolled tortillas wrap up a fine weekend in a small Texas city worth falling for.
Camp Out
Lake Arrowhead State Park, about 15 miles from downtown Wichita Falls, offers tent camping and RV sites on a reservoir with 106 miles of shoreline on the Little Wichita River. Park activities include fishing, swimming, water skiing, and horseback riding, plus a pavilion for large groups.
229 Park Road 63
940-528-2211
tpwd.texas.gov/state-parks/lake-arrowhead
Upcoming Events
Texas Ranch Roundup
The original ranch rodeo celebrates 39 years of showcasing historic ranches, the hard work of true cowboys, and every facet of ranch life with a tradeshow. Ranches compete in chuckwagon cooking, cowboy art, and real ranch events.
Aug. 16-18
Multi-Purpose Event Center, 1000 Fifth St.
texasranchroundup.com
Hotter'N Hell Hundred
This bicycle ride grew out of efforts to find a novel way for Wichita Falls to celebrate its 1982 centennial—100 miles in 100-degree heat to celebrate 100 years.
Aug. 22-25, various locations
hh100.org
Texas-Oklahoma Fair
This annual two-state fair features a midway with rides and games, traditional fair foods, livestock shows, exhibits, an exotic animal petting zoo, live music, and other performances.
Sept. 17-21
Multi-Purpose Event Center, 1000 Fifth St.
founderlionsclub.com
From the August 2019 issue