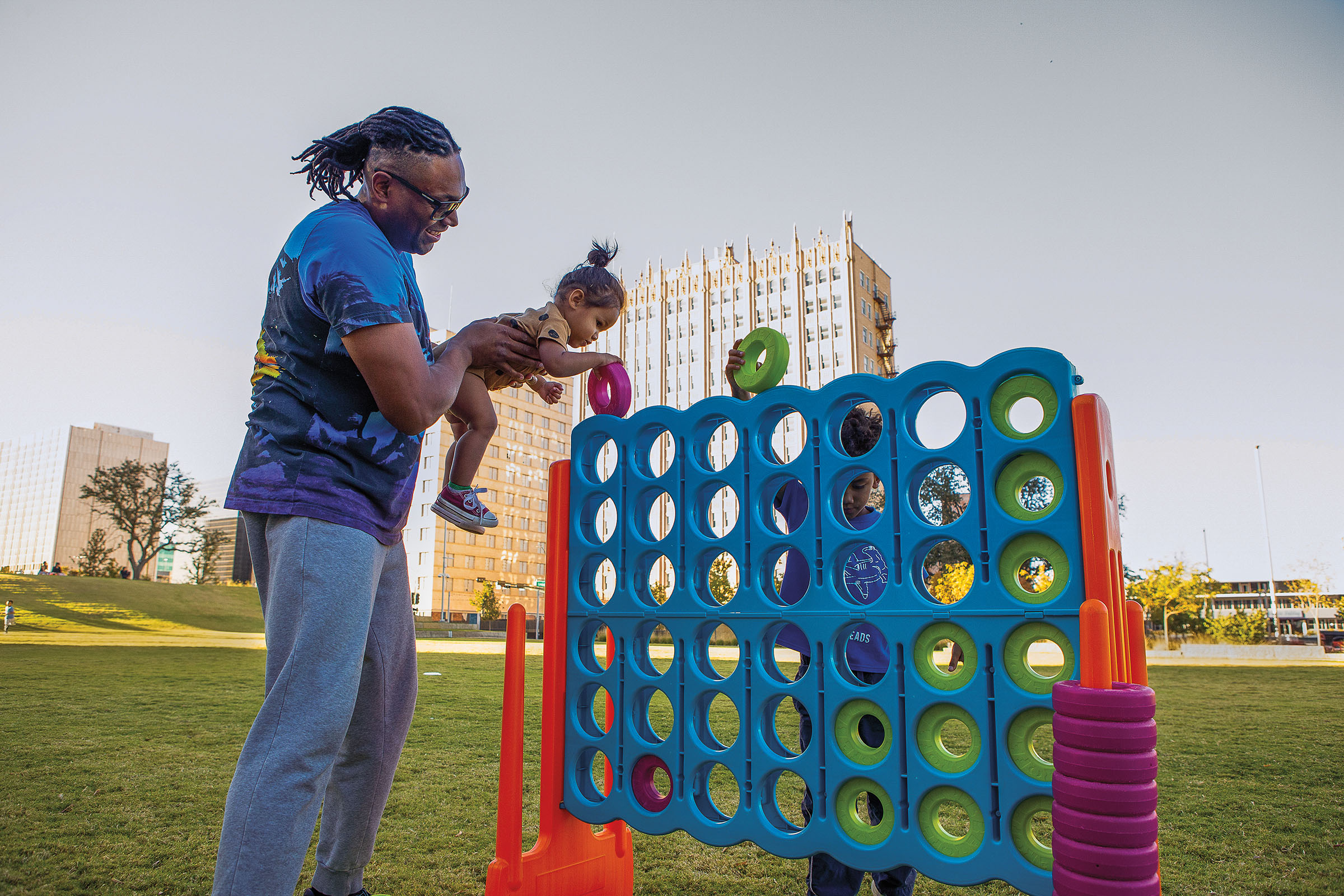 While the oil and gas industry dominates Midland's economy and culture—and permeates it with that familiar sulfuric smell—there are also plenty of sites that cater to casual travelers. Midland was originally a stop on the Texas and Pacific Railway and derived its name from its location between Fort Worth and El Paso. After prospectors discovered oil there in the '40s, the population boomed. Even though it's in the semiarid Permian Basin, plant and animal life thrive here. Midland also serves as a gateway to other West Texas adventures: The Midland International Air and Space Port is the closest commercial airport to Big Bend.
Dallas
5 hours
Austin
5 hours
San Antonio
5 hours
Houston
7.5 hours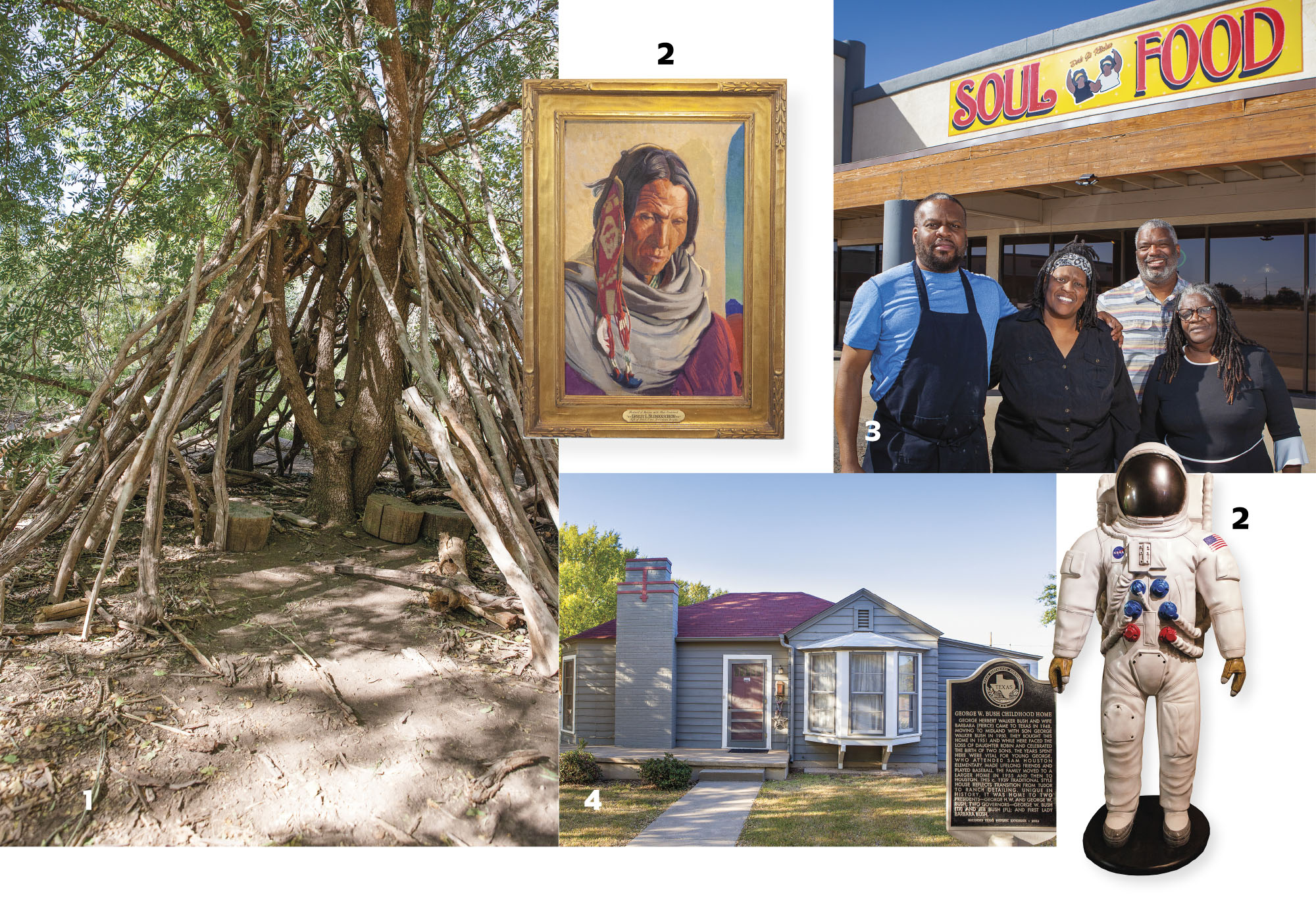 Stay

Eat

See

Learn

Shop

Drink

1 / I-20 Wildlife Preserve
Master naturalists helped curate an interpretive trail through this 100-acre riparian forest around a playa lake. Read about plants along the trail, view monarch butterflies during their fall migration, and attend wildlife education sessions.

2 / Museum of the Southwest
Set in the 1937 Turner Mansion, this museum features rotating exhibits by local and non-local artists; a planetarium; a children's museum; a sculpture garden; and a collection of Kentucky Derby memorabilia.

3 / Doris J's Kitchen
This local dining institution, named after the owners' grandmother, serves up some of Doris' recipes for hearty soul food: fried chicken and catfish, oxtail, and smothered pork chops with plenty of sides like mac and cheese.

4 / George W. Bush Childhood Home
Learn about the upbringing of the nation's 43rd president with an informative tour of his childhood home, where he lived 1951-55, starting when he was 5. Little George's bedroom is a highlight, as is the operational 1950s refrigerator.

5 / Taco diVino
This trendy cash-and-Venmo-only joint features tacos like the Frenchy, filled with duck confit, alongside classics like the Holy Pastor, filled with thinly sliced pork shoulder. Order with a frozen sangria and a side of elotes—Mexican corn.

6 / Micro Market
Located downtown, the shopping complex features storefronts by small businesses selling everything from jewelry to home goods to tasty treats. Frequent street markets and short-term store rentals ensure no two shopping trips are the same.

7 / Centennial Park
Midland's newly redeveloped downtown centers on this 4-acre park with a splash pad, dog parks, and a large outdoor movie screen. Picnic on the site of the old Midland County Courthouse, which stood here until it was demolished in 2017.

8 / Horseshoe Lodges
Among Midland's chain hotels, travelers will find more distinctive accommodations at one of these cabins (starting at $68/night), which feature wood-paneled walls and rustic décor. There is a shared game room and an adjoining RV park.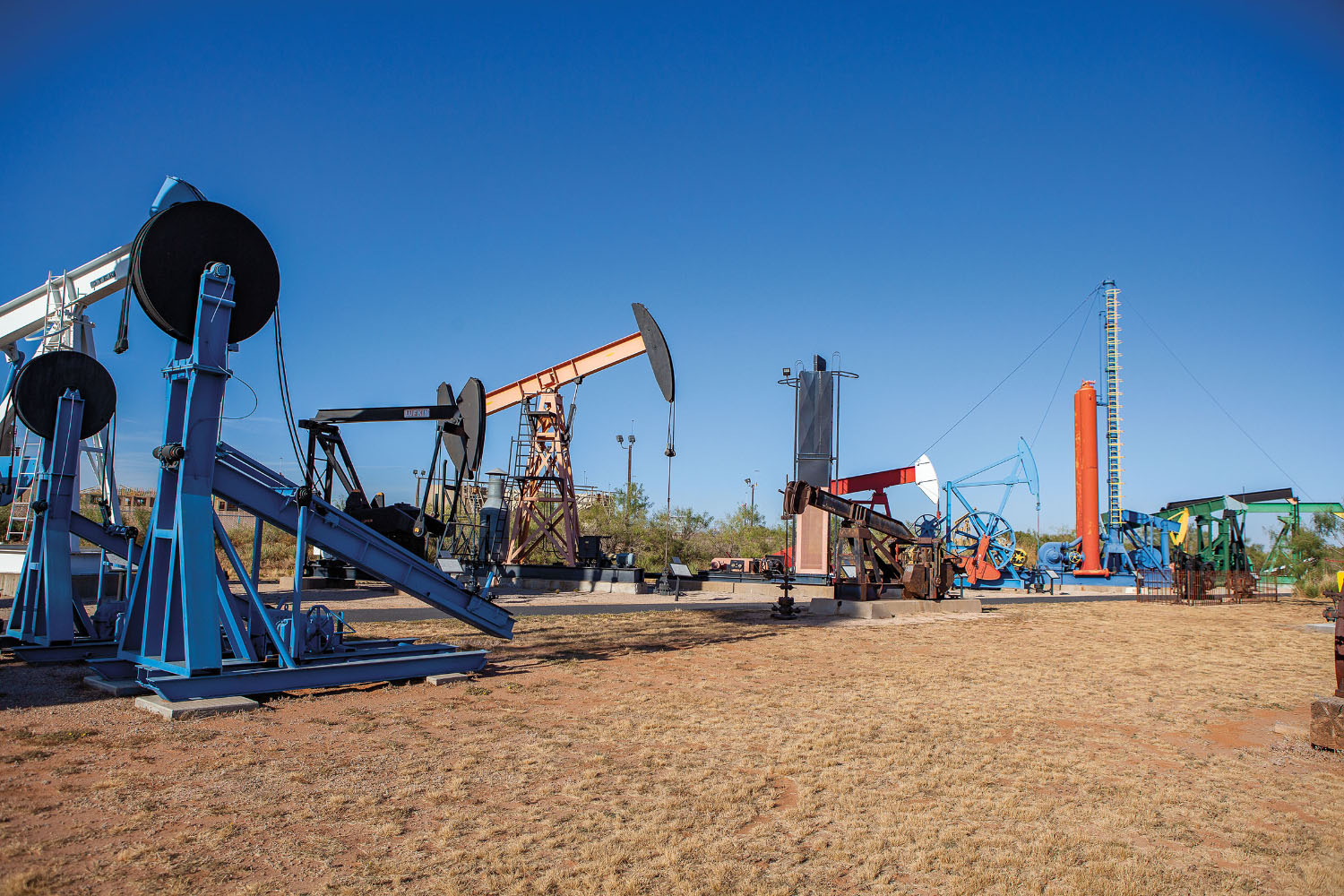 Liquid Gold
Pumpjacks dot the flat landscape of Midland, signs of its most prominent industry. Midland is one of the largest oil producers in the world, as the Permian Basin Petroleum Museum's interactive exhibits showcase. But the city is also preparing for the future by investing in renewable energy. In 2010, Midland-based companies partnered with Texas Tech University to create the National Institute of Renewable Energy in Lubbock to study the integration of solar and wind energy into the electric grid, paving a path forward for the region's fossil fuel-based economy.
Midland RV Park, across the street from I-20 Wildlife Preserve, offers hookups to the city's water and sewer, access to free showers, a fitness room, an on-site store for RV essentials, and even a dog-washing station. 2134 S. Midland Drive. 432-697-0801; midlandrvpark.com
From the January 2022 issue