Driving west from Fort Worth into the rolling, woodsy hills known as the Palo Pinto Mountains, visitors to Mineral Wells see the behemoth Baker Hotel well before entering the city limits. A beacon since its 1929 opening, the 14-story Spanish Colonial Revival beauty hosted vacationers during Mineral Wells' glory days as a resort in the '30s to '50s. Celebrities such as Judy Garland, Clark Gable, Roy Rogers, Dale Evans, Marlene Dietrich, and Lawrence Welk flocked to the Baker to drink the local well water and soak in mineral baths, which were thought to alleviate everything from rheumatism to dementia. The Baker hasn't hosted a guest since it shuttered 50 years ago, but an ongoing renovation has already inspired new economic activity downtown. While a group of investors works to debut the restored 165-room resort and spa in 2025, visitors who come to see the grande dame's overhaul in progress find there's plenty to experience right now.
Dallas
1.5 hours
Austin
3.5 hours
San Antonio
4.5 hours
Houston
5 hours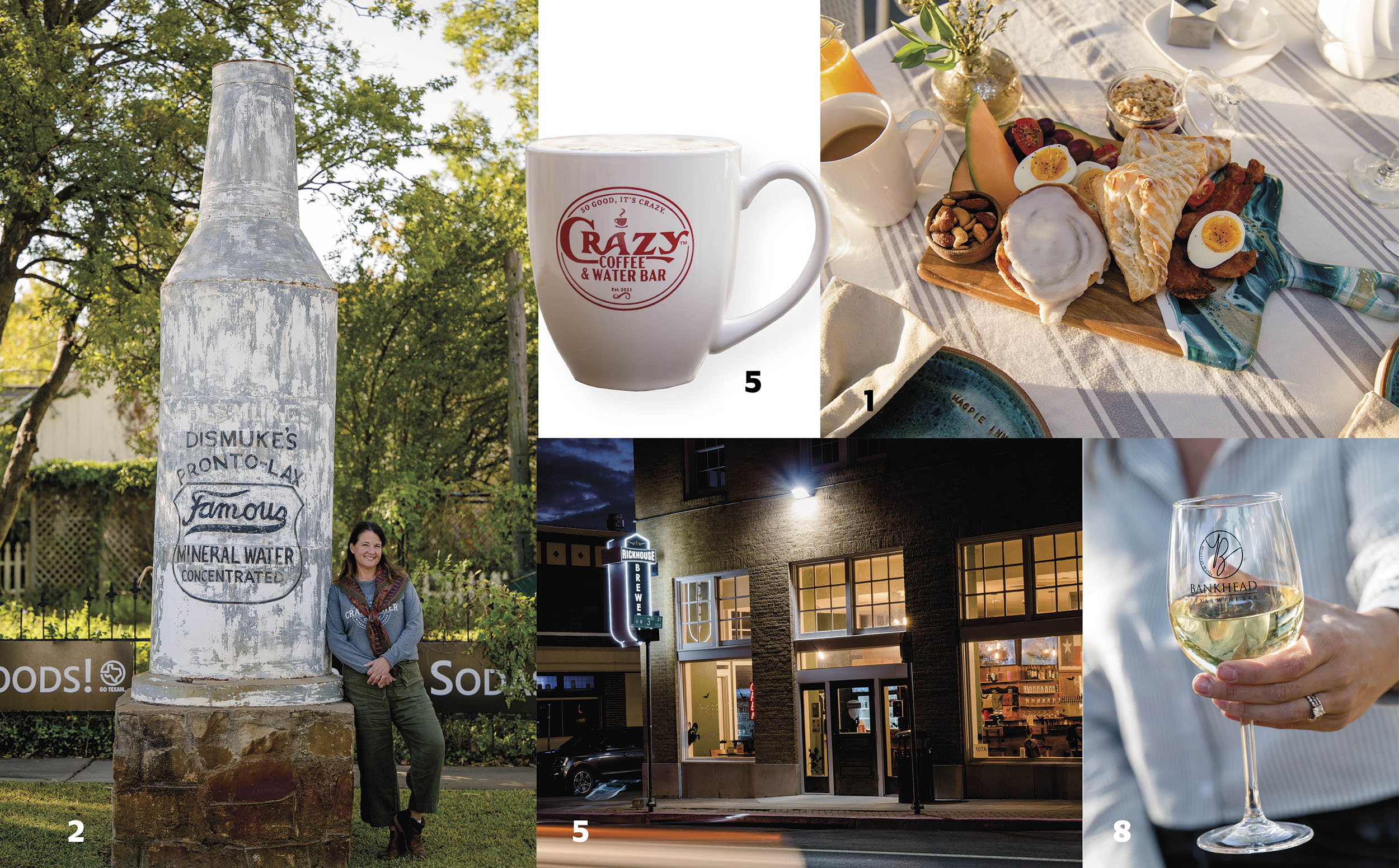 Stay

Eat

See

Learn

Shop

Drink

1 / Magpie Inn
Chef Magen Desnoyers and her husband, Jeremy, opened this bed-and-breakfast in a stately former boarding house in 2020. A mere three-minute walk from downtown, the inn (rooms start at $129/night) boasts sweet and savory breakfasts and an upstairs porch—shaded by aged oaks and pecans—perfect for unwinding with a good book.


2 / Crazy Water Bath House and Spa
"Making folks feel good inside and out since 1881" is the tagline at Famous Mineral Water Co., which bottles the local healing waters. At the source, guests also enjoy soothing mineral baths and massage treatments in a restored century-old building. The pavilion next door sells bottled Crazy Water and signature soaps, lotions, and oils.

3 / Downtown Murals
Pick up a map at the visitor center or online for a self-guided tour of some two dozen massive murals painted by local artists on brick buildings. See images such as a vintage postcard, a cowboy watering his horse on a creek, a 1920s flapper, and classic cars on the historic Bankhead Highway.


4 / The Market at 76067
Blue-green pottery by local ceramicist Nancy Edens figures among housewares and décor from 100-plus vendors in a showroom occupying a cavernous former feed and grocery store. Under the same roof, Coffee and Cocktails serves stylish sips (try the Crazy Cosmo) to accompany panini, pizza, and pie.


5 / The Crazy Water Hotel
The 2018 renovation of this 120-year-old lodging with 54 suites (starting at $149/night) allowed for an engaging mix of ground-floor retail. At Sensology, find colorful eyeglasses and organic skin products. The Uptown Man offers clothes and furnishings for men, while Toytopia is a kids' dream factory. Off the lobby, Rickhouse Brewing serves tasty craft brews.

6 / Lake Mineral Wells State Park and trailway
Five miles east of town, the park showcases the western Cross Timbers landscape that characterizes the Palo Pinto Mountains. Climbers scale sandstone rock formations on the eastern edge of Lake Mineral Wells. Along with boating and fishing, the park also offers 13 miles of trails that link to a 20-mile trailway running between Minerals Wells and Weatherford.

7 / Bryton + Co DIY Craft Studio
A downtown storefront houses this studio, which invites creative spirits to paint pottery and canvases, make wooden signs for the home, pour candles, craft holiday gifts, and sign up for one- and two-day art classes. A splash paint room—a big hit for kids and families—can be reserved in advance. All supplies and tutorials are provided.

8 / Bankhead Texas Wine Bar
A guitarist sings while servers pour varietals from such Texas wineries as William Chris, Blue Duck, Silver Spur, and Pedernales Cellars. The corner hangout also specializes in charcuterie boards filled with prosciutto, crackers, pickles, olives, and cheeses. Both the tasting room and the sprawling patio shaded by live oaks are dog friendly.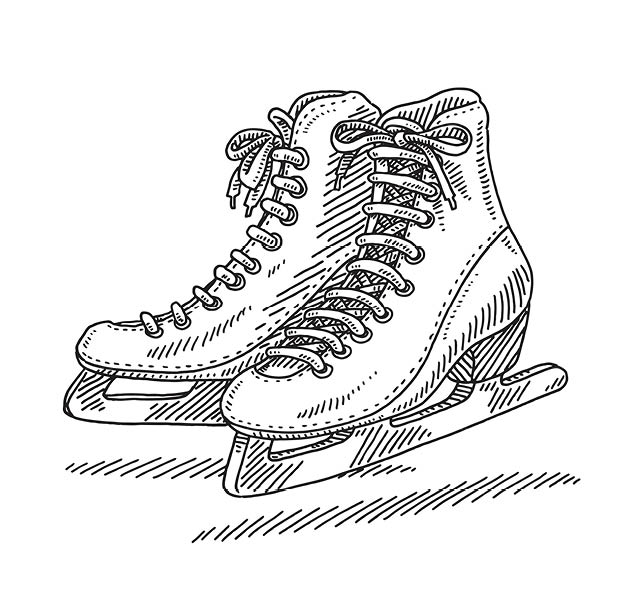 Merry Wells

The annual holiday celebration Merry Wells begins Thanksgiving week with a festival and lighted parade, along with the debut of an outdoor ice-skating rink that will stay open for a month. Throughout the season, the city and local shops and businesses decorate to make revelers feel like they've landed in a Hallmark Christmas movie. A driving tour to see holiday décor runs through the month of December, and related annual events include a Frosty 5K race and the progressive drink-and-snack party called the Santa Crawl.
Lake Mineral Wells State Park
Camping options at the 2,905-acre park include several RV sites on the lakeshore. Developed campsites include hook-ups, wheelchair accessibility, picnic tables, and grills, with nearby restrooms and showers. For a more remote experience, the park offers primitive camping along a 2-mile trail. It also has an equestrian area with 20 campsites. tpwd.texas.gov/state-parks/lake-mineral-wells
From the December 2022 issue