A new year and an empty calendar. Does inspiration know any finer muse? When it comes to travel, the arrival of January fuels daydreams of adventures and far-flung exploration—at least it does in the halls of a travel magazine. Here we explore 12 new and evolving travel opportunities across Texas, everything from cold springs to hot fiddling and craft beer to modern art. And with the exception of two—McAllen's MXLAN festival in July and the Festival of Texas Fiddling in December—these ideas aren't tied to a specific date, making them worthy of a trip any time of year. Start marking up that calendar now.
1
The Houston Museum District Evolves
Southwest downtown Houston near the Texas Medical Center.
mfah.org; menil.org; hmh.org; houmuse.org
Best time to visit: Year-round
With 19 museums, the Houston Museum District is in a perpetual state of growth and evolution, offering something new for lovers of art and culture. Along those lines, the Museum of Fine Arts, Houston recently opened its eye-catching new Glassell School of Art, fronted by a plaza with a splash-pad fountain and Cloud Column, a sculpture by internationally acclaimed artist Anish Kapoor. This elliptical stainless-steel work stands about 30 feet tall and attracts selfie-seekers with its shiny, reflective surface.
About 1.5 miles away, the Menil Collection reopened in the fall after closing for a renovation that included gallery spaces showcasing a collection ranging from ancient artifacts to contemporary art. The neighboring Menil Drawing Institute, which opened its doors in November, is the first of its kind in the nation—devoted exclusively to modern and contemporary drawings (in pencil or ink, but also in paint). The 30,146-square-foot building offers a serene space for viewing key examples from the Menil's collection, as well as special traveling exhibitions.
And coming this summer, Holocaust Museum Houston will more than double in size with a $33.8 million expansion. The enlarged building will cover 57,000 square feet and serve as a place to elevate awareness of the past and promote social justice in the present. —Heather Brand
2
A West Texas Gem Reopens
16453 Park Road 3, Fort Davis.
432-426-3254
tpwd.texas.gov
Best time to visit: June-August for the temperate summer climate
During Indian Lodge's 10-month closure, Davis Mountains State Park officials fielded daily calls from visitors clamoring to return to this perennial West Texas favorite. The wait ended last summer when the lodge reopened with exterior plaster and roof repairs, a new HVAC system, and a fresh coat of paint. But that doesn't mean it's any easier to get a room at the spiffed-up Civilian Conservation Corp-built adobe treasure: Park officials recommend booking nine to 11 months in advance. Along with hiking in the state park, grabbing a burger at the Black Bear Restaurant, and cooling off in the scenic on-site pool, guests can venture over to the nearby McDonald Observatory to check out the exhibit on the Hobby-Eberly Telescope in the George T. Abell Gallery. —Emily Roberts Stone
3
Fiddle Mania
6720 US 281, Blanco
512-441-9255
thefestivaloftexasfiddling.com
Best time to visit: The festival takes place the first weekend of December
Small, portable, and adaptable, the fiddle plays a central role in a huge variety of musical styles—and Texas is a prime case study in the instrument's versatility. The Festival of Texas Fiddling, which takes place on the first weekend of December in Blanco's historic Twin Sisters Dance Hall, displays that diversity with a lineup of performers, workshops, and dancing. "Pretty much anything that's fiddle-related in Texas—that's what we're showcasing," says Dan Margolies, the festival's artistic director. That means fiddlers sawing popular styles like old-time, country, Western swing, and Cajun, but also lesser known fiddle styles such as Texas Polish, blues, Tejano, Creole, and Son Huasteco. Entering its fifth year in 2019, the festival aims to keep these traditions alive by bringing together fiddlers from all corners of Texas. You won't find this anywhere else. —Matt Joyce
4
Balmorhea's 

New Beginnings

9207 State Highway 17, Toyahvale.
432-375-2370
tpwd.texas.gov
Best time to visit: Late April and early May before temperatures and crowds rise

Expect big changes at Balmorhea State Park in West Texas, which will reopen its swimming pool this winter after major repairs and unveil a revamped motor court and upgraded campground this spring.

Renovations of the lodging facilities had already started when, in May 2018, crews discovered an eroding wall near the high dive in the pool. Officials shut down the swimming hole, dry-docking visitors looking for a respite from the heat for the entire summer.

The good news? Pool repairs started in September and should be wrapped up in time for you to take a flying leap into the crisp, fish-filled water by the time temperatures heat up again.

Repair crews built a cofferdam around the affected area so they could keep water in the pool while they did their work, and went to lengths to protect the endemic Comanche Springs pupfish and rare Pecos gambusia.

As for the campground, the park is installing new electric, water, and cable services, plus a new restroom facility. You'll notice a more retro look at the 18 motel rooms, completed by the Civilian Conservation Corps in 1938, with a $7 million renovation that includes spruced-up adobe walls, fresh carpeting, new windows and light fixtures, and a new laundry facility. —Pamela LeBlanc
5
Brew & Cue at the Gage
The Brick Vault Brewery and Barbecue,
102 NW First St. (US 90) in Marathon
Open Thu-Sun.
432-386-7538 or 432-386-4205
facebook.com/brickvaultbrewery
Best time to visit: February to May and July to October, as well as the holidays
There's always something new in the works at the Gage Hotel, where low-key luxury meets scenic solitude on the high desert of West Texas. Located in the ranching town of Marathon—a 330-mile drive west of San Antonio and 250 miles southeast of El Paso—the Gage tosses a wide lasso to round up guests seeking a remote getaway or a pampered rest stop near the border of Big Bend National Park.
In 2018, the Gage opened the Brick Vault Brewery and Barbecue, an eatery set in a renovated gas station serving meats such as Central Texas-style smoked brisket and homemade sausage, and savory cabrito braised in house-brewed pecan porter. Head brewer Brodie Pierce's on-site nanobrewery produces a rotating selection of six beers, including a refreshing cream ale, wheat beer, and various seasonals.
The Brick Vault joins the Gage's V6 Coffee Bar, a 2-year-old café that slings robust java drinks to accompany tasty breakfasts and lunches. Gage Hotel General Manager Carol Peterson says the new offerings are meant to complement the high-end 12 Gage Restaurant and cozy White Buffalo Bar and make remote Marathon all the more palatable for city folks curious about the West Texas heritage embodied in the 1927 hotel.
This year—when the Gage celebrates its 92nd anniversary with an August party—watch for the pending restoration of the local First Methodist Church as a wedding venue along with an expansion of the hotel's spa and gym. In the summer, the Grilling at the Gage Culinary Series (June through August) featuring high-profile Texas chefs and the Marathon Songwriters Festival (Aug. 16-17) are scheduled in part to beckon visitors who may otherwise be unaware of the town's temperate summer clime. —M.J.
6
A Double-Dip for Sports Fans in DFW
nationalsoccerhof.com; texas-live.com
Best time to visit: Before kickoff or first pitch

Sports-crazy Frisco has added another player to its roster of athletic attractions with the opening last November of the new National Soccer Hall of Fame. Located at Toyota Stadium, home of FC Dallas, the Hall of Fame pays tribute to the country's soccer greats and houses more than 400 artifacts, including the ball Brandi Chastain famously used to score the winning penalty kick in the championship of the 1999 Women's World Cup. Upon entry, visitors can choose whether to be photographed and are given the chance to record their favorite teams using a touch screen. The interactive exhibits take over from there, using facial recognition to produce individualized portrayals of visitors in exhibits about shooting goals and the like.
About 30 miles southwest in Arlington, the new Texas Live! entertainment complex welcomes fans to a sports-bar paradise of walls covered in huge TVs and outsized action photos of legends like Dallas Cowboy Troy Aikman and Texas Ranger Pudge Rodriguez. Both Aikman and Rodriguez have namesake restaurants in the $250 million, family-friendly facility, which is located between the Cowboys' AT&T Stadium and the Rangers' Globe Life Park. Take a food tour of the complex's eight restaurants, including Sports & Social, where fans can play Skee-Ball, table tennis, and table shuffleboard. Outside, try your hand at the huge foosball table, which uses steering wheels for levers and a ball the size of a cantaloupe. —John Lumpkin
7
New West Luxury 

on the Canyon Rim

806-557-8998
dovesrestcabins.com
Best time to visit: April and October, when high temperatures average about 77 degrees.


When the owners of Doves Rest Resorts began building cabins on the west rim of Palo Duro Canyon in 2015, they found hundreds of arrowheads and flint tools littering the pale-brown dirt. Their discoveries align with historical accounts of this land as a Comanche buffalo butchering ground some 150 years ago. It's also where legendary rancher Charles Goodnight entered the canyon on cattle drives to Colorado.

The solitude of the 17-acre property—offering unparalleled views of Palo Duro Canyon State Park—makes it easy for visitors renting one of the retreat's nine cabins to feel like they've stepped back in time. But the interiors of the Texas Panhandle-chic abodes are decidedly modern and luxurious. Rates range from $225 to $675 for cabins sleeping four to seven guests and offer amenities including fully equipped kitchens, covered patio and grill, and complimentary Champagne. In March, the owners will open an outdoor banquet facility perched on a 600-foot cliff, and future plans call for a meeting and event center, pool and spa, and additional cabins.

Of course the best feature of Doves Rest is its proximity to the country's second-largest canyon, a 25,000-acre park for hiking, horseback riding, geocaching, bird watching, and ziplining .—E.R.S.
8
Living History 

in Marshall

707 N. Washington Ave.
903-927-1400
theginocchio.com
Best time to visit:
On Second Saturdays from March to November, downtown hosts a farmers market, classic car show, vendors, and concerts. During the holidays, downtown and the courthouse twinkle with millions of lights during the annual Wonderland of Lights.


Downtown Marshall recently welcomed a blast from the past with the opening of The Ginocchio restaurant and bar.

Italian-born Charles Ginocchio built his eponymous hotel in 1896 to provide meals and rooms for railroad passengers. Eventually falling into disuse, the building found a savior in entrepreneurs Alan Loudermilk and Paresh Patel, whose two-and-a-half-year restoration project culminated with the opening of The Ginocchio in late 2017.

Admire the building's distinctive curly pine woodwork and enjoy Chef Reynaldo Jandre's renowned baked oysters and other sophisticated fare. While downtown, don't miss the 1912 Texas & Pacific Railway Depot, the 1901 Historic Harrison County Courthouse, and the colorful MADI Art Wall on the Wood Building. —M.J.
9
Meet at the Beach
nps.gov/pais; visitcorpuschristitx.org; mustangislandtexas.org; sanjoseislandtexas.org
Best time to visit:
Summer vacation; or October and November, when wildflowers are at their peak, the fishing is good, and crowds are minimal
Explore five landmark beaches on Texas' Coastal Bend, where resilient locals are eager to show off their glittering stretches of sand and surf, post-Hurricane Harvey.
At Padre Island National Seashore, Malaquite Beach offers a pavilion, covered picnic areas, and a broad expanse of kid-friendly sand that's off-limits to vehicles. In Corpus Christi, near Padre's northern tip, check out the 14-foot-high, mile-long paved public seawall for walking, biking, or gazing at the endless waves lapping on the Whitecap and South Packery Channel beaches.
To many, the best surfside experiences on Mustang Island's 18 miles of uninterrupted sand are south of Port Aransas off
SH 361 or at condos like Port Royal Ocean Resort and Cinnamon Shore, which have reopened post-Harvey and offer boardwalks to traverse the island's dunes.
Harvey made its first landfall nearby at San José Island—aka St. Jo—a privately owned island with public beaches that can be reached by ferry from Port Aransas. Left to their own devices, St. Jo's shifting sands have stabilized in the aftermath of the storm. Take sunscreen, water, food, beach towels, and a floppy hat to discover its reputation as "Texas. Undisturbed."—J.L.
10
McAllen launches MXLAN
McAllen Convention Center, 700 Convention
Center Blvd. 956-682-2871
mxlan.com
Best time to visit: The festival launches July 24-28

This summer, McAllen inaugurates a five-day festival celebrating the Texas-Mexico border as a place where cultures meet and new traditions begin. The festival's name, MXLAN, combines the abbreviation for Mexico and Aztlán, the mythical birthplace of the Aztecs. Participants in the family-friendly event held July 24-28 can experience daily street parades with 150 traditional La Guelaguetza dancers from Oaxaca, Mexico; spark-filled, low-rise fireworks shows; live music and dance; an artisan market; and a tequila, mezcal, and Catrinas festival. A food tour will include a cooking demonstration by renowned Zapotec chef Abigail Mendoza, along with contemporary variations on classic Mexican dishes by chefs from the Rio Grande Valley's fast-rising culinary scene.—Daniel Blue Tyx
11
Bayou Blessings in Orange
2111 W. Park Ave.
409-670-9113
shangrilagardens.org
Best time to visit: During the spring bloom in March and April

Shangri La Botanical Gardens and Nature Center's setting on Adams Bayou imbues the 252 acres of wilderness—including 25 acres of ponds and manicured gardens—with a rustic peacefulness in the midst of urban Orange. But the riparian location also comes with risks, as when Hurricane Harvey pushed the bayou 12 feet above flood stage and completely submerged the gardens.
In September, following a year of repair work, Shangri La Gardens reopened just in time for school field trips and community programs designed to foster appreciation and understanding for the natural world.
Director Rick Lewandowski says the flood necessitated infrastructure fixes, but visitors won't notice any changes to the gardens themselves. The plants fared amazingly well, largely because it was a freshwater flood and not a saltwater storm surge.
The massive "survivor tree," an ancient pond cypress featured on the garden's Outpost Tour, weathered the flood just fine. "Of course, living here for almost 1,300 years, it has been able to deal with the climate and variations," Lewandowski notes.—Rose L. Thayer
12
A Texas-size Biergarten for Fredericksburg
6120 US 290
830-304-2337
altstadtbeer.com
Best time to visit: October during Hill Country Oktoberfest celebrations

Looking like a grand baron's castle plucked right out of Bavaria, Altstadt Brewery raises the bar for uber-German experiences around Fredericksburg—and that's saying something. The brewery opened last fall about 6 miles east of downtown, offering a beer destination that's just as much about good food, live music, and true biergarten revelry. Along with tours, the brewery boasts a dozen signature brews—including the popular kolsch, schwarzbier, German IPA, and hefeweizen—and chef-driven dishes that go beyond common pub grub, such as pork tenderloin in chimichurri sauce. Order a flight of beers to sample. It's too hard to choose just one.—June Naylor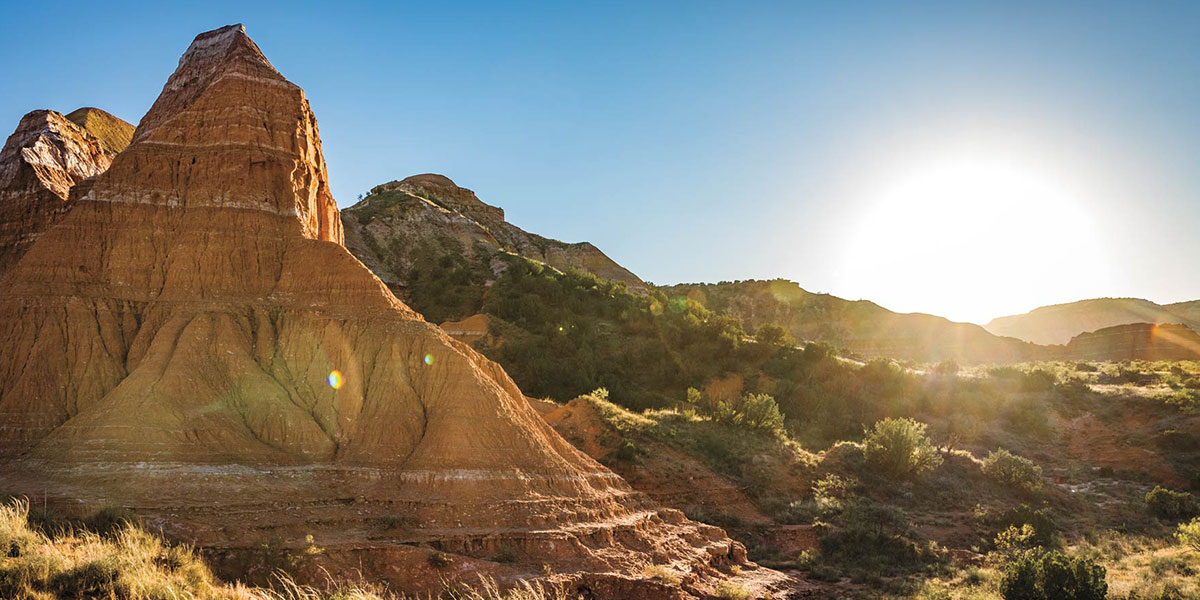 From the January 2019 issue