The narrow Hill Country road drops toward a low bridge over a small creek. I coast on my bicycle, faster than I ever have before, scanning the pavement in front of me for potholes, tires humming, the wind blowing in my face. It feels exhilarating. I zip across the bridge and make it halfway up the short ascent before losing momentum.
Texas Bike Tours

leads bicycle outings in the Austin, Fredericksburg, Dripping Springs, and Wimberley areas.
Rides range from 2 hours ($80 for a solo rider; lower per-person prices for groups) to multiday outings; additional costs for bike rental, meals, and other services.
Call 760-332-8668;
or visit texasbiketours.com.
My guide, Rob Adams, waits for me at the top of the hill. "Just a few more miles," he says with an ever-present smile.
No one would mistake me for a serious cyclist. But I love the outdoors and the Hill Country, and I'm getting a full serving of both on this outing custom-designed for me by Texas Bike Tours. Over the course of the day, I ride about 25 miles—from Fredericksburg to Luckenbach and then around the Lyndon B. Johnson National Historical Park—with plenty of breaks for the scenery (and to catch my breath) and a leisurely picnic lunch in Luckenbach.
"I started crafting tours to show this freedom to other people, to watch them reconnect with that wonderful feeling," says Bednar, adding that tours can be arranged for one person or groups. "No two tours are exactly the same. It's not tour A, B, or C, but the experience you want to have. Whatever you want to have happen, we will do it."
Like many other people, I spent my youth getting around on a bicycle. When my three children were young, we took bikes along on family vacations to explore new areas on two wheels. But with the kids grown and gone, I seldom ride these days. A guided tour of the scenic countryside seemed like a good way to get back in the saddle.
Bednar teams up with various bike shops for rentals (or riders can bring their own bikes) and selects guides suited to the ride's location and the riders' goals. My tour begins at Jack & Adam's Bicycles in the heart of Fredericksburg. Owner Josh Allen fits me with a bicycle and helmet, adjusts the seat to just the right height, and walks me through changing the gears. Deaton hands me two water bottles and a bag of homemade granola bars to tide me over until lunch.
Adams leads the way as we meander through Fredericksburg, past the National Museum of the Pacific War, an old cemetery, and blocks of historic houses. We could explore the interesting side streets all day, but soon we're following back roads out of town, eventually turning south on Old San Antonio Road. Barbed-wire fences line the grassy hillsides as we pedal alongside pastures of curious cows, bleating goats, and indifferent horses. When we encounter a donkey, we feed it a stash of carrots that Adams carries for just such occasions.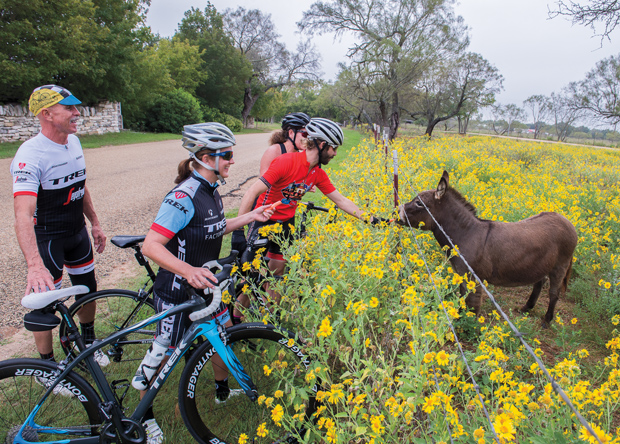 Adams, who retired to Fredericksburg from Dallas five years ago, is an avid cyclist who tours this area regularly, both recreationally and competitively. He's also a fitness instructor who teaches spin classes. But thanks to a detailed form that I filled out in advance, Adams knows my fitness and riding abilities and adjusts his pace accordingly. He also knows the roads, landscape, and local history, and eases the miles with stories and observations.
Adams fills me in on the history of Luckenbach before we cruise into the famous Hill Country hamlet in just under two hours. Established as a trading post in 1849, Luckenbach was a working post office until 1970 and became famous thanks to Waylon Jennings' 1977 hit song. Today, it's home to a vintage dance hall, general store, and a bar with live music every day.
Bednar waits for us with lunch at a picnic table under one of Luckenbach's 500-year-old live oak trees. I scarf down a hefty sandwich from Fredericksburg's Sozial Haus—turkey, bacon, lettuce, tomato, and avocado on nine-grain bread. Bednar provides just about anything riders want to eat, from picnics to full-course meals, and she even has a "culinary experience director" on call to help develop menus, prepare meals, and coordinate dining experiences.
As Adams and I eat, we chat with Bednar about some of the outings Texas Bike Tours has organized. Those include explorations of Austin, treks from Fredericksburg to Enchanted Rock State Natural Area, routes west along the Pedernales River, and trips to see spring wildflowers. Bednar has also planned one-way tours that end with overnight lodging; she picks up riders and their bikes the next day.
"If people don't know what they want, I start asking questions," she says. "What do you want to see: nature or city? Do you want to take breaks or rack up the miles? I try to start from where they are staying, so all they have to do is walk out the front door."
"The freedom you feel when you ride a bike is just amazing," says Texas Bike Tours founder Deaton Bednar, a runner and cyclist with a background as an educational administrator. About five years ago, she decided to step back and re-evaluate, and realized her real passion was riding bicycles.
After lunch and a stroll around Luckenbach, we load up the bikes and Bednar drives us to LBJ State Historic Site (hardcore riders could pedal these 10 or so miles). From there, Adams and I get on our bikes and follow Ranch Road 1 to the Johnson family's historic ranch, part of the Lyndon B. Johnson National Historical Park.
We cross the Pedernales River, bump across the first of many cattle guards, and pass the Johnson family cemetery. Over another cattle guard, in wide, gently sloping pastures, we see contented Hereford cows, including a mother with a new calf. When I call for a stop in the shade of a picturesque oak motte, we share it with a half-dozen whitetail deer.
Other sights along the way include the working ranch's show barn; Air Force One Half, the plane Johnson used to fly in and out of the ranch when he was vice president and president; and the historic Texas White House. Adams fills in details as we pedal along.
Back at the vehicle, Bednar hands me a cool, rosemary-scented washcloth. I admit that the distance and terrain of this ride stretched my abilities, but thanks to Bednar's planning and Adams' skill as a guide and rider, I felt comfortable and safe the entire way.
"I knew riding with Rob would feel like riding along with a friend through the country," Bednar says.
I couldn't have said it better myself.
From the January 2018 issue