Gateway to the Gulf
The Intracoastal Waterway connects Texas to Florida and Texans to fun
By Dan Oko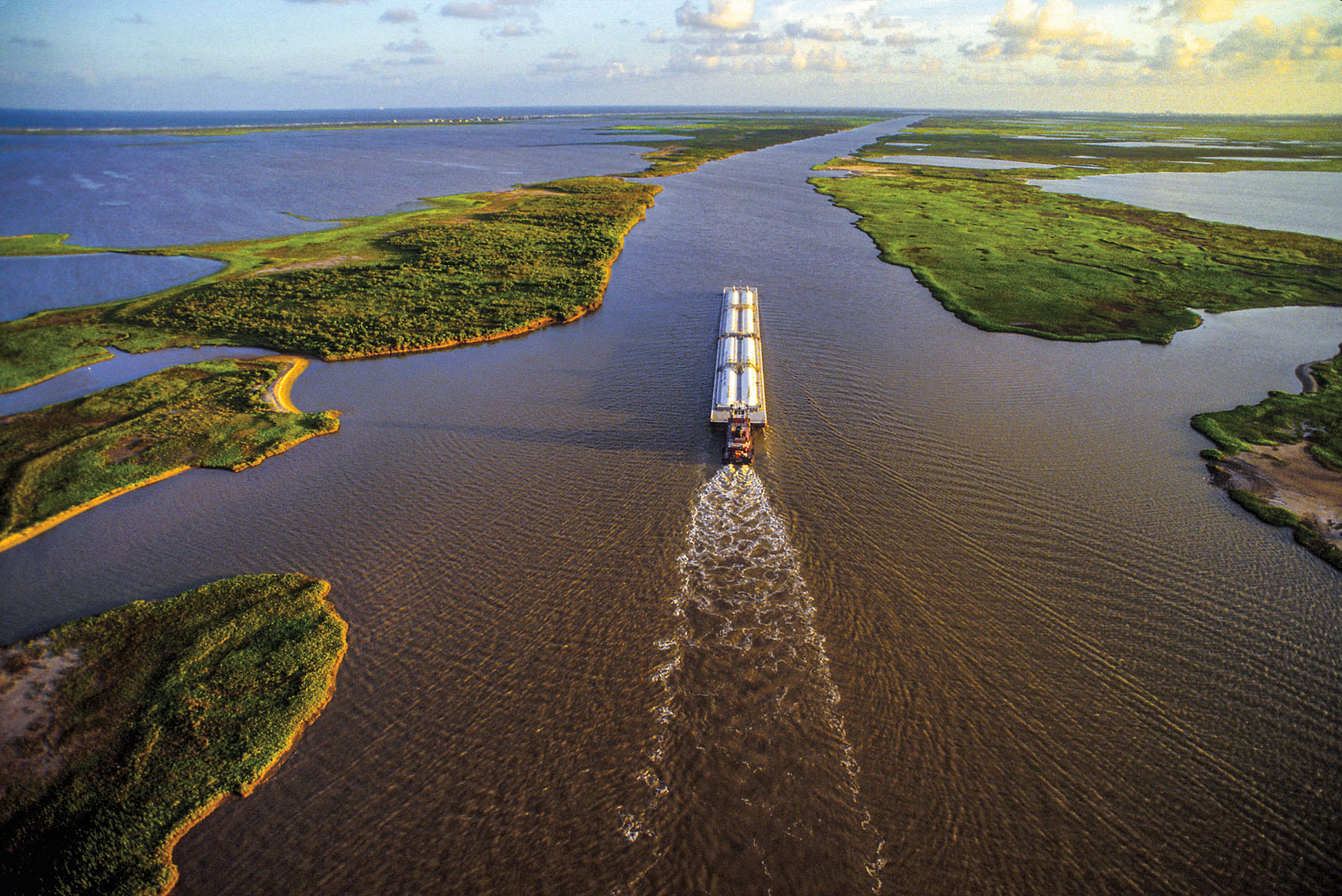 Running more than 400 miles along the Texas coast and over 1,100 miles to its terminus in Florida, the Gulf Intracoastal Waterway is an aquatic superhighway most noncommercial boaters will never travel in its entirety—though local sections are well known to paddlers, birders, and anglers. Longer than the Erie Canal in New York, the GIW strings together ports from Brownsville up past Corpus Christi to Freeport, Houston, and the Sabine River, extending into Louisiana and through the Mississippi Delta. Completed in the late 1940s as a commercial trade route, the GIW in Texas exists as one of the state's most audacious engineering efforts. It's no wonder the passage fascinates history buffs, boaters, and beachgoers of assorted stripes.
Land-based travelers can best appreciate the shipping lane from high coastal bridges. Thirteen fixed spans and a few drawbridges are found along its length. These include the JFK Causeway, which travelers encounter on the way to Padre Island National Seashore; and Port Arthur's Gulfgate Bridge, the highest span along the Texas portion of the GIW.
The GIW has not only reshaped the coastline, but likewise commerce and industry. It has been a huge benefit to the oil and gas industry. Petroleum products make up more than 60% of the up to 90 million tons of freight transported along the GIW each year, according to the Army Corps of Engineers, which maintains the "ditch." But tourists can enjoy myriad recreational activities at the maritime byway.
For the Birds

Despite the mixed environmental legacy of the GIW, the creation of spoil islands from dredging material­ has been a boon for otherwise displaced avian life. David Newstead, director of the bird program at the Coastal Bend Bays & Estuaries Program, explains how birds have benefitted—and where to find them.
TH: Given factors like barge traffic, wave action, and erosion concerns, we were surprised to learn of the environmental positives of the GIW.

DN: When something is destroyed, something else is created. It's true that the Intracoastal has definitely added to the number of spoil islands in Texas. Historically, it was [created] without that purpose, and fairly carelessly, but using material that was dredged up to create islands still remains one of the key habitat restoration opportunities we have.
TH: What types of birds might travelers expect to see along the GIW?

DN: A wide variety of wading birds or sea birds. The majority are what we refer to as "colonial water birds," so that would be pelicans, herons and egrets, gulls, terns, skimmers, ibis to some extent. Sea birds that don't need land for any part of their life history except for a roosting period and the nesting phase, which for most is February through August. They can pack onto these very small islands—a lot of them are less than an acre. A space the size of your backyard could host 600 or 800 birds.
TH: For Texans without a boat, is there a specific spot you can recommend?
DN: There's one place just north of the JFK Causeway, which has a large colony of great blue herons. But it's just a single species in the rookery, so it's not a typical representation of the diversity that these support. With a boat, you could see them all.
187
Year Congress approved funding to survey the length of the GIW
12 feet
Dredged depth of the entire channel as maintained by the Corps of Engineers
285,000
Approximate number of shipping vessels that travel GIW annually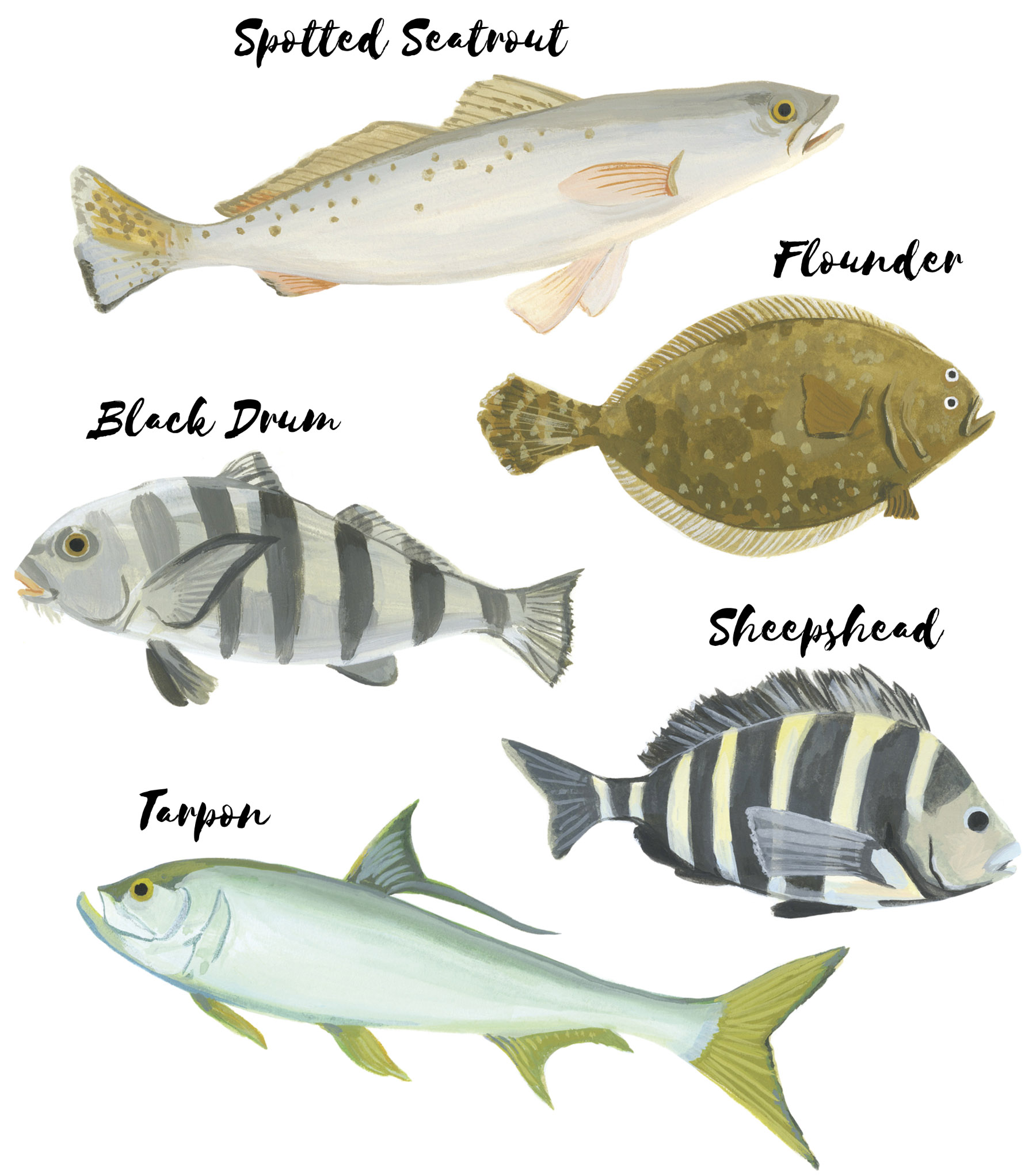 Tight Lines

Gulf Coast anglers should give the GIW a shot.
Up and down the coast, there is abundant shoreline for casting into the canal, and those with access to a boat can explore many miles without worrying about running aground on oyster reefs or shallow bay flats. Common catches include the fish above. Bring a life jacket and beware of barge traffic and larger vessels that leave dangerous waves in their wake. Guided "Land Cut" expeditions to fish a remote GIW section between Kenedy Ranch and Padre Island National Seashore are also available.
Underwater Trailblazer
Clarence S.E. Holland didn't live to see the GIW's completion, but Texans can thank the Kentucky-born businessman for promoting it. In 1886, Holland traveled to Victoria and a few years later noted steamships plying the Guadalupe River. The sight inspired an idea: to create the Interstate Inland Waterway League to advocate for forming a continuous channel from the existing canal segments in Texas and Louisiana. It didn't hurt Holland's efforts that in 1901 Spindletop blew near Beaumont with the discovery of oil, providing "a major impetus" for the canal, according to the Texas State Historical Association. In 1919, he would become the president of the First Texas Joint Stock Land Bank and move to Houston. He died in 1945, four years before the Sabine River-to-Brownsville canal he'd campaigned for was completed in 1949.