The Wild Blue Yonder
Scuba diving opens up new worlds beneath Texas waters
By Melissa Gaskill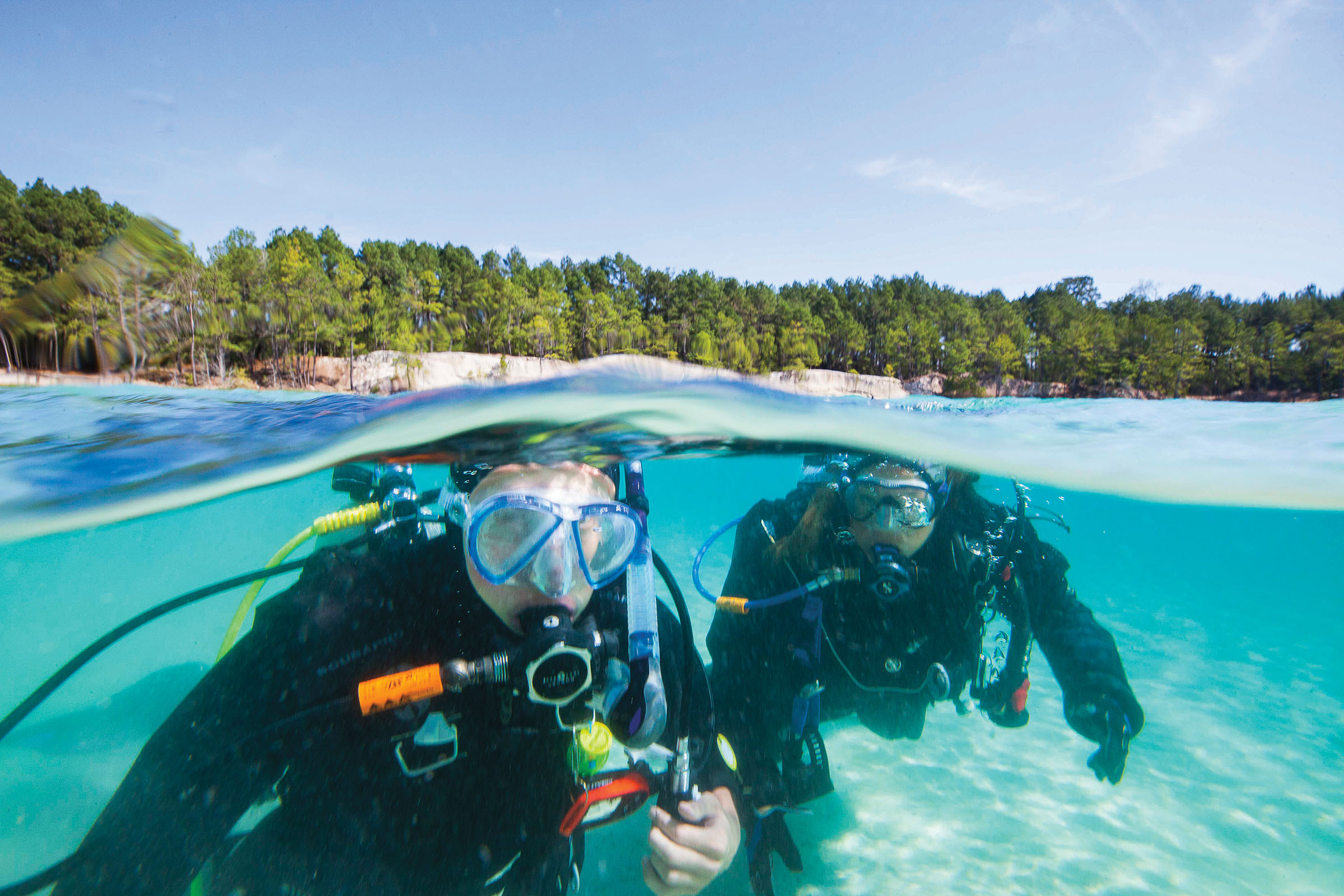 For centuries, people have plunged underwater, whether to search for abalone, catch fish, collect pearls, or simply explore. Early Greeks used hollow reeds to breathe underwater, and Leonardo da Vinci brainstormed early diving suits in Renaissance Italy. In the 1940s, Frenchmen Jacques Cousteau and Emile Gagnan created the Aqualung, the first self-contained underwater breathing apparatus (scuba), which eventually led to recreational diving.
With 367 miles of coastline and plentiful bodies of water, Texas offers many diving venues for the country's 3 million certified scuba divers. "Diving is the closest thing to weightlessness you can experience," says Thom Hardy, chief science officer for the Meadows Center for Water and the Environment in San Marcos. "It's a whole different world you cannot get to otherwise."
Scuba certification, available to divers age 15 and up (10 for a junior certification), typically takes a few days of classroom instruction and two days in a pool followed by four open-water dives in a lake or the ocean. Advanced certifications are available for those who want to expand their basic knowledge and take several hours to several months to complete.
Texas has a wealth of scuba shops providing certification and equipment including masks, dive computers, and wetsuits. Most offer diving trips to places around Texas and the world.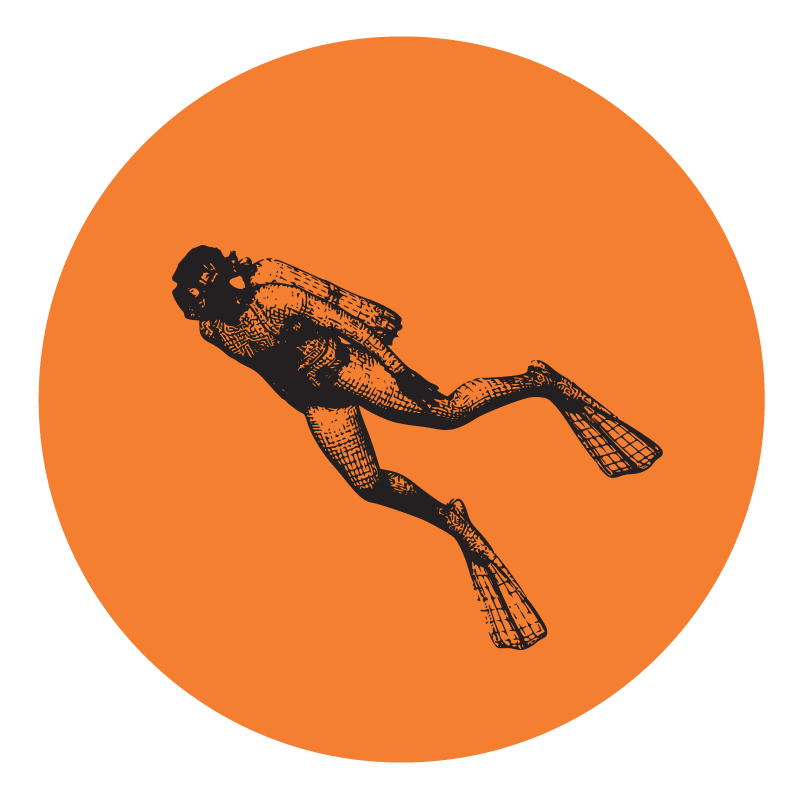 Divine Dives
Flower Garden Banks. Known as "the Texas Caribbean," this national marine sanctuary in the Gulf of Mexico harbors the same corals and fish as the actual Caribbean. Fling Charters in Freeport brings divers on overnight trips for up to a dozen dives at different sites.
flowergarden.noaa.gov; ­flingcharters.com
Artificial reefs. The Texas Parks and Wildlife Department's Artificial Reef Program includes the 371-foot Kraken, 67 miles off the coast of Galveston, and the 473-foot Texas Clipper, 17 miles off South Padre Island. Dive shops provide day trips to these sites.
tpwd.texas.gov
Spring Lake. The training area at this San Marcos lake features clear waters and a consistent temperature. The lake is a habitat for fish and turtles.
meadowscenter.txstate.edu
Balmorhea State Park. Bring a buddy to dive into the crystal-clear, 3.5-million-gallon pool an hour west of Fort Stockton. Springs bubble from the bottom, and resident fish include the Mexican tetra and endangered Comanche Springs pupfish and Pecos gambusia.
tpwd.texas.gov
Lakes and quarries. Scattered around Texas, options include Lake Travis in Austin, Blue Lagoon in Huntsville, Mammoth Lake in Clute, and Reveille Peak Ranch in Burnet. Ask local dive shops for recommendations.
160
Size, in square miles, of ­Flower Garden Banks in the Gulf of Mexico
130
Maximum depth, in feet, for recreational diving
4
Number of open-water dives it takes to earn a scuba certification
Snorkeling for Science
Working with scientists, volunteer divers can contribute to underwater research. Divers are crucial to ongoing studies of fish and reef structures at Spring Lake in San Marcos and the Flower Garden Banks National Marine Sanctuary—a coral reef ecosystem 115 miles out in the Gulf of Mexico.
"Scientists have a lot of tools for collecting data, but they don't have that human factor," says Marissa Nuttall, a research biologist at the sanctuary. "It's also pretty hard to collect a specific fish with a remotely operated vehicle, or sample fragile corals."
Scientific researchers at Flower Garden Banks and Spring Lake provide training for volunteers. Divers assess the condition of the reef and survey fish density and species abundance for a decades-long monitoring project at Flower Garden. The sanctuary maintains a database of manta ray photos taken by staff and recreational divers and uses it to track individual animals. This work led to the discovery that young mantas use the protected area as a nursery.
Most science diving in Spring Lake is related to endangered-species monitoring and habitat-restoration activities like removing vegetation around springs or counting fish, Hardy says.
Scuba certification courses are available at local dive shops throughout Texas. Once a diver completes a course certified by Scuba Schools International or the Professional Association of Dive Instructors, they can train to become a volunteer diver.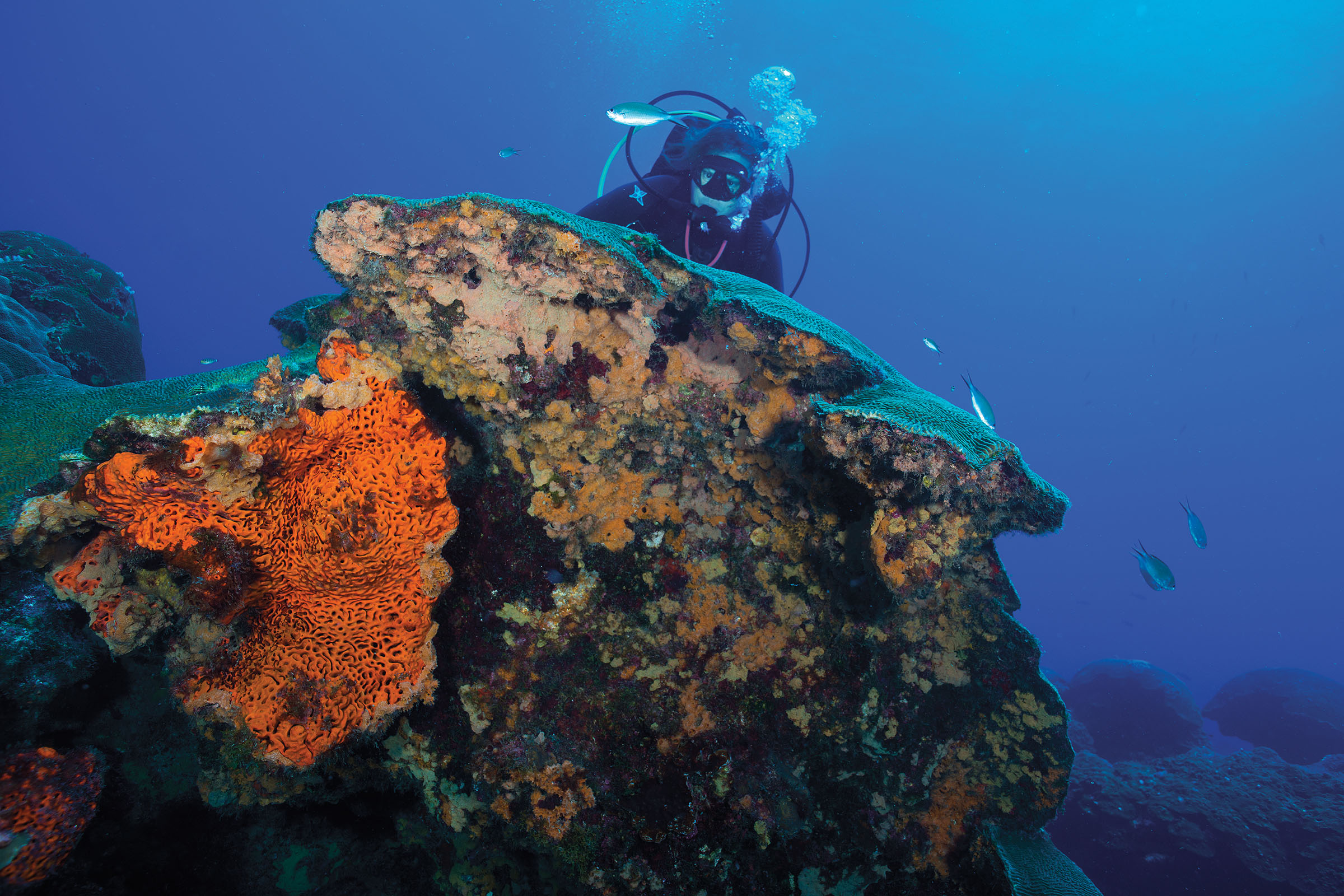 From the April 2022 issue