"Dirtbagging" the Public Lands of Texas
Federally owned land offers free camping in the Panhandle and Piney Woods
Story and photos by Brandon Weaver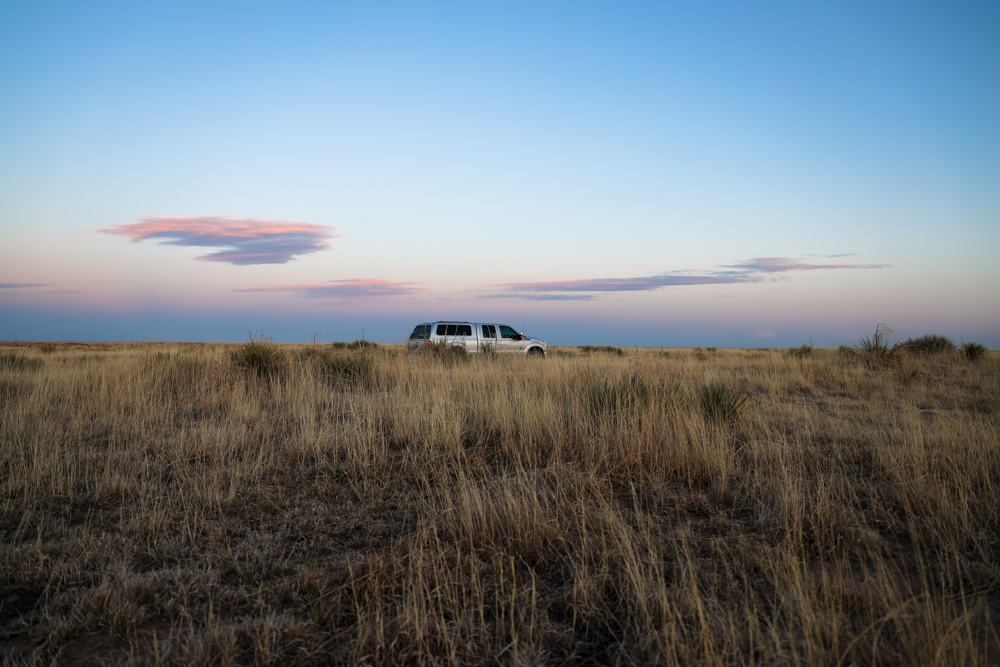 The Rita Blanca National Grassland
There are roughly 800,000 acres of federal land in Texas, available for dispersed and primitive free camping. Compare that to the 55 million acres of public land in Nevada, the most of any state in the Lower 48, and it may seem like Texans get the short end of the stick. Technically, Uncle Sam owns just under 3 million acres of the Lone Star State, but sites like Big Bend National Park, Guadalupe Mountains National Park, and the Padre Island National Seashore cost money to visit and camp.
In the western United States where public land abounds, a traveler can roam about, camping indefinitely for no charge (normally you're limited to 14 days in one spot). One common romantic notion, especially among young vagabonds, is to travel the public lands of the West, living in your car and pursuing your passions at all costs for little cost. Hike, bike, climb, ski, surf, and live simple—live free! It's called "dirtbagging."
While small compared to states like Nevada, the federally managed lands in Texas still offer a wealth of no-charge camping opportunities, so I set off in mid-April to explore them on a seven-day "dirtbagging" trip of my own.
I began at Rita Blanca National Grasslands and then made my way to Lake Meredith National Recreation Area, LBJ National Grasslands, Sam Houston National Forest, and Davy Crockett National Forest, concluding my journey at Angelina National Forest. All along the way, I camped freely, and for free.
I wanted to embrace the dirtbag ethos, so I packed my passions—a stand-up paddleboard and a mountain bike—into my Ford F-250. For the next seven days, I slept on a platform I built in the back cab of my truck and cooked off my tailgate.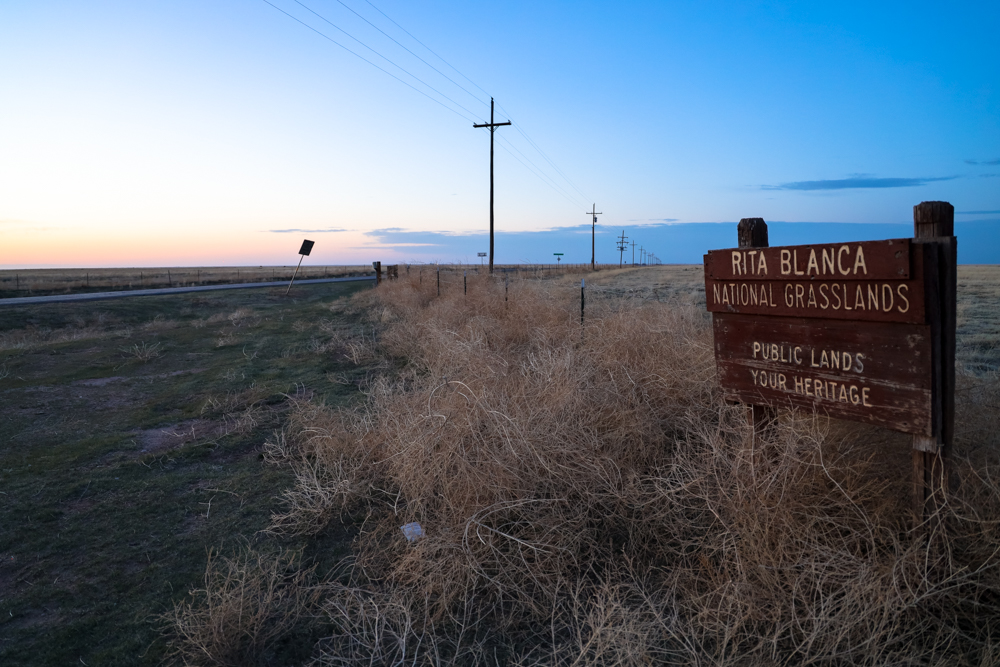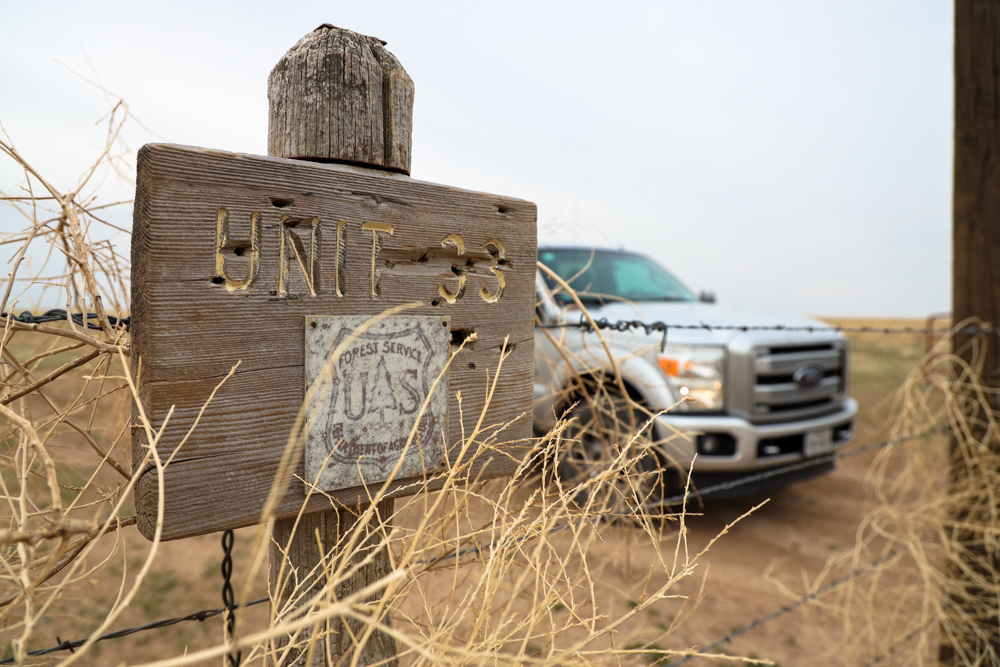 The Rita Blanca National Grasslands
230,000 acres
My trip starts in the far northwest corner of the Panhandle. The Rita Blanca Grasslands sprawl across New Mexico, Texas, and Oklahoma. The 77,463 acres that reside in Texas comprise block units of government land interspersed with parcels of private property. You can camp in any of the units marked with a wind-blown U.S. Forest Service sign. I drive into Unit 33 and traverse a double-track road across the prairie. I arrive at a hilltop just in time to watch the sunset on the endless horizon. A soft north wind turns the blades on an old windmill behind me. It's one of the many galvanized sentinels on the undulating hills in this sea of grass. They are the skyscrapers of the Rita Blanca.
I drive to the developed Thompson Grove Picnic Area, a rustic campground with picnic tables, grills, and a vault toilet. It feels abandoned and lost to the world. I shimmy into the back cab. With only 3 feet of headroom, it's cozy. This is home for the next seven days.
The north wind ushers in a cold front, and I wake to a frigid 29-degree Grassland morning. I make coffee on my tailgate and drive out the eastern end of High Lonesome Lane, past mountains of tumbleweeds stacked 10 feet high against the barbed wire.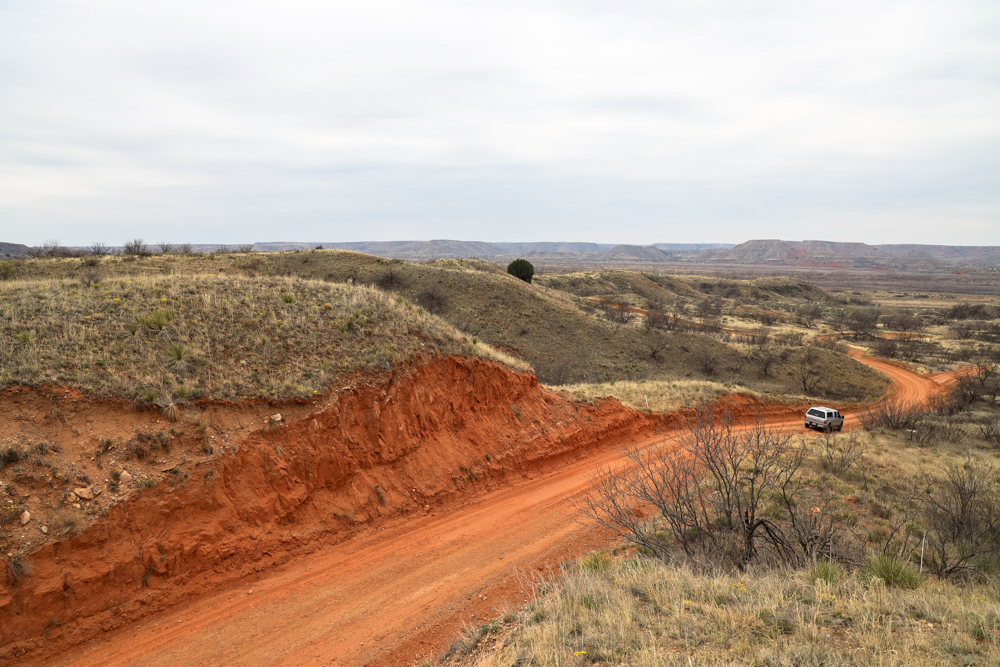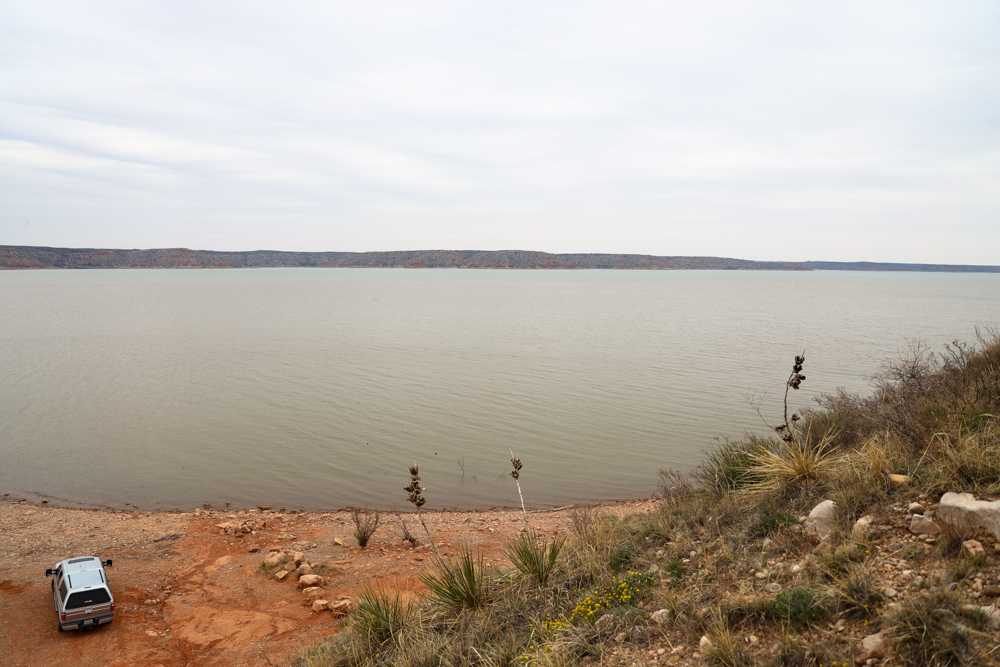 Lake Meredith National Recreation Area
44,978 acres
It's about 100 miles from Thompson Grove to the Lake Meredith National Recreation Area north of Amarillo. I depart the rolling prairies and enter the red dirt canyons and mesas of the Canadian River Valley. As I approach the lake from its northwest side, I drive down Farm-to-Market Road 1913 to the Plum Creek Campground, an area popular with horseback riders. There are horse corrals and picnic tables, but no people. I stop, drop my tailgate, and enjoy a charcuterie lunch.
I drive around the lake. Its blue water embedded in the red canyon is a beautiful contrast of colors. My campsite today is McBride Canyon Campground, across the lake from where I had lunch.
I drive along a ribbon of red dirt through cuts, breaks, and buttes into McBride Canyon. I keep going until I find a campsite at the base of a small mountain. I have time before dinner, so I hike on the Mullinaw Trail to the Canadian River. Its beige waters flow at a steady pace past green reeds through a wide valley. It's too shallow for my SUP; It'll have to wait. I return to camp, grill a steak, watch the gray sky turn dark, and crawl onto my sleeping platform. I have found the rhythm of dirtbag life. This will do.
In the morning, the gray sky is full of moisture and dark clouds. I check the weather in Decatur, the closest town to the LBJ National Grasslands. It's calling for a 100% chance of rain.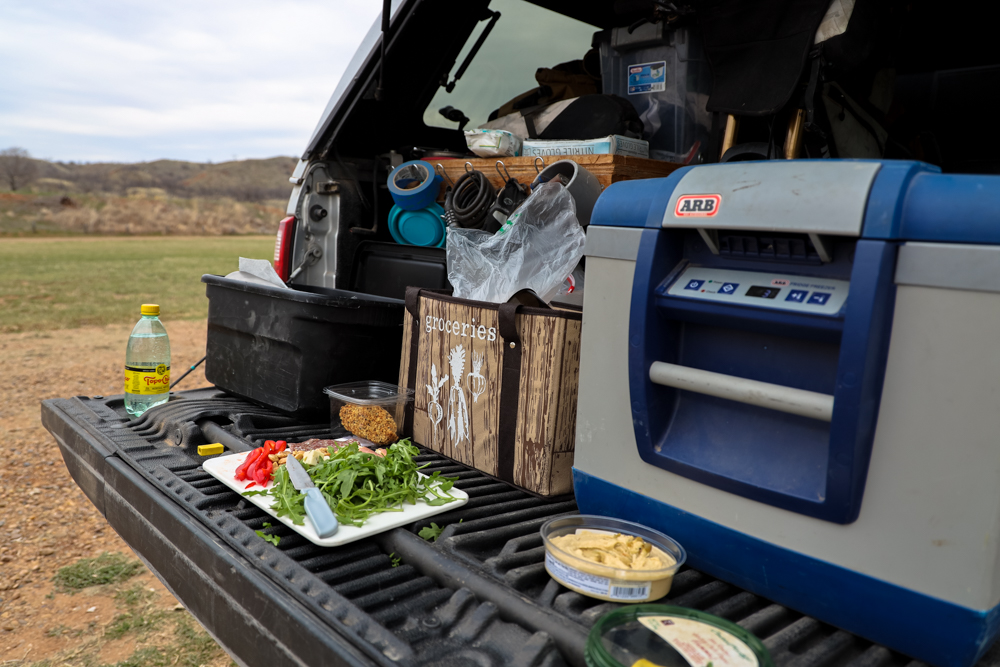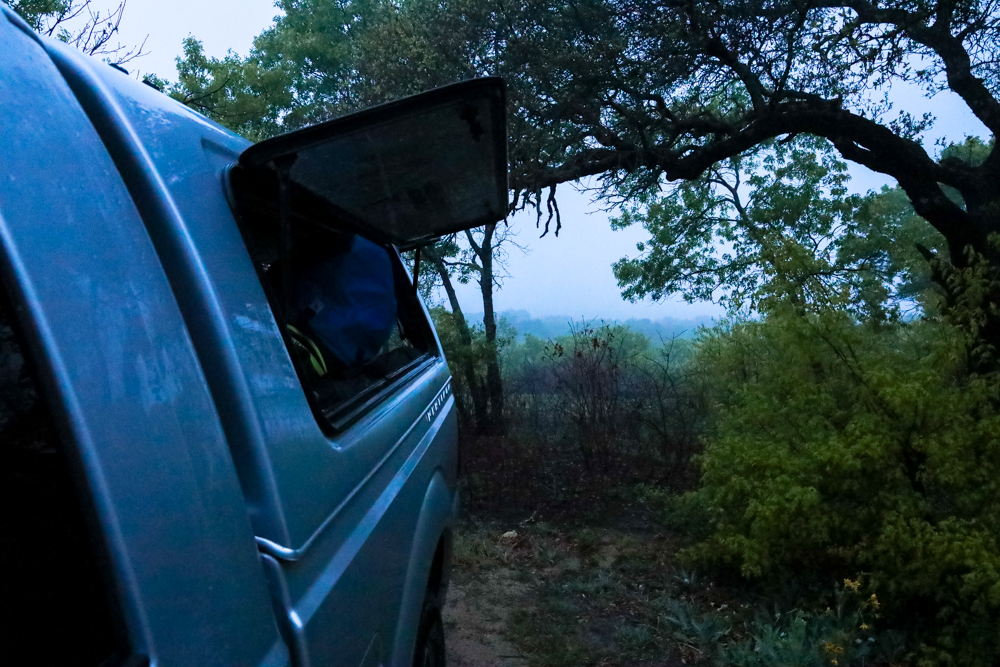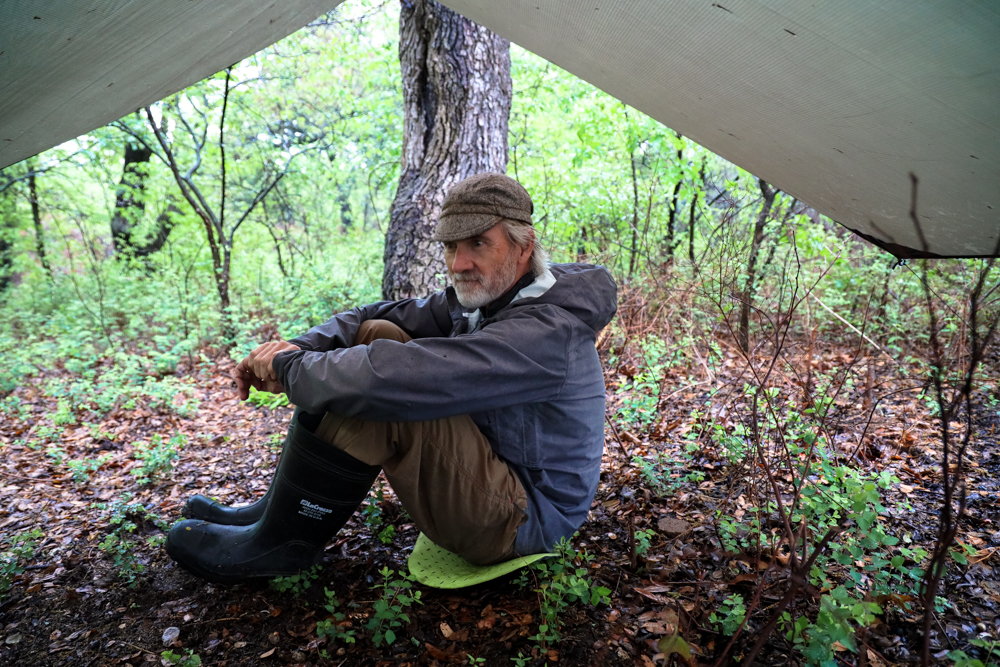 LBJ National Grasslands
20,250 acres
Today's drive is over 300 miles. I'm familiar with the LBJ National Grasslands, so I know enough to know I need help finding a camp spot. I contact my friend Chris Johnson, a civil engineer from Sanger. He visits the grasslands at least three times a week. An avid bikepacker, he either camps or drives out to brew coffee and breathe in nature for an hour or two. Johnson sends me three of his favorite camping spots. I choose one along Forest Service Road 904 near Cottonwood Lake. I arrive at a dense grove of live oaks with elm seedlings covering the ground.
Johnson secures a tarp between two trees and we take shelter from the rain that's started falling. He brews decaf, and we chat to the sound of rain plopping on the tarp.
"Does Texas need more public land?" I ask him.
He pauses. "You know," he says, "you could potentially have more public land if you didn't have to worry about infrastructure."
"In other words, keep it raw," I say. He nods and opens his hands, presenting the wilderness at our fingertips. This is his cathedral. We retire to our shelters. Johnson strings up his hammock and sleeps in the open air. I crawl onto the platform in my backseat—dirtbag on a shelf.
Sam Houston National Forest
163,037 acres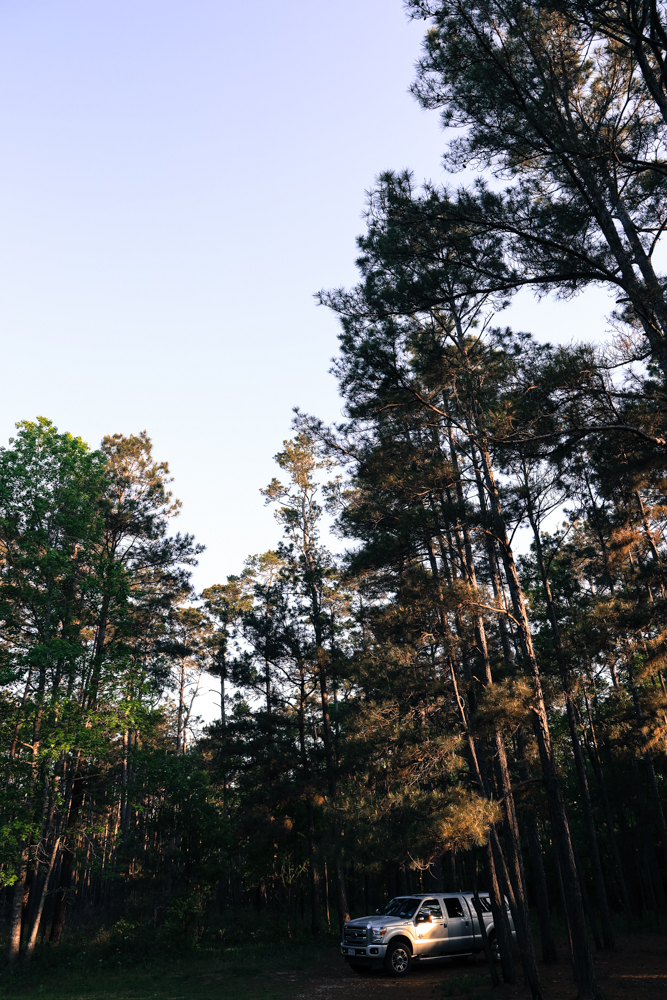 It takes four hours to get into the thick timber of East Texas. The national forests of Texas are a maze of Forest Service roads that you can travel for endless hours and wind up in the same place you started. The best way to find dispersed camping is from the Forest Service website under maps where you search out "hunter camps." After wandering for most of the day, I settle on Big Woods Hunter Camp.
As it gets dark, I become a bit unnerved. The thick Pineywoods of East Texas feels intimidating. There's a spookiness that lingers in the shadows of the shortleaf, longleaf, and loblolly pines. I crawl into my metal habitat, crack the windows, and find immense peace. Now that I know this place, I instantly feel connected. I fall asleep immediately.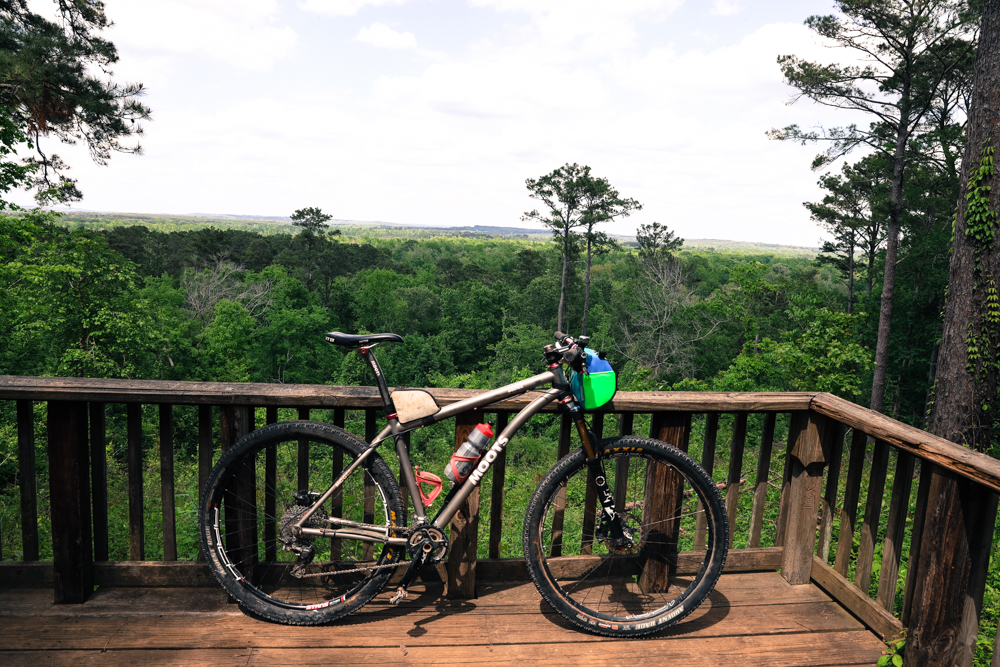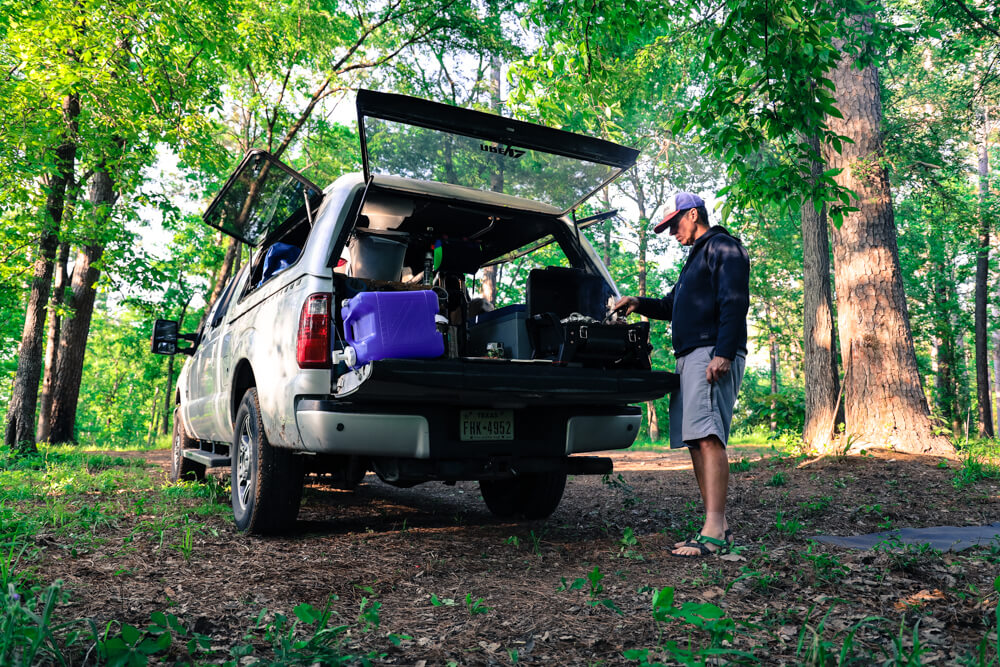 Davy Crockett National Forest
160,000 acres
I reach the Neches Bluff Overlook Campground by mid-morning and find a primitive campsite, no picnic tables or concrete pads. I hike a few miles of the nearby 4C Trail. Later, I pull out my mountain bike and ride the forest service roads for a couple of hours. For dinner, I grill another steak, pan-fry potatoes, and add arugula for color. Live like a dirtbag. Eat like a king!
I've made friends with the dark canopy that comes at night in these deep woods. The towering pines are in my soul now. I wonder what took me so long to get here.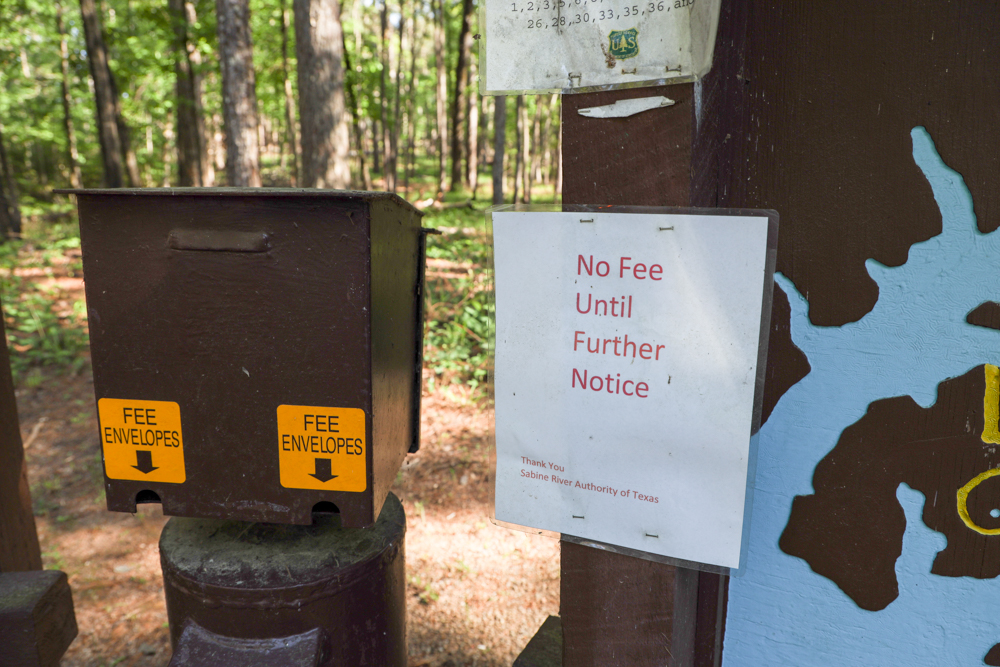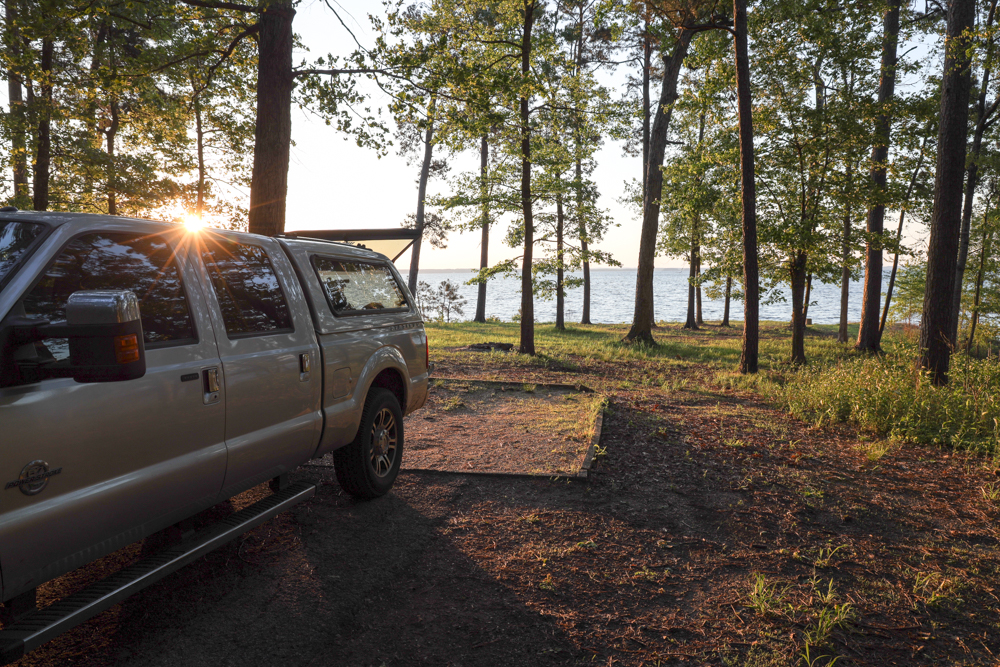 Sabine National Forest
160,656 acres
I call an audible today. Severe weather is heading my way tomorrow, and I don't want to get stuck down a muddy Forest Service road. I skip past the Angelina National Forest and head straight to the Indian Mounds Recreation Area on Toledo Bend Reservoir in the Sabine National Forest. The only problem is it's a fee area. I want a campsite on the water, but waterfront property comes at a price. When I arrive, fortune shines upon me. Next to the pay box, a little white sign reads, "No Fees Until Further Notice."
I acquire a waterside campsite and launch my SUP. I explore the cove and little inlets on either side of the campground. The open water in the Toledo Bend Reservoir has big rolling waves. I venture out hoping to touch the invisible border of Louisiana. I don't quite make it, as the water threatens to rock me off my board. But, I'm pretty sure I can smell the beignets. This is my last night to sleep under the pines.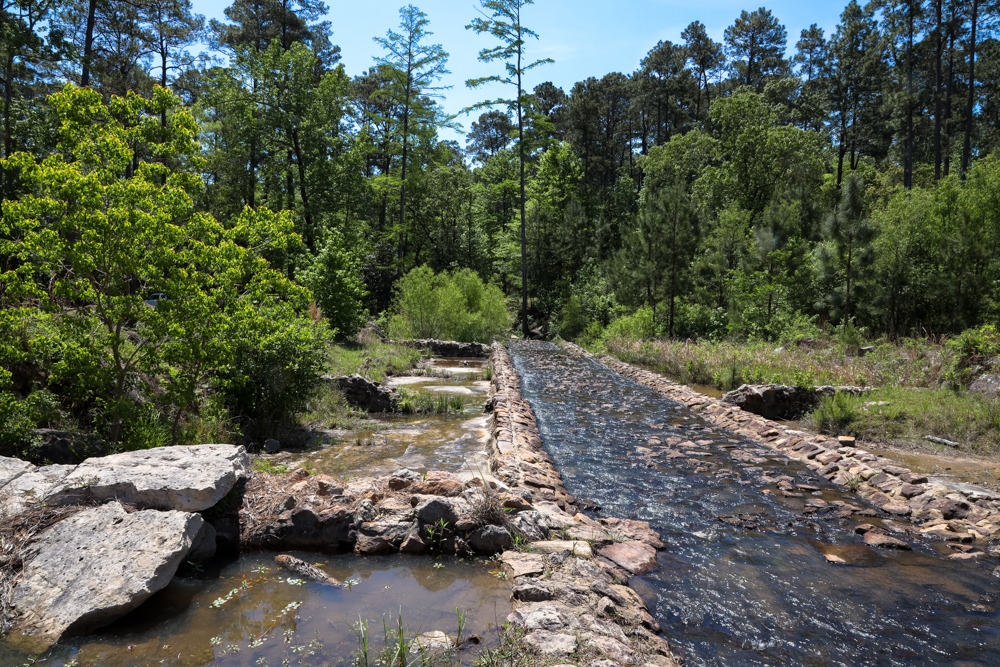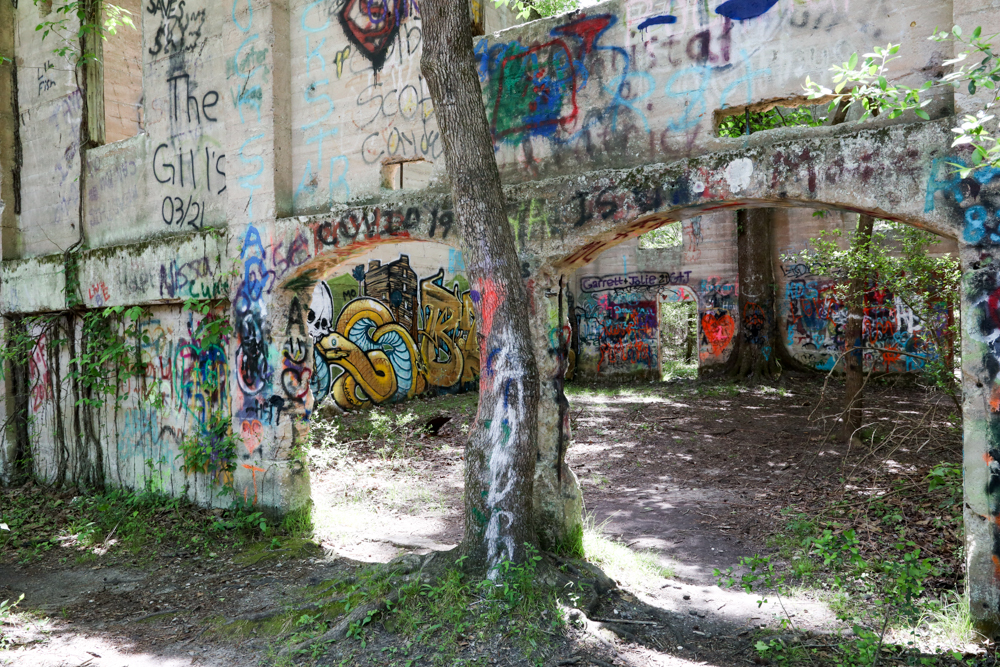 Angelina National Forest
153,179 acres
I have one final destination before I head home, Boykin Springs and the Sawmill Hiking Trail. This is an East Texas crown jewel. Boykin Springs is a spring-fed lake set against a pine-covered rise. There's a refurbished rock spillway originally built by the CCC. The lake's water cascades over the stones, producing the rhythmic sounds of a babbling brook. It feeds Boykin Creek. I follow the 2 ¾-mile Sawmill Trail along the trickling waters of the creek and arrive at the ruins of the Aldridge Sawmill, which operated from 1905 to 1920. These are the remnants of the mill, power plant, fuels building, and dry kiln. The inside walls are covered with graffiti. The colorful collages and scribbles play against the trees and vines that are slowly taking back this human-made structure. This is my grand finale.
When I get home, I ponder the question that motivated my long journey across the public lands of Texas: Does the state need more public lands?
I pose the question to Gregory Deimel, the public affairs officer for the National Forests and Grasslands in Texas who arrived in the state from Nevada. He says he was surprised that there is any public land in Texas at all. "I never knew this place existed until I got here," he says. "That's one of the things we're working on, is to educate Texans that you do have public land that's available to you and managed by the U.S. Forest Service."
Chris Johnson, my coffee companion from the LBJ Grasslands, puts it into perspective. "Public land is like a library," he says. "You don't have to own all the books, but you can use all the books. You don't have to own all the land, but you have to have access to it." Our library may not be as big as those in other states, but after seven days on the road, I know this: It's got some pretty darn good page-turners.