On the cowboy poetry scene, Lubbock's Andy Hedges stands out from the crowd as a fresh-faced performer, a 30-something practitioner of an American folk tradition often dominated by graybeards (and gray mustaches).
But with 20 years of performing under his belt, Hedges, a self-titled "cowboy songster," brings a seasoned perspective to traditional cowboy poetry recitation and guitar-picking renditions of classic cowboy tunes and folk songs. Hedges' timeless style is on full display on his fifth album, Shadow of a Cowboy, released this month and featuring a mix of traditional tunes and songs Hedges co-wrote with prominent cowboy poets in Texas and beyond.
With backing vocals from his wife, Alissa Hedges, Hedges' new album gathers listeners around a campfire for an acoustic picking session with songs like the title track, with its evocative allusions to canyon country poker games and out-of-tune saloon pianos, "The Horsetrader's Song," and "Long Johns On," the story of a cowboy whose underwear saves him from a series of embarrassing mishaps.
Hedges keeps a busy schedule touring around the country, in demand for concerts and poetry gatherings such as the Texas Cowboy Reunion in Stamford (July 6) and the Texas Hill Country Cowboy Gathering in Fredericksburg (Nov. 8-9). He also hosts a podcast, Cowboy Crossroads, which features interviews with influential cowboy poets and musicians throughout the country.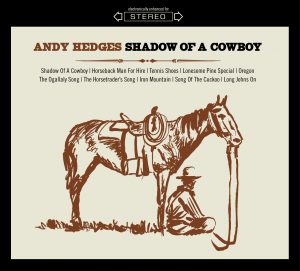 Upon the occasion of his new album, we asked Hedges about his music and the world of cowboy poetry.
How did you end up in Lubbock?
I was born in Lubbock and grew up about 60 miles southwest of there in a place called Tokio. I've always lived in the Lubbock area.
How did you discover cowboy music?
I grew up listening to my Dad's cassettes of artists like Marty Robbins, Jimmie Rodgers, Sons of the Pioneers, and Tex Ritter. When I was 14, I discovered the modern revival of cowboy music and poetry flowing out of the National Cowboy Poetry Gathering in Elko, and I never looked back.
What is a cowboy songster?
A songster is a person who is known for their repertoire of songs and for the wide variety of styles that they are able to play. It's a term that is usually applied to old-time African American musicians who played more than just the blues—dance songs, novelty tunes, gospel numbers, etc. I sorta borrowed the term to describe what I try to do within the old-time cowboy song tradition.
With the vast number of cowboy and Western songs out there, how do you decide which to record?
I'm always on the lookout for unknown songs or obscure versions of classic tunes. This new album is a bunch of songs—old and new—that I've been collecting for a while. I like how they span quite a time frame but still fit within the cowboy song tradition.
Which are the oldest and newest songs on Shadow of a Cowboy?
"The Ogallaly Song" is the oldest song on the record. I learned it from Teddy Blue Abbott's book We Pointed Them North. Teddy Blue said he first heard a black cowboy named John Henry singing the song in 1881. The newest songs are "Horseback Man for Hire" written by cowboy poet Joel Nelson and the two songs I co-wrote with cowboy poets John Dofflemyer and Waddie Mitchell.
What are your favorite cowboy poetry events in Texas?
Hands down my favorite cowboy poetry event in Texas is the Texas Cowboy Poetry Gathering in Alpine. Sadly, they announced that this last year was their final event.
How would you assess the health of cowboy music and poetry, both in Texas and beyond?
It's sad to see events like the one in Alpine folding, but I have to say that I'm busier performing than I ever have been, both in Texas and across the country. I'm encouraged to see a bunch of other young performers singing cowboy songs. Folks like Kristyn Harris, Dom Flemons, and Colter Wall. I believe the future is bright for cowboy poetry and music.