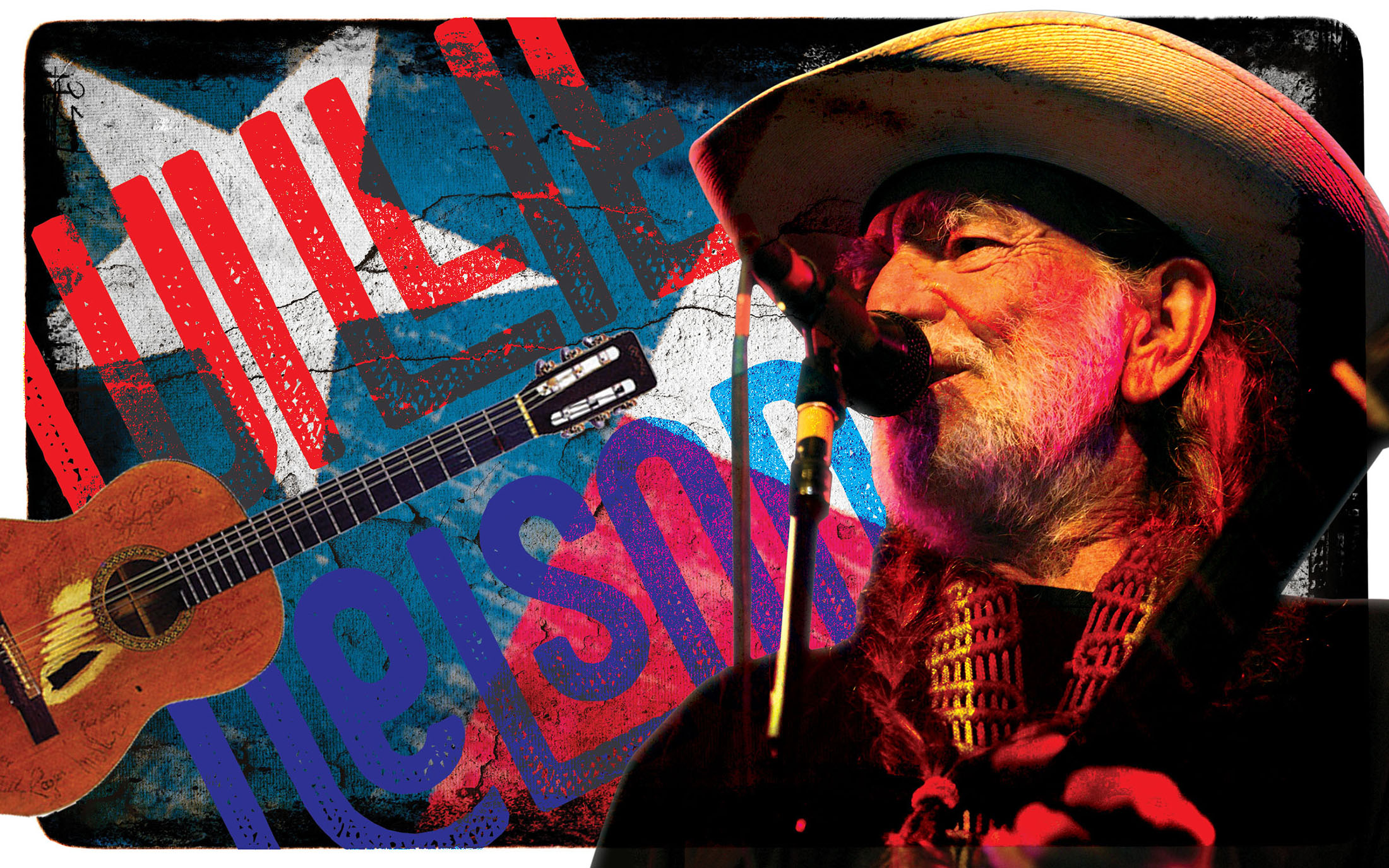 Willie Nelson at 90:
It Ain't Over
Turk Pipkin takes us behind the scenes at the legend's two-day birthday concert
by Turk Pipkin
I don't share a birthday with Texas legend and 2023 Rock & Roll Hall of Fame inductee Willie Nelson, but every 10 years we get together to share a birthday milestone by decades. Willie is 20 years and a couple of months older than me, and we've managed to commemorate that with big fun for the past 40 years. The year Willie turned 50 and me 30, we celebrated with a dawn-till-dusk golf game at his course, Pedernales Country Club. We repeated with shorter versions of that when he turned 60 and me 40, and again at 70 and 50.
The year Willie turned 80, we had scorching summer temps on my birthday, so we switched to a poker game at which Wille won all my money, gave it back to me as a birthday present, then won it all again. The second time, he kept my money, flashing a giant Willie grin at having wiped me out twice.
I am one who believes that Willie is America's greatest gift, so it's no surprise that friendship and periodic work with him has had such a profound influence on my life. We've co-authored two best-selling books (The Tao of Willie and Willie Nelson's Letters to America), made wonderful television and film projects together, and he and his wife, Annie Nelson, helped launch the education nonprofit that have shaped much of the last 20 years for my wife and me. So when Willie took the stage at the Hollywood Bowl in Los Angeles for his all-star 90th birthday celebration last weekend, there was no place I'd rather be.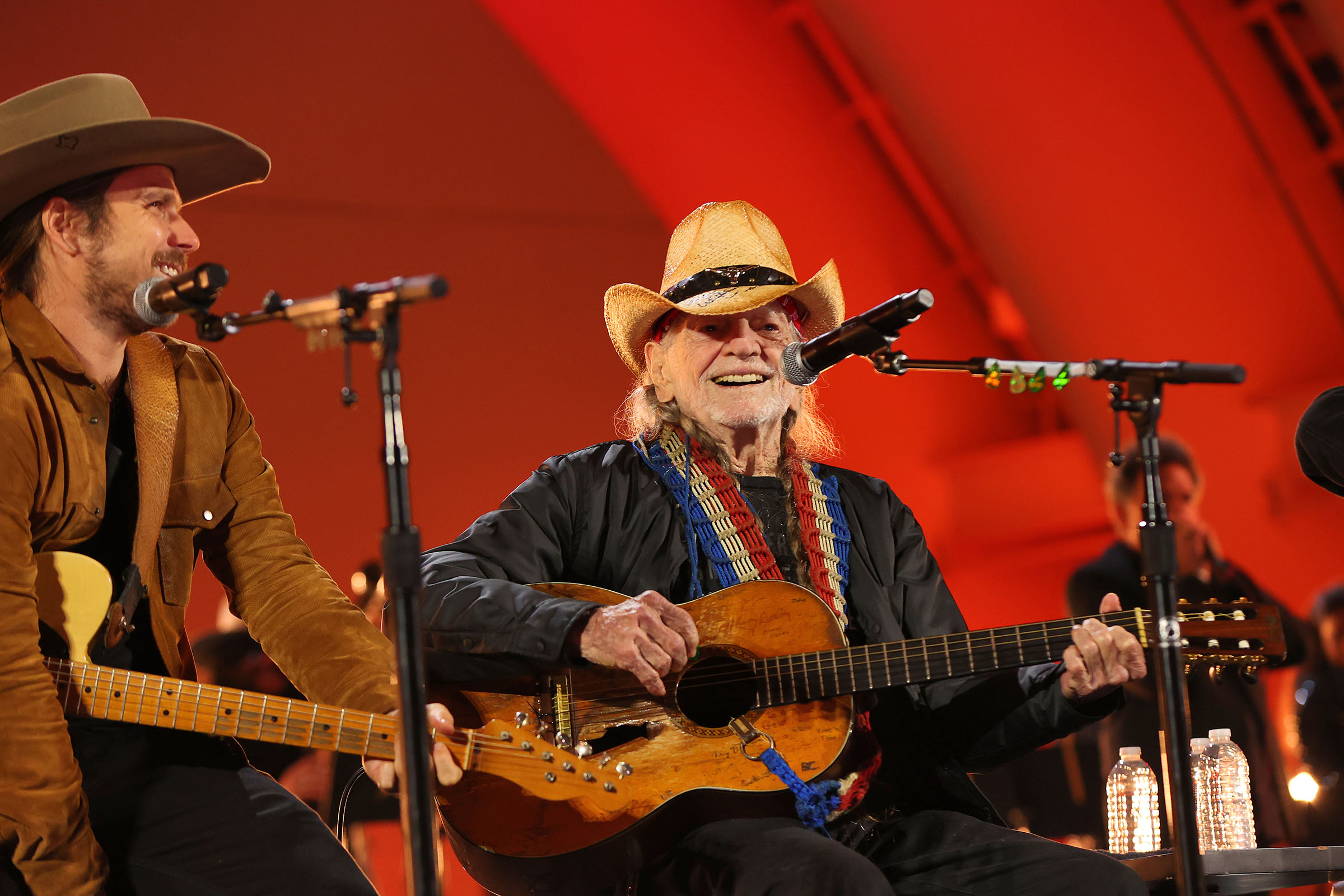 You may have already heard about the party at the Hollywood Bowl: two nights, 50 incredible musicians singing songs by Wille or made famous by Willie, and all sharing their love for America's most iconic and beloved songsmith and philosopher. Both nights were needed to fit it all in, and both nights – April 29 and 30 – are considered Willie's birthday.
As Willie puts it, "I was born before midnight on the 29th but it didn't get registered in the county courthouse until the next day, the 30th. So I just do both days."
Two birthdays were a great stroke of luck for the 17,000 people who bought tickets for Willie's 90th, officially titled Long Story Short: Willie Nelson 90. Every ticket was for both nights, with the crowd told to arrive early for a four-hour show each evening.
These were dedicated Willie fans from all over the world. I met attendees who'd come from Australia and Austria, from Canada and Cancun. Boarding my flight from Austin the morning of the first show, a guy wearing a Willie T-shirt came down the aisle softly singing, "On the Road Again." Despite the early morning hour, as he moved up the aisle, I heard other passengers joining in. The Willie party was on!
Night one at the Bowl was kicked off by Billy Strings, one of the hottest young acts in country music. The first hard-strummed twang notes of his guitar were the first licks of "Whiskey River," the song that kicks off every Willie show.
On the red carpet backstage before the show, Strings tells me how excited he is to be there. "It's gonna be a giant love bomb out there." An incredible picker, Strings followed up with "Stay all Night/Stay a Little Longer," and the crowd went wild.
The pace and the love were both breathtaking. Native Texan Charley Crockett was followed by Willie's youngest son, Micah Nelson (aka Particle Kid), Dallas native Edie Brickell was backed by her Austin bandleader, Charlie Sexton, then Lyle Lovett played what he'd told me earlier was a nearly perfect song, "Hello Walls."
"Willie's economy of words, his imagery, the simplicity of language and complexity of thought—it's in every song," Lovett says as we chat backstage.
That gave me a chance to tell Lovett a story that's in Willie's Letters to America. Here are Willie's words, part of his struggling years in Nashville with his pal Hank Cochran: "Hank and I started writing together every day, turning out good songs, but still looking for a hit. Our office (at Pamper Music) was in a garage apartment, and we didn't have a phone back there. One day they told Hank he had a call, and he went to the front house to answer it. After he left, I was there alone, looking around, and said, 'Hello, walls.' Then I said, 'Hello, ceiling.' By the time Hank came back from his phone call, I'd already finished the song. I said I wasn't sure about it, but I sang 'Hello Walls' for him, and he said I had a hit."
Lovett and I shared an earlier Willie birthday celebration. In 1993, I was the writer and he was part of a stellar musical lineup for The Big 6-0, a two-hour CBS special that also featured Ray Charles, Ringo Starr, Bonnie Raitt, Bob Dylan, Johnny Cash, Kris Kristofferson and many more. It was so grand, we didn't see how Willie could top it, a feat that Wille and his longtime manager Mark Rothbaum have done every decade since. Never count Willie Nelson out.
Like most Texas songwriters, Lovett's life has been shaped in great part by his musical hero. When I ask if he has learned more from Willie about life or music, Lyle thinks carefully and says, "I can't tell the difference. It's all a part of the same thing."
As the show continued, the excitement level at the Bowl grew with Margo Price and Nathaniel Ratliff, Beck—who performed an incredible version of "Hands on the Wheel" from Willie's Red-Headed Stranger album—Norah Jones with Willie's pal of 60 years, Kris Kristofferson, and many more.
Willie's son Lukas Nelson, who tours often with his dad but also has a big following with his band Promise of the Real, had the crowd rapt with a gorgeous version of "Angel Flying Too Close to the Ground." Two more Texas greats, Leon Bridges and Gary Clark, Jr. gave us show-stopping renditions of "Night Life" and Stevie Ray Vaughan's "Texas Flood."
The heartfelt outpouring of love from the artists was a virtual firehose of admiration and appreciation. Between the songs, there were tributes from an all-star list of Willie's Hollywood friends.
Dame Helen Mirren introducing Sir Tom Jones was a particularly nice touch, but her words about Willie were more touching. "The sheer number and variety of artists he has touched is remarkable," she says. "He bends and blends genres. He ignores categories. His timing is his own. He simply follows spirit, wherever spirit leads."
Dallas native Owen Wilson tells the crowd, "There really isn't anything bigger than Willie Nelson. I feel very lucky to call him my friend and neighbor. Hell, he's everybody's friend and neighbor—especially if you've got a deck of cards and some money to lose."
As with my birthday celebration a decade ago, losing money to Willie playing poker is a common and much bragged about theme among Willie's musical friends. It took me 20 years to realize he's the best poker, domino, and chess player I'll ever meet. (Your chances of winning are also reduced if Willie is getting you way too high to make calculated decisions.)
Many of these interactions with Willie have led to songs being written about him. The first may have been Johnny Cash's very funny "Backstage Pass," which was written about the wild backstage scene in Willie's heyday.
As Willie's open support of cannabis legalization have become widely known, the more recent songs seem to be focused on two themes: getting high and losing money at the poker table. Those include Bruce Robison's comic elegy, "What Would Willie Do" and Toby Keith's "I'll Never Smoke Weed with Willie Again."
Willie's Hawaii pal Jack Johnson skipped backup from the evening's all-star band and gave us a solo performance of his Willie ballad, "Willie Got Me Stoned And Stole All My Money." The crowd loved it so much that Jack returned the second night and did it again.
That Willie tribute theme was picked up a bit later when George Strait walked on the stage to a giant roar and sat close to Willie for a grinning version of their hit, "I Never Got to Sing One with Willie."
It's not easy to follow those country legends, but Snoop Dog got a massive round of applause from the crowd when he came out to performed his hit with Willie, "Roll Me Up and Smoke Me When I Die." Snoop and Willie may seem like an odd pairing, but Willie doesn't think about genres, he thinks about music. Case in point, Ziggy Marley delivered a beautiful reggae version of the song that defines Willie's philosophy, "Still is Still Moving to Me."
"The music business has a need to put labels on music," Willie told me a couple of years ago. "But a label may restrict the kind of music you create. Bluegrass, blues, country, jazz—it's all American roots music, and just like listeners everywhere, it's all connected. After my grandmother taught me that the definition of music is anything that is pleasing to your ear, the rest came natural."
All evening at the Bowl, the music came naturally, accompanied by laughter and no shortage of affectionate tears. Like most Willie fans, I own a large number of Willie's 150-plus albums. (It's hard to keep a running count, he released three new albums in the past year.) And like many Willie fans, I have a deep connection to many of the songs he's written and to those he's made famous. Two of my personal highlights on the first night were Chris Stapleton with a fantastic version of "The Last Thing I Needed, The First Thing This Morning," and Sturgill Simpson's elegiac "I'd Have to Be Crazy (To Fall Out of Love with You)."
Those songs were written by Texas greats Gary P. Nunn and Steven Fromholz, both of whom performed them at my wife's and my wedding almost exactly 39 years ago. The decades add up, especially when they're marked with love.
At the concert, Willie led us all into the closing gospel songs with a big laugh when he got momentarily serious. "I want to thank all the artists and everyone who came out today to celebrate… what we're here to celebrate."
We all know. He doesn't have to say it. And then the entire Hollywood Bowl becomes a 17,000-voice choir, singing an impromptu "Happy Birthday!"
Stranger Things
The Bruce Robison-produced Willie Nelson tribute album, One Night in Texas, features songs by Sheryl Crow, Margo Price, and Steve Earle
by Sarah Thurmond
Last year, Austin-based country artist and songwriter Bruce Robison was asked to serve as musical director for a big shindig taking place at Luck, Willie Nelson's ranch and music venue near Spicewood. The tribute to the country music legend on his 90th birthday would take place May 1 and feature music greats like Sheryl Crow, Steve Earle, Margo Price, and Nathaniel Rateliff performing Nelson's songs. Robison would coordinate the backing band and setlist.
Robison, who's penned hits for the Chicks ("Travelin' Soldier") and Faith Hill and Tim McGraw ("Angry All the Time"), says Nelson's influence on him was "common knowledge" in the industry. It started when he was a kid growing up in Bandera with a mom who played Nelson's 1974 album Phases and Stages nonstop on 8-track. It inspired Robison's songwriting, which included the modest 2001 hit "What Would Willie Do." There was only one problem with the Luck event: Everyone involved failed to realize they had Nelson's birthday wrong. As things were coming together, a friend rightly pointed out to Robison that Nelson was turning 89, not the big 9-0. Robison immediately texted the folks at Luck. Minutes went by—"when you can tell people are scrambling," Robison says—before they responded and said, "Let's do it."
It's a good thing they proceeded as planned because now Nelson fans can relive the show through One Night in Texas: The Next Waltz's Tribute to The Red Headed Stranger. Released last week on Robison's label, The Next Waltz, the album features a pared-down version of the two-and-a-half-hour concert, with 14 songs ranging from "Pancho and Lefty" (Steve Earle) and "Whiskey River" (Ray Wylie Hubbard) to "Crazy" (Nathaniel Rateliff) and "Down Yonder" (Emily Gimble, whose grandfather, fiddler Johnny Gimble, played on the original recording of the song). Robison contributes two songs as well: "Last Thing I Needed First Thing This Morning" and "(How Will I Know) I'm Falling in Love Again."
According to Robison, they didn't set out to make a live album. But when Nelson, who was grieving the passing of his sister, Bobbie, announced he wanted play that evening, Robison thought it might be a good idea to have a friend record the show just in case. Robison was amazed when he listened to the recording. "It really had a lot of looseness and kind of that fun feeling that a lot of the artists I love from the '70s had back in the day," he says.
Thinking he had the makings of a tribute album, Robison reached out to the artists and representatives, and everyone agreed it was a great idea. "Everything was just so happenstance," Robison says about how everything came together. "The album has a real home kind of feeling to it, a certain kind of spirit that I'm really proud of. You couldn't really do that if you were trying."
One Night in Texas: The Next Waltz's Tribute to The Red Headed Stranger came out April 28 on The Next Waltz. Vinyl albums are available for $24.99 and can be ordered here.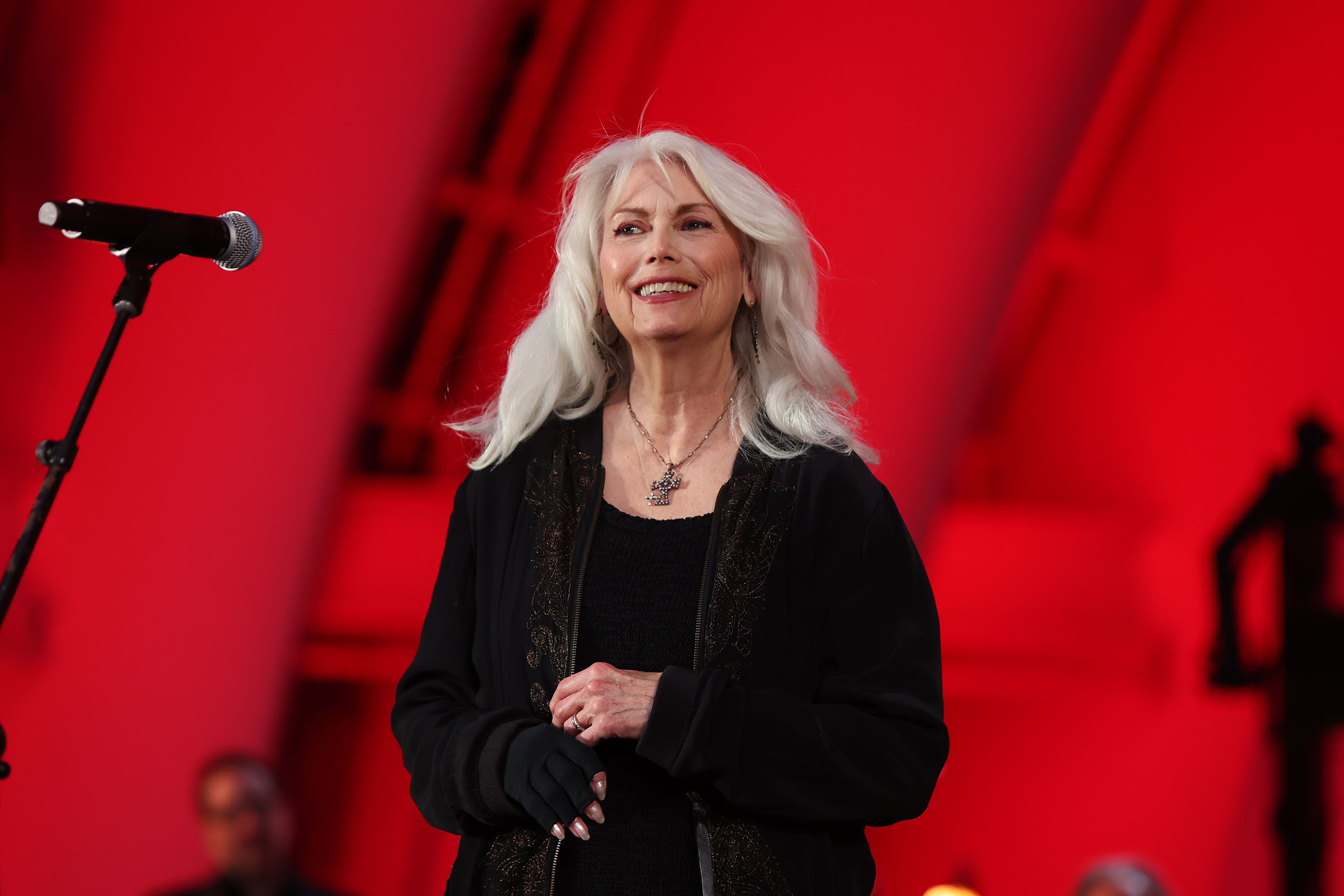 After night one, I didn't believe it possible to top or even equal what we'd already seen, but like I said, never count Willie Nelson out. Once again, Billy Strings opened the evening with "Whiskey River," then followed with "I Gotta Get Drunk" with much whooping and hollering from the crowd. Strings joined Willie onstage later to play their just-released song, "California Sober," recorded outside of Austin at Willie's Studio and followed by a game of poker which Strings clearly loved, but which he said "cost me a grand."
"I'll get him next time," Strings adds with a grin. I didn't have the heart to tell him that he'd probably lose more the next time. Either way, he has a great song with Willie, and that makes him a winner.
Charley Crockett returned on night two with a beautiful rendition of "Yesterday's Wine," penned by Willie 50 years ago with what seems to be perfect foresight for today.
Yesterday wine,
Aging with time
Like yesterday's wine
All I could think is, if Willie's a wine, he's the greatest vintage ever.
It's hard to describe the beautiful gospel harmonies that fill the amphitheater when Allison Russell, a popular presence at Wille's springtime bash, The Luck Reunion, joined Dallas native Norah Jones for a stunning rendition of "Seven Spanish Angels," which Willie performed with his pal Ray Charles 30 years ago on The Big 6-0.
Guest introductions included Willie's celeb pals Jennifer Garner, Woody Harrelson, and Ethan Hawke, all waxing poetic about their friend Willie. One of the most poignant song intros came from Willie's youngest son Micah. "I don't think my dad would have made it to 90 without all of you," he says, "The music is what keeps him alive, and ya'll keep the music alive."
We were only an hour into night two when Emmy Lou Harris walked onstage to join Rodney Crowell and Shooter Jennings mid-song on Rodney's, "It Ain't Over Yet," which seemed like a theme for the evening and for our love affair with Willie and his music.
That's when I realized that every song was going to move me to tears. We've all come too far with Willie for this giant, nationwide love affair to end, so oh please can we have just one more year, and one more year after that, and… well, you get the idea. We need more Willie and we need more love, which is ultimately what Willie gives and teaches us all through the way he lives his life.
The most touching moment of the evening was when Kristofferson, age 86 and making few concert appearances after a long bout with Lyme disease, joined Norah Jones to sing Kris's song, "Help Me Make it Through the Night." Seeing and hearing Kristofferson was also a highlight on night one when he and Roseanne Cash teamed to sing, "Loving Her Was Easier (Than Anything I'll Ever Do Again)."
Willie, Kristofferson, Jennings, and Cash had a long run of hits with their group, The Highwayman. Cash and Jennings have passed on, but we get to hear "The children of The Highwaymen: Lukas Nelson, Micah Nelson, Shooter Jennings, and Rosanne Cash." All lifelong friends, the four sang their dads' theme song, "The Highwayman."
Perhaps because he mostly quit the nightlife, the cigarettes and the drinking decades ago, Willie has outlived so many of his dear friends. One of the funny lines that pops up every year on his birthday is Willie saying, "It's time for people to start thinking about the kind of world you're going to leave for me and Keith Richards."
So nothing could have been more welcome than when The Rolling Stones legend joined Willie for two beautiful songs, "We Had It All" and Billy Joe Shaver's "Live Forever."
Willie won a Grammy this year for his version of "Live Forever" on the new tribute record to Shaver, and that 'live forever' sentiment was on many people's minds.
I'm repeatedly asked if I think Willie will be doing another of these giant concerts at 95 and 100. As the evening progressed, with Willie singing and playing better than I've heard in quite a while, surrounded by family, friends and fans, and smiling like one of the happiest men I've ever seen, I come to the realization that I do think he'll make it to 100.
When we were writing his  Letters to America book, Willie told me he'd recently been at an event with Norman Lear, who is now 100 years old. The pair laughed about being old and both agreed that "Age is just a number."
Willie at 100 will be the true celebration of the century. Deep down inside, I do believe that Willie can get there—and will still make our hearts soar as he did at The Hollywood Bowl.
I just hope I make it to 80, so I can see it.