When I spoke to Andy Hedges for a 2006 Texas Highways feature on the cowboy music revival, his initial response was, "Well, first off, I'm not a cowboy." And when I reached out last week to talk about the Lubbock-based singer's new double album, Roll On, Cowboys, which features duets with a dozen fellow curator-performers of the traditional and modern Western repertoire, he stuck to his guns.
"I still think the title of 'cowboy' is for those who earn their living horseback taking care of cattle," Hedges stated in an email. "It takes an incredible amount of knowledge and skill to do that job, and it's a title that should be treated with reverence."
Fair enough, pilgrim. He does, however, seem comfortable with the designation "cowboy songster," which served as the title of two of his earlier CDs, Cowboy Songster and Cowboy Songster Vol. 2.
"The term 'cowboy songster' communicates the idea that I am someone who is not a songwriter but an interpreter of songs from a variety of styles within the cowboy tradition," he explained, adding that this applies to his heroes: Don Edwards, Ramblin' Jack Elliott, Buck Ramsey, and Glenn Ohrlin. "A songster is known for their repertoire and their own unique versions of songs. I think it also communicates the breadth of the material in the cowboy tradition. Old ballads, Tin Pan Alley songs, gospel songs, songs from the English, Scottish, and Irish traditions, novelty songs, cowboy poetry, fiddle tunes, and modern-day songs."
That breadth of tradition appears on Roll On, Cowboys. The high-quality audio, fine musicianship, and rich vocals are much easier on the ears than some of the range-raw and whisker-scratchy sounds of cowboy songs recorded on the old 78s a century ago—which is not to say those archeological yips and yodels are not captivating as living artifacts. But even though the recording is rendered with modern technical finesse, Hedges' artistic process pays heed to some words written long ago by cowboy song collector Jack Thorp, who made a trip through Texas hunting words and melodies back in 1889.
Andy Hedges' Upcoming Texas Shows
Lone Star Cowboy Gathering
Alpine
Feb. 17-18
The event also features Andy Wilkinson's 15-poem and 14-song "true Western opera," Charlie Goodnight: His Life in Poetry and Song. Barry Corbin, who played Goodnight in Wilkinson's one-man show about the legendary rancher, joins a cast of nearly two dozen performers.
Roll On, Cowboys Album Release Concert
Cactus Theater, Lubbock
April 25 at 7 p.m.
All but one of the dozen guest artists on the album will join Andy Hedges onstage at the album release concert.
Cowboy Poetry and Song Gathering
Borger
Sept. 16
Winnsboro Cowboy Music and Poetry Gathering
Winnsboro
Sept. 30
"Cowboy singing," Thorp wrote, "mighta been medicine for lonesomeness…Something happened in the day's work, funny or sad, and somebody handy with the lingo made a jingle out of it; if the cowboys liked it, they added to it and passed it on. A ballad like 'The Old Chisholm Trail'…seems to have just grown. Cowboys sang it from the Canadian line to Mexico; and there were thousands of verses; nobody ever collected them all…Sometimes a song lost its author and even changed its name as it passed from mouth to mouth."
Echoing that last thought, the songwriting credit for a dozen of the tracks on Roll On, Cowboys is listed as "traditional." One such tune is "Long Summer Day," on which Pipp Gillette of Crockett adds his banjo and vocals. Hedges' informative liner notes reveal that the piece was originally a plantation work song. Gillette and his late brother Guy Gillette created new lyrics and reinvented it as a song about working on their grandfather's East Texas ranch.
Twenty-one-year-old Montanan Brigid Reedy brings her clear mountain vocals and lilting fiddle to the traditional "Desert Sands." A welcome female voice among the project's chorus of charming galoots, Reedy has been performing since the age of 2. Both she and Hedges learned the song from the late Glenn Ohrlin, who reportedly learned the first verse from hearing it on the radio at the age of 10, back in 1936.
Another traditional tune on the album, "Root Hog or Die," recorded as a duet with Tom Russell, who currently hangs his hat in Austin, was previously waxed twice by Don Edwards with different melodies on each version. The Hedges-Russell iteration employs still another melody that Edwards performed live. "Don used to say that the old-time songsters never played a song the same way twice," Hedges observes in the liner notes, "and this is a great example of that."
As its title indicates, "Rounded Up in Glory" is a traditional piece with a gospel tone. For the Roll On, Cowboys version, part-time Fort Worth resident Michael Martin Murphey adds his banjo and vocals to Hedges' guitar and vocals. "I had the honor of singing this at Don Edwards' memorial service in Fairy, Texas, on Oct. 27, 2022," Hedges notes in the CD set's booklet.
The double album also includes more recent compositions. "Making Merry with John Perry on the Ol' Bar Cross" is sung here by its writer, the great Ramblin' Jack Elliott. Born in 1931, the still vibrant and still relevant Elliott, currently a Californian, is senior to our beloved Willie. Rolling Stone declared the Hedges and Elliott duo session at the 2018 Newport Folk Festival one of the event's top 10 performances. On Roll On, Cowboys, Ramblin' Jack also weighs in on the traditional "Railroad Bill" (the track includes an excerpt from a 1953 recording of the song by Elliott, Woody Guthrie, and Sonny Terry) and on the Woody classic "Philadelphia Lawyer."
Lubbock-based songwriter/playwright Andy Wilkinson joins Hedges on his moving composition "Palo Duro Farewell," from his stirring body of work about his distant uncle, rancher Charles Goodnight. Maggie Rose, the cowboy songster's 11-year-old daughter, adds her beautifully atmospheric fiddle playing to that track and to the album's final tune, a duet by the Andys of the traditional "Goodbye Old Paint." While working on the XIT Ranch, Charlie Willis, a black cowboy who had learned "Goodbye Old Paint" on trail drives, taught it to Panhandle fiddler Jess Morris, who then recorded it for the peripatetic song collector John Avery Lomax.
The album's title tune is written by Kilgore-based songwriter Bob Campbell and inspired by the classic book The Trail Drivers of Texas, the writings of legendary cattle-drive cowboy "Teddy Blue" Abbott, and passages in Larry McMurtry's Lonesome Dove. Utah's Brenn Hill joins Hedges on this version. (If you run across it, I also highly recommend Campbell's song "Old Borunda Cafe," about an adobe restaurant in Marfa that many credit with the creation of the Tex-Mex combination plate. I heard it on Jim Wilson's 2002 album, Border Bravo.)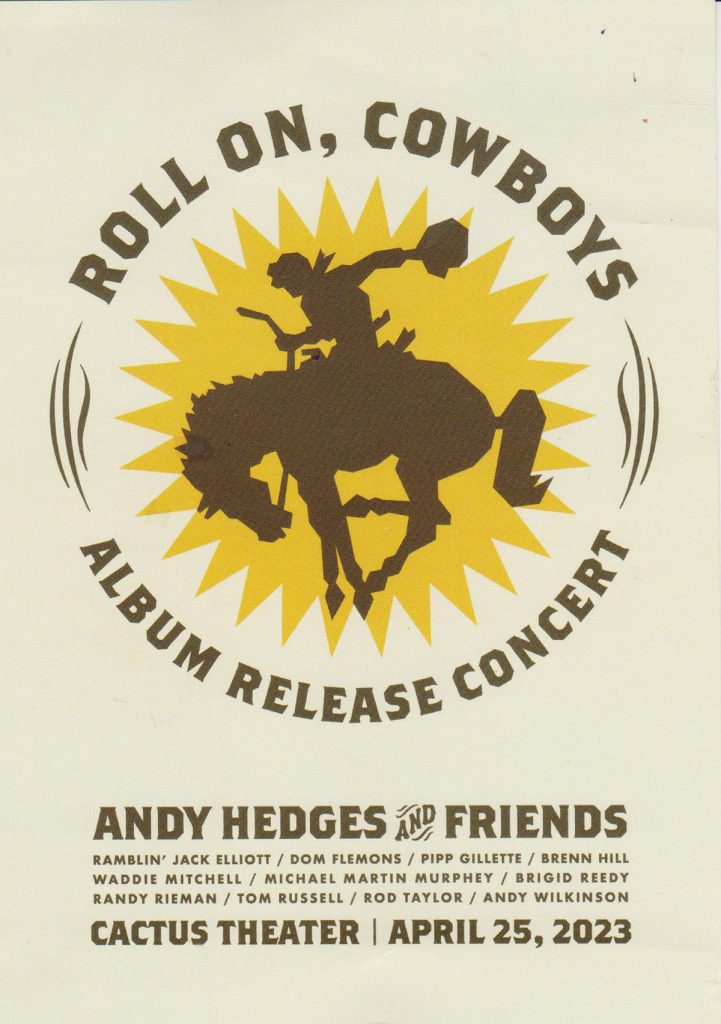 In the nearly 20 years since I first interviewed Hedges, the self-described "songster, reciter, storyteller, guitarist, and collector of cowboy songs and poems" has clearly himself been "rounded up in glory." Born in Lubbock in 1980, Hedges grew up in the Terry County hamlet of Tokio with his schoolteacher mom and rodeo cowboy-turned-preacher dad. He discovered cowboy music through his father's cassette tapes and taught himself guitar as a teenager. His performing debut was as a cowboy poetry reciter at Bever's Crossing restaurant in nearby Ropesville, and he still includes spoken-word pieces in his shows. Several resonant recitations appear on the new album.
He's also been prolific. Since his first album of buckaroo verse, Rawhide Rhymes, issued at age 17 in 1997, he's released or been featured on some 22 albums.
Onstage, he's become a seasoned and popular performer at just about every cowboy and folk culture wingding that gets thrown in this immense land mass masquerading as a mere state (see sidebar). Beyond Texas, Hedges has been featured at the National Cowboy Poetry Gathering in Elko, Nevada, the Florida Storytelling Festival, the Newport Folk Festival, and L.A.'s Autry Museum of Western Heritage, to name a few.
He's shared the stage with artists he grew up idolizing, and he's also become a solid chronicler of the lifeways of the American West with his podcast, Cowboy Crossroads. Sponsored by Lubbock's National Ranching Heritage Center, the popular program—87 episodes to date—has interviews with musicians, ranchers, poets, farriers, actors, authors, and other Western luminaries, including legendary Texas horse trainer Buster Welch, whom we lost this past June at the age of 94.
Hedges dedicates Roll On, Cowboys to the late Don Edwards, whom he first saw perform at Cisco Junior College in 1994. "I was sitting in the front row," he recalled, "and I remember him singing 'Rounded Up in Glory' and 'Will James.' He also recited Wallace McRae's poem 'Reincarnation.' I was mesmerized. I bought a copy of Don's cassette Chant of the Wanderer, and when I went backstage after the show, he was nothing but kind and gracious to a 14-year-old starstruck kid looking for an autograph."
When Hedges spoke at Edwards' memorial service this past October at the Fairy Baptist Church, not far from Hico where Don hung his hat, he called Edwards "the greatest cowboy singer of all time [and] a master of all of the styles of cowboy and Western music… He saw himself as a messenger and as a steward of the music, keeping it alive for future generations. He never wavered from that vision. In the words of the cowboy tribe to which he belonged, 'He never sold his saddle.'"
And the respect was mutual between the two songsters. "Andy Hedges could very well carry on the traditions when all of us old guys are gone," Edwards testified some 10 or 15 years ago. "I'd feel assured in knowing the music of our great American West was in good hands."
Roll on, cowboys, roll on…
Roll on, cowboys, roll on…
They will sing of our deeds in a thousand songs.
Roll on, cowboys, roll on…