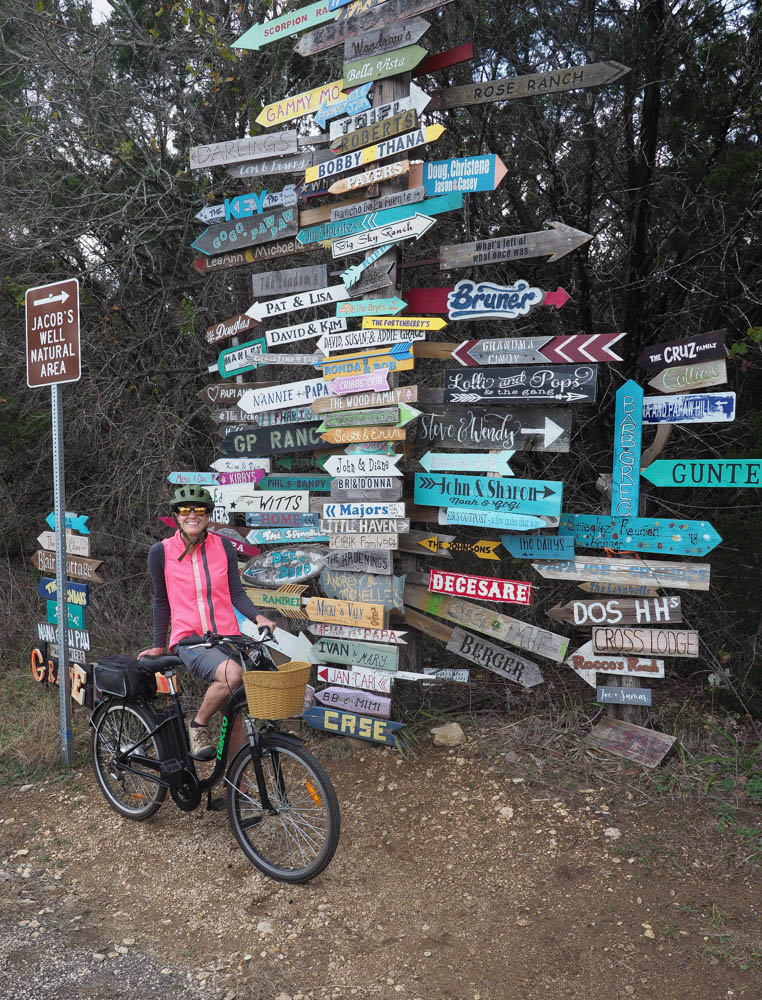 Shift Your Sightseeing
From Marfa to Galveston, e-bike tours around Texas offer some extra power for adventurous self-guided trips
By Pam LeBlanc
Barely breaking a sweat, I crest the hill leading to the entrance of Jacob's Well Natural Area near Wimberley. I wish I could credit my astonishing fitness level, but really, it's because of the battery-powered bicycle on which I'm perched. An e-bike whisked me up this steep slope, along with a few other hills, during a recent self-guided tour around Wimberley in the Texas Hill Country.
I rented the bike from Wimberley Electric Bike Tours as an experiment. I love to explore small-town Texas on two wheels, but some of my friends prefer touring by car. An e-bike seemed like a good compromise.
Owner Pamela Mitchell met me in a parking lot behind a coffee shop on Ranch-to-Market Road 12, where she handed over a pair of fully charged e-bikes, shared a link to a digital map, and set me and my husband loose on a half-day adventure that included stops at nearby attractions. The easy-to-navigate route mostly avoids busy streets and highways and takes cyclists instead along winding residential back roads and gravel trails.
We grabbed a few snacks from The Carvery down the road, tucked them into our bike baskets, and rolled out of town. We hadn't gotten very far when a mechanic at an auto shop hollered out that my rear tire looked a little low. We pulled over and he topped it off with a smile.
E-bike sales in the United States are projected to reach $80.6 billion by 2027, according to a study by ResearchAndMarkets.com. As their popularity grows, tour operators are getting in on the boom, enlisting them for sightseeing. Several towns and smaller cities around Texas, including New Braunfels, Marfa, and Galveston, are getting in on the action (see sidebar).
If you can't tackle a hill on a traditional bicycle, an e-bike can give you the boost you need. Besides, they're fun to ride, emission-free, and energy efficient.
"People love having that extra oomph," says Mitchell, who opened Wimberley Electric Bike Tours four years ago and now maintains a fleet of six bikes for visitors looking for an easy way to get to local swimming holes and parks. "Instead of driving around Wimberley, shopping and drinking and eating, they can get out and enjoy nature," Mitchell says of her clients.
For our excursion in Wimberley, we rode about 12 miles in all. The route took us past Blue Hole Regional Park, where you can go for a hike or, if you have reservations, a swim in the cypress-lined, green-blue river. (The park was closed so crews could remove downed branches during our visit but is open daily for hiking. Swim season runs May to September.)
From there we pedaled along a gravel path a few miles, then hopped onto pavement for the ride up to Jacob's Well Natural Area. We parked our bikes, wandered down to admire the swimming hole, then settled onto a picnic table for a quick snack. While swimming has been banned since last summer due to drought conditions, and will remain closed until further notice, visitors can still enjoy the park's hiking trails.
Back on our e-bikes, we glided 3 miles to Cypress Falls. During warm weather, you can swim here without a reservation, or listen to live music at the Dark Skies Tavern. Then we pedaled to the foot of Old Baldy, where we scampered up about 200 steps to take in the 360-degree view of the Hill Country.
On our way back into town, we dropped by the Ace Hardware store, which sells fresh-popped popcorn for 39 cents a bag, and visited with the resident parrot at King Feed and Hardware.
Not a bad way to spend the day.
E-bikes aren't without controversy. Some Wimberly residents have noted on Wimberley Electric Bike Tour's Facebook page that traffic is bad enough without adding e-bikes to the mix. Others worry about conflicts between cyclists and pedestrians. But Mitchell says she purposely routes cyclists off major roads and reminds them that by ordinance, electric bikes are not allowed on sidewalks in downtown Wimberley.
"Being a local, I've ridden bikes all over," she says. "I figured out there's a back way into places, but you've got to know how to do it."
The result is a leisurely ride on what might be a taxing day on a regular bicycle. The top speed on our bikes was 22 mph, and electric assist takes hills out of the equation. Riders can cover greater distances and sweat less on hot days, too.
Most electric bikes have settings, so you can choose how much (or how little) assist you want. Some are throttle operated and accelerate with the twist of the handlebar. Others use pedal assist, so power kicks in with each pedal stroke. Cyclists who want more exercise can just turn off the power mode. It's up to you.
Our ride wasn't without snafus. At one point, while my husband was chugging up a hill in low gear, the chain slipped off. Experienced cyclists, we spent a few minutes getting it back on. But if you run into a problem, just call Wimberley Electric Bike Tours and they'll help you out.
We kept a cruising speed of about 15 mph, and after a three-hour tour we returned our bikes with half a charge remaining.
Most customers take between two to 10 hours to explore the Wimberley Valley, depending on how long they spend swimming, hiking, or picnicking, Mitchell says. A combination lock is provided; the self-guided tours cost $75 per person per day.
Where There's a Wheel, There's a Way
Tour companies across the state now offer guided and unguided electric bike tours. Here are a few to try:
Pedego New Braunfels
133 Hampe St., New Braunfels
Choose from tours that highlight history, swimming and floating on the Comal River, antique shopping, or exploring nearby Gruene, home of the oldest dance hall in Texas.
Zipp E-Bikes
2311 Mechanic St., Galveston
Take a guided or self-guided tour around Galveston, where you can choose from routes that focus on history or adventure.
Island Motor Bikes
315 S. Alister St., No. 109, Port Aransas
Explore the eight wonders of Port Aransas by electric bike.
ebikemarfa
114 W. San Antonio St., Marfa
Call the shop to arrange a custom e-bike tour.
Ranch Road One Bike Tours and Rentals
1779 Klein Road, Stonewall
Enjoy self-guided electric bike tours to nearby Texas Hill Country wineries and LBJ Ranch National Historic Park.
Waco Adventure Tours
300 S. Sixth St., Waco.
Fat tire electric bike tours go through historic downtown Waco, Cameron Park, and along the river.
Bridgeland eBike Adventure Rides
9102 Fry Road, Cypress.
Choose from a nature-focused ride or a sunset tour aboard an e-bike outfitted with glowing lights.