Visit the Bootmaking Masters in the Birthplace of the Cowboy Boot
Two Rio Grande Valley bootmakers proudly continue their multigenerational tradition of craftsmanship
Written by W.K. Stratton | Photos by Kenny Braun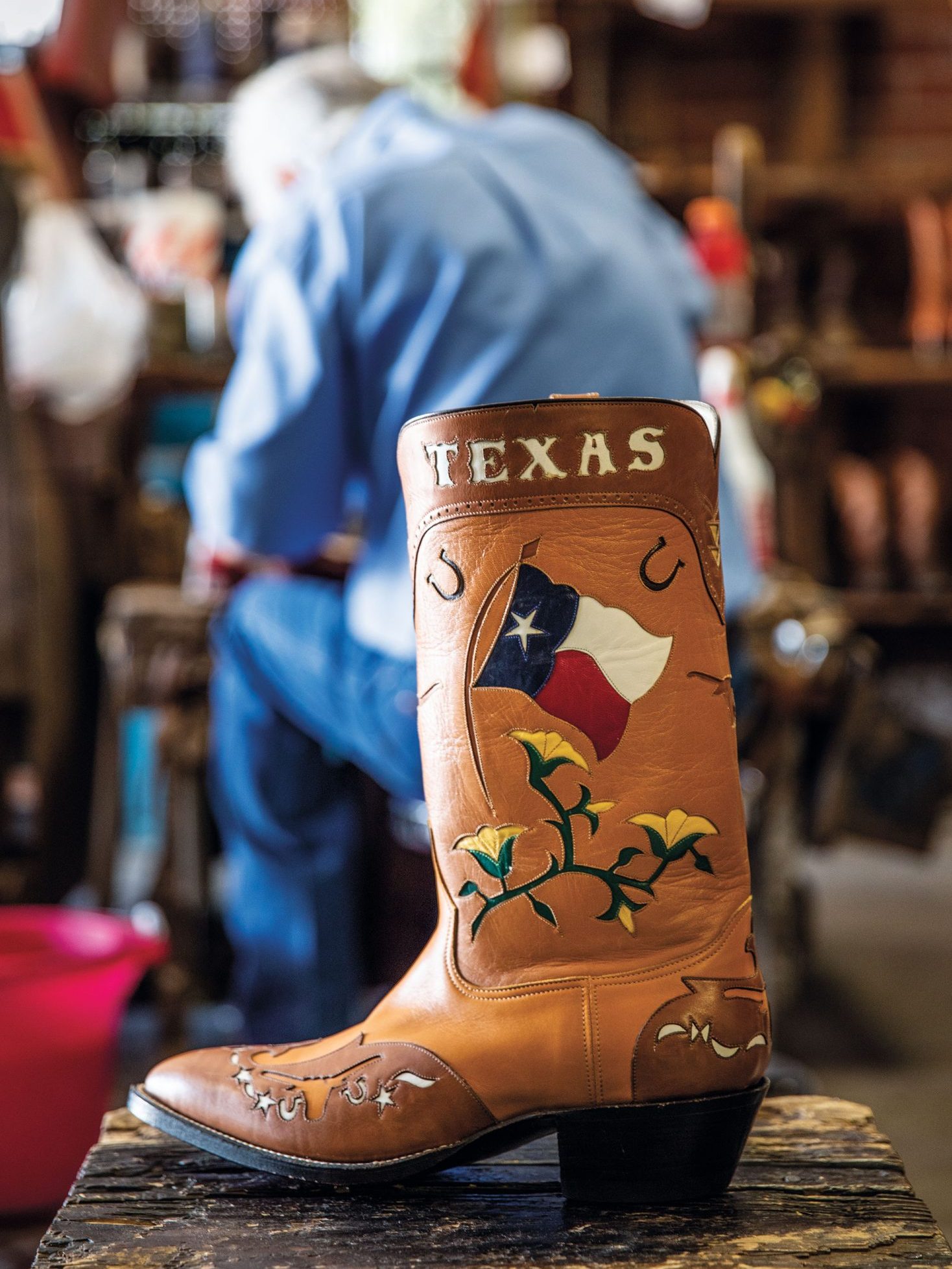 Visit the Bootmaking Masters in the Birthplace of the Cowboy Boot
Two Rio Grande Valley bootmakers proudly continue their multigenerational tradition of craftsmanship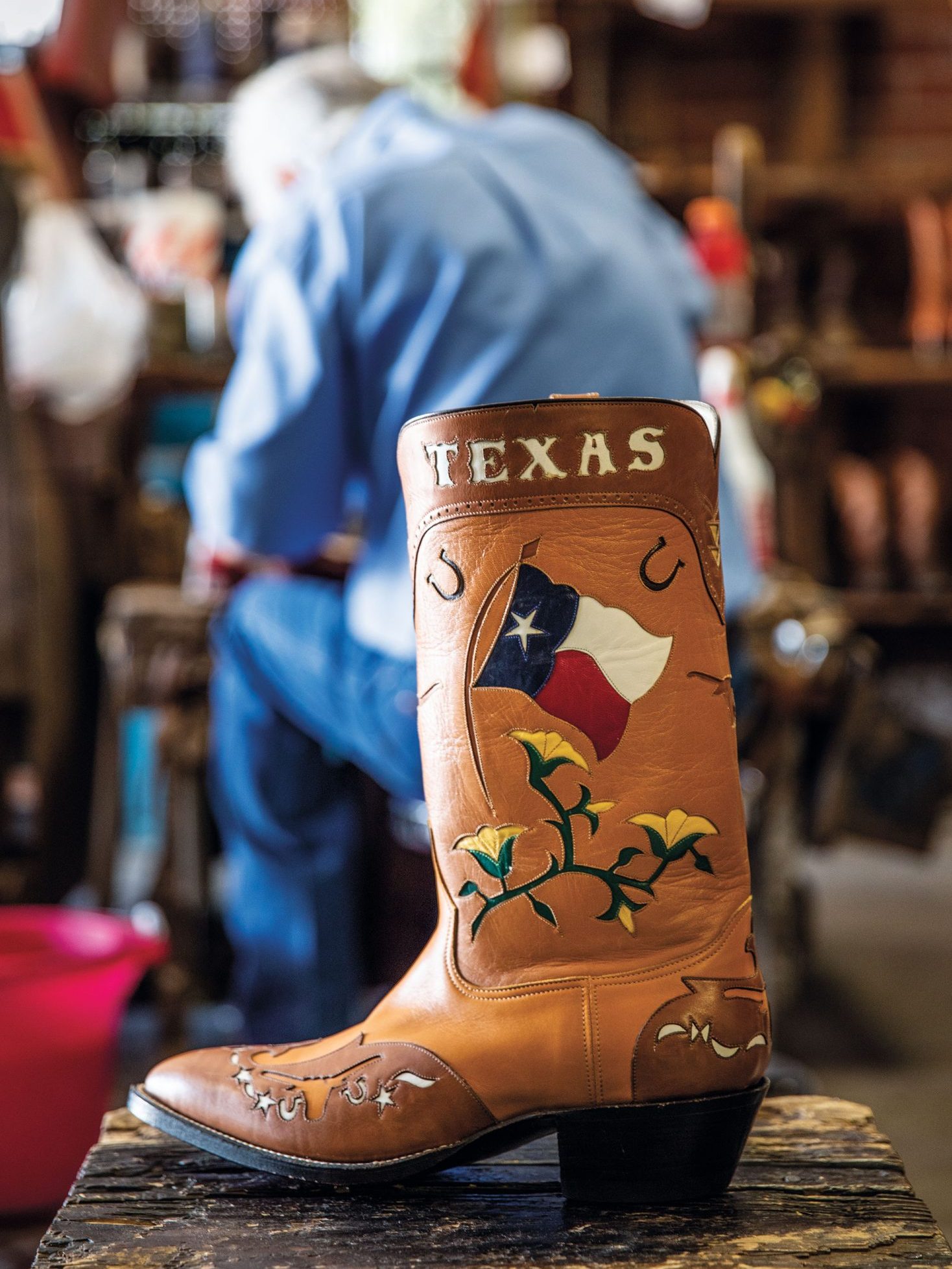 Written by W.K. Stratton
Photos by Kenny Braun
I'm in one of my favorite parts of Texas—the Brush Country south of San Antonio—with miles and miles of chaparral lying ahead of me. I like it because it's an expansive place with a rich history. It's here where American cowboy culture grew out of the vaquero way of life and, to this day, both vaqueros and cowboys work on large ranches in South Texas. Good boots are part and parcel for anyone working cattle from the saddle. It's not surprising, then, that South Texas is home to many first-rate bootmakers.
In the world of custom cowboy boots, the Rio Grande Valley in particular is known for its bootmaking heritage, both for the number of bootmakers concentrated in the four-county area at the southern tip of Texas and for the high quality of their work. My purpose for this trip is to order custom boots from two of the Valley's master bootmakers, Armando Duarte Rios in Raymondville and Henry Camargo in Mercedes.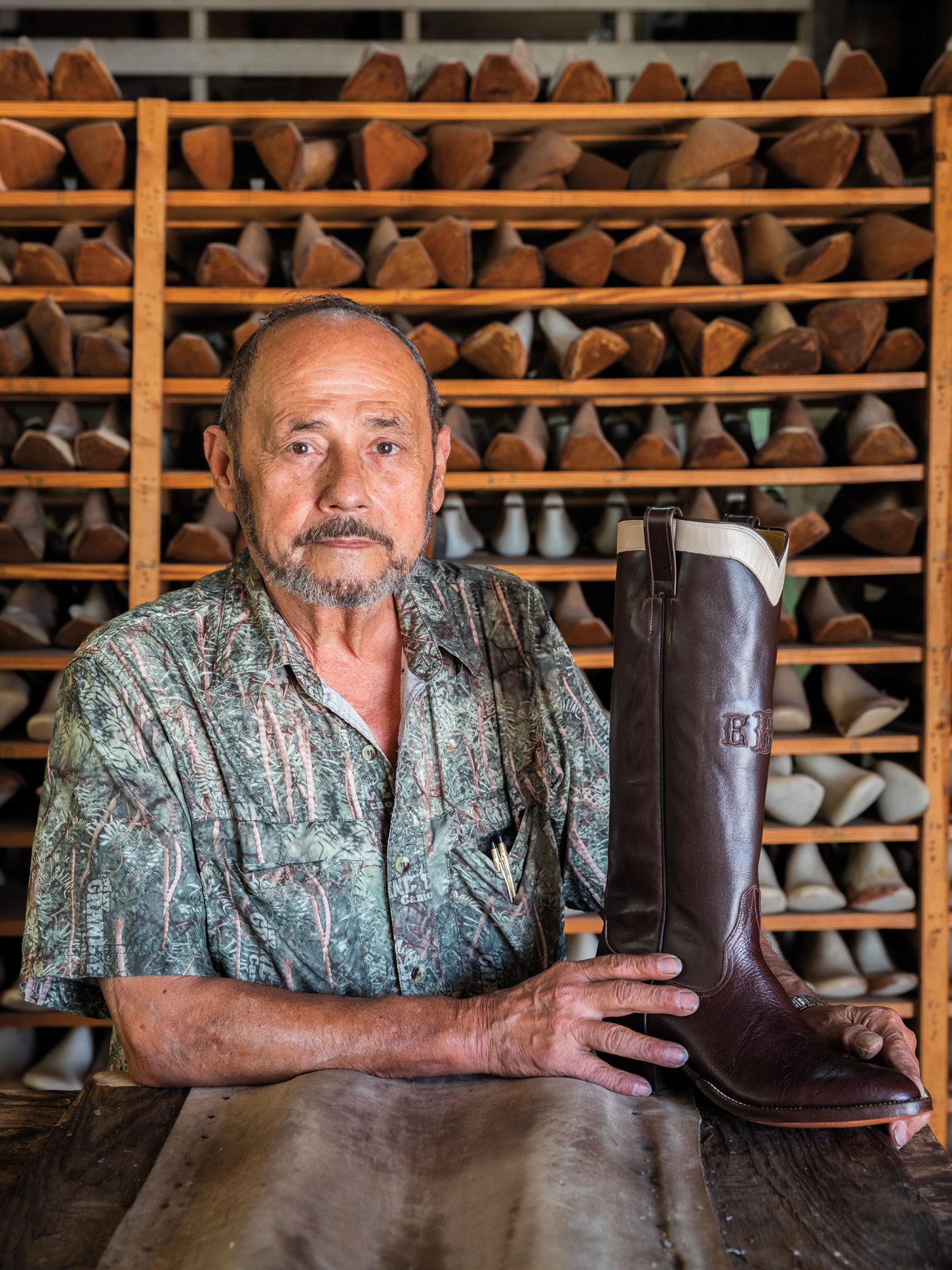 Both Rios and Camargo have operated their shops since the early 1980s. Their creations have attracted clients who place orders year after year, from politicians and entertainers to ordinary folks. The success of these two craftsmen is testament to their ability to do what all great bootmakers must: Satisfy their customers' needs when it comes to form, function, and flair.
Many people seek out Rios and Camargo because standard-size, factory-made boots simply don't fit their feet or they don't have the broken-in feel that is inherent in new, custom-made Western boots. Boots must be functional too, and Rios and Camargo have built pairs for all needs, from knee-high boots for protection against rattlesnake bites to low-cut ropers made to glide over a dance floor. Perhaps most importantly, boots must look good. Customers have many different options when it comes to the kind of leathers used, the shape and size of the toes and heels, fine points like piping and pull-straps, and the designs to appear on the shafts. It is the bootmaker's job to turn a customer's concept into reality. Rios and Camargo have exceeded expectations for decades.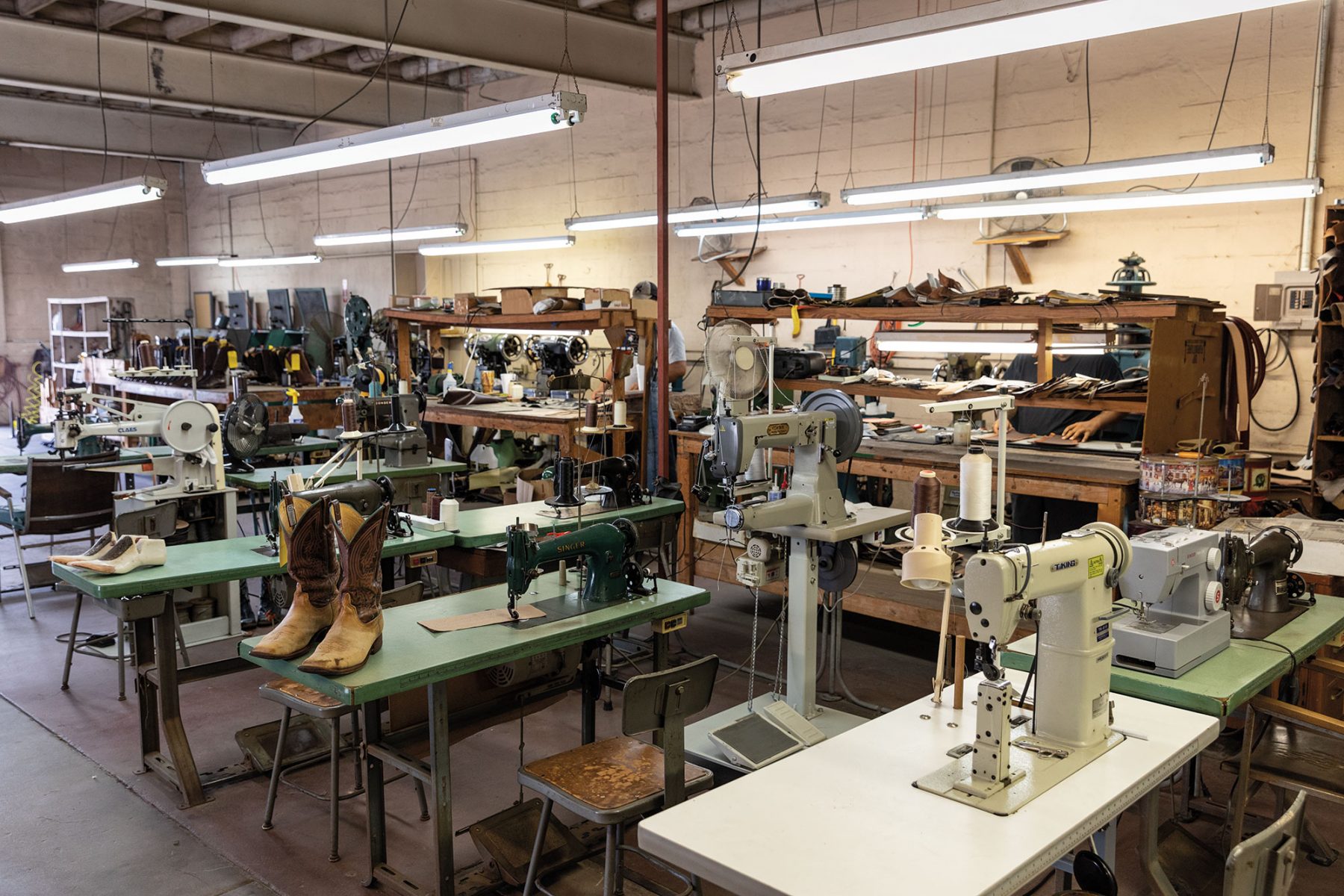 Operating in the Valley, they don't receive as much attention as bootmakers in, say, Dallas or Austin. But they're just as good as, if not better than, the very best in the big cities.
Earlier in the morning, I drove past what is billed by Guinness World Records as the World's Largest Cowboy Boots Sculpture, located outside San Antonio's North Star Mall. These 35-feet-high and 33-feet-long renderings of what Merle Haggard called "manly footwear" in his song "Okie from Muskogee" are indeed gigantic. (Of course, women make up a big portion of a bootmaker's clientele, too.) Sculpted by my artist friend Bob "Daddy-O" Wade, they have been a San Antonio landmark for nearly four decades.
It occurred to me that Daddy-O's mammoth boots could be emblematic of the position cowboy boots have held in my life. One of the oldest photos of yours truly shows me at age 4 wearing jeans and boots. I later flunked shoe-tying in kindergarten because I never wore shoes with laces. My father was a rodeo cowboy. My mother was a rodeo girl. I have a birthright to cowboy boots and I've indulged it all my life, though it's only been in recent years that I could afford custom-made boots—and I haven't wasted any time collecting. I counted 15 pairs in my closet before I set off for South Texas, but I've never had any built by a custom bootmaker in the Valley.
It's hard to pin down the exact birthplace of the cowboy boot, but for my money the Rio Grande Valley is the spot. By the 1790s, formal ranches were established in New Spain, north of the Rio Grande, in what is now South Texas. Cowboy culture flourished in this cattle country. Zapateros (shoemakers) working along the Rio Grande began making leather boots, plus saddles, lariats, hats, spurs, and chaps. These items were essential to the vaqueros, just as they would be to the American cowboys who drove great herds northward from South Texas in the years after the Civil War.
As part of teaching American cowboys how to be cowboys, vaqueros showed them what kind of boots were best for a life spent in the saddle while herding fierce Longhorns that had little in common with today's docile beef cattle. Their preference: sleek, leather-
soled boots that could slide out of a stirrup easily, with tall shafts to protect the calves from brush scrapes and snakebites.
This history is heavy on my mind as I approach my first stop, Raymondville, where I will visit Armando's Boot Co., the shop of Armando Duarte Rios and his son, Armando Jr. The Rios family has made boots for both vaqueros and cowboys for more than 150 years. Family history holds that at least as far back as 1853, a Rios was working as a leather tanner and maker of saddles and sandals for granjeros (farmers) in Nuevo Leon, Mexico. By the mid-1860s, another Rios was building boots for Mexican army troops loyal to Emperor Maximilian I.
The family relocated to the Rio Grande Valley in 1925, and in 1928 brothers Abraham and Zeferino Rios opened Rios Boot Company in Raymondville. A year later, disagreement between the two led Zeferino to break away and open his own shop in Mercedes, 40 miles south. Zeferino would sell to investors from West Texas in the late '60s, establishing Rios of Mercedes, a corporate boot factory that to this day turns out thousands of pairs of boots a year.
Meanwhile, Abraham continued to operate Rios Boot Company in Raymondville, with a clientele that included Los Kineños, the vaqueros on King Ranch. In time, Abraham's nephew, Armando Duarte Rios, began working for his uncle, learning family bootmaking traditions. Rios Boot Company would eventually fold, but in 1982 Armando opened Armando's Boot Co., where I'm stopping.
At Falfurrias, I take State Highway 285 over to US 77, then head south again. This route takes me across the Norias Division of the King Ranch and into Raymondville, a town founded by a King Ranch division manager. The town is still steeped in vaquero and cowboy culture. Like most communities in the Valley, Raymondville is growing, yet it's still a safe distance from the urban sprawl of the McAllen metro area 50 miles southwest.
Armando's Boot Co. is easy to find along US 77—the big cowboy boot on the roof giving it away. Armando Jr., a 50-something with gray in his hair and whiskers, greets me. His dad, Armando, who is in his late 70s, still puts in full days at the shop, but Armando Jr. is heavily involved with the operation of the business, answering the phone, greeting customers, and keeping the books. If there's time left, he works on boots himself. "That's my real love," Armando Jr. says. "I'd rather be back in the shop."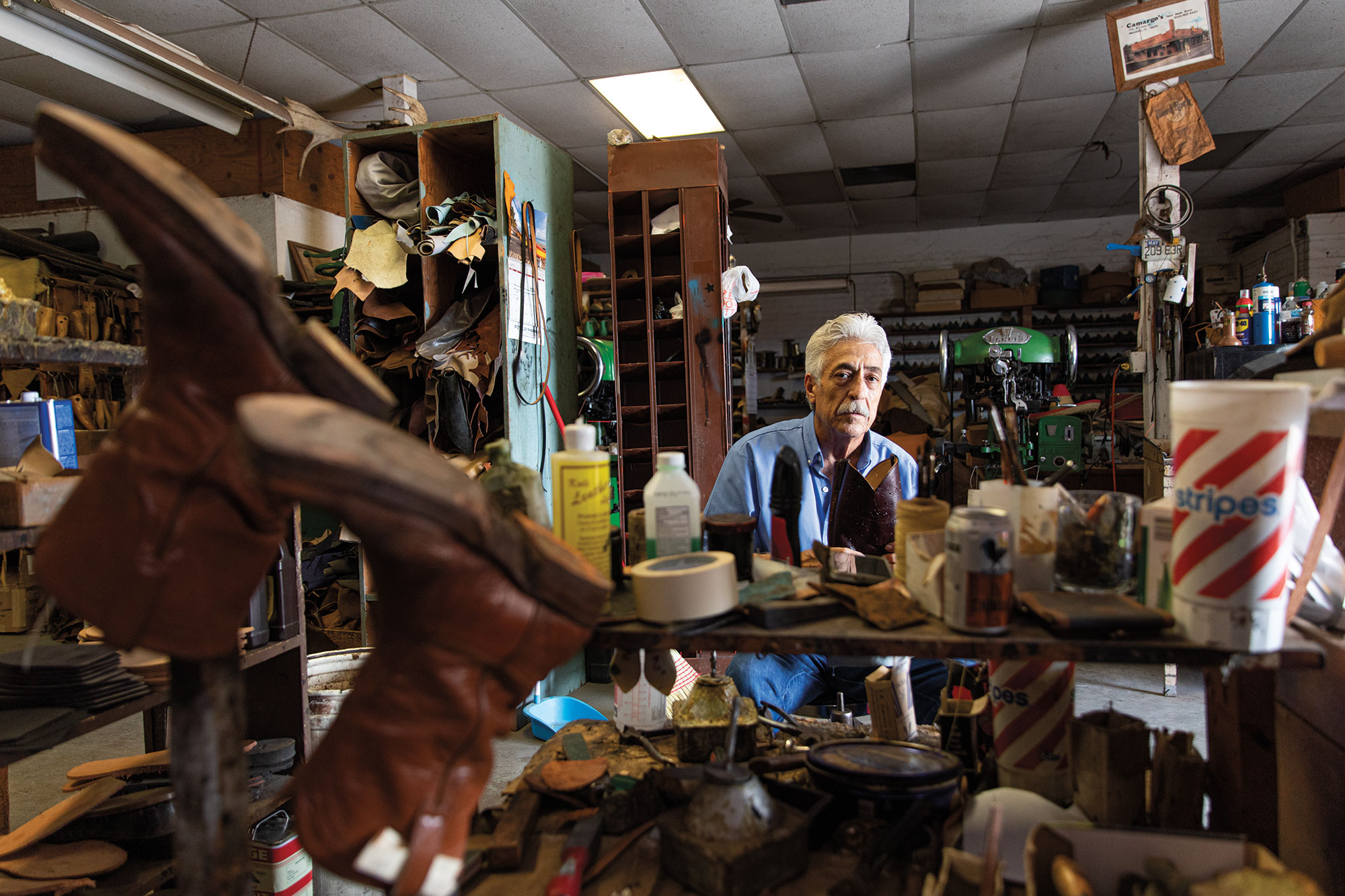 In short order, I have my traveling boots off and Armando Jr. is tracing outlines of my feet on paper. Then he records measurements he takes of my feet, ankles, and calves. This all goes into a file folder, which he and his father will use when it's time to actually begin construction of my boots. But for now, the paperwork is stored in a file cabinet where it joins similar information for hundreds of other customers.
I admire the look of boots made of snake skin, lizard skin, alligator skin, and other exotic hides, but when it comes down to it, I prefer the stuff cowboy boots were originally made of: calf skin and bull hide. I'm an old soul. I also tend to be pretty conservative when it comes to colors and the stitching on the shafts, but today I break out of tradition.
Armando Jr. produces a roll of bull-hide leather that's just a shade lighter than peanut butter. Then I spy a roll of green French calf skin. A design immediately comes together in my head: shafts of the green calf skin, with Spanish-style 10-row stitching in tan, silver, brown, and other colors, with the lower part of the boot made from the bull hide, including a standard toe bug (the stitching on top of the toes).
A bit of a showy boot for me, but I've traveled all this way, and you only live once.
As fine and expensive as the final product might be, there is nothing glamorous about the construction of custom boots.
I take a quick tour of the backshop, where Armando is working with three other men. "It gets hot as hell back here in the summer," Armando Jr. tells me. There's no air-conditioning. As fine and expensive as the final product might be, there's nothing glamorous about the construction of custom boots. It's tough work, requiring exactitude under often uncomfortable conditions. It also requires Zen-like focus as the bootmaker deals with a variety of sewing machines and hand tools, including specialized hammers, pliers, heel pries, tack pullers, awls, and leather knives.
The shop is running behind on its orders, so it will be several months before I have my boots. No problem, I'm expecting that kind of delay for custom-made boots. I leave Armando and Armando Jr. and head to McAllen, where I put up at Casa de Palmas, a hotel that turned 100 last year.
That night, I lie awake in bed and ponder the connection I've made. My boots will be crafted by someone whose direct antecedents once built boots for Emperor Maximilian's cavalry troops. I'm not just honoring tradition; I'm preserving history.
The next morning, I set out for Mercedes. If Raymondville is a laid back rural town, Mercedes is in the middle of one of the fastest-growing metropolitan areas in the U.S. Hidalgo County's population is close to a million people, with McAllen its largest city. Municipal boundaries mean little these days: McAllen, Pharr, San Juan, Alamo, Donna, Weslaco, and Mercedes blur into each other. I fail to account for rush-hour traffic, so I'm a little late when I arrive at Camargo's Western Boots—or Camargo's of Mercedes.
Henry Camargo is 65 years old and has operated this shop since 1980. A native of Mercedes, he grew up obsessed with drawing and describes himself as a visual artist. After he graduated high school, he started college with the intention of working for Border Patrol. In 1973, he took a job at the Rios of Mercedes boot factory. It proved to be a life-changer: He never went back to college and has been in the business ever since.
It was Camargo's good fortune to fall under the tutelage of Antonio "Tony" Sanchez at Rios of Mercedes. Within the world of bootmaking, Sanchez was a huge figure. A native of San Luis Potosi, Mexico, Sanchez lived most of his life in the Rio Grande Valley, working in the boot business. "Sanchez was the greatest boot designer of them all," Camargo says. "His designs did much to put Rios of Mercedes on the map, and some are still used by the company."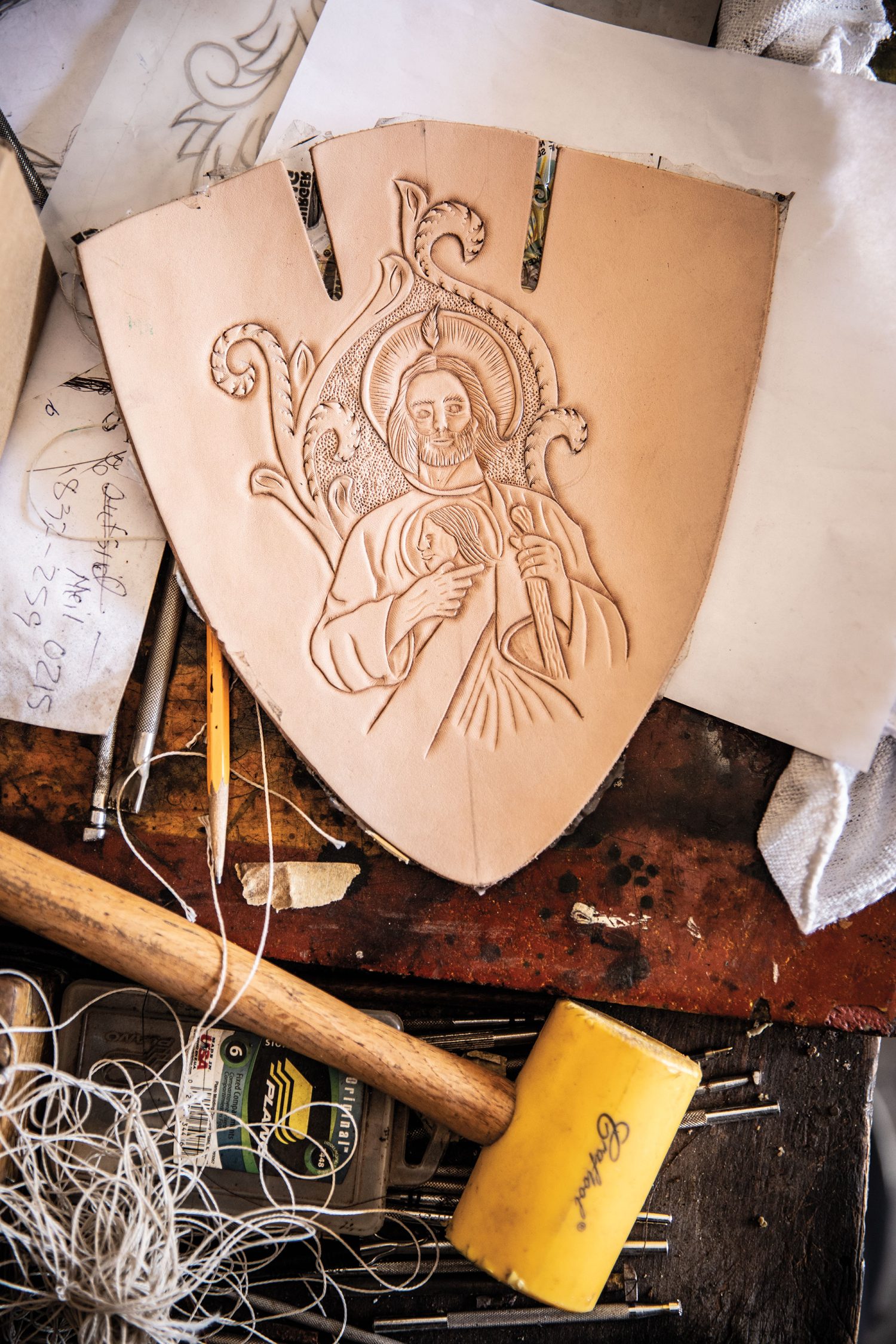 Camargo ultimately left Rios of Mercedes and worked at other bootmaking companies. Throughout that time, and even after Camargo opened his own shop, Sanchez, who eventually left Rios of Mercedes and went into business for himself, remained his mentor up until his death. Today, Camargo's Western Boots is a two-person operation comprised of Henry and his brother, Santos, who has his own connection to a bootmaking legend. He worked for Lee Miller in Austin and Miller learned from Charlie Dunn, the famous bootmaker memorialized in the eponymous Jerry Jeff Walker song.
Camargo's specialty is creating images on the shafts of his boots. He shows me a pair of black boots with a 1955 Chevrolet Apache pickup on each shaft. It's amazingly realistic, right down to the truck's turquoise paint job. I see other boots that have Texas state flags, motorcycles, and rodeo riders on their shafts. "Right now," Camargo says, "I'm tooling the leather image of a goddess to go on some boots I'm making."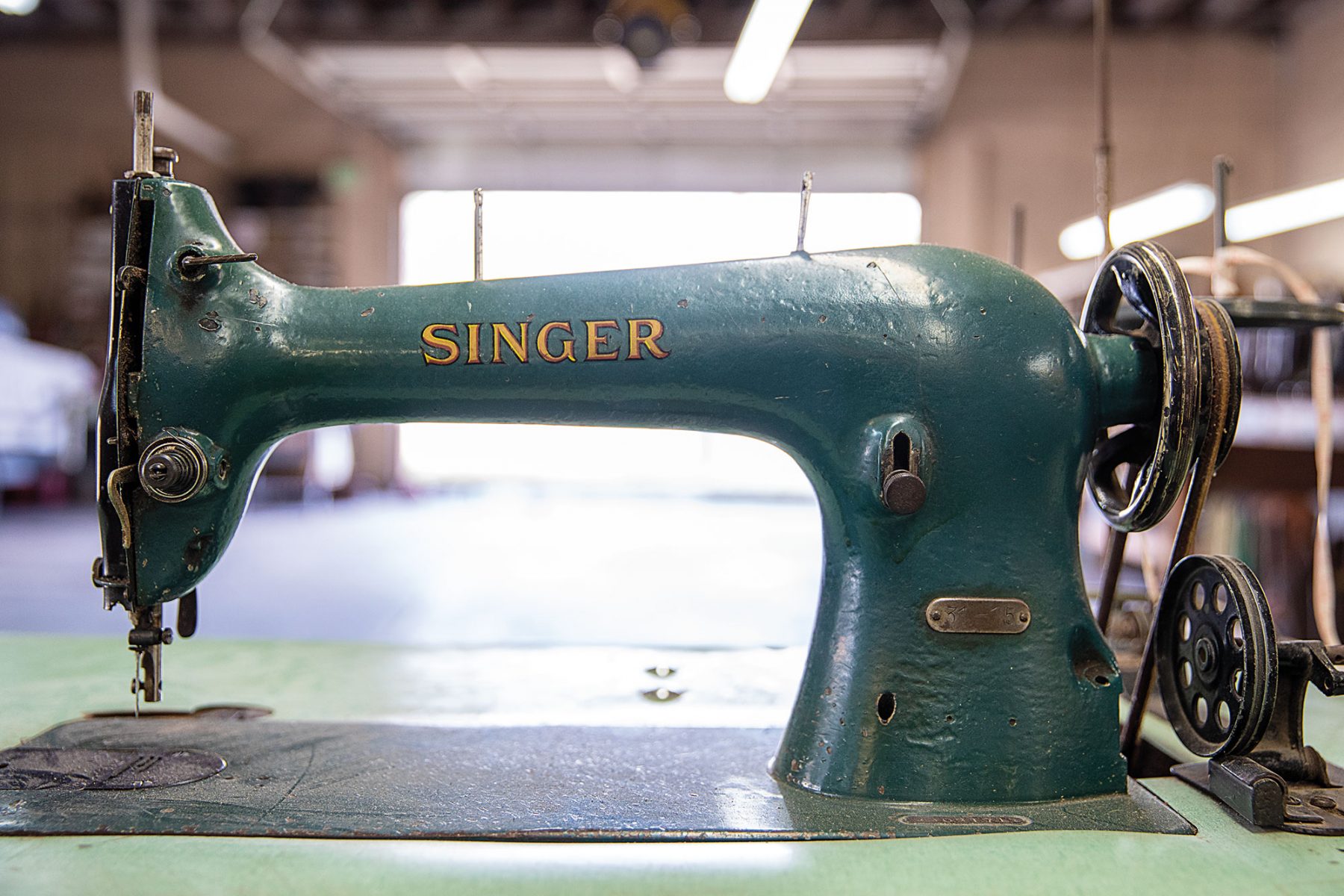 I decide to stick to tradition, however, when I place my order. I leave whatever shaft-stitching Camargo wants to do up to him—trusting his artistic eye—as I order a pair of black calf-skin boots. He traces and measures my feet, works out some calculations, and gives me a price for the boots. It's about half of what I expected to spend. Some bootmakers charge $2,500 and more, and customers have to wait for years to get their orders. Meanwhile, factory-made cowboy boots from China can be purchased at discount stores for $200 or less.
I paid Armando's Boot Co. $700 for my bull-hides. Camargo prices my calf-skins at roughly half that. "Man, I work in the Valley," Camargo says. "I can't charge what those guys up in Austin and Dallas get. People here can't afford that." I let that register. Then I order a second pair.
Camargo is someone I could spend all day hanging around with, but soon enough I'm back on US 281, relishing in my bounty. I'm the soon-to-be owner of three pairs of the Valley's finest "manly footwear"—pairs 16, 17, and 18 in my collection. I'm now part of a bootmaking tradition that began in earnest on the north side of the Rio Grande the same time as the U.S. Constitution was drafted.
Armando Rios Jr. will certainly keep the Rios family's heritage alive and well. But it's unclear who will be Camargo's successor in Mercedes. Good thing there are a number of young upstarts active in the Valley with the potential to fill his boots.
From the September 2019 issue