When beer-lover and Rice University graduate Brock Wagner decided to leave his career in investment banking, he turned to his off-hours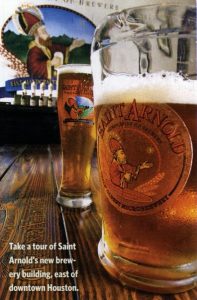 avocation: brewing and drinking beer. In 1994, Wagner co-founded Saint Arnold Brewing Company in Houston, a city with plenty of perfect beer-drinking weather, an adventuresome entrepreneurial culture, and a curious absence of microbreweries.
Sixteen years later, Saint Arnold—named for the patron saint of brewing—makes 10 types of beer (five year-round brews and five seasonal types, like Summer Pils), which are available in restaurants and stores in Houston, Austin, Dallas, Fort Worth, and San Antonio.
But for a true taste of what makes Saint Arnold special, visit the brewery's new facility, in a former 1914 paper-bag factory just east of downtown, during regular open-house hours (weekdays from 3-4:15 and Saturdays from 11-2). Admission costs $7, which buys you four tasting tokens, a tasting glass, and the opportunity to see the brewing kettles, fermenting tanks, and other equipment. The tasting room resembles a large German beer hall, complete with long, communal tables; some regular Saturday visitors bring picnics to enjoy while they explore Saint Arnold's beer menu. aturday's party averages around 1,000 people, while weekdays bring in smaller crowds. Pick your pleasure, and Prost! Call 800/801-6402; www.saintarnold.com.