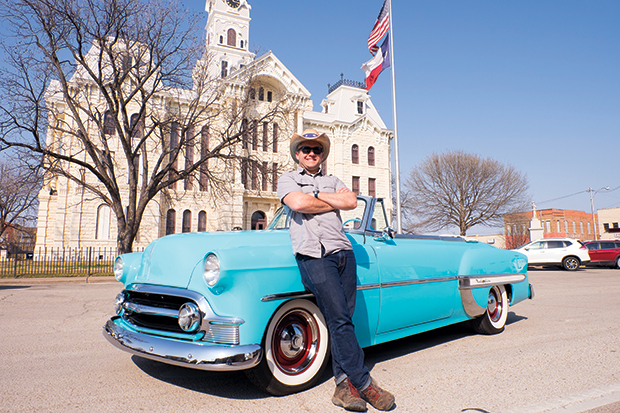 When burning up the highway between Dallas and Austin, it's easy to pass through Hillsboro and see nothing more than modern gas stations and frontage-road shopping. But those looking for a blast back in time should grab the nearest exit and get ready for a true small-town-Texas experience that feels like a trip to the "good ol' days."
Contact the Hillsboro Chamber of Commerce at 254-582-2481.

Chet Garner is the host of The Daytripper® travel show on PBS.

To view the Hillsboro episode visit thedaytripper.com
9:30 a.m.: I left the ruckus of I-35 in my rearview mirror and could feel time slow down as I approached the Hill County Square, with the Hill County Courthouse standing boldly in the center. While it may look 100 years old, it surprisingly only dates to 1999 when it was rebuilt after a fire with the help of local boy Willie Nelson. Dozens
of buildings that look untouched by time surround the courthouse.
10 a.m.: To get some history, I headed to the Hill County Cell Block Museum, located inside the city's old jail. I found room after room (and cell after cell) recounting the stories of Hillsboro. Most fascinating were the tales of famous inmates, including Clyde Barrow, who was busted out by fellow gang member Bonnie Parker. Elvis Presley supposedly spent the night here after being arrested on suspicions of drunk driving. Turns out being the king of rock 'n' roll doesn't make you king of Hillsboro. The museum also held a surprising collection of gold records, donated by Willie Nelson himself.
noon With "Jailhouse Rock" stuck in my head, I walked back to the square and found A Tisket A Taskit, half antiques store and half 1950s diner and soda fountain. My old-fashioned burger hit the spot, and once I found out they made their own ice cream, I had no choice but to order a handspun milkshake. Just like the good old days, it came served in a tall glass with the half-full metal cup on the side.
1 p.m.: In need of some post-burger Tums, I crossed the street to T.B. Bond Pharmacy, which opened in 1881 and is now the oldest operating pharmacy in Texas. Inside, all the benefits of a modern drugstore coexist with antique pharmacy tools and equipment. Immediately outside the store I discovered the infamous Bond's Alley, once a seedy part of town known for its late-night fistfights and unmentionable activities. It looked pretty harmless in the broad daylight, but I left before I could get into too much trouble.
2 p.m.: Continuing my throwback of a day trip, I stepped into Roadside America, a memorabilia museum occupying an old car dealership (appointment only). Inside, a cluttered collection of vintage marketing signs, classic cars, old-timey toys, and "Grapette" soda filled the displays. It truly felt like my road trip had landed me in the glory days of highway travel and Mad Men-era advertising.
4 p.m.: Needing more time in the air conditioning, I stumbled into the Texas Heritage Museum and was blown away by the artifacts and stories within. This museum on the campus of Hill College features various exhibits about Texans at war, which cover everything from the Texas Revolution forward. I learned the story of Milton Holland—the first Texan to receive the Medal of Honor—and stood in reverence before the uniform of Audie Murphy—one of the most decorated soldiers of World War II. I left amazed at the breadth of the museum but more importantly thankful for the sacrifice of Texans throughout the centuries.
6 p.m.: As soon as my stomach start-ed growling, I saw the smoke rising from Taylor's Smokehouse and couldn't steer away. I walked through the door of this renovated auto shop as the aroma of smoked meats hit me like a wrench to the face. I couldn't decide between sausage, brisket, or pork, so I decided to get all three piled onto the "Smoking Gun" sandwich. It might have been my best decision all day as the smoky flavors and spicy jalapeños mixed perfectly.
From old-timey diners and classic cars, to legendary gangsters and rock stars, Hillsboro has a story all its own that's definitely worth the trip! So wheth-er you follow my footsteps or forge your own path, I hope to see you on the road.
From the August 2017 issue