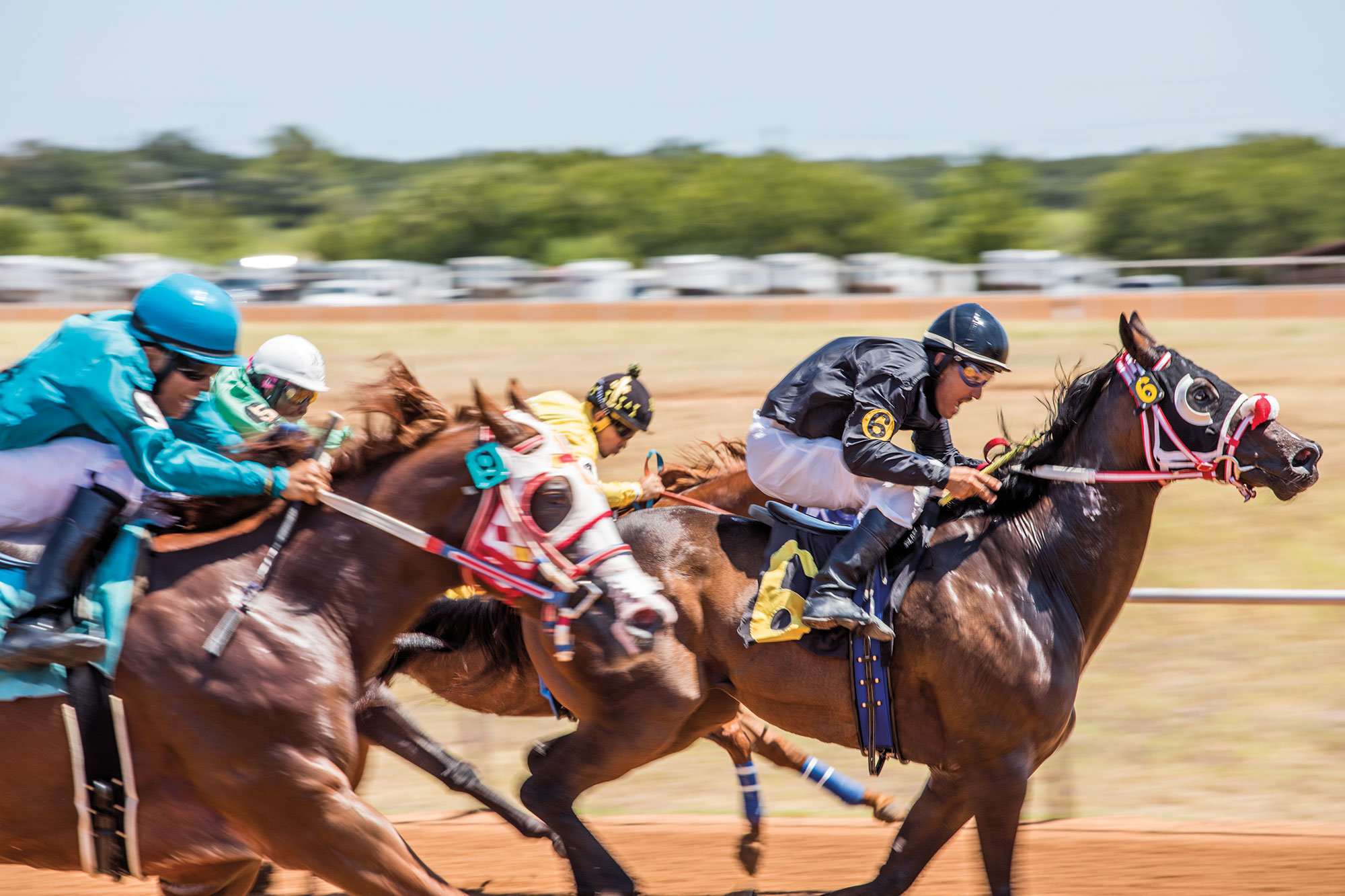 Last August a tip from a man in line at the betting window at the Gillespie County Fairgrounds hit pay dirt. "I like the No. 3, the No. 5, and the No. 10 horse," he said. The quarter horses looked the same to me, so I handed the clerk $12 and bet on all three. If two of them finished first and second in any order, I'd win some money.
Horse racing at the Gillespie County Fairgrounds takes place July 6-7, 20-21, and Aug. 10-11, 24-25.
Gates open at 11 a.m., and post time is 1 p.m.

The county fair is Aug. 22-25 at 530 Fair Drive, Fredericksburg
830-997-2359
gillespiefair.net
Next I circled round to the dusty oval, which is five-eighths of a mile long, and climbed the grandstand to my seat. When the track trumpeter blew the "Call to Post," jockeys dressed in a rainbow of silks paraded their mounts past the crowd. It was the last chance to appraise the animals before they raced 220 yards for an $8,000 purse (quarter horses only run short distances, up to a quarter-mile).
Ten 1,000-pound beasts springing from a starting gate and barreling down a sandy track sound like a hailstorm and look like a stampede. In less than 12 seconds Globito, a 3-year-old gray colt, finished first, ahead of Chase the Rainstorm, a 4-year-old brown gelding. Having picked them both, I marched back to the betting window to claim my $40.
At the opposite end of the spectrum from the Kentucky Derby sits this Fredericksburg spectacle—the only fascinators here are cowboy hats. Not a mint julep in sight, there's plenty of Bud Light over at the biergarten. Bubba burgers with double meat and double cheese fly off the grill. "It's pure Texas," says Cesar Loera, who lives in Austin and loves coming to cheer on the horses. "There's family, sportsmanship, and good people having fun."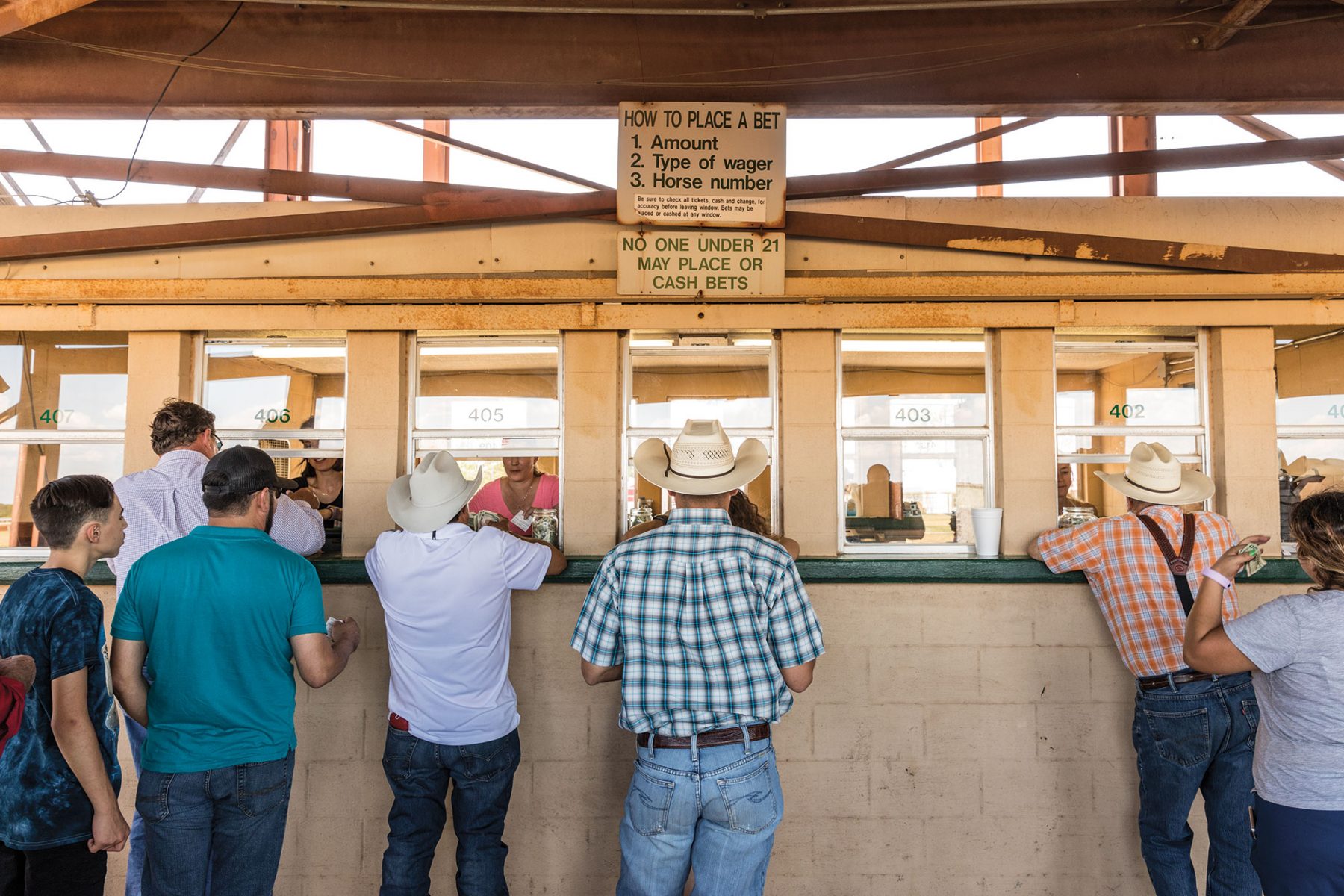 The fairgrounds draw horse racing fans from El Paso to Beaumont and Amarillo to McAllen. "People like watching the races here because they can get so close to the track," says Billy Roeder, who recently retired after 28 years as a Gillespie County commissioner.
"It's pure Texas. There's family, sportsmanship, and good people having fun."
The track was built in 1976, but horse racing in Gillespie County dates back more than 130 years. The fairgrounds have moved five times in that history. In the early 1880s, stock horses owned by local ranchers competed in match races at Fort Martin Scott on US 290, the site of the first fairgrounds. "There were no state betting rules back then," Roeder says. "It was pretty wild."
In 1990, Texas legalized pari-mutuel wagering. Payouts at racetracks would now come from a pool of all bets placed on a race instead of from a bookmaker. Money generated from the change has helped the Gillespie County Fairgrounds boost purse sizes, fill starting gates, and attract larger crowds. While other Texas tracks have shuttered from revenue shortfalls and legislative roadblocks, Gillespie still fills its 3,200-seat grandstand every summer.
Tackling the livestock show, horse races, vegetable contest, crafts display, carnival, and concert requires some pacing.
Quarter horse and thoroughbred races take place over eight days in July and August. The last weekend of racing coincides with the annual county fair, a four-day event that started in 1881. It's the oldest continuous county fair in Texas (pausing only during WWI and II). "The races set us apart from other fairs," says Brad Roeder, son of Billy and former president of the nonprofit county fair association. "We're the only fair with a racetrack left in Texas."
The fair is an endurance test. Tackling the livestock show, horse races, vegetable contest, crafts display, carnival, and concert requires some pacing. Between the mutton busting, goat roping, and antique tractor show, time evaporates.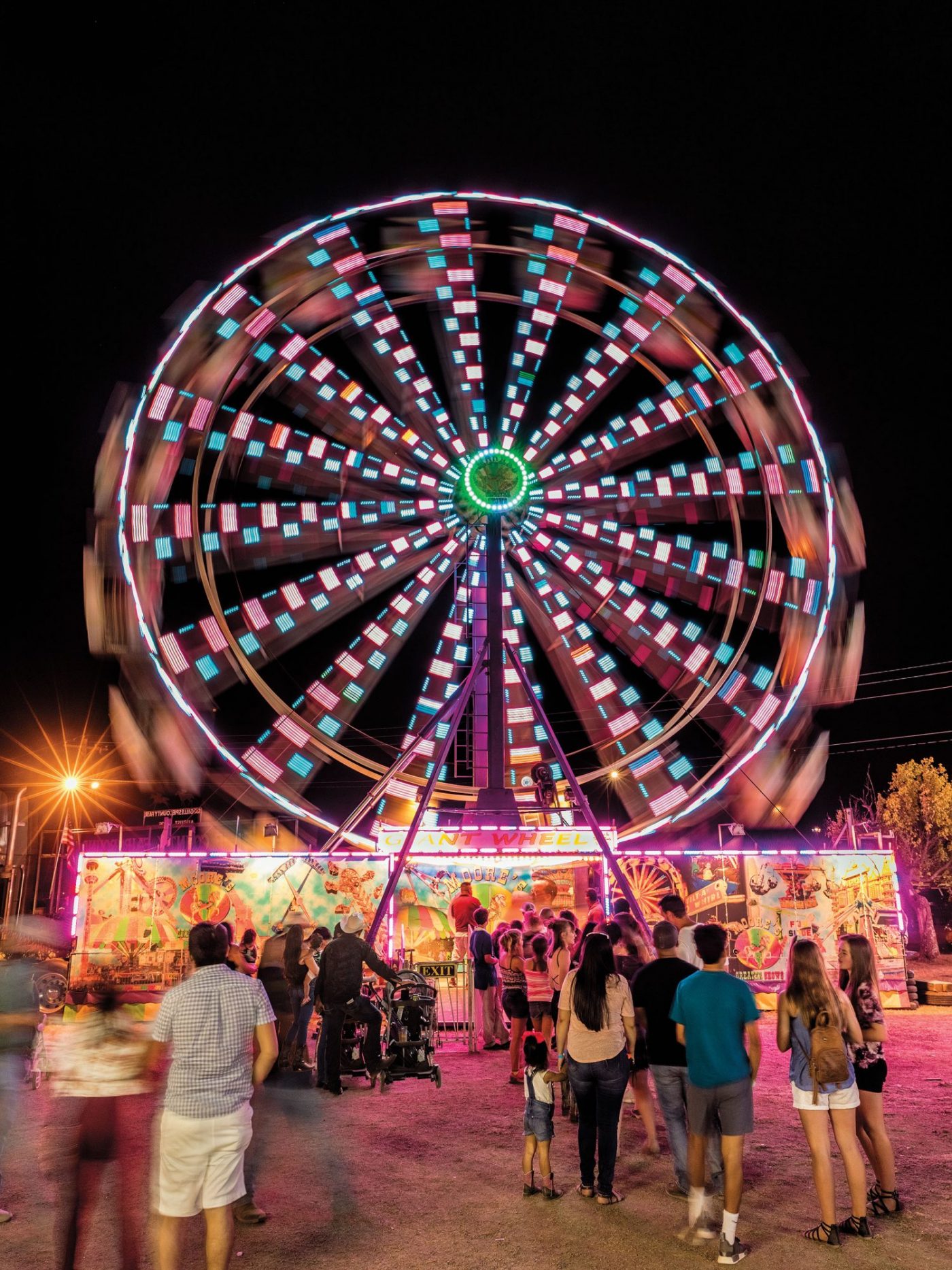 The carnival gets busy at night. People line up for the Ferris wheel and the chance to win a goldfish. Thrill seekers prefer the Top Gun, a contraption that swings them toward the stars, circles them around a giant hinge, and plunges them back to earth. "The kids love the rides the most," says Hannah Chenault, a longtime fairgoer from Floresville. "My husband and I come for the live music and country dancing."
In the evening, the horses return to the barn, and the jockeys go home to rest. "Horse racing is an adrenaline rush," says Francisco Raul Ramirez Jr., the jockey who steered Globito to victory at last year's fair. On some days, Ramirez will ride in six races, hardly swallowing a morsel to make weight at 122 pounds. Foregoing the fair's corn dogs, deep-fried Snickers, and turkey legs is a small sacrifice. Racing is in his blood. His grandfather, father, and uncles were all jockeys. "Working with horses is like therapy to me," he says. "The track is the only place I want to be."
Off to the Races
Every year, about 300 volunteers help the nonprofit Gillespie County Fair & Festivals Association host the fair and horse races, which raise scholarship money for area high school seniors.
In 1963, then-Vice President Lyndon B. Johnson attended the fair and races. A bull from his ranch won Grand Champion in the Hereford cattle division. LBJ personally accepted the first-place ribbon.
Race horses commonly get their monikers from owners who combine the names of a foal's sire and dam. For example, 1995 Kentucky Derby and Belmont Stakes winner Thunder Gulch was the son of Gulch and Line of Thunder.
Most jockeys weigh between 108 and 118 pounds and stand about 5 feet tall. Jockeys are weighed with their saddles before and after every race. When they weigh less than what their horses are assigned to carry, lead weights are added to their saddle or saddle pads to make up the difference.
From the July 2019 issue