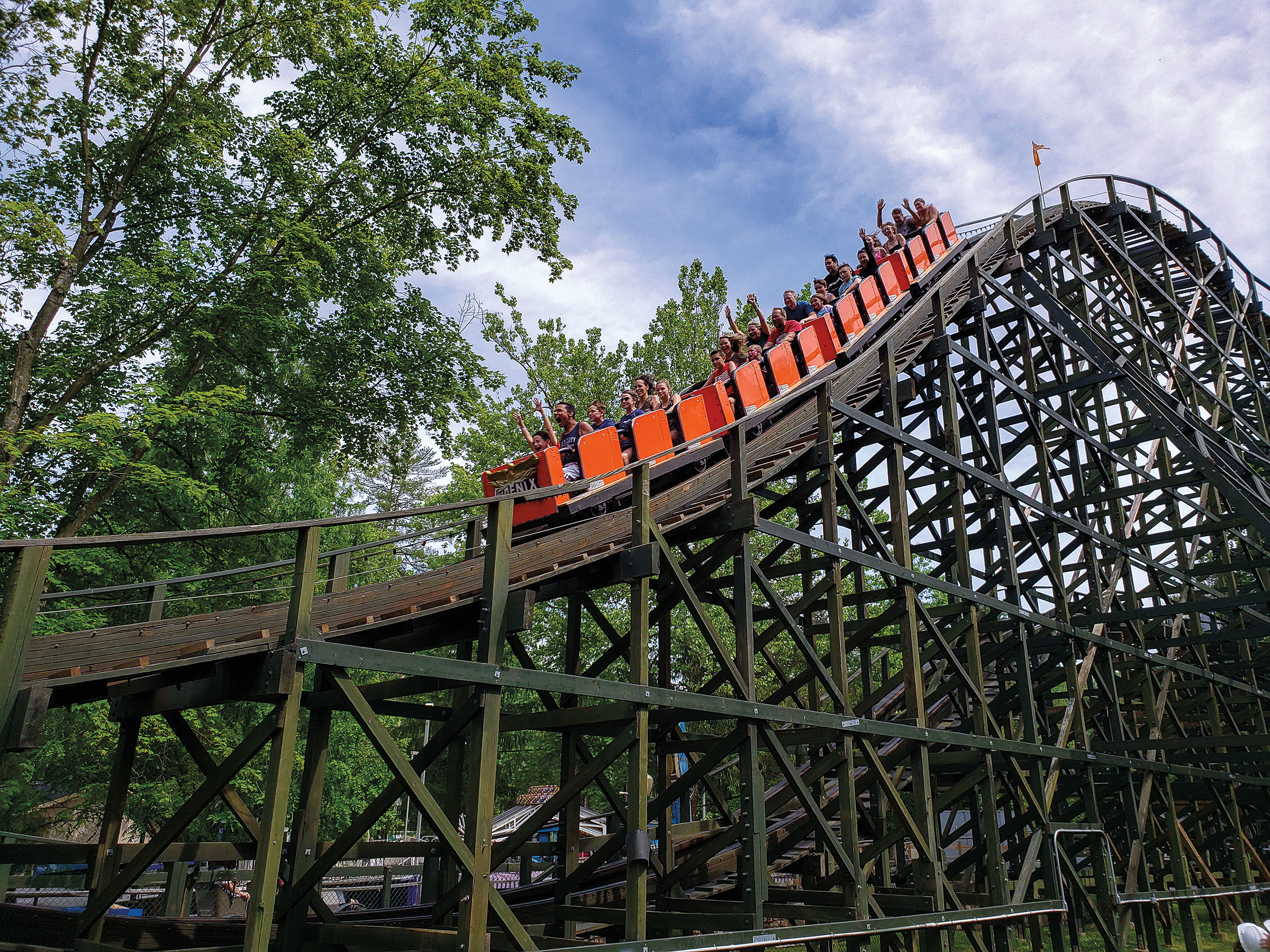 As a kid, I considered the Judge Roy Scream roller coaster at Six Flags Over Texas to be my personal Everest. The ride debuted at the Arlington amusement park in 1980, borrowing its name from Judge Roy Bean, the infamous adventurer-turned-Texas justice of the peace, who survived being hanged after he shot a Mexican official over Bean's entanglement with a woman. Considering the coaster's seemingly dangerous drop of 65 feet, I wondered about my own chances of survival. It was 1989, and I was 11. My hair permed; my bangs teased up high for my first amusement park visit. I wanted to be like my teenage babysitters who bragged about the "gnarly" coasters they rode at Six Flags—the Shock Wave, the Flashback, the Cliffhanger. Instead, I looked at the Judge Roy with a mixture of terror and excitement. I balked two or three times, having to leave the line, before I finally triumphed. But the minute I stepped out of the coaster car, I queued up to go again.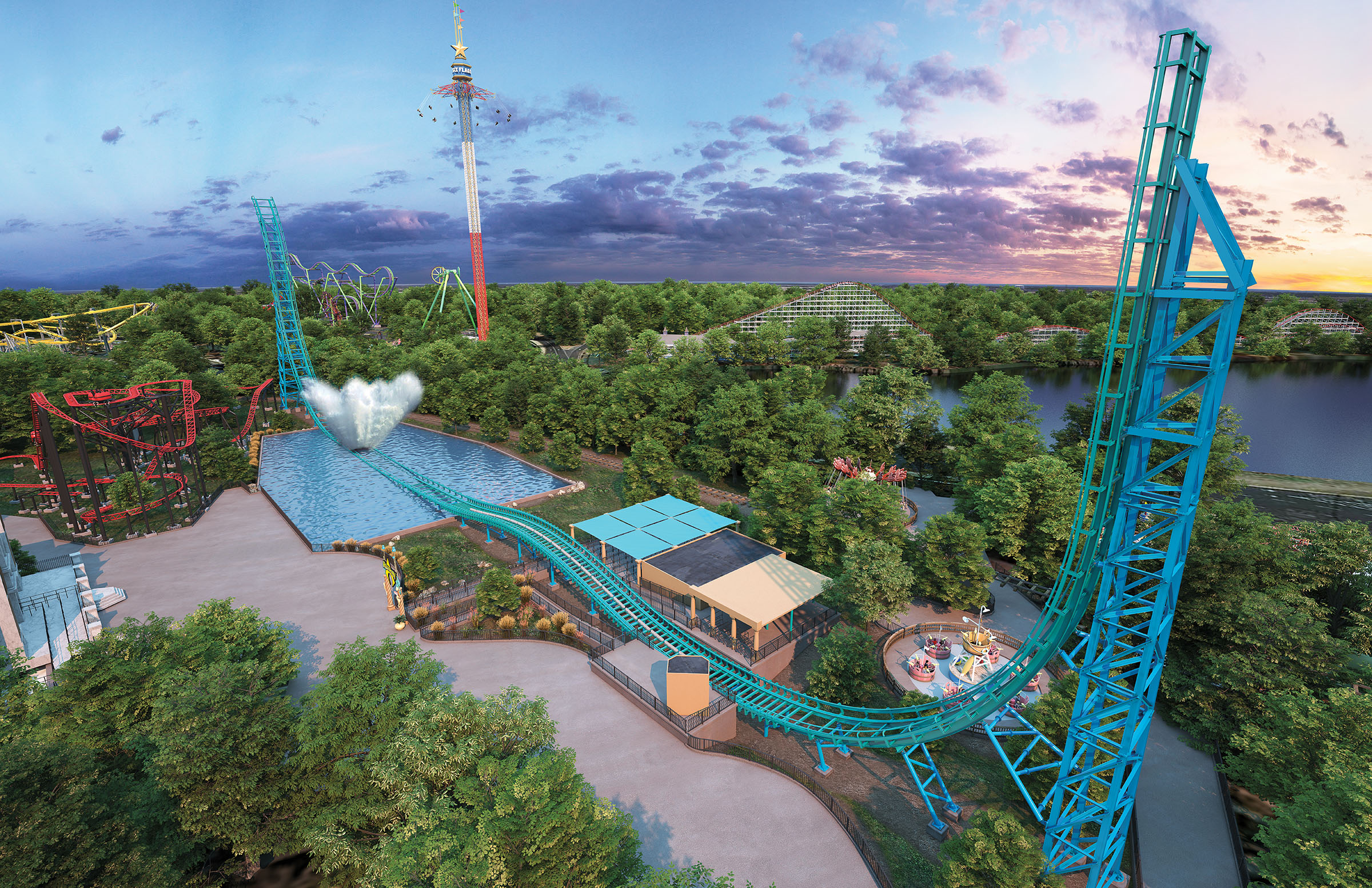 I haven't experienced that emotional cocktail of fascination and dread in quite some time. Like so many people, the pandemic has held me captive to tamer delights. But once vaccinated, I began to gravitate toward that flush of controlled adrenaline, so different from the real terror of COVID-19. Every time I drove from Dallas to see friends in Fort Worth, I'd watch the Six Flags coasters rise along Interstate 30 like totems of a happier time. I can't count the hours I'd spent darting around that park, first as a kid with my parents, then as a teenager with my friends, stretching the bounds of my nascent freedom. My nostalgia peaked recently, when I heard about the new dive coaster opening at San Antonio's Six Flags Fiesta Texas this summer. Known as Dr. Diabolical's Cliffhanger, it's the steepest of its kind in the world, with a 150-foot dip at 60 mph, a zero-gravity roll, and a 75-foot near-vertical decline.
"What a dive coaster does is it hangs you right at the top," said Tim Baldwin, an editor for Arlington-based Amusement Today magazine. "You climb the lift, take the curve, and just before you take the 95-degree drop, it's going to hold you there for a few seconds in a brake, so you're just staring straight down to build that anticipation. And people will look up and point."
The imposing Dr. Diabolical is the newest entry in the long history of Texas roller coasters. Back in the early days of amusement parks, before the reign of Six Flags, SeaWorld, and Astroworld (R.I.P.), thrill-seekers rode wooden roller coasters at local parks, seaside boardwalks, and small locally run operations. In 1911, Crystal Palace Park in Galveston featured a figure-8 wooden roller coaster, Mountain Speedway, that ran for 50 years. "It probably didn't go that fast," Baldwin said. "Ten miles an hour may have been really thrilling back then."
When I randomly mentioned to my friend that the Shock Wave coaster at Six Flags Over Texas was once the tallest in the world, he replied, "If you're getting into this stuff, you need to call my friend Ben. He's a roller-coaster expert." Ben Burnett is a volunteer for Grand Prairie-based American Coaster Enthusiasts, a membership organization founded in 1978 to celebrate and preserve roller coasters through events, advocacy work, and publications.
Burnett's been riding coasters since he was 17 months old. He educated me about bygone coasters around the metroplex. He said the Bishop Arts District once had an amusement park with a "shoot-the-chute" that would swoop down into a pool, soaking riders. He also reminded me of Sandy Lake, an amusement park in Carrollton. When he mentioned it, I was flooded with memories of a requited 6th grade crush—a rush on par with the park's mini-coaster.
"It used to be that families would go to these places and spend their time and money on weekends, enjoying the rides and the park," Burnett said. "But over time, people stopped doing that as much, partly because people who were interested in doing that started going to Six Flags."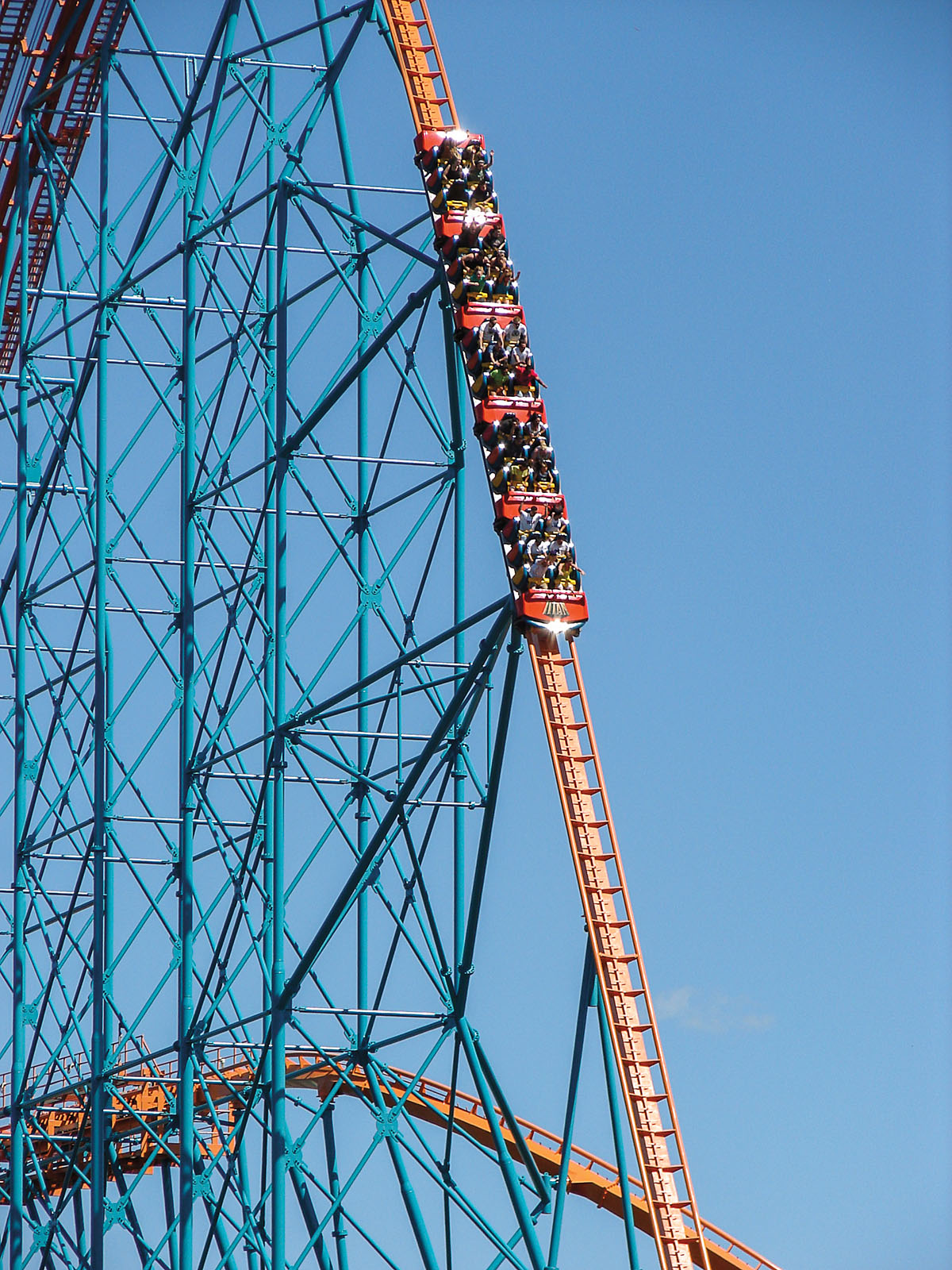 Six Flags elevated the roller-coaster scene on both a state and national level. Angus Wynne Jr., a businessman and developer, founded the Arlington park in 1961 after a visit to Disneyland in California. Wynne thought a theme park would attract families to the nearby Great Southwest Industrial District, a planned community he helped create. In the 1970s and '80s, as theme parks proliferated around the country, Six Flags set an example that Wynne hoped would be as large as Disney but more accessible. Six Flags parks can now be found throughout North America, with 27 sites across the United States, Mexico, and Canada. But the flagship is still Six Flags Over Texas in Arlington, which continues to innovate.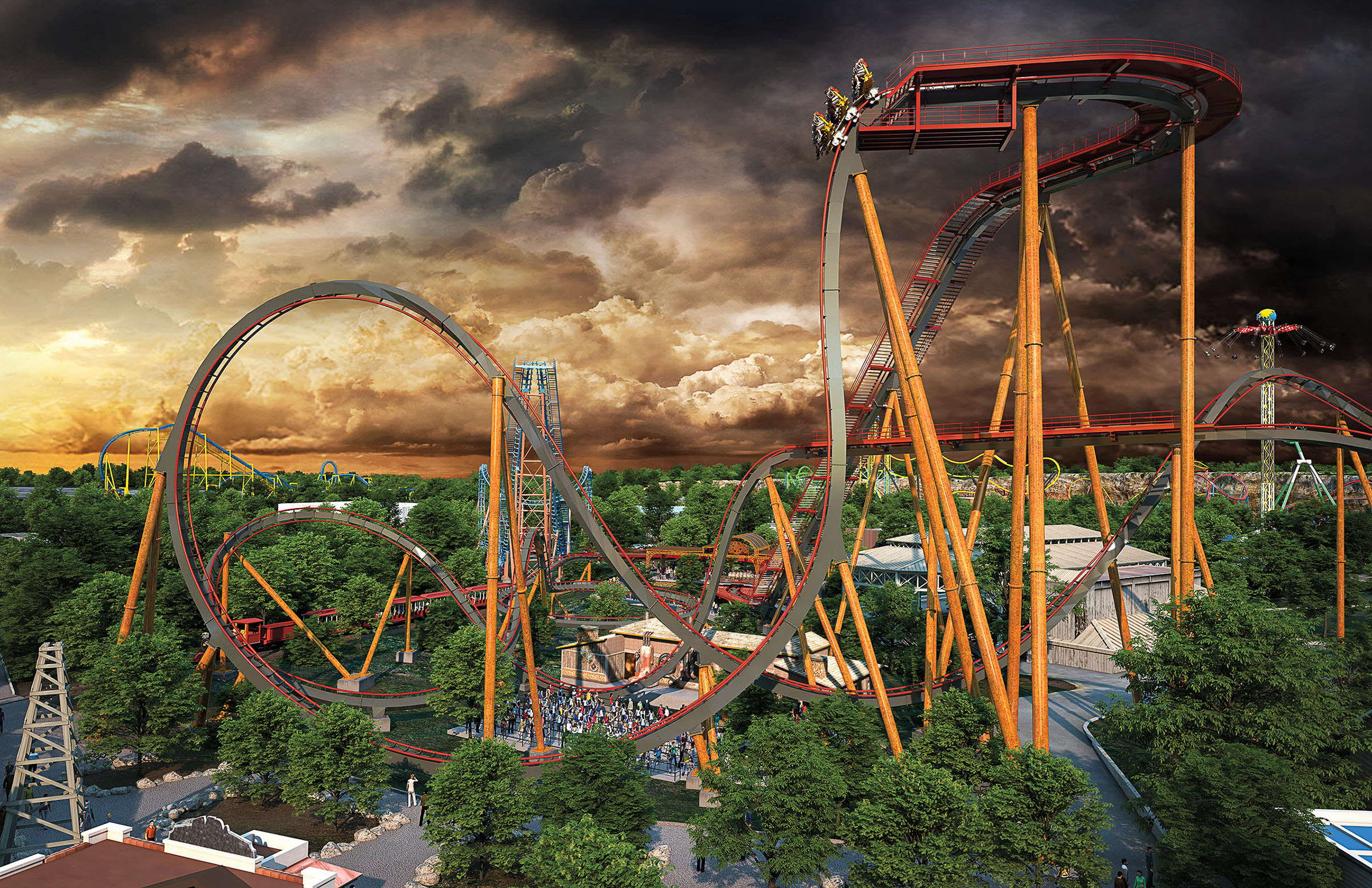 Shake, Rattle, and Roll
Texas has a rich history of wooden roller coasters. See what you're made of on these rickety rides.
At SeaWorld San Antonio, brave the Texas Stingray—the tallest wooden coaster in the state.
The only wooden shuttle coaster on Earth, the Switchback, awaits at ZDT's Amusement Park, a family-friendly operation in Seguin.
After cruising the Kemah Boardwalk on the Gulf Coast, try the Boardwalk Bullet, one of the most compact wooden roller coasters in the world.
Bonus: The Rocket, a wooden coaster that ran from 1947 to 1980 in San Antonio, found new life at Knoebels Amusement Resort in Pennsylvania after the owner relocated it from Texas, reassembled it, and renamed it the Phoenix.
"There are so many firsts here, like the log flume and the mine train," said Brad Malone, marketing and communications manager for the park. "The runaway mine train has been replicated across the world. You see them at Disney, at other Six Flags parks, but the first one was here. It's been 11 years since the New Texas Giant opened in 2011. Many people say it's our best ride."
I am ride or die New Texas Giant. I remember first buckling into its cars and swooping down the 143-foot drop when it opened as the Texas Giant in 1990. Built as a traditional wooden coaster, it shook and bounced you around the track until your bones and teeth rattled. Once steel coasters introduced smoother and bigger rides, the Giant's popularity waned. To ensure the coaster endured, Six Flags Over Texas hired Rocky Mountain Construction in Idaho to perform a major renovation.
"They converted it from a wooden roller coaster to a hybrid of a wooden roller coaster and steel coaster," Burnett explained. "The supports are all still wooden, and you get that creaky wooden roller-coaster feel, but because the track is steel high beams, it stays really smooth and can run for years and years."
A new coaster on the horizon in Arlington threatens the New Texas Giant's eminence. This year, Six Flags Over Texas will debut Aquaman: Power Wave, a water coaster that will be the first of its kind in North America. Baldwin has seen the specs and said it will function almost like a shuttle, ushering its riders forward and backward over a body of water. "On the very last pass, a reservoir pond fills in with water, so in the last plunge through, you make this gigantic wave," Baldwin said. "You will get wet. It should be a huge wall of water."
No matter the style of coaster, for the enthusiast it's all about the adrenaline. I could go academic here and talk about Freudian notions of the Death Drive, but really, I think it's something simpler. Life can be scary, a fact thrown in high relief these past few years. Being able to conquer a fear, to do something that seems like it could kill you but is generally safe, offers a type of freedom. That excitement feels like power.
I went back to Six Flags Over Texas around Halloween to delight in the ghoulish wonders of Fright Fest. I stood in line for the New Texas Giant with pit-of-the-stomach butterflies while watching people, arms up, screaming with delight as they traversed the first big drop. Toward the front of the line, I saw a little boy and his mother. He was debating whether to retreat to the chicken coop—a designated bailout zone where the petrified can wait while their friends ride. His mother cajoled and reassured him, and when our turn came, he braved it, sitting a few cars behind me. After the ride—an exciting, bottom-lifting-off-the-seat few minutes—I looked behind me to see his reaction. He beamed, grabbing his mother by the arm. "Can we go again?" he asked.
From the April 2022 issue