Eternal
Springs
By Katie Gutierrez
More than just a tourist destination, San Solomon Springs has preserved communities in West Texas for centuries
Photographs by Jessica Lutz
Deep in the Chihuahuan desert
in West Texas, at the foot of the Davis Mountains, water beckons. It flows far beneath the musky, cotton-tailed creosote bush, the ubiquitous mesquite, and the spiny mimosa plant. Here, a subterranean river has sustained life for thousands of years.
I know the water as Balmorhea Pool, among the world's largest spring-fed swimming pools. In photos, the color of the limestone-and-adobe-walled pool ranges from a brilliant, oceanic aquamarine to a calm, clear jade—a startling juxtaposition against flat brown earth encircled by the gentle silhouettes of the surrounding mountains. Located in Balmorhea State Park in Toyahvale, two hours north of Big Bend National Park, the pool encompasses 1.3 acres and holds 3.5 million gallons of fresh water. Every day, the San Solomon Springs discharge 15 million gallons of water into the pool, keeping it clear and cool, and providing a home for the nearly extinct Comanche Springs pupfish, which exist nowhere else.
I drive more than five hours west from San Antonio on Interstate 10 to see this revelatory oasis. When I finally turn off the highway and follow signs to Balmorhea (population 475), I find a strip of shuttered brick and wood storefronts. Colorful twinkle lights adorn the small tin-sided Balmorhea Grocery; a hut with a faded sign reads Matta's Burger Place; and two ranch-style motels welcome weary travelers. Dusty residential streets extend like thin arteries from the main road, revealing an apartment complex with bright blue doors, aging pastel homes, and immaculate trailers. It's a town, I sense, that has needed to be stubborn to survive.
Because look around—at the low, swollen clouds, charcoal bellies ready to split with rain above the mesquite and fourwing saltbush. Feel your tininess, your blink of a lifespan, against the rise of distant mountains. Feel the isolation and imagine life here when there was nothing but this land. A place of power and danger, where only the water might save you.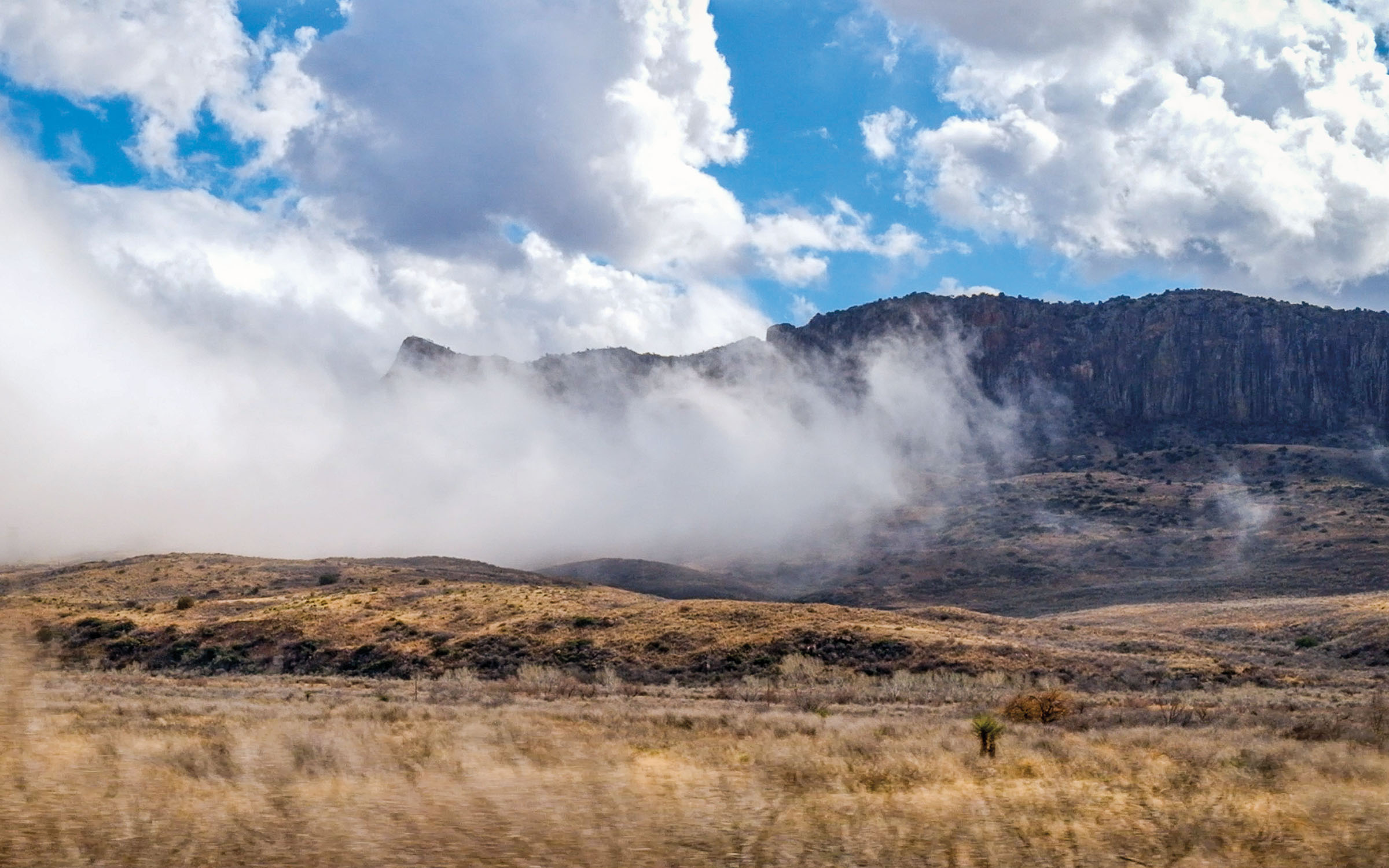 Texas history, as I learned it in school, left out a lot. The "story of Texas," we were taught, begins in 1519, when Alfonso Álvarez de Piñeda became the first European to map the Gulf Coast. Then came conquistadores, friars, missions, settlements, wars with "hostile Natives." As far as a story goes, it seems we started toward the end, and the older I get the more curious I become about all that came before.
In The Indians of Texas: From Prehistoric to Modern Times, historian William W. Newcomb Jr. wrote, "In trans-Pecos Texas … lived a people at the beginning of history who are known variously as the Patarabueye, Jumano, Suma, and by some other names. This culture type is the least known and the most enigmatic of all the far-flung Texas natives." Newcomb noted that eventually the Jumanos, along with many other tribes, were "irrevocably, finally, extinguished."
This is not exactly accurate.
"Every author thinks they know everything about the Jumanos," said Felix Salmeron, a Jumano Nation elder and historian. "The problem is, there is hardly any documentation out there written or interpreted by Jumanos. The only kind of written history about [the Trans-Pecos region] was done by the Spanish and the friars. So the authors get information about the Jumanos from somebody else, and if there's a gap, they take the liberty to fill it with their thoughts."
Salmeron, like his ancestors, was born in the Trans-Pecos, defined in 1887 by Texas geologist Robert T. Hill as the portion of Texas west of the Pecos River. In Pecos, Salmeron grew up in the 1950s with his family in a two-room cottage with a dirt floor and a fire pit where his mother cooked. They raised chickens and grew corn, and they had access to fruit trees and a river where they fished. There were plentiful deer in the area, just one of which could provide meat for a month. The women took care of the gardens, homes, and children while the men traded wares and the hides of deer and buffalo.
As a young boy, Salmeron asked his grandmother in Spanish, "What am I?" She responded, "Eres Jumano." But jumano, in Spanish, also means human. "It took me a long time to figure out what she meant," Salmeron said.
The first known use of the word Jumano to describe a specific group was in 1581, when Spanish conquistador Antonio de Espejo referred to villagers at La Junta de los Ríos, where the Rìo Grande and the Rìo Conchos meet at the present-day cities of Presidio and Ojinaga, Chihuahua.
In early 1583, the Espejo-Beltran Expedition followed the Pecos River south to the present-day town of Pecos, where they encountered, according to Newcomb, three nomadic Jumanos. They guided Espejo and his men along Toyah Creek, through Balmorhea and toward the area where Fort Davis and Marfa are now located, and down Alamito Creek toward the Rio Grande.
"The only Jumanos that were nomadic in the early days were the ones that went hunting and trading," Salmeron said. "The families built rancherías, which were apartment-style complexes."
According to Salmeron, the Jumanos lived in Ojinaga, Chihuahua, up north through Presidio, and around the San Solomon Springs area—where Balmorhea is now located—all the way up to New Mexico. Each settlement was chosen for its access to water, which was honored, along with the sun, Earth, and wind, as one of the Jumanos' life sources.
"Solomon Springs gave quite a bit to the natives," Salmeron said. "It was a great place to be able to grow corn and other vegetables. They captured a lot of fish and even buffalo. The Easterners are given credit for some of the technology to bring water to the vegetation, but that was being done many, many, many years before they came out there."
Gradually, incursions from the Apaches, Comanches, and Spanish forced the Jumanos to abandon the Trans-Pecos region, assimilate with other tribes, or absorb and accept a Mexican identity—particularly, Salmeron noted, to avoid forced relocation during the Indian Removal Act in the 1830s. By then, Mexico had won its independence from Spain. In 1836, the Republic of Texas won its independence from Mexico, becoming its own country until 1845, when it was annexed to the United States. By 1849, the San Solomon Springs were known as the Mescalero Springs for the Mescalero Apache who watered their horses there. Well before then, in the 1770s, is when historians such as Newcomb say the Jumanos "disappeared."
"There have always been Jumanos in the area," Salmeron said. "There are still Jumanos in the area."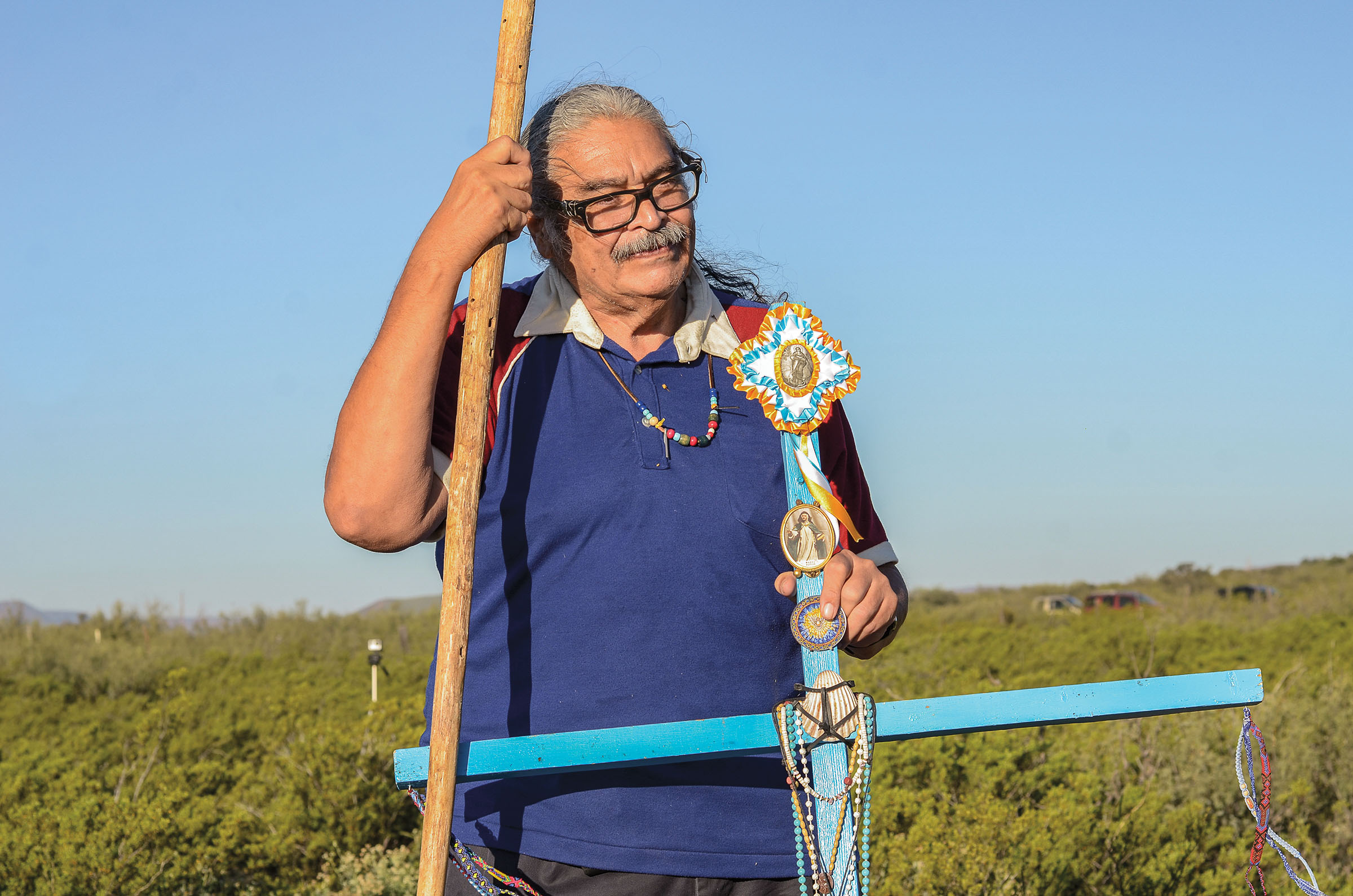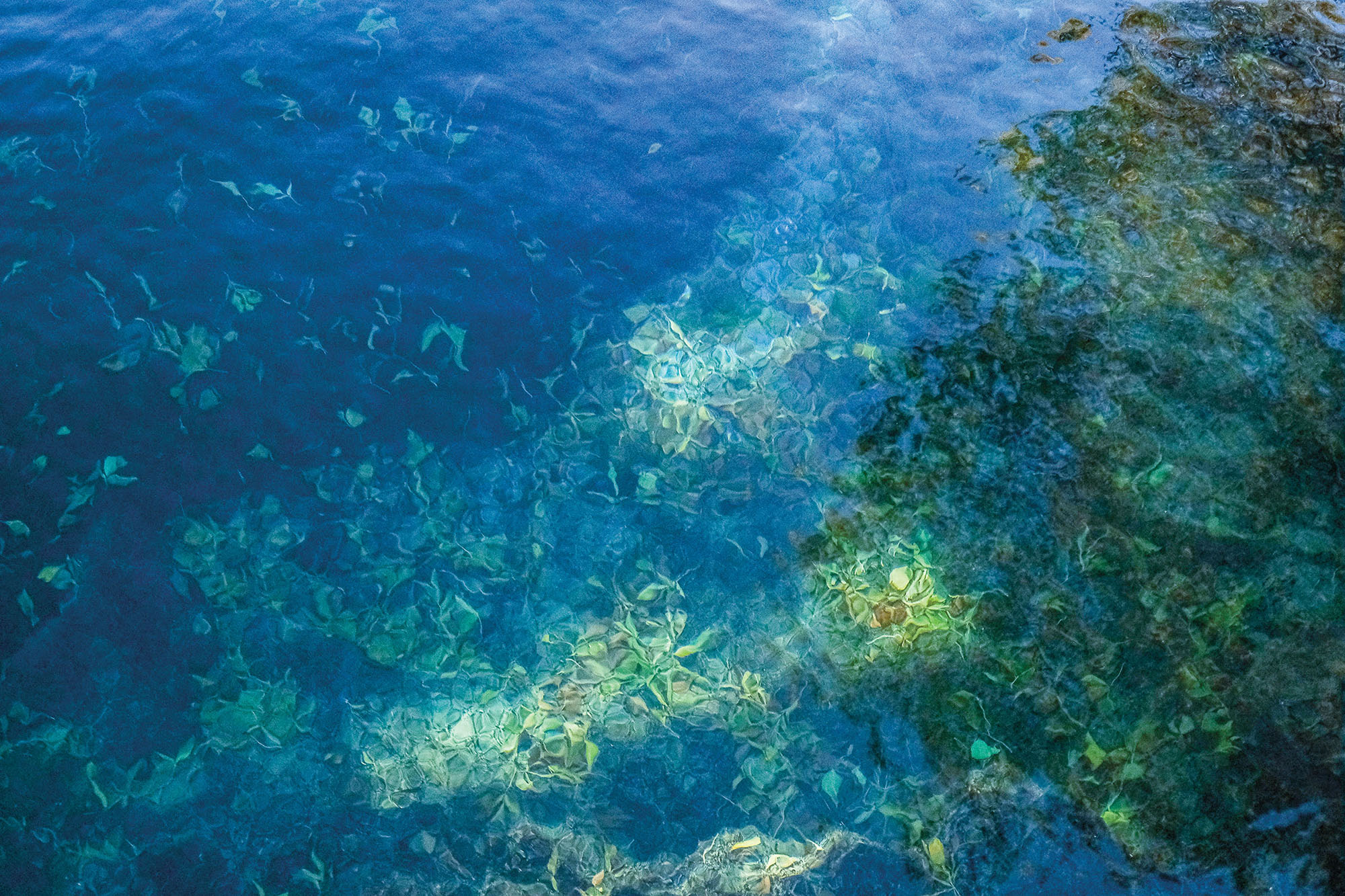 The San Solomon Springs is the largest in a series of artesian springs in the Balmorhea area, believed to be up to 11,000 years old. In 1900, the springs flowed at a rate of 230 gallons per second. By then, Reeves County—which includes Balmorhea, Toyah, Toyahvale, Pecos, Saragosa, and Pecos—had nearly 2,000 residents, who were predominantly farmers of Mexican descent. The census from that year showed 63 farms countywide, comprising nearly 900,000 acres and 51,000 head of cattle.
"What drew people to the area was the water," said Pat Brijalba, who lived in Reeves County for 73 years before moving to Odessa last January.
In Calera, a now-abandoned town about 3 miles west of Balmorhea, inhabitants built small huts, or tapias, into the banks of Toyah Creek. The stream flows northeast of Balmorhea 50 miles west to the Pecos River. Brijalba's great-grandmother lived in a tapia, and she described a sod roof where the family planted vegetables. Brijalba has helped collect the history of families who lived in Calera as far back as the early 1900s. This includes a woman named Lupe Renteria Lyles, who described life in Calera around 1923 as "hard, happy, abundant, and filled with great people."
Brijalba said life in Calera began to change in the 1940s, when farming became mechanized and access to water changed. With the goal of improving the area's old irrigation system, the U.S. Bureau of Reclamation acquired Phantom Lake Springs, a spring-fed natural lake that formed outside the mouth of the limestone Phantom Cave, a privately owned site near Calera. The Bureau of Reclamation diverted spring water from the cave into two new canals and reconstructed a dam, furnishing water to more than 10,000 irrigable acres. Irrigation wells caused the Phantom Lake Springs flow to decline by such an extent that by 1983, Phantom Lake had all but disappeared, and Calera's section of Toyah Creek dried up. But, according to Brijalba, residents moved away long before then, leaving very little evidence of their lives behind.
One exception is Calera Chapel, established as a mission in 1902, when a 34-year-old priest from the Netherlands named Nicolas Brocardus began serving the area. The small adobe and rock structure was plastered in the 1940s. Decades later, it stood abandoned, a refuge for bats, cows, and horses. "I always saw the abandoned church and wondered—when was this church built, who attended here, what kind of church was it? I thought, we could probably restore that and people would come see it," Brijalba said.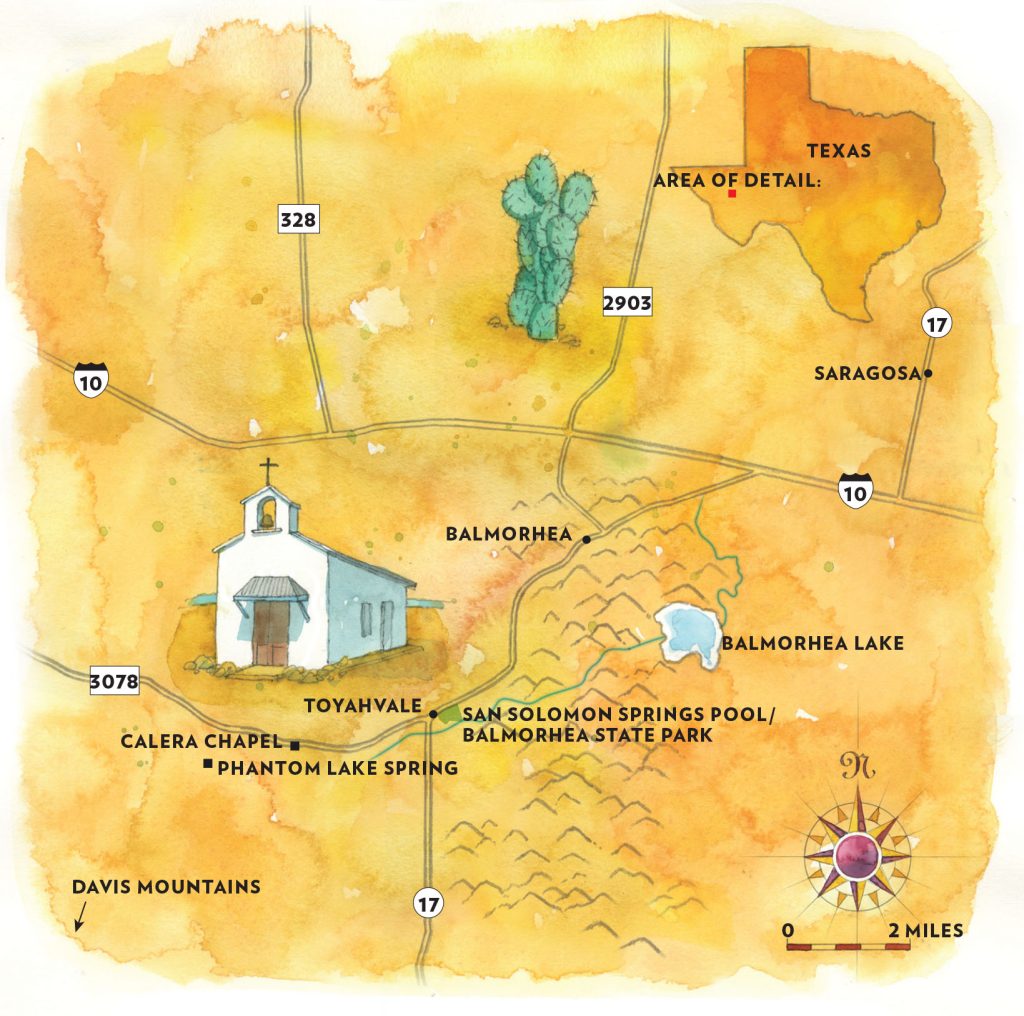 In 2002, Brijalba teamed with Kate Vigneron, his boss at The Balmorhea News at the time, to restore the chapel. A philanthropist and entrepreneur who'd moved to the area from France and opened several local businesses, Vigneron became the benefactor for the chapel's restoration. Brijalba, along with other community members and a crew from Fort Davis, went to work. They removed the old plaster, revealing the original adobe, mud, and rock, and replastered everything but the exterior back wall of the church. They broke pieces of concrete from abandoned farm canals, mixed cement, and laid it down as a new floor. Without electricity, Brijalba suggested a skylight. Vigneron had heavy wood doors made in Mexico to honor the period when the chapel was first built. Woodworking friends in Midland and Balmorhea constructed pews that gleam warm as honey in the natural light.
After the project was complete, Brijalba became the chapel's caretaker, cleaning it several times a week until he moved to Odessa. At that point another community member, Robin Boyd, took over caretaking duties.
Now people come to the chapel to pray and to get married, even without electricity or plumbing. They come to remember. Some happen upon the chapel, perhaps on their way to or from what really drew them to the area: the Balmorhea Pool, fed by the San Solomon Springs. They come for the water.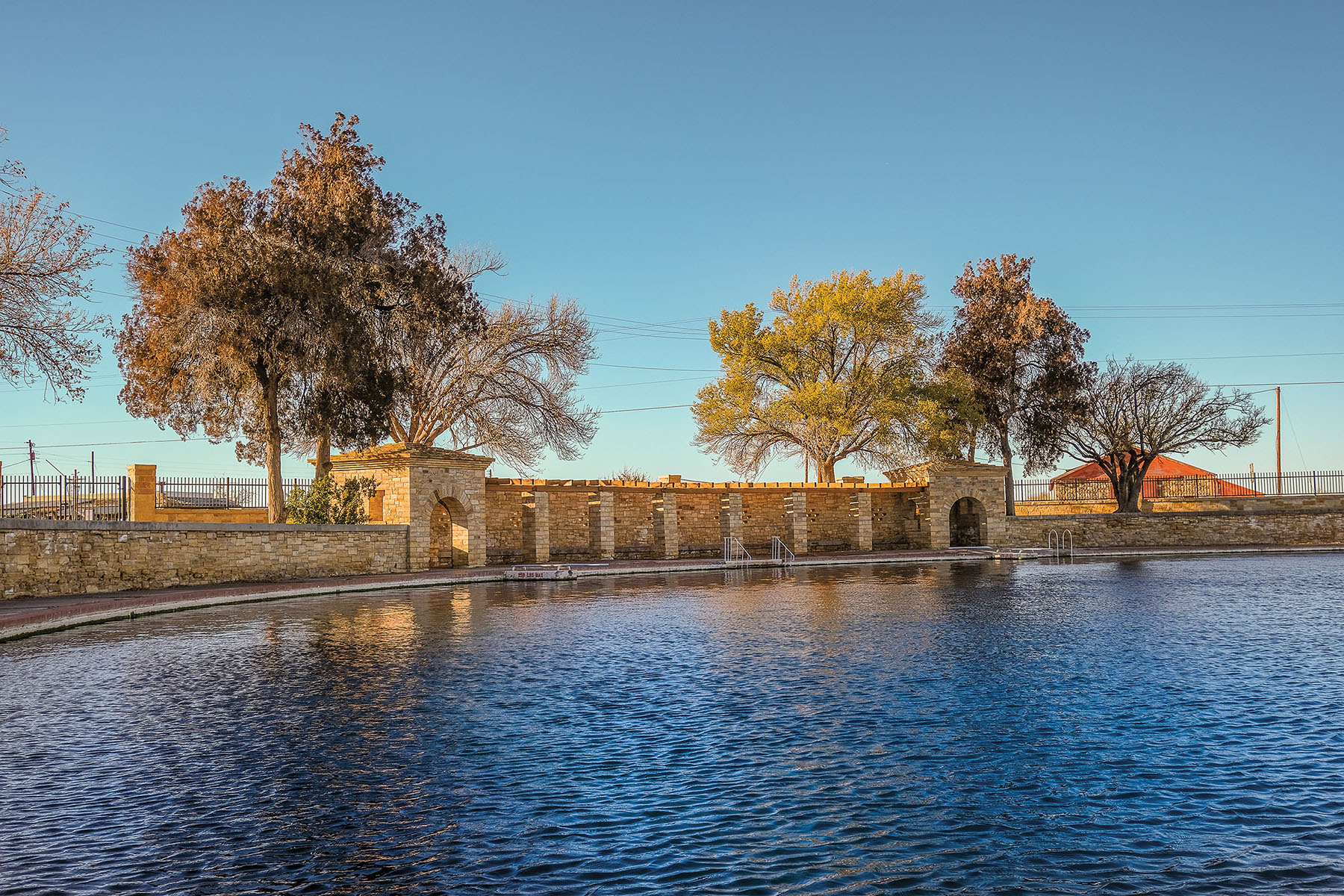 In 1933, as part of the New Deal, President Franklin Roosevelt created the Civilian Conservation Corps, or CCC, which allowed single men ages 18-25 to enlist in work programs to improve America's public lands and parks. Meals and lodging were provided, and they were paid $30 a month, $25 of which would be automatically sent home to their families.
Recognizing the beauty and appeal of the San Solomon Springs, the State Parks Board acquired 46 acres along its headwaters in 1934. The next year, CCC Company 1856—comprised mostly of local residents, including Brijalba's uncle, Rufus Brijalba—began building Balmorhea State Park. They constructed the roads, bridges, caretaker's residence, the San Solomon Courts lodging, and, of course, Balmorhea Pool. (They also built the distinctive Indian Lodge at Davis Mountains State Park.)
"Before, that pool was just water coming out of the springs," Brijalba said, "and early residents had a big diving platform they would use. Everything you see today, all the blocks you see around the pool, the wall, all that was cut out by hand. We owe the CCC a lot for what they did for Balmorhea."
These days, more than 200,000 people visit Balmorhea State Park each year, though current visitation is capped at 650 people per day. Most are eager to swim, snorkel, or scuba dive in the desert. Then there are those driven to solve other mysteries of the water.
Marine biologist Thomas Iliffe investigates the biodiversity, origins, evolution, ecology, and biogeography of animals (mostly crustaceans) inhabiting marine caves. Iliffe had heard stories about Phantom Cave and Phantom Springs Lake that intrigued him—namely, that previous explorations of the cave in the 1990s allowed divers to swim as far as a mile in, with no end in sight. Since then, diving technology has evolved to include diver propulsion vehicles and closed-circuit rebreathers. These would allow a team to push past that previous 1-mile limit to where the cave passage begins to stair-step down, becoming deeper and larger. He assembled scientists, explorers, surveyors, videographers, and a safety and logistics team, and then applied to the U.S. Bureau of Reclamation for a scientific permit to access the site. His application was approved, and in late 2012, the team gathered in Balmorhea, where a fresh coat of snow created a surreal desert vista.
Over the next seven days, the team discovered the cave went deeper than anticipated. "They got down to a depth of 237 feet and could look down another long drop, but unfortunately we needed a different gas mixture to go down further," Iliffe said. "So we came back a year later with the right gas mixture, and on this trip we got down to 462 feet. That was the deepest underwater cave in the United States at that time."
As part of their exploration, the team laid down sediment traps, collected water quality data, and surveyed over 8,000 feet of the cave. They also did dye tracing to determine where the water in Phantom Cave was traveling.
"A couple days later, [the dye] came out in San Solomon Springs," Iliffe said. "That is firm proof the water from the cave is supplying a major part, perhaps all, of the water that comes out in San Solomon."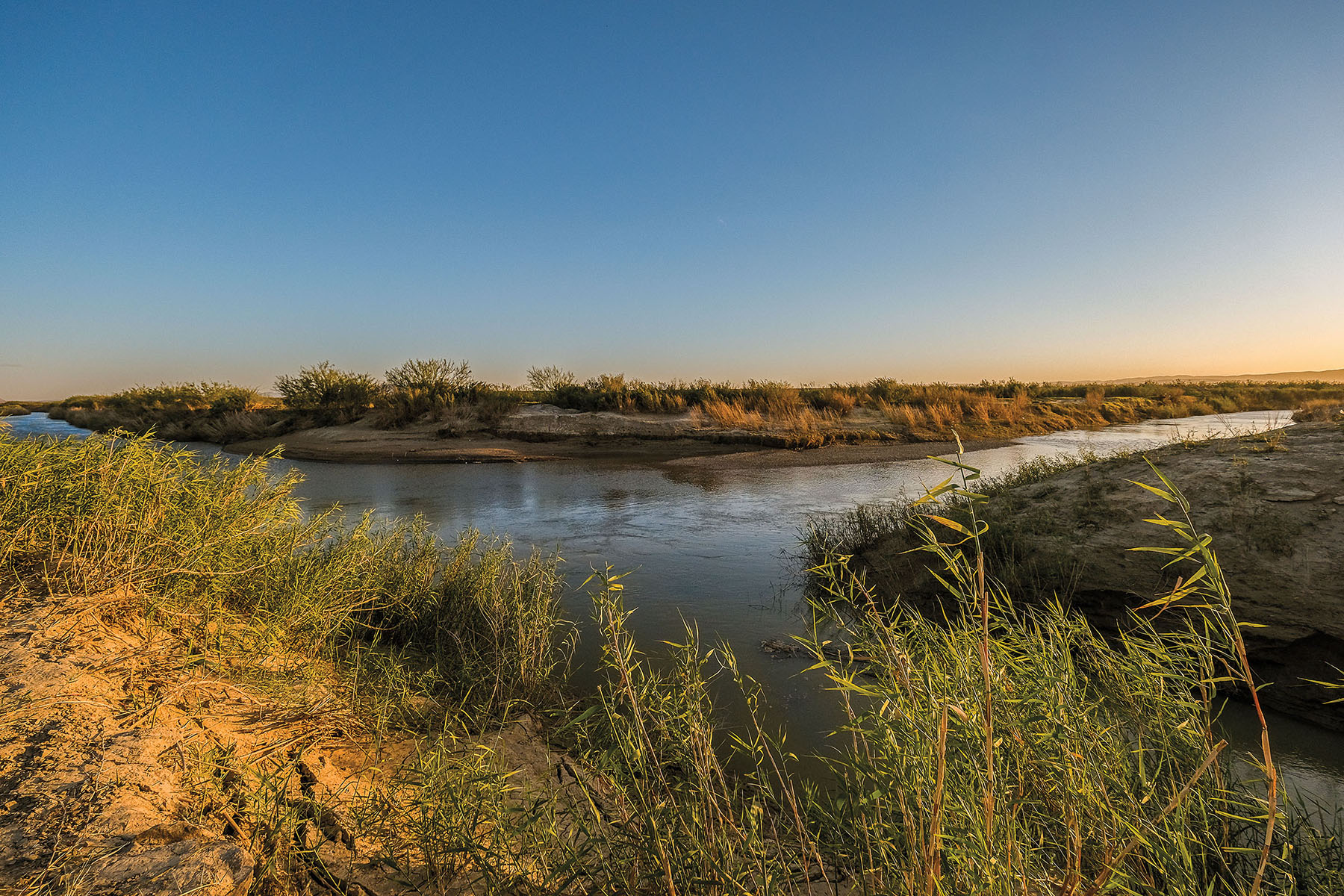 I arrive at Balmorhea Pool with aching muscles, skin salty with sweat. I had taken a wrong turn hiking in the Davis Mountains, shimmying down the side of the mountain 10 or 12 feet before realizing I was in trouble. My black leggings are red with dirt. Slivers of cactus needles are embedded in my palms from the climb back up. For a few minutes, as I searched for hand and foot holds to climb back up to the trail, I wondered if I'd make it home to my husband and two kids. How quickly life can go off track when you forget your place in nature.
On the mountain it was misty, but here in the valley the late summer sun washes over everything. A young couple goads each other onto the high dive, perched above the 25-foot-deep section of the pool. In the shallows, a white-bearded man says to his wife, seemingly not for the first time, that it's time to go. He's grouchy but affectionate: "You'd stay here all day if you could." Another woman laughs and tells her companion, "The fish are nibbling my belly button ring!"
I set my bag down in the shade of a tree. The concrete pavement is hot underfoot as I head to the high dive. Here I have a panoramic view of the vast pool, a desert jewel surrounded by the mountains I just left. I think of the Jumanos and Apaches settling nearby, the men in CCC Company 1856 crafting the pool, laying these stones by hand. I think of what it means for this small West Texas town to have a reason for people to make a pilgrimage of hundreds of miles. A warm wind blows, and I take a deep breath.
The water beckons. I bend my knees and jump.
Balmorhea State Park
9207 SH 17, Toyahvale.
Hours: 8 a.m.-7 p.m. daily;
reservations are required.
432-375-2370, tpwd.texas.gov/state-parks/balmorhea.
$7 entry fee, free for children
12 and under.
From the February 2023 issue