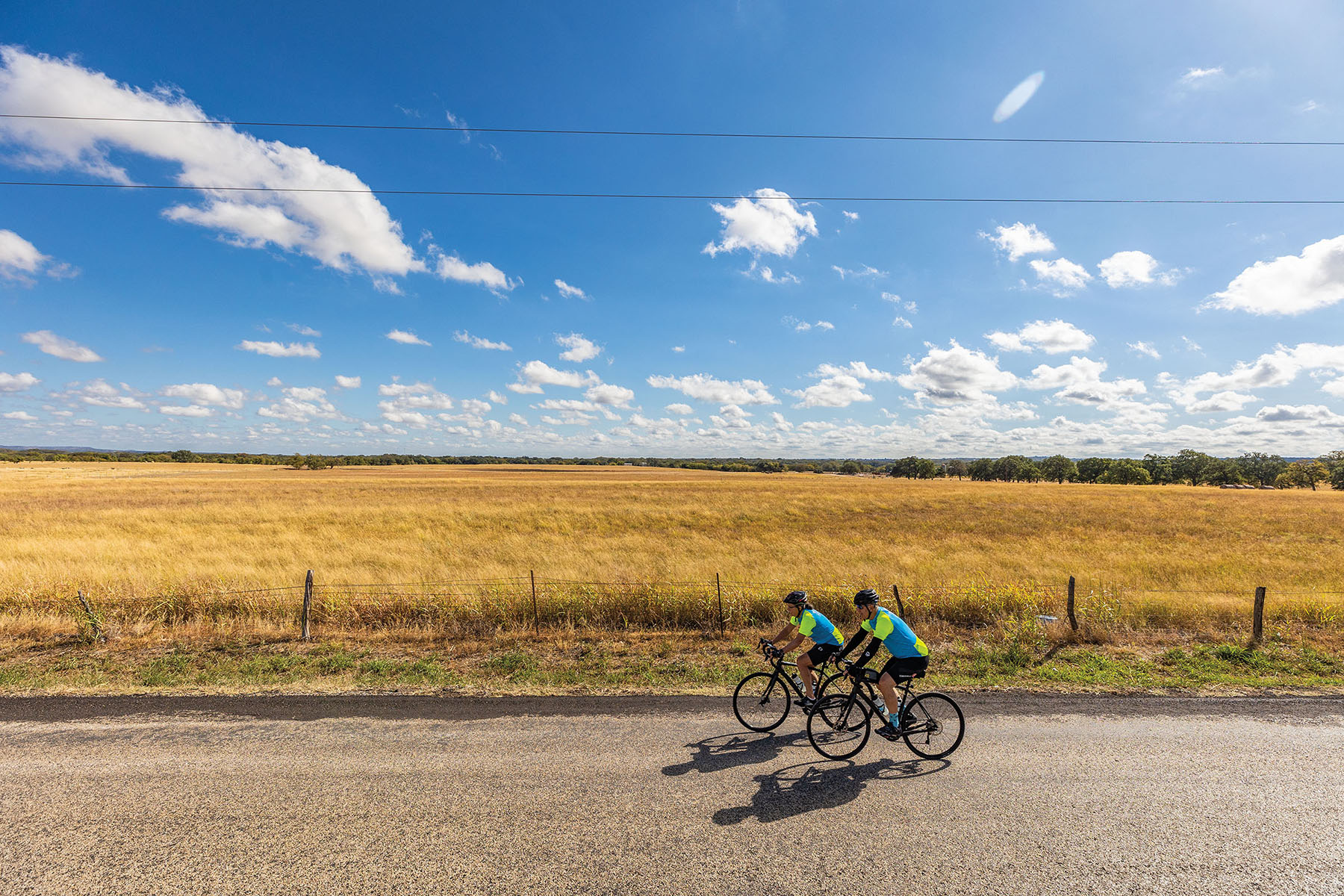 In his 1977 outlaw country classic, Waylon Jennings croons, "Out in Luckenbach, Texas, ain't nobody feelin' no pain." I guarantee Waylon and Willie and the boys didn't ride a bike to their beloved Luckenbach. I did. And my legs were feeling plenty of pain.
I was halfway through a weeklong cycling trip in October when I pulled my two-wheeler into Luckenbach, an Instagrammer's dream destination. As I gulped electrolytes from my water bottle, I noticed a black and white cat posing on the rustic porch of the post office turned general store and chickens congregating under the shade of a sprawling live oak.
I'd pedaled 190 miles in the past four days, climbing more than 10,000 feet along the way. My quads were tired. My glutes were beat. My whole body was wrecked. But that's exactly what I bargained for with Trek Travel's Seven-Day Texas Ride Camp through the Hill Country, a vacation where R&R stands for riding and more riding.
The Wisconsin-based travel company—a spinoff of Trek, the bike manufacturer—offers biking trips around the world for all levels of cyclists. But ride camps take place in only a couple of destinations: Spain, California, South Carolina, and Texas. They're aimed at avid cyclists looking to rack up serious mileage on training grounds fit for the pros. The Texas trip, launched in 2019, is the most recent addition to the ride camp roster.
"We were looking to add another destination that had awesome riding and that you could run in the offseason, so it had to have warm weather," said Tania Burke, president and owner of Trek Travel. "Texas was perfect."
Last spring, my husband and I put our bicycles on the back of our packed Subaru Forester and drove from California to our new home in Houston. California's Santa Cruz Mountains were my happy place. That's where we'd pedaled our bikes on some epic rides, scaling serpentine roads to lofty heights and embracing the challenge of the pain cave. Now, we're a mere 50 feet above sea level, on terrain that's flatter than a tortilla. I like living in Houston; I just don't like biking in Houston.
The Hill Country trip seemed like the perfect fix for my withdrawal. So, my husband and I joined a law professor from San Antonio; a conservation foundation executive from Milwaukee, Wisconsin; and a retired couple from Canada at the Fredericksburg Inn & Suites, our base camp. There, two affable Trek Travel guides, James Erlandson and Nick Bouzianis, set us up with our wheels for the week: top-of-the-line Trek Domane SL 7s. These lightweight machines built for comfort and speed come tricked out with high-end components and electronic shifting—not to be confused with electric-assist bikes.
We rolled out of the hotel each morning around 9:30 after a hearty omelet, a stack of banana walnut pancakes, or whatever else we fancied at a café called Texas Sunrise. Fortified, we'd then spend several hours in the saddle, pedaling up steep hillsides and through deep valleys of the eroded Edwards Plateau. Some of the rides were on the shorter side, between 20 and 35 miles. But most days we covered about 70 miles, following the directions programmed into our bike-mounted Garmins. Most nights, we reconvened for a group dinner in Fredericksburg, reliving our cycling exploits over goat vindaloo tacos at Tubby's Ice House or a juicy steak at Hill & Vine.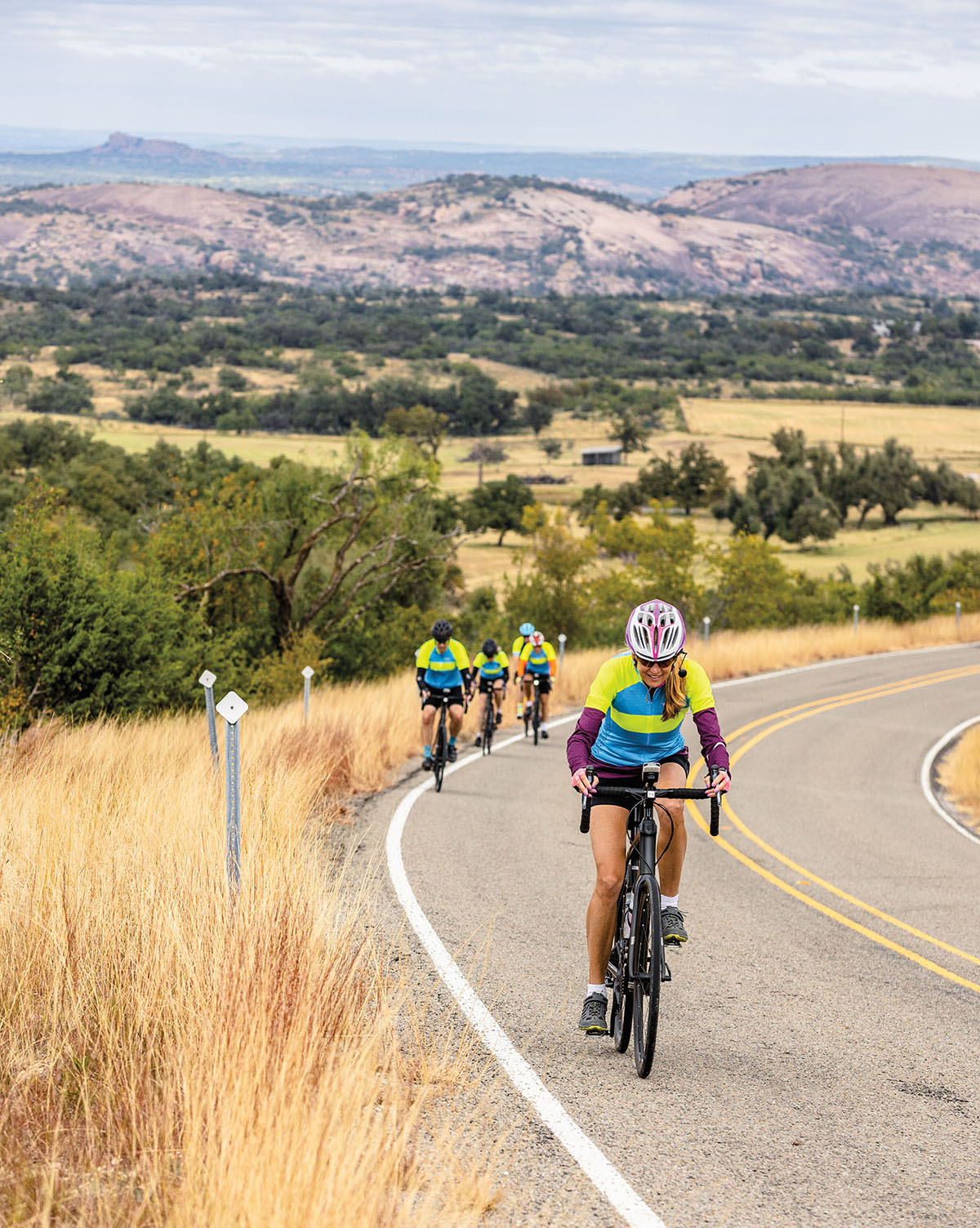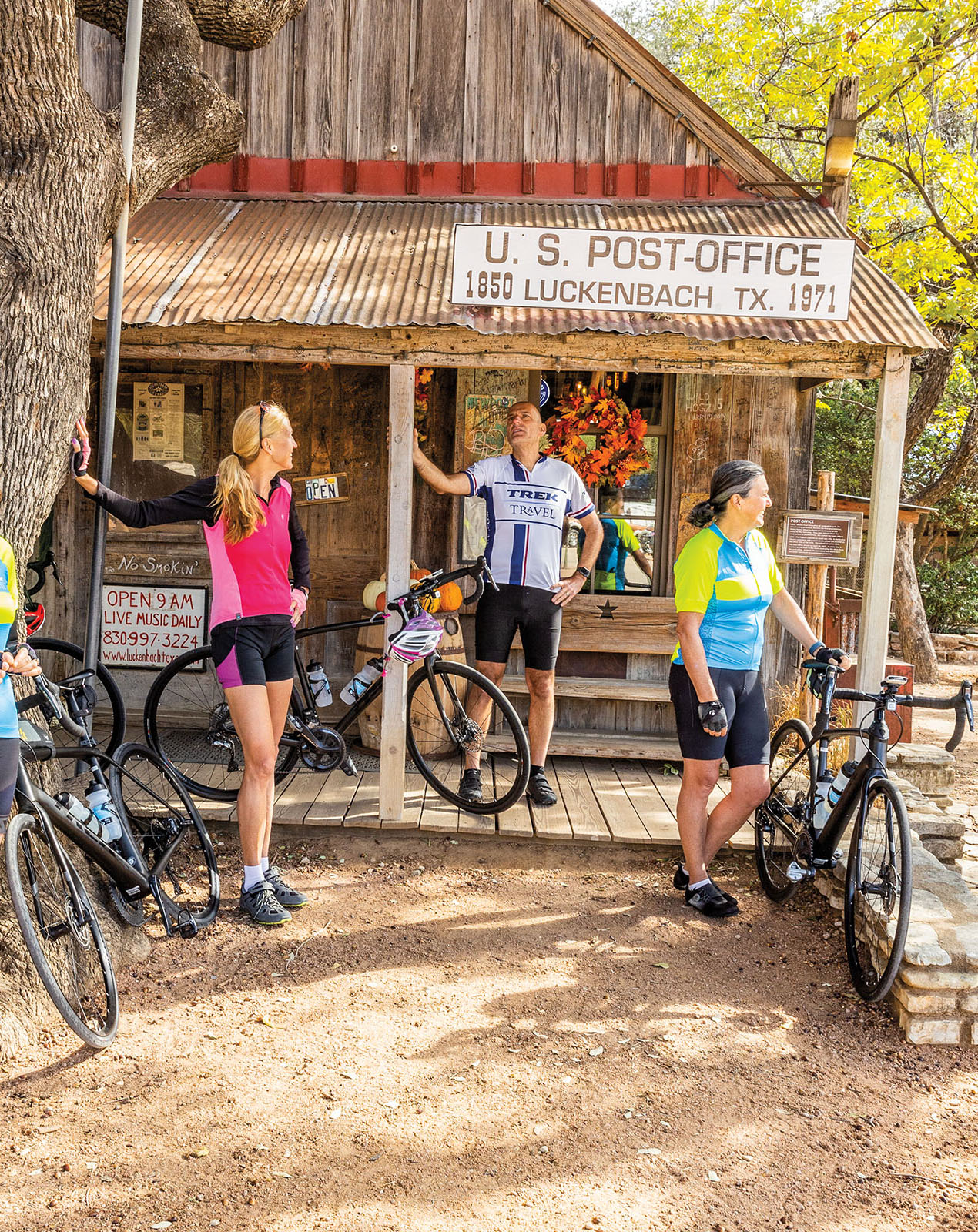 Plotted on a map, the week's riding routes looked like a crude drawing of a hibiscus flower with Fredericksburg at the center, surrounded by a series of petal-like loops. One loop headed to the area's crown jewel, Enchanted Rock State Natural Area. Another dipped down to Kerrville on the banks of the Guadalupe River. The Willow City loop, well known for its wildflowers, had me wishing I could fast-forward to spring to see blankets of bluebonnets and Indian paintbrushes.
No matter where the day's ride went, we had to bike some relatively short stretches of busy streets or highways to reach the good stuff: mile after mile of wide-open road, where grazing Longhorns outnumber pickup trucks. Mother Nature mixed it up, too. We plowed through massive headwinds on our way to Enchanted Rock—the giant, pink granite dome whose summit reaches 1,823 feet. Cycling into these strong gusts on undulating terrain was draining—and rewarding.
"It's hard, but nothing makes me as tired as doing nothing," said Darcy Tomyn, a former engineer from Canada who participated in ride camp with his wife, Kelly.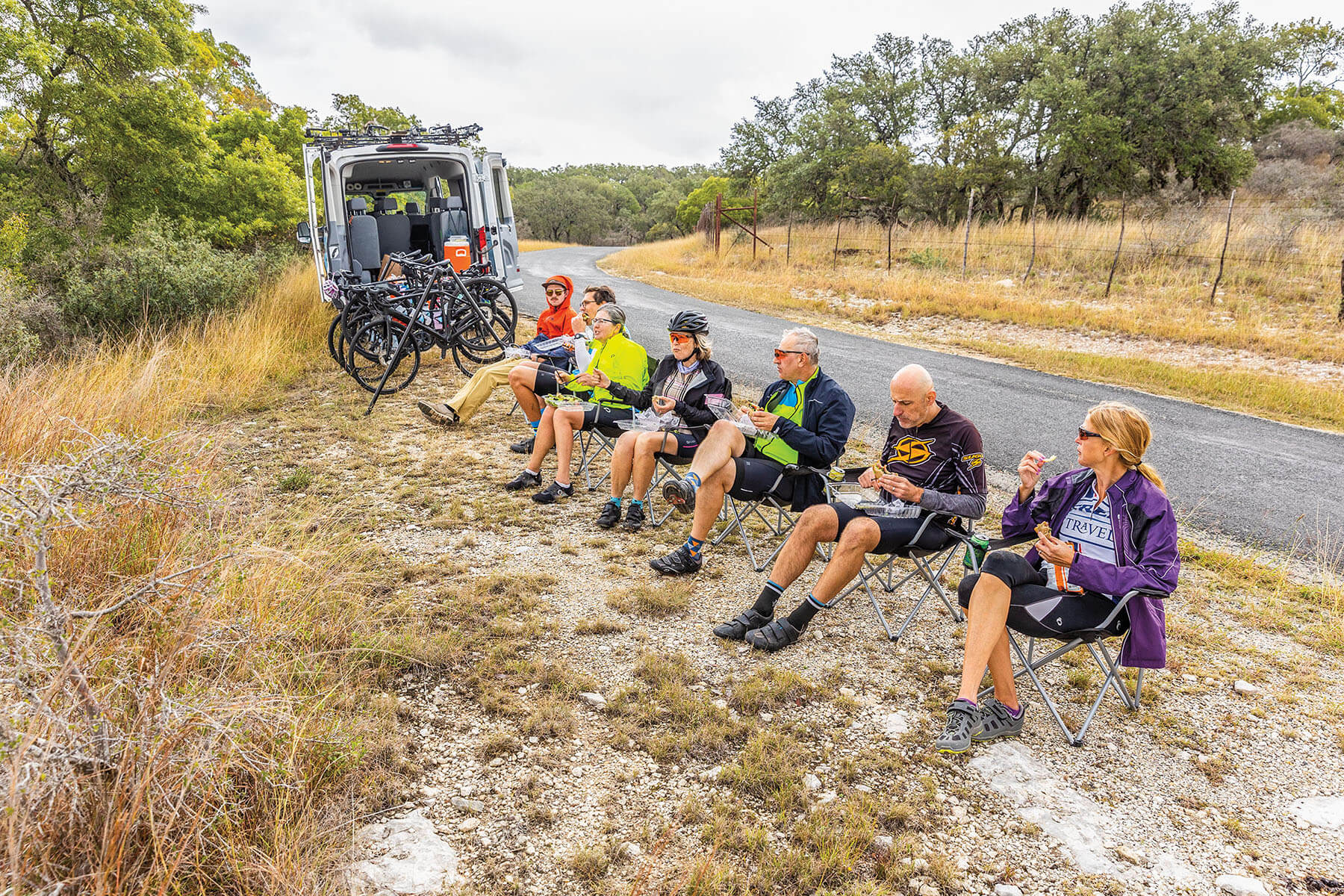 We cycled past countless ranches peppered with cows, goats, horses, sheep, the occasional llama, and the not so occasional deer. Intermittently, we'd come upon a vista offering an endless expanse of gold and green hills surrounding a ribbon of pavement. This is when we could really let loose, bombing down descents like an Altima with paper plates. (Google it!) The roads' chip-seal surfaces made for a surprisingly smooth ride, at least until we came upon the inevitable cattle guard, which delivered a ride bumpy enough to knock the cavities out of a cyclist's teeth.
On longer riding days, our Trek Travel guides tagged along with us. One would ride a bike while the other drove a van full of goodies, like sandwiches from Woerner Warehouse in Fredericksburg, a cooler of La Croix and Coke, and bowls of peanut M&Ms, aka cyclists' power pellets. The support van also came stocked with bike tools and equipment in case someone, say, got a flat. Which happened. Twice. Both times on self-guided days, of course, when our Trek Travel leaders stayed behind, and we were left to fend for ourselves with our spare tubes and CO2 cartridges.
One of those flats happened to my husband's front wheel on our way to Luckenbach. Darcy swooped in to help with the fix. As a Canadian, he's legally obligated to lend a hand. A couple of local cyclists also pulled over to see if we needed anything.
"There's some tough riding out here," one of them said. "People come from Colorado and think it's gonna be easy. What they don't realize is it's a lot of straight up, straight down."
His extremely fit riding companion nodded in solemn agreement. "A lot of body blows," he chimed in.
The hardest hit happened en route to, of all places, the tiny town of Comfort. I should have known we were in for a world of hurt when Nick, one of the guides, used "spicy" and "salty" to describe the hills.
I felt like I was cycling straight up a wall during the steepest section, where the road's gradient reached a punishing 20%. With my bike shifted into granny gear, the easiest for pedaling, I eventually crawled to the top. There, James, the other guide, was waiting for me, iPhone in hand. He snapped a photo and gave me a congratulatory fist bump. I had found my new happy place.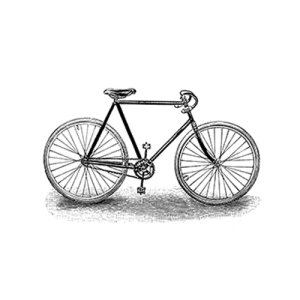 Ticket to Ride
The Trek Travel Texas Ride Camp is offered as a four- or seven-day trip. Registration is $1,499 and $1,999 per person, respectively, and includes lodging at Fredericksburg Inn & Suites, all breakfasts and most other meals, lots of snacks, and use of a custom-fit Trek Domane SL 7 bike and Garmin bike computer. Group size varies from a couple people to more than 30. Gratuities for Trek Travel guides are extra. Ride camps in 2023 are scheduled for March, April, October, and December. For more information, visit trektravel.com.
From the March 2023 issue