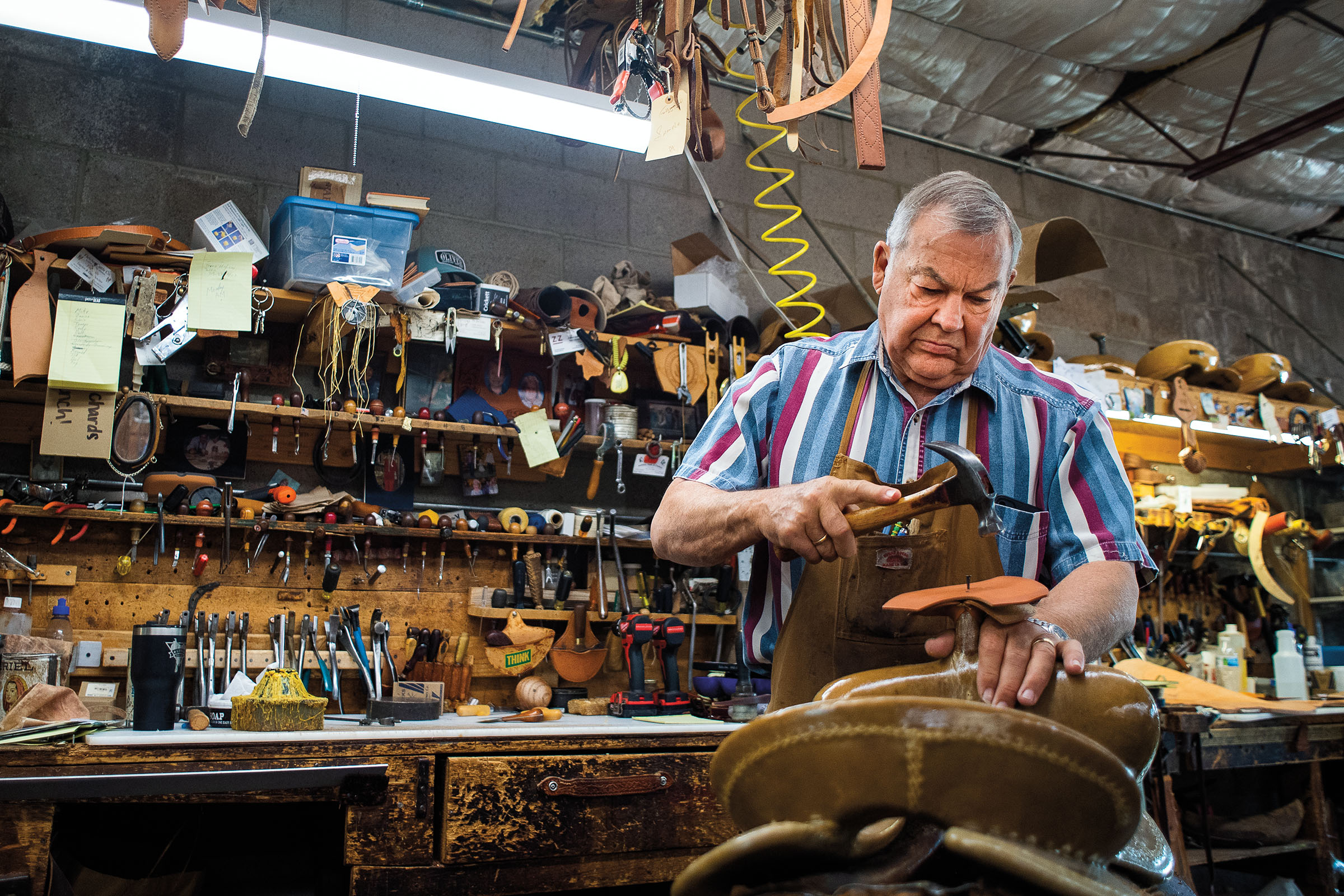 Mornings at the Oliver Saddle Shop in Amarillo are rarely quiet. The workshop is filled with the clinking of hammers tapping in nails, the scraping and cutting of leather, and the whirring of machines dating to the 1910s stitching together thick pieces of hide or cutting a strap just so. On cold days, you might find a few cowhands sipping coffee and swapping yarns next to the wood-burning stove. But the noise doesn't mean the scene isn't peaceful. To step into the rich smell of leather and hear Richard Oliver and his crew working on their handmade masterpieces is to know instant cowboy Zen.
This Panhandle institution is the oldest family-owned saddlery in the state. Richard's granddad, C.W. Oliver, started the business in Vernon back in 1917. Richard's father, Bill, relocated the shop to Amarillo in 1960, and Richard joined the family trade a decade later. Like other tack shops, Oliver makes an assortment of goods: bridles, cinches, medicine bags, spur straps, chaps, and breast collars. Today, Richard works alongside his two sons, Zeb and Bryan Oliver, and a fourth saddle maker, Colt Vernon. "We don't do any assembly line," Richard says. "Each guy takes the saddle start to finish, so each one is custom-made. We build about 75 a year, but we're a little over a year behind now."
Tack shops were once common all over the state, their wares in high demand with cowboys who needed to replace worn-out gear. But today, with fewer ranchers working their cattle by horseback and most goods made abroad, few shops like Oliver remain. Though the Olivers are well known, their clientele isn't famous—at least not to those outside of the ranching world. "Our main customer is the ranch cowboy," Richard says. "Our clientele is the best. We haven't had a hot check in years."
3016 Plains Blvd., Amarillo. 806-372-7562; oliversaddle.com.
From the September 2021 issue