The ultimate guide to

Traveling with Pets in Texas
Compiled by Melissa Gaskill, Ruvani de Silva, Anna Daugherty, & Luz Moreno
Lake Austin Spa Resort Austin
More destinations and diversions

are opening their doors to pets. Now Animals can ride shotgun on your next Texas trip.
M
More than 6 million Texas households—over half—have a furry (or scaly, or feathered, or gilled) friend to call their own. That number grew significantly during the pandemic with nearly one in five households in the U.S. adopting a new pet. Despite cautionary tales of owners abandoning their pets once workplaces opened back up, no such phenomenon has been recorded. It seems our four-legged, slithery, and winged friends are here to stay.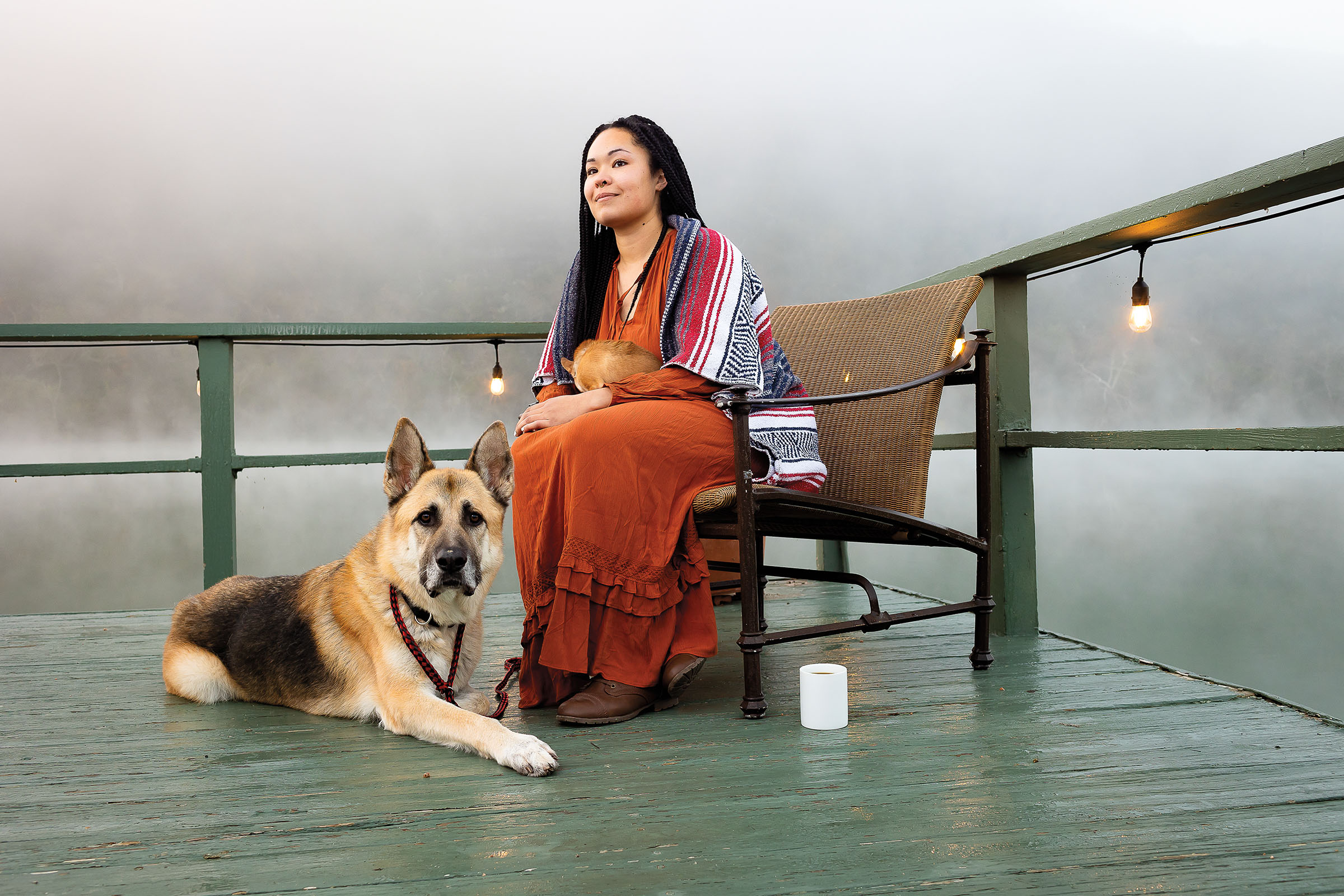 While new owners may have grown comfortable sharing a house with their animals, many wonder how they'll care for their pet while traveling. Boarding can cost a small fortune, and owners may be wary of leaving their animal with a stranger. Whether by car, camper van, or plane, people are increasingly opting to take their pets on the road.
This guide, while not comprehensive, features curated recommendations for pets and their owners seeking fun getaways across the state. From far West Texas to the Piney Woods, each region offers travelers a tailored stay, no matter their species. With this guide, traveling with a pet is more possible than ever.
Note: Although Texas is an easy place to travel with animals, it's still important to check the policy at each venue before arriving, and to have a leash or carrier on hand.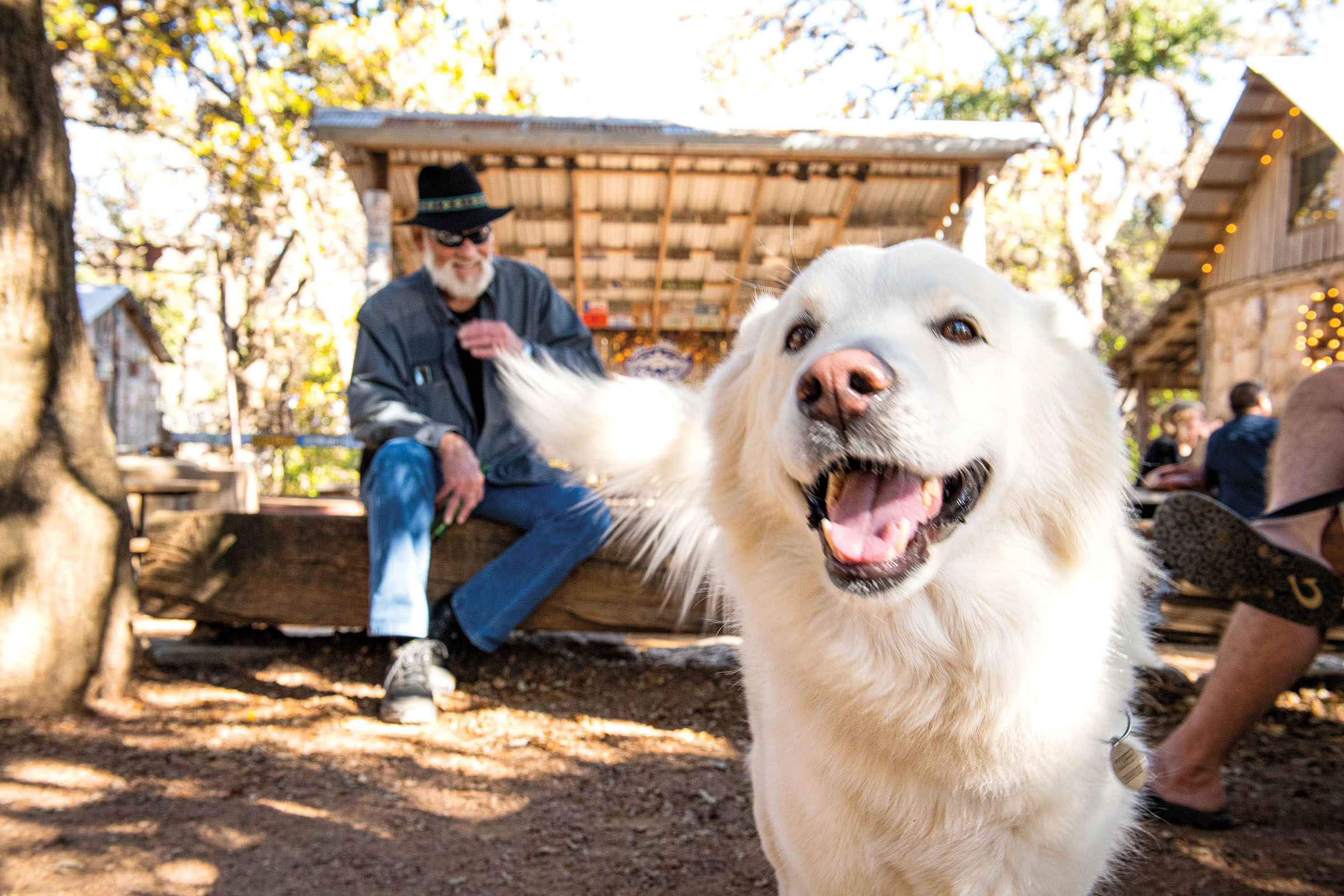 Luckenbach Dance Hall Luckenbach
Photo by Theresa DiMenno
STAY
Bunk with your pet in a cabin at the Lower Colorado River Authority's Black Rock Park on Lake Buchanan, where pets can swim, go out on a kayak or canoe, or snooze at a campsite. Muleshoe Bend Recreation Area offers almost 10 miles of trails through trees and along the Lake Travis shoreline. Campsites start at $25 at both parks, while Black Rock's pet-friendly cabins start at $75. lcra.org/parks
Lake Bastrop North Shore's amenities include furnished safari-style tents, a shared bathhouse, watercraft rentals, and hiking trails. Tents sleep two or four and start at $250/night. lcra.org/parks
A boutique hotel overlooking Austin's Lady Bird Lake, Line Hotel has no weight limit on pets or additional fees. Courtesy waste bags, water bowls, and treats are provided, as are neighborhood recommendations for walks, parks, and pet-friendly bars and restaurants. Standard rooms start at $179/night. thelinehotel.com/austin
Hotel Ella is housed in a historic mansion and hosts live music from local artists on its lawn. All pets are welcome, and complimentary treats are provided. Pets must be caged if left alone in the room. Standard rooms start at $167/night. hotelella.com
Tapatio Springs Hill Country Resort in Boerne has a golf course, a spa, hike-and-bike trails, and live music. Pet-friendly rooms are available, and pets are permitted on the property's trails. The resort allows for two pets per room, and cats and dogs are both welcome as long as they're under 75 pounds. Standard rooms start at $127/night with a $50-per-pet fee for the first night and $25-per-pet fee for subsequent nights, capped at $150. tapatiosprings.com
PLAY
Kayak or stand-up paddleboard with your pet at the Rowing Dock on Austin's Lady Bird Lake, or at Peace Paddling on Lake Austin. rowingdock.com; peacepaddling.com
The historic Central Texas dance hall in Luckenbach is a great spot to catch country music legends with your pup in tow, as long as you keep it on a leash. luckenbachtexas.com
Lake Austin Spa Resort offers dogs a special menu and pet-focused amenities like dog toys and cozy pet beds. lakeaustin.com
Check the events schedule for occasional pets-welcome star parties at state parks like Lost Maples, Enchanted Rock, and South Llano River, which all rank a 2-3 on the Bortles dark sky scale (lower numbers equal darker skies; Big Bend Ranch State Park is a 1 out of 9). BYO water. ­ tpwd.texas.gov
Pets are permitted at LBJ National Historical Park along the Johnson Settlement Trail and outside buildings on the LBJ Ranch. nps.gov/lyjo
HIKE
Hike through a variety of landscapes, then pitch a tent and stargaze at remote parks like Hill Country State Natural Area, rated 4 out of 9 on the Bortles dark sky scale. tpwd.texas.gov
Leashed pets are welcome on the spacious grounds of the San Antonio Missions National Historical Park, but not in the four structures. A hike-and-bike trail along the San Antonio River connects all five missions, each about 2.5 miles apart. ­ nps.gov/saan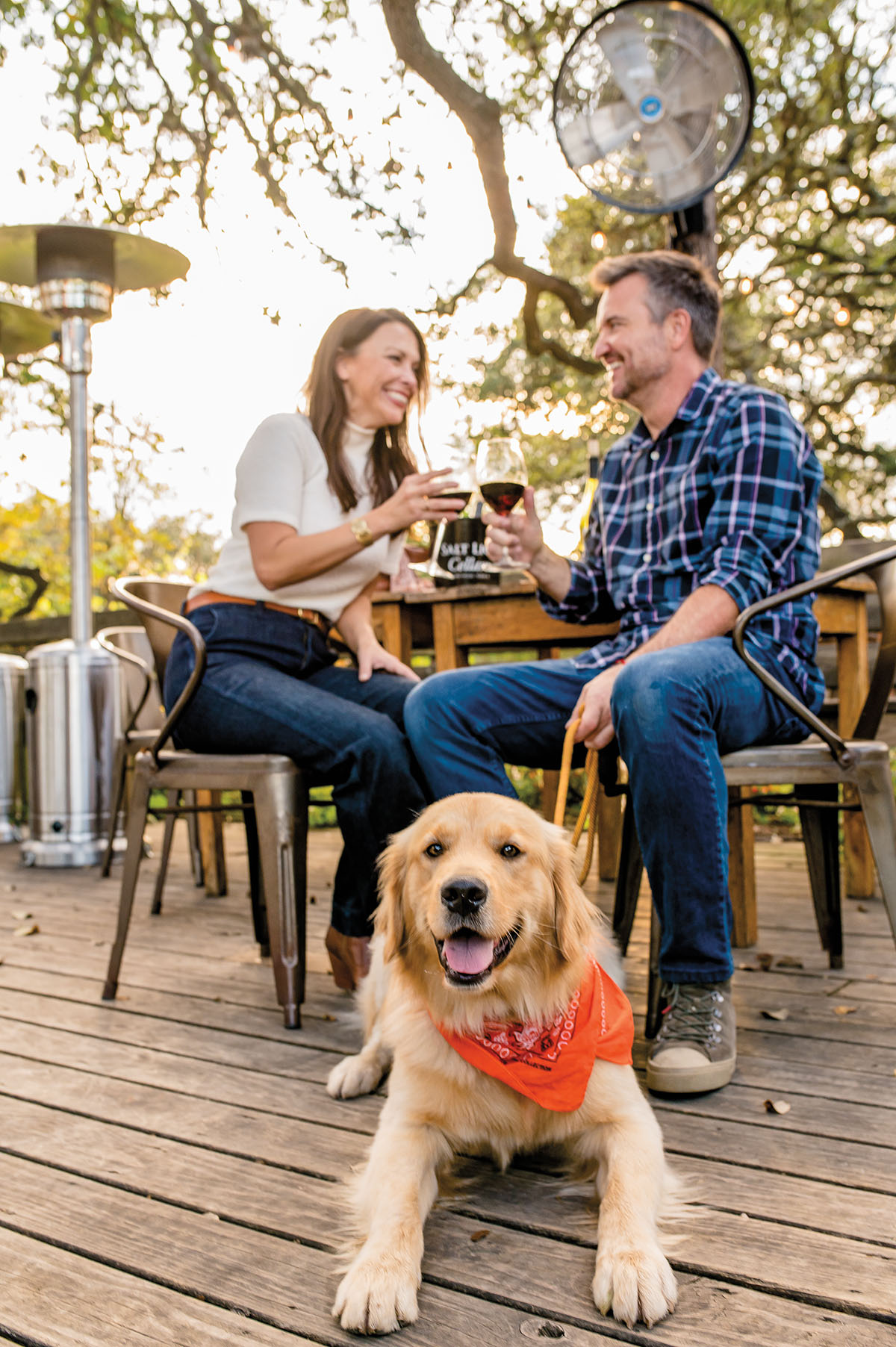 Salt Lick Cellars Driftwood
Photo by Tiffany Hofeldt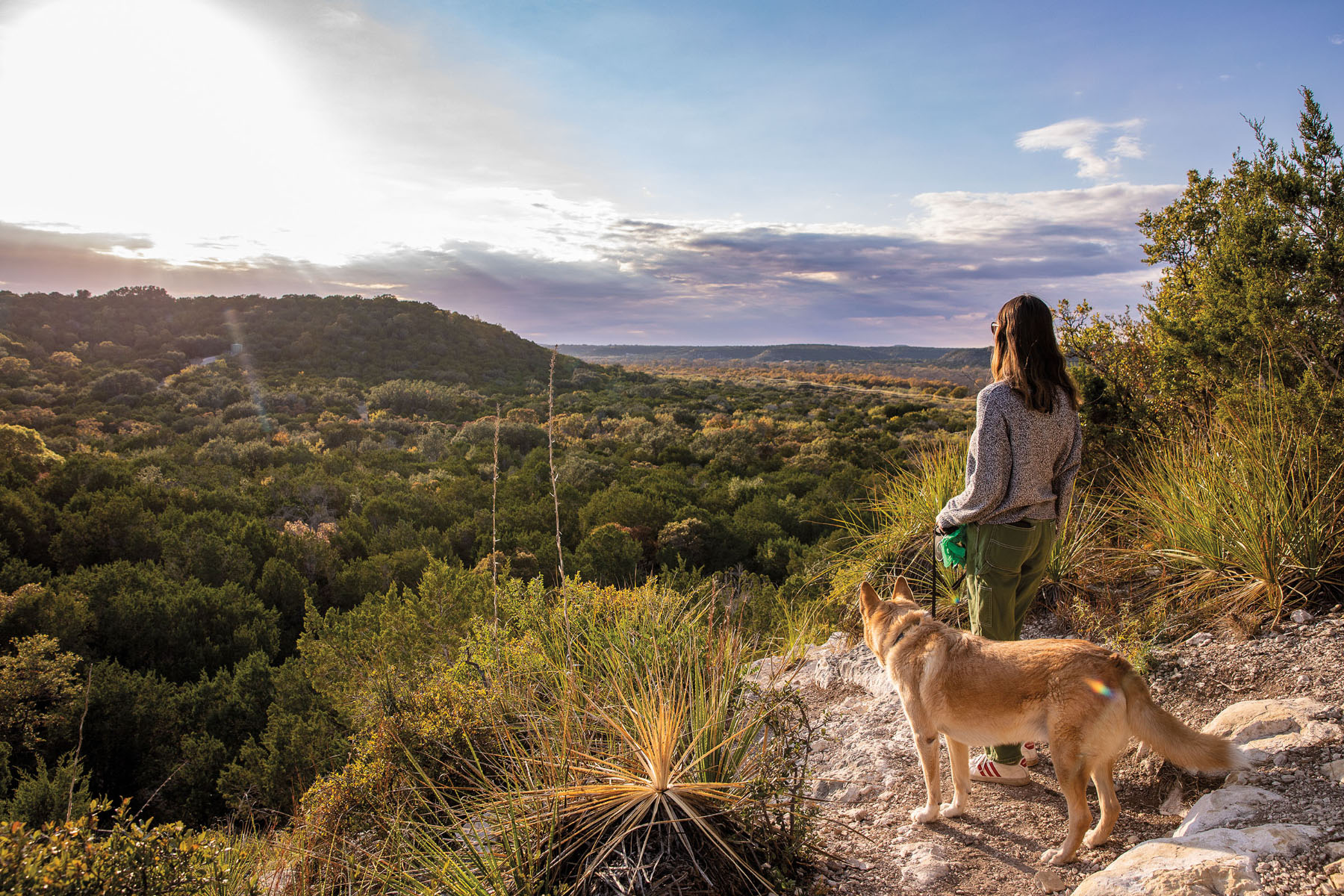 South Llano River State Park Junction
Photo by Kenny Braun
EAT
Austin's South Congress neighborhood offers a slew of pet-friendly patios at eateries and cocktail lounges like seafood restaurant Perla's. perlasaustin.com
A fenced-in dog park on the side of Dog and Pony Grill in Boerne allows pups to stretch their legs while their owners enjoy a drink, food, and live music. Leashed dogs can also sit on the restaurant's covered patio. The menu features a range of American classics including burgers, hot dogs, and chicken-fried steaks. dogandponygrill.com
Stop in for a slice of pizza at Home Slice's two Austin locations. Dogs are welcome at sitting areas available on the patios of both its North and South Austin locations. ­homeslicepizza.com
SIP
The Waypoint at Infamous Brewing near Lake Travis features live music, a food truck park, and a dog run adjacent to the brewery.­ thewaypointatx.com
Families and their dogs can unwind together at Cedar Park's The Good Lot with a calendar of weekly activities, from trivia to open mic night to live music. A play area and yard games are available. Guests can choose between the two dozen beers on tap as well as seltzers and wine. The lot is also home to four food trucks. thegoodlotcp.com/­beergarden
In Fredericksburg, many tasting rooms, including mainstay Becker Vineyards, welcome dogs outside and provide water bowls. beckervineyards.com
Garrison Brothers Distillery has a taproom in Hye that features an outdoor area for leashed pups, as well as water bowls and dog treats. garrisonbros.com
Sample fresh wines at Salt Lick ­Cellars in Driftwood, and enjoy barbecue and live music next door at Salt Lick BBQ. Leashed pets are allowed on the patio. ­saltlickcellars.com; saltlickbbq.com
Operating out of an old barn-turned-microbrewery, Barrow Brewing in Salado welcomes friendly dogs on a leash. If pets need more space, they can run free in the field and creek just outside the brewery. And while you're sipping a craft brew, your pet can sip from a dog bowl or enjoy a locally made treat. ­barrowbrewing.com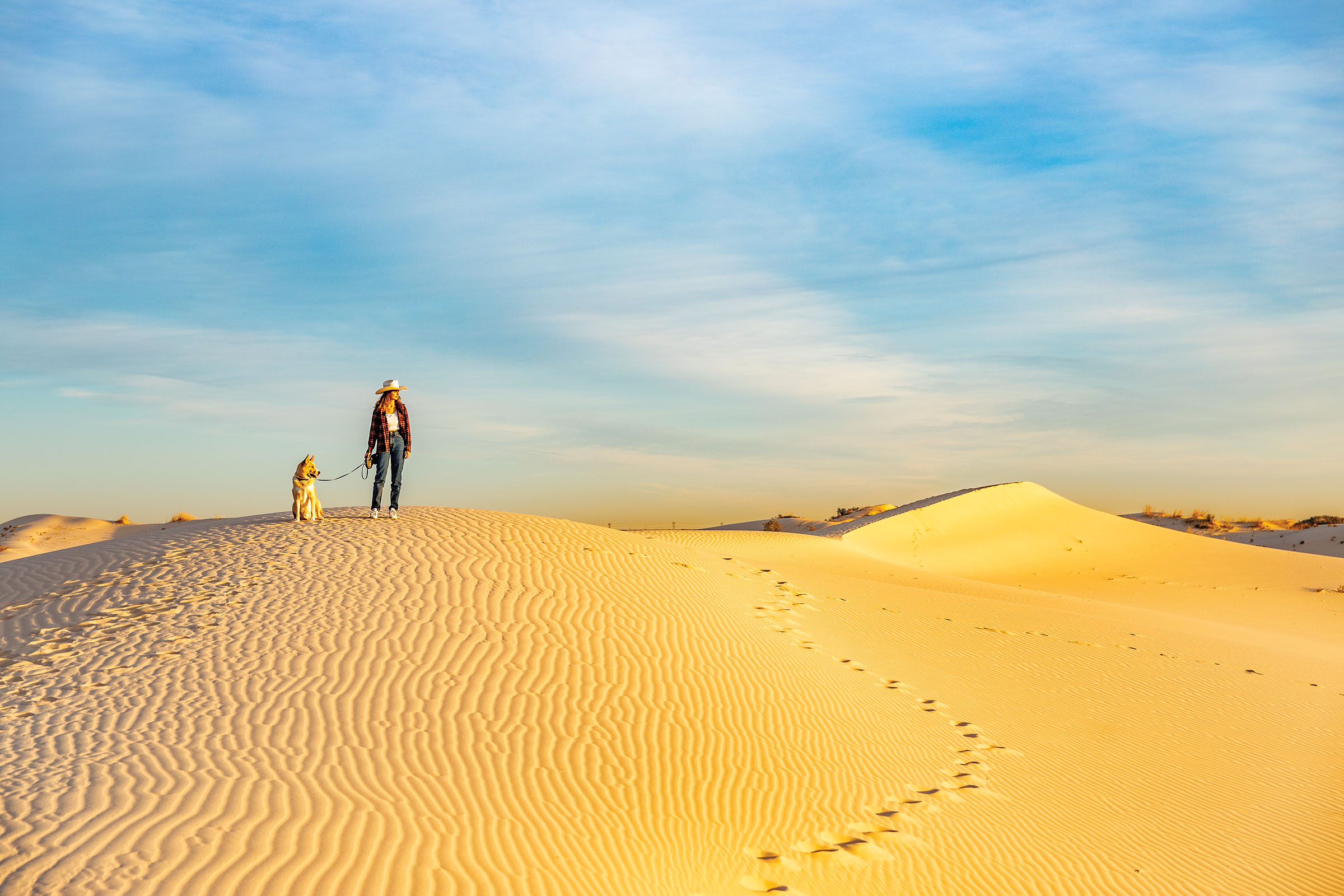 Monahans Sandhills State park Monahans
Photo by Kenny Braun
PLAY
Let your pet help search for the Marfa Lights—a nighttime show of lights over the West Texas horizon with no known origin—­ at the viewing area 9 miles east of town on US 90. Who knows, maybe animals can better sense this mysterious phenomenon? ­visitmarfa.com
Five miles outside Marathon, pets can enjoy a dip in Post Park's spring-fed pond, which is stocked with fish. Be vigilant for wildlife. marathontexas.com
Rent a plastic disc at the park's headquarters and slide down the dunes with your pet at Monahans Sandhills State Park. tpwd.texas.gov
HIKE
The Closed Canyon and HooDoo trails in Big Bend Ranch State Park, off scenic Farm-to-Market Road 170 between Lajitas and Presidio, offer short hikes for you and your leashed pet. Both trails run about a mile, and high canyon walls keep Closed Canyon almost always shady. tpwd.texas.gov
Fort Davis National Historic Site's spacious grounds invite visitors to hike, picnic, and witness historic reenactments. Pets are not allowed in buildings. nps.gov/foda
Big Bend and Guadalupe Mountains national parks allow leashed pets only in areas accessible by vehicle (not on trails or in the river). nps.gov/bibe; nps.gov/gumo
STAY
El Cosmico in Marfa offers tent campsites with access to a bathhouse, an outdoor kitchen, and a dining area. $20/person/night, $10 pet fee/night. elcosmico.com
Dating to 1929, Marfa's Hotel Paisano was designed by famed architect Henry Trost. Pets under 20 pounds are welcome, and complimentary water bowls and waste bags are provided. The Marfa Public Dog Park is two blocks away. Standard rooms start at $189/night. Pet fees are $40 plus tax per pet, per night. hotelpaisano.com
The Plaza Hotel at Pioneer Park in El Paso is housed in a historic art deco building dating to the 1930s. Pets are welcome and provided with pet beds, bowls, and a keepsake hotel bandana. Standard rooms start at $175/night with a $75 pet cleaning fee. plazahotelelpaso.com
El Paso's Stanton House Hotel hosts a gallery of changing modern artwork. Pets under 50 pounds are welcome, and treats are available on request. Standard rooms start at $172/night with a $100 pet fee. stanton-house.com
EAT
At Eloise on the west side of El Paso, visitors can enjoy a meal, a cocktail, and a coffee alongside their four-legged companions on the patio. eloiseelpaso.com
Leashed pets are welcome at the Planet Marfa beer garden, open on weekends from spring break to Thanksgiving. The site features a large rooftop deck and full-size teepee. facebook.com/planetmarfa
SIP
Sample wines fresh from the source at Zin Valle Vineyards, just 15 miles outside El Paso. Leashed dogs are welcome on the grounds, and they even have a namesake Man's Best Friend merlot. zinvalle.com
El Paso's Aceitunas Beer Garden boasts a koi pond and waterfall, plus an extensive cocktail menu and a regular live music program on its dog-friendly patio. ­aceitunasbeergarden.com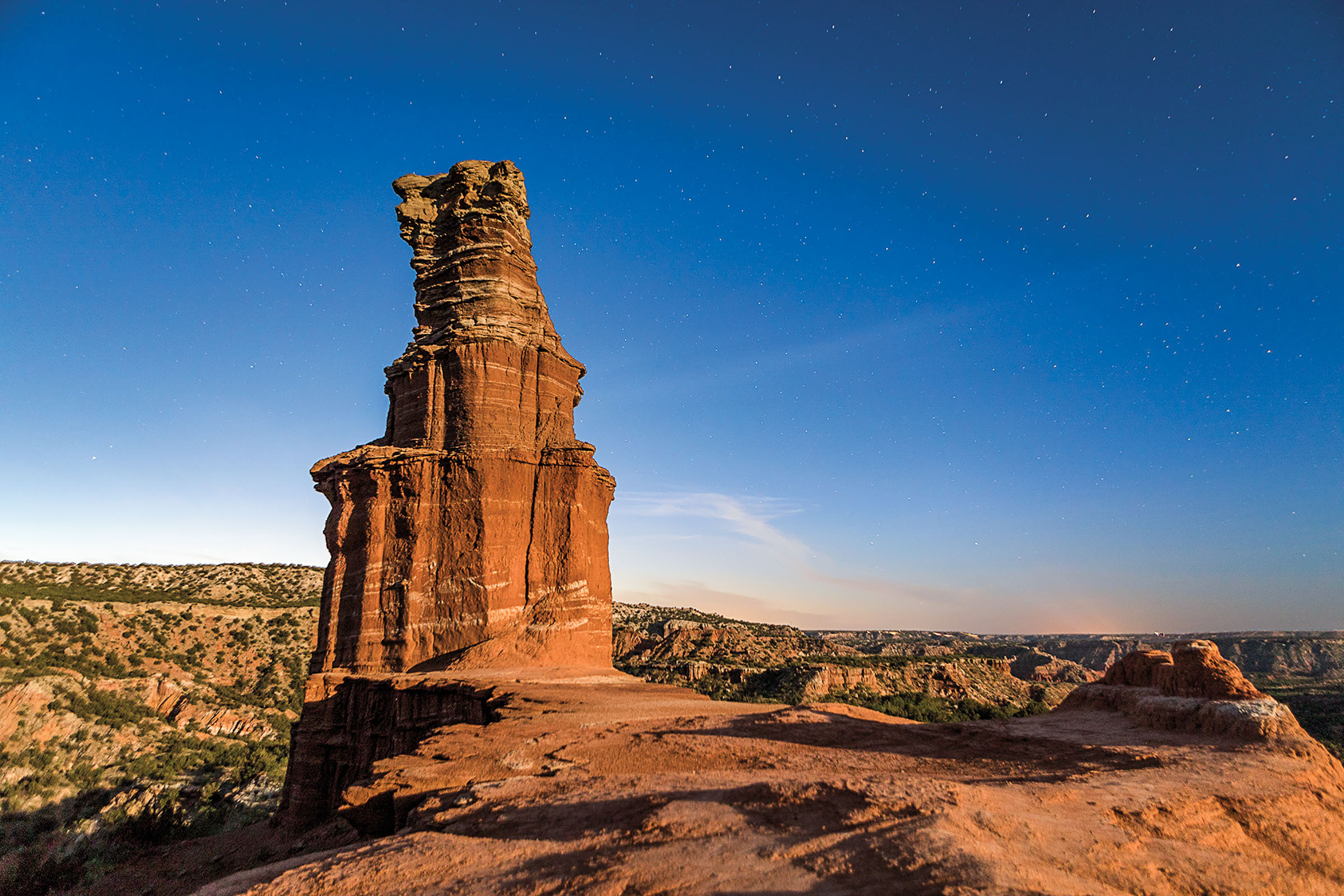 Palo Duro Canyon State Park Canyon
Photo by Kenny Braun
PLAY
Leashed dogs can roam the 4 acres of Amarillo's Botanical Gardens while their owners learn about native Texan and exotic plants in a beautifully landscaped setting. ­amarillobotanicalgardens.org
HIKE
The 64 miles of the Caprock Canyons Trailway lure hikers, bikers, and horseback riders, and pets can hike or ride along in a bike trailer. Multiple access points allow for shorter outings. Camp anywhere along the trailway inside park boundaries. Composting toilets are available, but BYO water. tpwd.texas.gov
Let your pet experience the fresh air and wide horizons of the prairie—and an art piece made up of 10 upended cars covered in layers of paint—at Cadillac Ranch near Amarillo. Spray paint is for sale on-site. facebook.com/­1­974cadillacranch
Lake Meredith National Recreation Area allows pets and offers boating, camping, hiking, mountain biking, and fishing. nps.gov/lamr
STAY
Palo Duro Glamping provides furnished canvas tents for guests and a maximum of two pets inside Palo Duro Canyon State Park. Shared restrooms are on-site, and tents sleep six people. Rates start at $299/night. paloduroglamping.com
Lubbock's Woodrow House Bed & Breakfast is a stylish boutique hotel with individually themed rooms, including a converted train carriage. Rooms start at $130/night. Pet accommodations must be requested in advance and cost $30 per pet per day. woodrowhouse.com
EAT
Twisted Root Burger Co. in Lubbock serves up cold beers and juicy half-pound burgers made with locally sourced ingredients and house-made toppings and condiments. Water bowls are available on the pet-friendly patio, and guests can order a burger patty that staff will happily chop up for four-legged friends. twistedrootburgerco.com
At Amarillo's Old West-themed Big Texan Steak Ranch, you can attempt to eat a 72-ounce steak with your well-behaved dog or cat on hand, as long as you sit in the outside beer garden. bigtexan.com
Buffalo Gap's Perini Ranch Steakhouse serves the best burger in Texas according to the Food Network, and it has 12 pet-friendly outdoor tables. periniranch.com
SIP
With beers that reference life in West Texas (like the Five Hour Drive ale), Tall City Brewing in Midland pours more than 16 brews in its taproom. Dogs are welcome on the large, covered patio. Food trucks rotate throughout the week, offering menus ranging from wings to pizza to hot dogs. tallcitybrewing.com
Lubbock's LBK Brewing has some of the best beer in the Panhandle as well as a dog-friendly wrap-around patio. ­thebrewerylbk.com
Pets are welcome at The Garden bar and live music venue in Lubbock, where you can enjoy happy hour specials and play patio games in the expansive beer garden. garden-lubbock.com
Amarillo's dog-friendly Six Car Pub and Brewing hosts trivia nights and has a rooftop bar serving craft cocktails made with local spirits. sixcarpub.com
Travels with Kiyomi
April Schupmann, an Austin-based drummer, has traveled across Texas and beyond with her cat, Kiyomi.
How did you start traveling with Kiyomi?
I decided to go spend some time with my brother in California, but with the pandemic, I didn't want to fly and I didn't want to leave her behind. So, I just put her in the car.
What were the biggest challenges?
Making sure she'd be comfortable in the car for long stretches. Also, a cat on a leash is not the same as a dog on a leash. You can't not pay attention for a second. I bought a cat carrier backpack for hiking. We were on the road together for three weeks, and she handled it fine.
What activities have you done with her out­doors?
We hiked at Palo Duro Canyon—that was really fun—and went fishing at Lake Colorado City State Park.
What's her favorite activity?
Sniffing around for lizards. She also likes rolling around on the ground in the sun.
Any tips for others who want to try it?
I turned the back of my hatchback into a mini-camper, with cubbies and parts of her cat tower, so we can hang out there. Before we left, I put the harness on her around the house and walked the neighborhood. I also started her young. Any cat is adaptable with enough patience.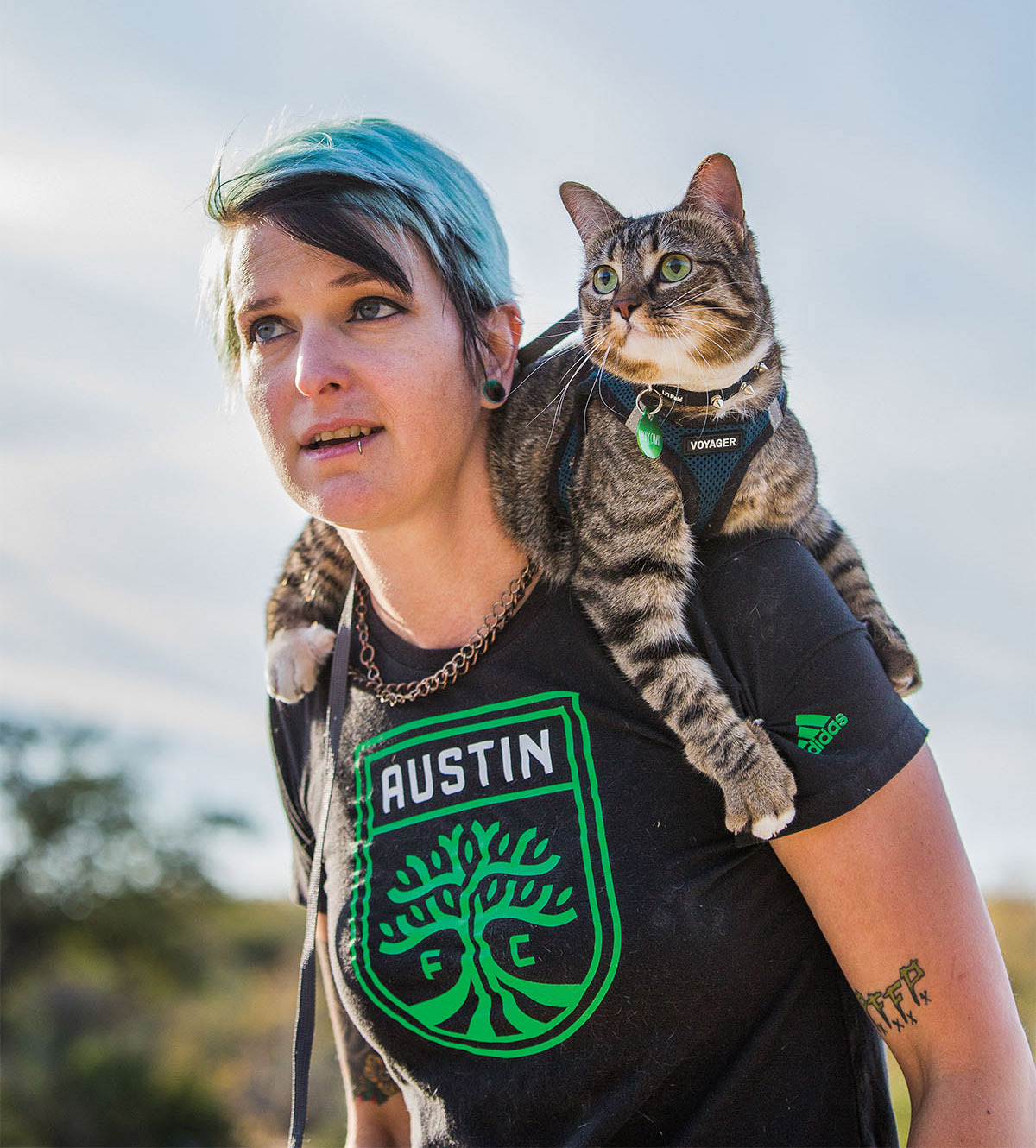 Help your pets travel in style and comfort with these products from Texas-based companies.
Product photos by Brandon Jakobeit
Scales and feathers
From hawks at Renaissance festivals to snakes at reptile breeder expos, plenty of Texas events involve live animals—and those animals have to get there somehow. Moving wildlife requires special considerations that other pets don't always need.
Just ask Kevin Gaines (pictured here with an aplomado falcon). The owner of Bastrop's Sky Kings Falconry and nonprofit Wildlife Revealed has a history of moving animals around, including a stint in the 2000s working with Jim Fowler, the host of the TV show Wild Kingdom. Part of that job involved traveling with large mammals like wolves, bears, and big cats. All of them were transported in welded, wheeled enclosures and loaded onto horse or cattle trailers. "It was quite the task," Gaines says. "With mammals, you end up shoveling a lot of…things."
These days, Gaines mostly travels with raptors as part of his falconry programs, which include educational shows, guided hunts, and scaring the bejesus out of nuisance bird flocks. The raptors travel in modified pet crates with a perch in the middle, and don't much mind the swaying of the road.
Still, you have to take precautions. While some hawks are old hands at travel and hop right into their crates, newer birds require more preparation to prevent stress. "Some­times you have to black out the doors and windows so that birds don't get overstimulated," Gaines says. You also have to keep the crates a fair distance from one another, and if you're transporting smart birds like ravens and vultures, make sure they can't reach anything from their crate: "They like to shred things," Gaines explains.
Transporting reptiles requires thinking very differently, says Maria Rodriguez, owner of Tip O' Texas Geckos. Rodriguez breeds a variety of gecko species from New Caledonia, from 50-gram crested geckos to 14-inch Leachie geckos. When traveling to reptile expos, she packs each lizard into a plastic deli cup with air holes and a wet paper towel on the bottom to keep the humidity-loving geckos happy. The cups are then carefully packed into cardboard boxes before being taken on the road.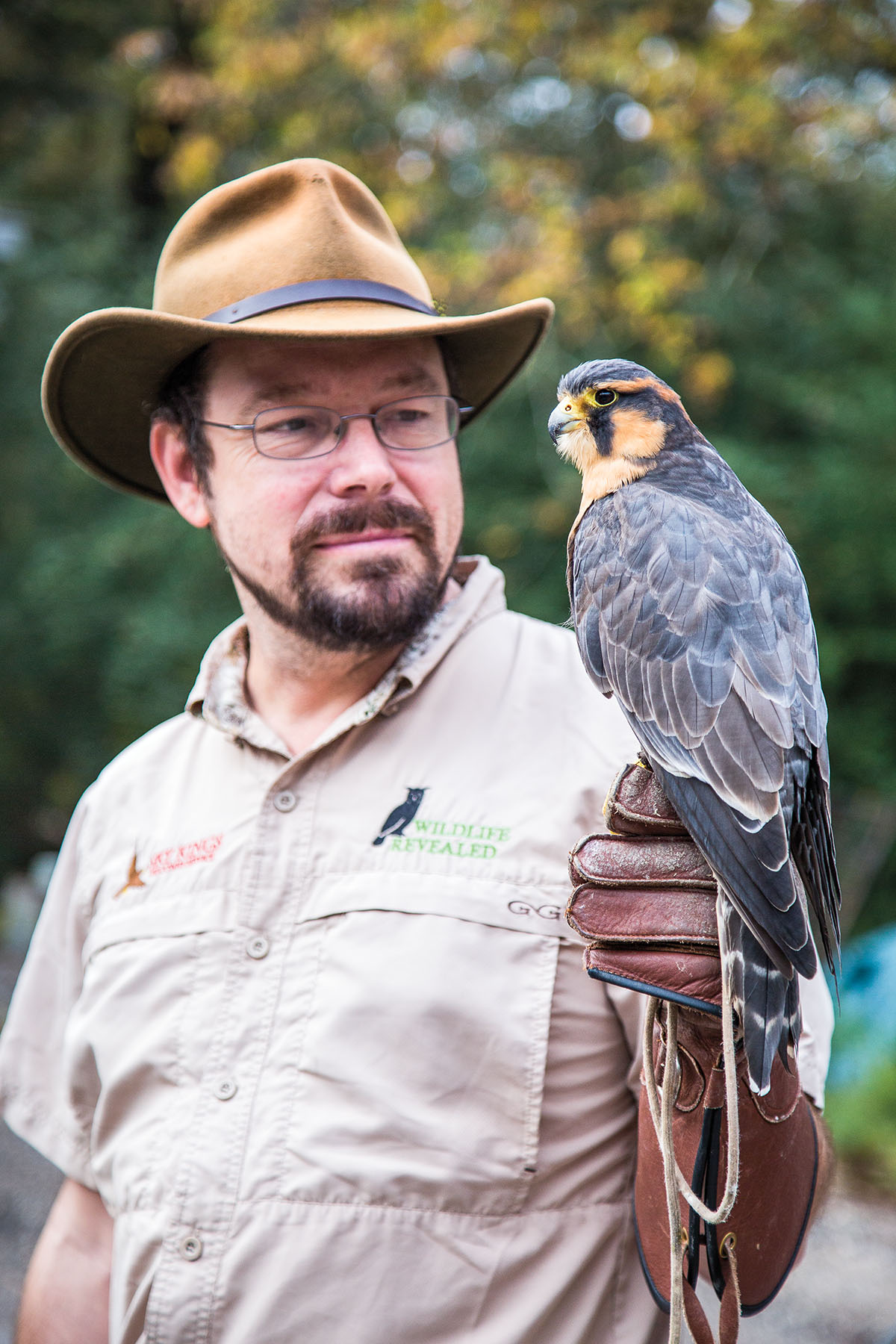 While the geckos Rodriguez works with don't mind hotel-room temperatures, people who travel with snakes or desert-loving lizards, like bearded dragons, need to keep them warm with electric mats, wrapped hand warmers, or hot water bottles. Some people travel with lizards in carriers or keep them in a vest and leash, but you absolutely cannot leave them unattended in a car.
Gaines has also worked with considerably larger animals: 4-foot caimans and adult alligator snap­ping turtles. These went into specialized plywood boxes or 4-foot oval horse troughs, with a bit of water on the bottom and hinged wire lids. "I prefer the snakes," Gaines says. "Some pack down so small that you can keep them in your vehicle."
The weather doesn't always cooperate during transports. Once,­ ­traveling between California and Texas, Gaines ran into deep snow. That night, he got up every hour to swap out the propane bottles in the animal trailer to keep them warm. Everyone made it back safely.
"It's definitely not like just throwing your dog in the car and going," Gaines says. —Asher Elbein
Cottonwood Houston
Photo by Melanie Grizzel
PLAY
At Cooper Lake State Park, pets can come along on kayaks available for rent, join you on the fishing piers, and swim in the lake outside designated swim areas (on leashes). Pets are also welcome at scheduled events such as geocaching, and the park has dog-friendly guided hikes and even, occasionally, hikes with animals from the local shelter. tpwd.texas.gov
Dallas Heritage Village is a 20-acre park with a collection of homes and structures from 1840-1910. Leashed pets are allowed outside in the park, and attractions include guided tours, blacksmithing classes, and children's programs. dallasheritagevillage.org
While pets are not allowed in buildings at the Waco Mammoth National Monument, they can enjoy the paved trail, picnic area, and grassy knolls. nps.gov/waco
HIKE
The hike-and-bike trail at Cedar Hill State Park southwest of Dallas has three options for a hike with your pet—3, 8, and 12 miles in length—winding through woods, up hills, and along the shore of Joe Pool Lake, which has lighted fishing jetties. tpwd.texas.gov
STAY
Vrooman Ranch is a working farm with pond- and creekside campsites that have water, fire pits, and picnic tables. Beef, chicken, eggs, and firewood are available for purchase. The site offers ranch tours, and rooms start at $40/night. ­­hipcamp.com/­texas/vrooman-ranch
Texican Court Hotel in Irving features a tequila bar and live music on weekends. Rooms with pet packages start at $209/night and include a "pup snack box" of assorted dog treats, a $10 credit toward the minibar per night, and a 2 p.m. checkout. texicancourt.com
A boutique hotel in downtown Fort Worth, The Harper offers standard rooms from $179/night. There's no extra charge or weight limit for pets, and pet amenities include plush beds; food and water bowls; a concierge list of nearby pet-friendly restaurants and parks; and a designated director of pet relations. theharperfortworth.com
SIP
Celestial Beerworks in Dallas welcomes pets of all kinds, both indoors and out, at its bright taproom. The brewery provides dogs with treats made from leftover grains. celestialbeerworks.com
Catch live music while enjoying local beer and pizza on the dog-friendly patio at Redbone Magic Brewing in Texarkana. redbonemagic.com
Experience live metal shows, sing karaoke, and drink until 2 a.m. at Deep Ellum's dog-friendly dive bar Reno's Chop Shop. facebook.com/renoschopshop
EAT
The Shacks Dining and Dog Park in The Colony, a Dallas suburb, is a dog-friendly venue with a choice of six restaurants around a 1-acre off-leash dog park. shacksaustinranch.com
At Woodshed Smokehouse in Fort Worth, breakfast and lunch items are available with foods like poached eggs, homemade buttermilk biscuits, and pulled pork sandwiches. Dogs are encouraged to try a variety of rawhide, bone, and treat options from the pup menu. ­woodshedsmokehouse.com
Nestled in The Colony, Truck Yard features a brewery and beer garden, a bar, a toilet seat museum, karaoke and poker game rooms, and live music. The venue also rotates two to four food trucks daily, and it welcomes fluffy friends to sit on the patio and at any seating areas outside. A variety of dog treats can be found at the bar counters. ­truckyardthecolony.com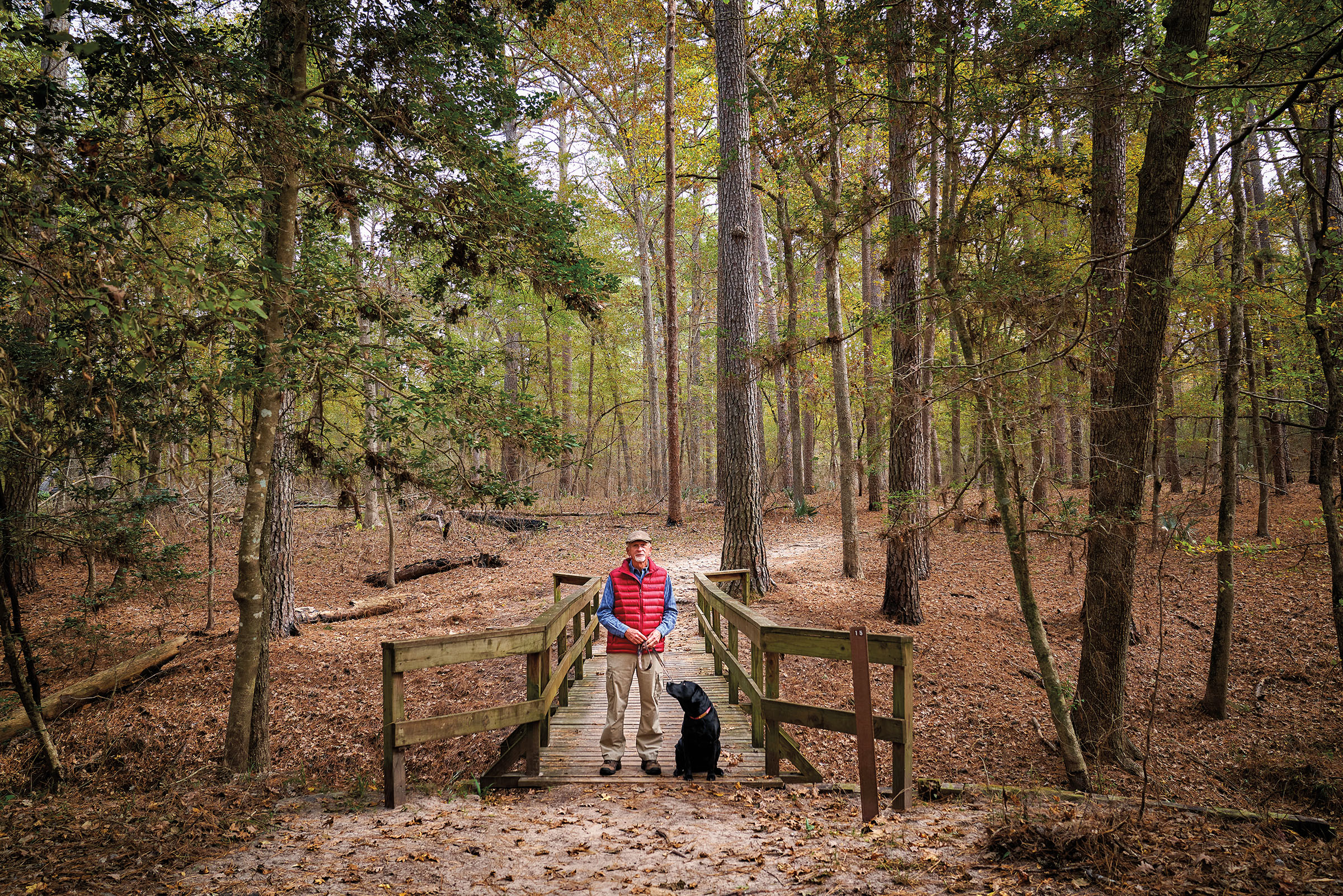 Huntsville State Park Huntsville
Photo by Dave Shafer
PLAY
Explore the Village Creek Paddling Trail, made up of 21 miles within the Big Thicket National Preserve, past sandy beaches and beneath towering pines. Multiple access points allow for shorter jaunts. Jayhawkers Canoe Trails provides canoe and kayak rentals, shuttles, guided tours, and camping. tpwd.texas.gov; eastexcanoes.com­
HIKE
Pine forests surround Lake Raven at Huntsville State Park, where leashed pets are welcome on 20 miles of trails, including an 8.4-mile loop hiking trail as well as shorter routes. Canoe and kayak rentals and a fishing pier are available for use, although pets are not allowed in the lake. Check online for occasional hike-with-your-pet and local shelter animal events. tpwd.texas.gov
STAY
Davy Crockett National Forest Ratcliff Lake Recreation Area campground has picnic tables, water, and restrooms with showers. The 20-mile Four C National Recreation Trail starts at the campground. Electric sites are $20/day, and nonelectric sites are $15/day. fs.usda.gov
Big Thicket National Preserve offers a backcountry camping experience with 10 hiking trails and three paddling trails. nps.gov/bith
Amenities at Hotel Zaza in Houston's Museum District include artistic suites and guest rooms. Standard rooms start at $240/night. All pets are welcome with a $150 cleaning fee per pet and must be supervised or crated at all times. hotelzaza.com
Vineyard Court Hotel, a boutique hotel in College Station, features a Zen garden and spacious suites close to Texas A&M University. Dogs stay free and have access to an on-site dog park. Suites start at $89/night. vineyardcourt.com
EAT
Situated in downtown Texarkana, Hopkins Ice House welcomes locals and visitors as well as their animal companions. Food options include burgers, sandwiches, salads, hot dogs, and hearty entrées. Dogs are welcome to join their owners on the patio, though they might try to snag a bite of a Coney Island chili dog or grilled chicken breast. hopkinsicehouse.com
Dig into bayou delicacies like fried alligator and enjoy local live music on the dog-friendly patio at GuadalaHARRY's Bar and Grill overlooking Lake Conroe in Willis. guadalaharrysbarandgrill.com
SIP
The first craft brewery in Tyler, True Vine Brewing serves more than 15 craft beers on tap, as well as a selection of wines and nonalcoholic beverages. Both locations of the brewery are kid- and pet-friendly, though parents of either type may prefer the Earl Campbell Parkway location for its park, perfect for running off energy. Refuel with a pizza and stay for the live music on the weekends. truevinebrewing.com
East Texas Brewing in Tyler has an eclectic tap list, and you can enjoy a cold brew on their dog-friendly patio. etxbrew.com
Sip spirits distilled on-site while listening to live local artists at pet-friendly Front Porch Distillery in Nacogdoches. frontporchdistillery.com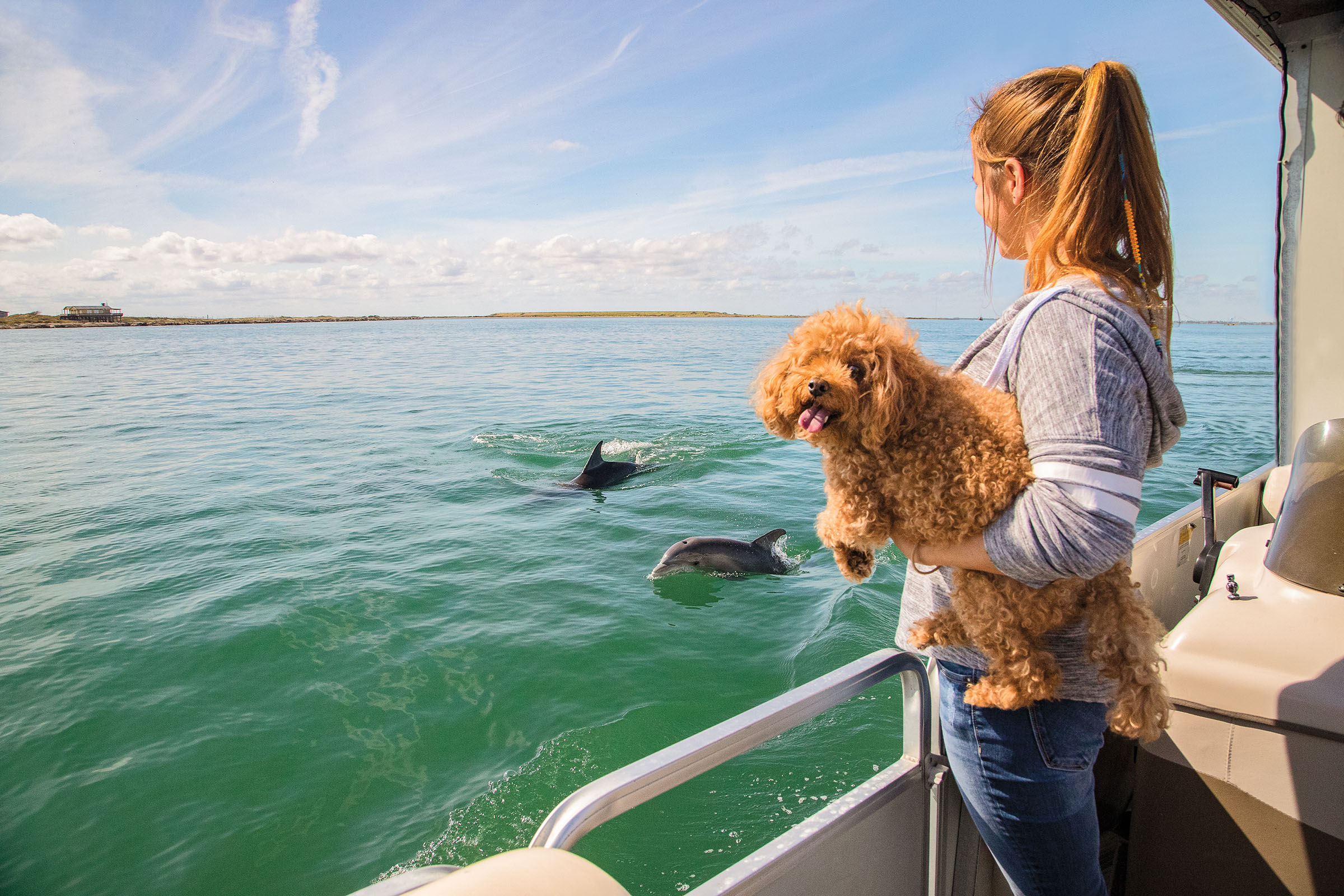 Henry's Charters Dolphin Tour South Padre Island
Photo by Larry Ditto
PLAY
The South Padre Island Sealife Nature Center welcomes dogs, cats, potbellied pigs, parrots, and even gerbils on its six-person boat for dolphin tours in the Laguna Madre. spinaturecenter.com
Hip Houston hangout Axelrad hosts regular live music shows, art installations, film screenings, and festivals where leashed and well-behaved dogs are welcome. axelradbeergarden.com
Captain Henry Rodriguez of Henry's Charters on South Padre Island takes guests and their pets on dolphin tours, fishing expeditions, and more. facebook.com/henry.charters.5
South Padre Island beaches allow pets on a leash, and SPI Sessions welcomes pets for surf or SUP lessons and rentals. The business reports at least one surfing cat. (The cat's name was Occy—Instagram @iamsurfcat. Occy sadly passed away, but he had a proper surfer burial and celebration via the Hawaiian tradition of a ceremonial paddle-out.) spisessions.com
Galveston's many beaches also welcome pets, and Seawall Beach hosts the Ohana Surf Dog Competition each July. ohanasurfandskate.com
Drive onto the Galveston-Port Bolivar Ferry from State Highway 87, roll down the windows, and spend the 18-minute ride inhaling the sea air with your buddy. The free ferry operates 24 hours a day; check wait times at houstontranstar.org.
The Texas Transportation Museum in San Antonio permits leashed pets to visit the museum and take a train ride with their families. The volunteer-­led museum is home to a variety of model trains, railroads, and automobiles. Visitors can tour the museum's many exhibits and learn about the history of each model and artifact, and how developments in transportation technology shaped and continue to impact daily life. ­txtransportationmuseum.org
HIKE
Leashed pets are allowed on hiking and paddling trails, fishing areas, and beaches in Galveston Island State Park, but not inside park buildings. tpwd.texas.gov
STAY
Padre Island National Seashore welcomes leashed pets in all camping areas and on its 60 miles of beach, but not in park buildings. Rinse-off showers are available near Malaquite Pavilion. nps.gov/pais
I.B. Magee Beach Park in Port Aransas offers RV and tent campsites with full hookups near popular fishing spot Horace Caldwell Pier. portaransas.org/­­listing/ib-­magee-beach-park/801
The Fairmount in San Antonio allows well-groomed pets under 35 pounds, and staff can recommend nearby pet-friendly activities. Standard rooms start at $149/night, plus a $75 pet fee. fairmountsa.com
La Posada Hotel in the center of Laredo has two award-winning restaurants on-site, housed in 19th-century buildings. Rooms start at $121/night, and pets under 15 pounds are welcome with a $35 fee per pet. laposada.com
EAT
A stroll through Houston's Montrose neighborhood takes you past pup-filled patios where locals and visitors can enjoy a casual brunch or cocktails in the company of their four-legged companions at venues like the Empire Café, open daily morning to night. ­empirecafe.com
Executive Surf Club in Corpus Christi is a dog-friendly venue that offers up American cuisine with daily drink specials that include beer and cocktails. Situated just off the Corpus Christi shoreline, guests can grab a meal and listen to local musicians. On the patio, leashed dogs can join the fun. ­waterstmarketcc.com/executive-surf-club
Overlooking the Laguna Madre, Lobo Del Mar Café on South Padre Island serves breakfast, lunch, and dinner daily. The restaurant features a variety of menu items, including seafood, burgers, soups, and salads. While there's no dog menu, pups are welcome to sit on the patio and patiently wait for someone to accidentally drop food. lobodelmarcafe.com
Houston's Cottonwood welcomes families and four-footed family members to the patio of the neighborhood restaurant that features live music, deck games, and TVs streaming live sports. The pub-like venue offers more than 40 taps and a full bar. Steaks and pork chops are on the menu, as well as burgers, sandwiches, and appetizers. cottonwoodhouston.com
Galveston Seawall Galveston
Photo by Tom McCarthy Jr.
SIP
Misfit Outpost is a pet-friendly brewery and restaurant in northwest Houston featuring live music and TVs playing sports. facebook.com/misfitoutpost
Paying homage to owner Nathan Bitz's 26 years as a Navy pilot, Aerodrome Distilling in Corpus Christi features an aviation-themed tasting room that offers water bowls for furry guests. Aerodrome serves up small-batch bourbon, rye, rum, and vodka.­ aerodistilling.com
Corpus Christi's mermaid-themed Lorelei Brewing Company pours some of the best beers in town and welcomes all animals to its indoor and outdoor spaces. Lawn, board, and arcade games are also available. loreleibrewing.beer
Your leashed dog is in for a treat at Galveston Island Brewing, where doggie toys are provided in the yard and branded leashes and collars are available for purchase. galvestonislandbrewing.com
With experimental beers like Mango Chamoy Gose and Green Apple Sour, Brewsome Brewing is putting McAllen on the Texas craft beer map. Leashed pets can watch their owners take on the 30-beer celebration flight on the deck lit with fairy lights. brewsomebrewery.com­
From the February 2022 issue