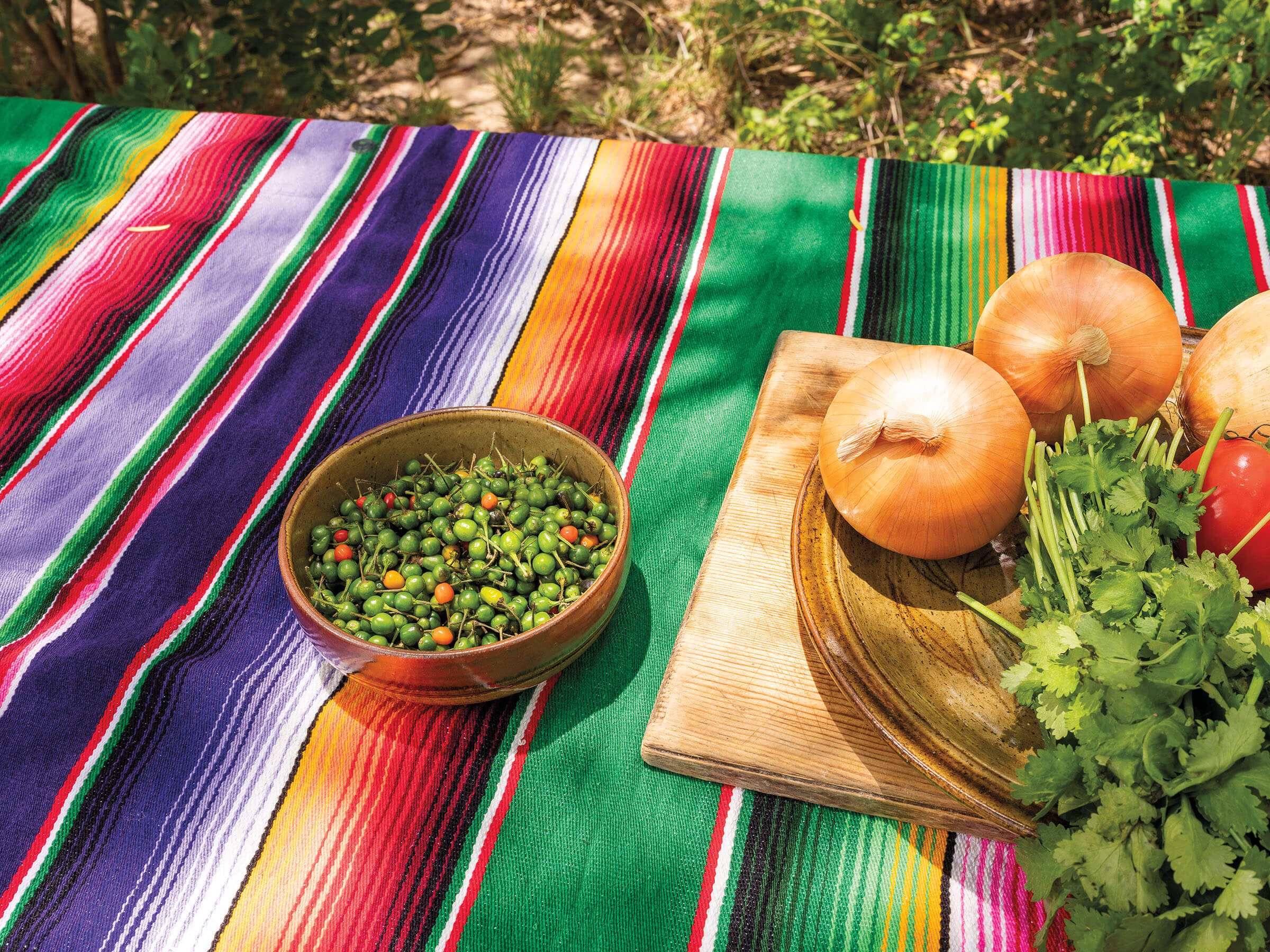 Some Like It Hot
Known as the "mother of all peppers," Texas' native chile pequin is a tiny plant full of fierce flavor
By Cat Cardenas
Photographs by Brenda Bazán
"It's like a sparkler,
spraying embers in the air," Benito Treviño says excitedly, as he strolls through the grounds of his sprawling ranch in the Rio Grande Valley. "That's what it's like when you bite into a chile pequin."
The 75-year-old botanist from Rio Grande City, a town of around 15,000 people about an hour west of McAllen, delights in caring for each of the hundreds of plants that thrive at his Rancho Lomitas Native Plant Nursery. There are the bougainvilleas and scarlet sage, both saturated in color; the sturdy and fragrant lantana; the rare star cactus; and the sprouting seeds he takes methodical notes on. But only the pequin, in all its tiny glory, is part of his weekly ritual. "When my wife calls me for dinner, I'll walk 75 yards from the kitchen over to my nursery to pick some chile pequin," he says, grinning. "I do that almost every day because they're that good."
RANCHO LOMITAS NATIVE PLANT NURSERY
621 W. La Sagunada Road, Rio Grande City. To schedule a visit, call 956-486-2576 or email [email protected]; rancholomitas.com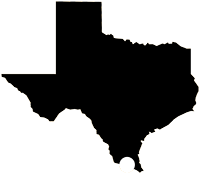 Editor's Note
A few readers have raised concerns that the chile pequin is not in fact the state's native pepper, but is instead the chile tepin. After checking with botanical experts at the Useful Wild Plants of Texas and the Wildflower Center, we confirmed that these names are often used interchangeably, along with many others, based on region and variations throughout the state.
The pepper—which was declared the official state native pepper in 1997 by then-Governor George W. Bush—grows wild throughout the South Texas brushland where Treviño was born and raised. No bigger than the tip of a pinky finger, the pequin can pack a mean punch, clocking in at 50,000 to 100,000 Scoville Heat Units—up to 10 times hotter than the jalapeño. Some may know it as the pequin, chile tepin, chile petín, bird pepper, bird's eye pepper, or even the chiltecpin (a name used by Nahuas, descendants of the Aztecs, that means "flea pepper"). But whatever you call it, the minuscule pepper is beloved across the state, particularly in Mexican American households where it's a key ingredient in a number of culinary staples and home remedies. Whether it's a deep green or a mature, firecracker red, the pepper can be pickled; dried; ground into seasoning; used in jellies, sauces, and salsas; or just eaten whole.
The fiery chile is unfussy and blooms in late spring through fall, producing in abundance once the temperature drops below 90 degrees. The pequin flourishes in the hotter regions of Texas, Arizona, Florida, Mexico, and Central America. It often pops up along roadsides, in the cracks of sidewalks, and on lawns, thanks to the various birds, especially mockingbirds, that help disperse its seeds. Unlike humans and other mammals, birds lack the capsaicin receptors that give hot peppers their eye-watering kick.
Despite its ubiquity, the pequin is often taken for granted in favor of other peppers more easily found at the grocery store. But for Treviño, the chile was a fixture of his upbringing—an ingredient so central to the food he ate that it's almost inconceivable to imagine many of his favorite dishes without it. His mother would deposit the chiles she harvested from their yard into a molcajete, where she would grind them up with tomatoes and onions to make fresh salsa. "My father always preferred the hottest ones," he recalls. "They grew under the mesquite and granjeno trees on our property. We liked them so much that it was almost like we didn't want to eat a meal without them."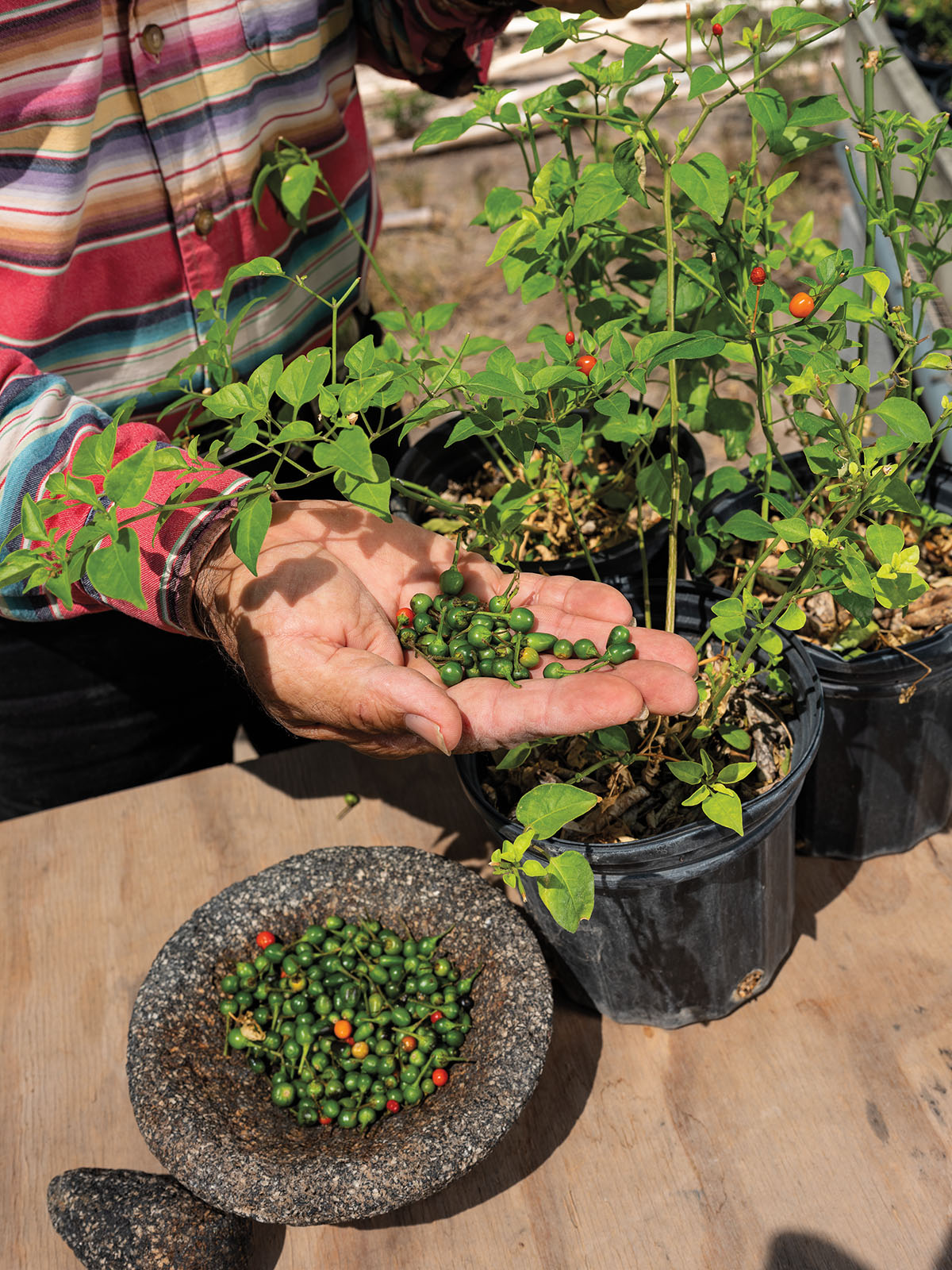 Food blogger and South Texas native Vianney Rodriguez recalls the pepper being a rite of passage in her kitchen growing up. Even now, she incorporates it into different dishes and regularly prepares jars of pickled pequins for her dad. "It was your first chile," she says. "From there, you could graduate onto the jalapeño or serrano, but, even then, the pequin was always on the table."
Rodriguez and her siblings were trained by their father on exactly what to look for in a pequin—not too big, not too small, not bright green, not too red. And for years, no matter what changed at their family home in Aransas Pass, the plucky chile plant remained steady in their front yard. "Between droughts and freezes, it was so resilient," she says. "The dogs or cats would run through and trample it, but it would still be there holding on for dear life. I used to think, 'Wow, we have this special little plant,' but then, come to find out, the entirety of South Texas loves it, too."
As the state's only native pepper, the pequin and the centuries that were spent growing and cultivating it forever transformed Texas cuisine as we know it. "People have been growing this pepper for thousands of years," says Austin-based botanist Scooter Cheatham. With his research and writing partner Lynn Marshall, Cheatham has spent decades creating a multivolume encyclopedia of Texas' useful wild plants.
Hot Stuff
Ranking some of the most common peppers used in Texas on the Scoville chart
*Scoville rankings listed are according to Useful Wild Plants
Pepper People
Artisans, ranchers, and distillers get creative with the state's native pepper
Brushfire Farms in San Antonio specializes in sweet jams and glazes—all given an extra kick from chile pequins sourced from the Rio Grande Valley. Their Prickly Pear Chili Pequin Jam is a customer favorite, and great for slathering on a buttermilk biscuit or to spice up your next barbecue. brushfirefarms.com
Texas Iberico's array of cured meats are sourced by third-generation rancher Ashly Martin at the Trails End Ranch in Comfort, where her Iberico pigs munch on grass, prickly pear, acorns, and mesquite. Their chile pequin and honey-cured coppa blends the marbled, traditionally Italian cold cut with bold Texas flavors. texasiberico.com
Ingram silversmith Clint Orms typically specializes in elaborately engraved belt buckles and jewelry, but he's also accommodated requests for custom pillboxes, specifically meant to store dried chile pequin. clintorms.com
If spicy just isn't enough, Texas Chile Dulceria in Donna creates mouth-watering dulces enchilados—sour rings, belts, worms, and more, all covered in chamoy and chile mixtures. texaschiledulceria.com
In the 60-page section Cheatham and Marshall dedicated to the pequin, or capsicum annuum, they note that the plant has come to be known as the "mother of all peppers." It's the genetic ancestor to practically every pepper we eat. From the bell to the poblano to the jalapeño, all are essentially offshoots of the pequin. "Imagine all of the peppers that are essential to not just Tex-Mex but North American cuisine," Cheatham says. "Every one of them is owed to the chile pequin. Take it away, and you've wiped out 70% of American food."
The pequin has been a crucial part of American diets since pre-Colombian times, and European settlers quickly developed a taste for the heat. By the early 19th century, Thomas Jefferson, who kept extensive records of his garden, noted that he was growing capsicum from seeds given to him by friend and Army captain Samuel Brown. Stationed in San Antonio, Brown was so pleased with the pequin that he remarked in a note to Jefferson, "I find this taste growing so fast that it will soon become as essential to my health as salt itself." Jefferson went on to send some of the seeds to a nursery in Pennsylvania, where these descendants of the pequin were grown as ornamental potted plants. "Nearly 200 years after Jefferson got his seeds from Texas, offspring of these plants are still going strong in Pennsylvania," write Cheatham and Marshall.
Over time, spice fanatics have continued to seek out the heat. The YouTube series Hot Ones has earned a loyal fanbase eager to watch celebrities make their way through a gauntlet of increasingly hot chicken wings. Elsewhere, there have been countless challenges, from the viral One Chip challenge to San Antonio's 4 Horsemen Challenge, in which people eat the "hottest burger on the planet." And even after creating the Carolina Reaper (formerly the hottest pepper in the world) in 2013, South Carolina-based pepper breeder and PuckerButt Pepper Company founder Ed Currie kept going, eventually creating Pepper X, which is reportedly 3.18 million Scoville Heat Units. None of this would be possible without the pequin.
Today, at Treviño's nursery, the pequin remains one of his most popular items—a point of pride considering his first years in the business weren't easy. "At the time, people weren't very interested in native plants, but that's where my heart was, so I kept on growing," he says.
For the majority of his life, Treviño has worked to help people see the South Texas brush not as harsh and unforgiving, but as a landscape abundant with culinary and medicinal resources. The sixth of 15 children, Treviño's family has lived in this part of the state for more than two centuries. In that time, they learned to read the land: The willow bark that grew near the water could be used for pain relief, dried mesquite leaves could treat indigestion, and the pequin could be ground into a paste to help treat arthritis.
For so long, this knowledge was passed down by word-of-mouth within families, but as interest waned and increased development in the area wiped out many of the native plants, Treviño saw the importance of sharing his knowledge with future generations.
"These plants are a part of our culture, our survival, our history on this land," he says. "If we don't pass on our knowledge, it will disappear."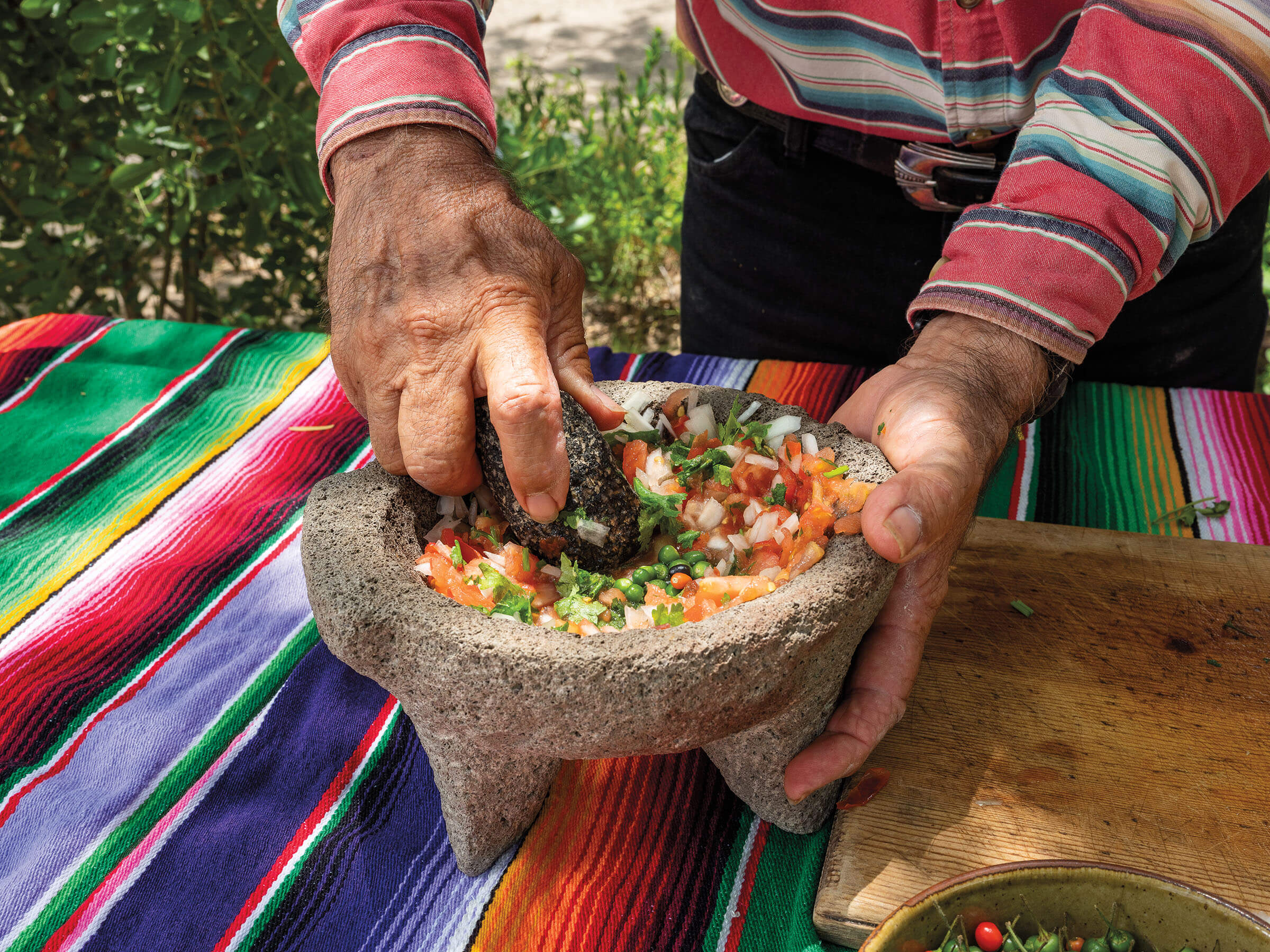 Recipe: Chile Pequin Salsa
A staple in many Texas households, homemade chile pequin salsa pairs great with chips or tacos. This recipe is Benito Treviño's own creation.
Planting Pequins
Benito Treviño offers growing tips
When a bird eats a chile pequin, the pepper goes through the digestive tract, which treats its seeds with acid. The seeds are ready to germinate once the bird passes the pepper. But a seed that hasn't been treated with acid takes longer to germinate. Here's how to mimic nature:
1. Take 3/4 of a teaspoon of potassium nitrate and dissolve it in 200 milliliters of water.
2. Place the chile seeds in mixture, stirring it every few hours.
3. Take them out after four hours, pat them dry, and plant them. Within a few days, you'll have lots of chiles sprouting.
From the October 2022 issue