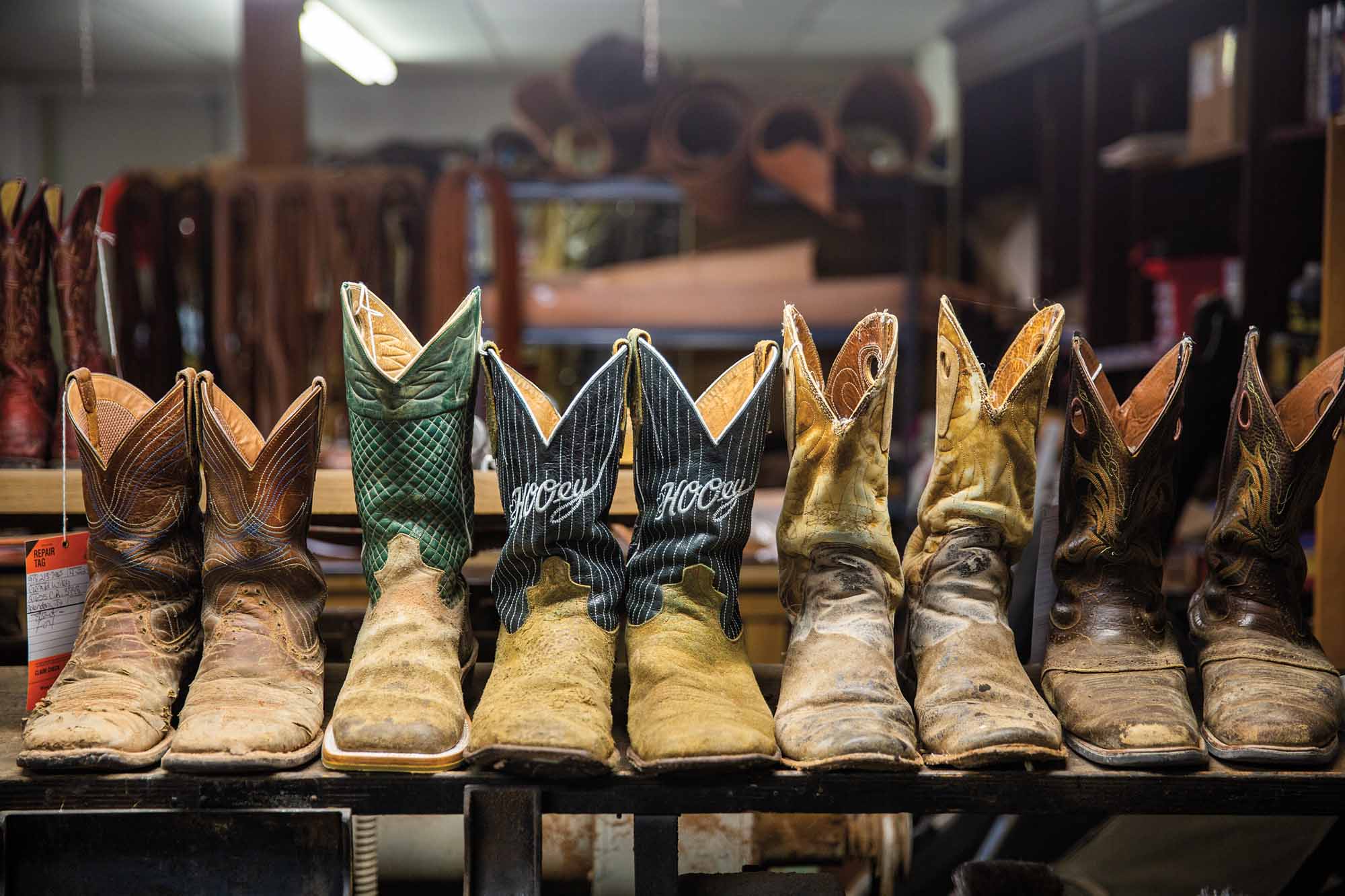 The rodeo clown dabbed at the sweat slicking his forehead, careful not to smudge his makeup. It was a Friday afternoon in June, and a posse of youngsters and parents had gathered to meet the clown on the front porch of West of the Pecos Saddlery. Terry Holder looked on in amusement. The 66-year-old shop owner and saddlemaker had been busy all week, selling tack and other gear to cowboys who had streamed into town for the annual Pecos Rodeo. He was happy to pause for a moment, a smile lifting the corners of his gray mustache as he watched the kids peer inside the padded barrel that protects the clown from gore-happy Brahman bulls.
The reprieve didn't last long. A cowboy approached carrying a dusty, busted-up hat. Holder took the misshapen felt, briefly inspected it, and then went to work.
Back inside the shop, Holder strode past glass cases displaying sterling silver buckles and handsome blades; shelves packed with toy horses, metal tractors, and Hank the Cowdog books; and rows of spurs, blankets, and lariats. The leather goods—from chaps and gloves to wallets, belts, bridles, and saddles—imbued the space with its characteristic smell. At the far end of the store, Holder turned on his Jiffy steamer, held the hat's brim to the fine warm mist, and began to work the felt with his fingers. Slowly, the hat returned to a respectable taco shape. He finished and handed it back to the owner. The cowboy stuck it on his bare head, peeked in a mirror, grinned, and shook Holder's hand.
West of the Pecos Saddlery, located at 123 S. Oak St. in Pecos, opens Mon-Fri 10 a.m.-5:30 p.m. and
Sat 10 a.m.-1 p.m. 432-448-6844; westofthepecossaddlery.com
The West of the Pecos Saddlery, like other saddleries across the state, will rehab your crumpled hat or build you a new seat for your next trail ride. But saddleries are much more than just gear shops. They're community gathering spots for cowboys and agrarian types from across a region, a place for far-flung neighbors to stop by for a coffee and a chat. At West of the Pecos Saddlery, on the second and fourth Tuesday of every month, the shop becomes a music venue with both locals and blow-ins from the oil patch stopping by with guitars and other instruments. They push aside the merchandise, set up chairs, and play songs. "Everybody sits down and listens," Holder said, "but they can get up and dance if they want to."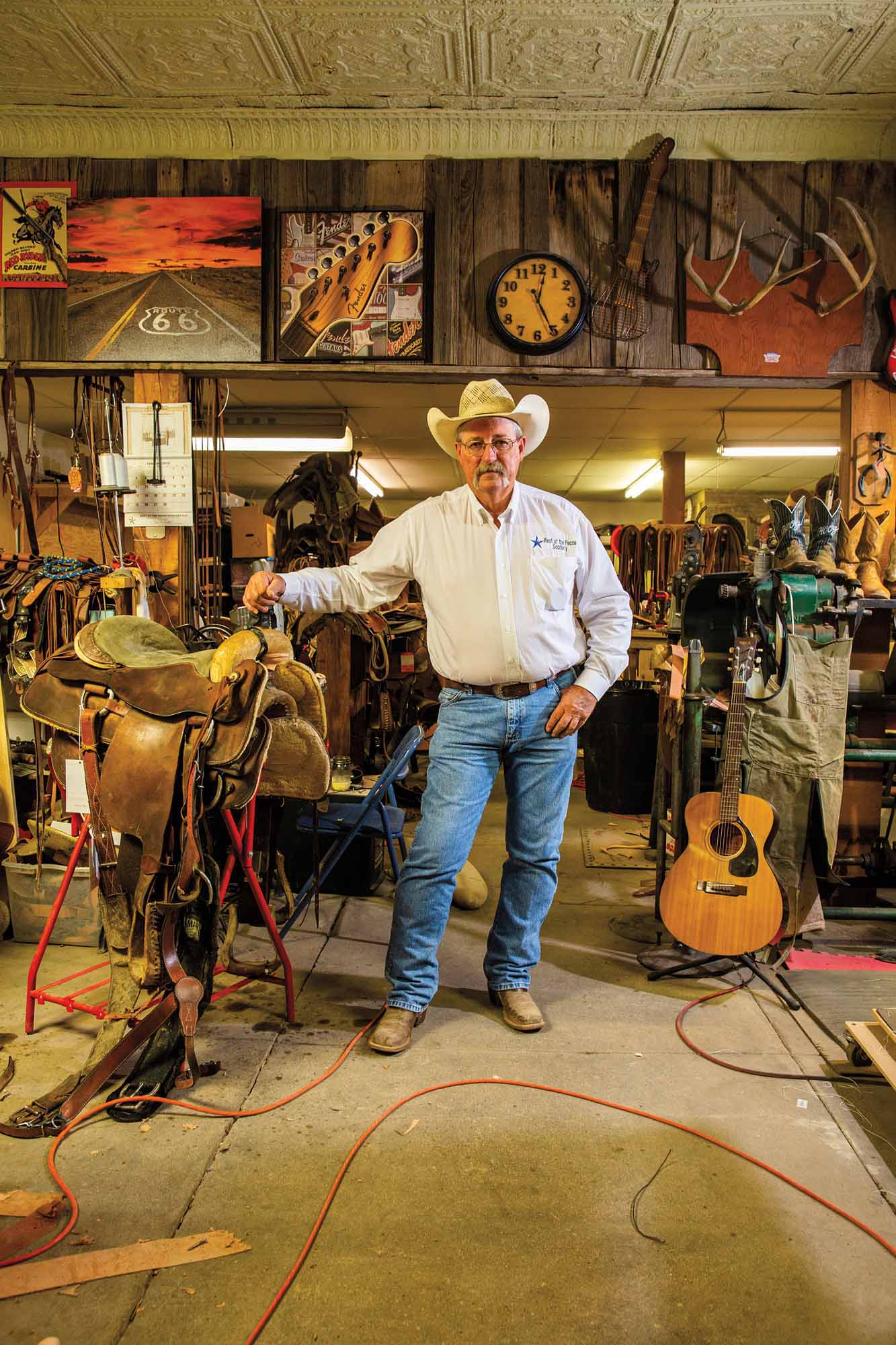 For his part, Holder plays the bass guitar during the jam sessions, a natural fit for a guy who spends his days working with his hands. The light blue Wranglers he wears are held up by one of his handmade belts. He carries a pistol tucked into a leather holster—he made the holster too. In fact, some 25 percent of his time is spent cutting and tooling custom leather pieces. Another quarter is devoted to cobbling old cowboy boots back to nearly new condition. But the backbone of his business is saddles.
"I've been working on saddles since '73," Holder said as he lifted one from among the several surrounding him. "This one here's a barrel saddle. I'm building it for a girl. One of these days, she might get to the National Finals Rodeo. If she does, she'll be riding
this saddle."
"Everybody kind of thinks this is a dying art, which in some respects it might be, but there's still a lot of guys around making saddles."
Holder was born in New Mexico, graduated high school in the panhandle of Oklahoma, and learned how to build saddles in the Texas Panhandle. A veteran cowhand named Junior Gray taught him the craft after they had met while cowboying together at the Reynolds Cattle Company near Dalhart. But Holder didn't go into saddlemaking full-time. Among other gigs, he spent 10 years at Mississippi State University helping farmers write agricultural grants and later served as the county extension agent for Reeves and Loving counties. 
Throughout his various careers, working on saddles remained a reliable source of extra income—and a rewarding hobby. Some guys tinker under the hoods of cars. Holder likes assembling saddles from scratch. Eight years ago, he finally decided to open his own saddlery. He moved his tools out of his barn and into a retail space in downtown Pecos, right across the street from the West of the Pecos Museum, which chronicles local history from Old West gunslingers to the modern-day oil boom. 
Today, Holder's workspace is what Santa's shop might look like if all kids dreamed of becoming barrel racers, bronc riders, or steer ropers. There are mounds of tiny tools, both small and industrial-size sewing machines, two finishing machines for grinding and burnishing boots, and scraps of leather ranging from 1-inch strips to massive hides. Customers browsing the store's racks of straw hats or the wall of nylon ropes can watch Holder foxing new leather onto worn-out boots, measuring a new saddle's fenders—the leather pieces that shield a horse from the rider's legs and connect to the stirrups—or carefully tooling acorns or floral patterns onto a belt or holster.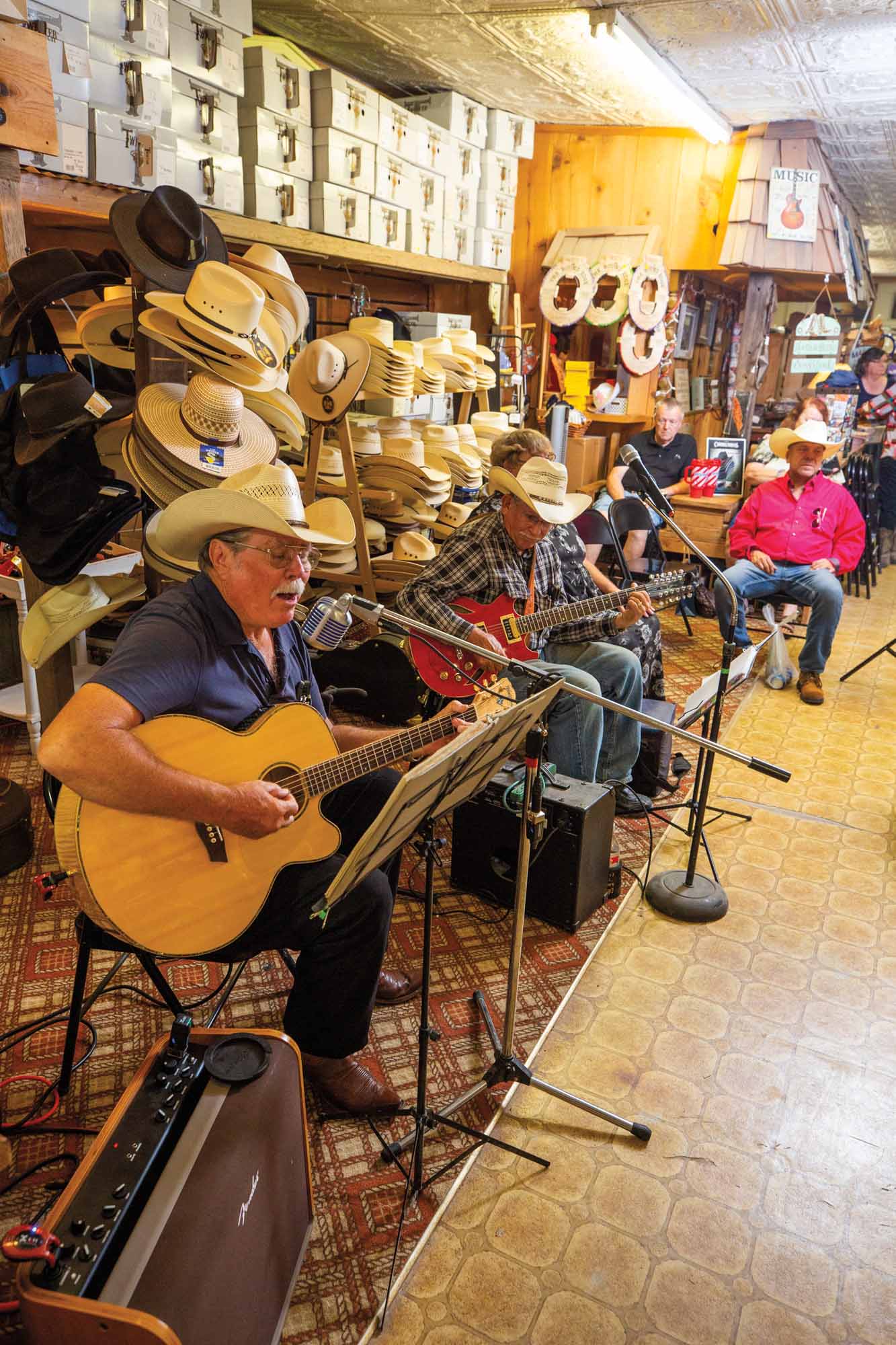 Holder is continuing a long-standing Texas tradition of leather craftsmen and saddlemakers. He can talk at length about the history of his craft: basket stamps (a pattern that resembles a woven basket) and other designs that have come in and out of vogue, the old masters who perfected certain techniques. Yet the service he and other saddlemakers provide today is just as essential to the men and women who make their living on horseback as it was in the past.
"Most of my saddles go to working cowboys," Holder said. "I don't send any to any big-shot people." While that may be true, it's a modest statement. Cowboys from all over Texas, and as far away as Louisiana, Arkansas, and Mississippi seek out his saddles. It's not exactly a quick turnaround, either. "If I had nothing else to do," Holder said, "I could probably get one done in 15 to 20 days." (A belt, on the other hand, takes only a couple of hours.)
Holder motioned to a saddle that he'd nearly finished. Rather than the typical smooth, slick leather, this client had opted for the rough, unfinished look of coarse suede. "This ol' boy's gonna be breaking a lot of horses and he likes that rough-out feel," Holder said. "But I talked him into getting the basket stamp on there, where at least it'll be a little
bit pretty."
"Everybody kind of thinks this is a dying art,  which in some respects it might be, but there's still a lot of guys around making saddles."
While Holder still does most of the work himself, he has started mentoring a few others at the shop. He said there's no shortage of folks interested in learning. In fact, each October, he attends a trade show for bootmakers and saddlemakers in Wichita Falls. It's a vibrant scene. "Everybody kind of thinks that this is a dying art," Holder said, "which in some respects it might be, but there's still a lot of guys around making saddles."
Back on the front porch of West of the Pecos Saddlery, it was well after the time the meet-and-greet with the rodeo clown had been scheduled to end. Yet there he was, still sitting with his barrel. Holder told him that he was welcome to go whenever he felt like it. 
"Oh, I don't mind," the clown answered. "This is as good a place as any to spend an afternoon."
Texas Saddle Shops
This beautiful stucco building on the edge of Alpine has made saddles and leather goods for Trans-Pecos cowboys since 1905. 2701 US 90. 800-634-4502; bigbendsaddlery.com
The next time you go honky-tonking in the Stockyards, be sure to set aside some time to gawk at the handmade boots and saddles at this long-running institution. 2455 N. Main St. 817-624-3149; leddys.com
For over 100 years, the Oliver family has been crafting beautiful saddles for working cowboys and customers like George W. Bush. 3016 Plains Blvd. 806-372-7562; oliversaddle.com
Opened in 1991, Double J Saddlery has made a name for both its saddles and its fashion-forward handbags. 2243 US 77A South. 800-669-2535; doublejsaddlery.com
From the December 2019 issue