One
Man's

Treasure
Acclaimed sculptor Jesse Lott's ability to make art out of anything has made him a revered figure in his houston community
Photographs by
Nathan Lindstrom
J
Jesse Lott's art studio, on the west side of Houston's Fifth Ward, looks like a wasteland of detritus from a natural disaster. On the ground outside is a massive nest of metal wire piled haphazardly with graying, brittle pieces of lumber, tangled twigs, and fragments of tattered furniture. By the front door: an ashy old basketball and wads of wetted, weathered newspaper molded into the vague shape of a human body slumping in a rocking chair. Inside the building it's more of the same: towering stacks of cardboard boxes overflowing with yellowing bundles of paper, dusty glass jars, and more broken pieces of furniture.
The space might seem like a repository of trash, the remnants of countless storage units hoarded and then dumped into this two-story corrugated steel building. But what happens here is almost supernatural—it's what earned Lott the Texas Commission on the Arts and the State Legislature's appointment as the 2022 Texas State Three-Dimensional Artist. This studio is where the nearly 80-year-old Lott, one of the most acclaimed artists in Texas history, fashions scraps of debris from the surrounding urban frontier into globally sought-after sculptures. It's also where Lott tries to inspire others to express themselves creatively, imbuing future generations of artists with the skills and methods he's developed over more than six decades.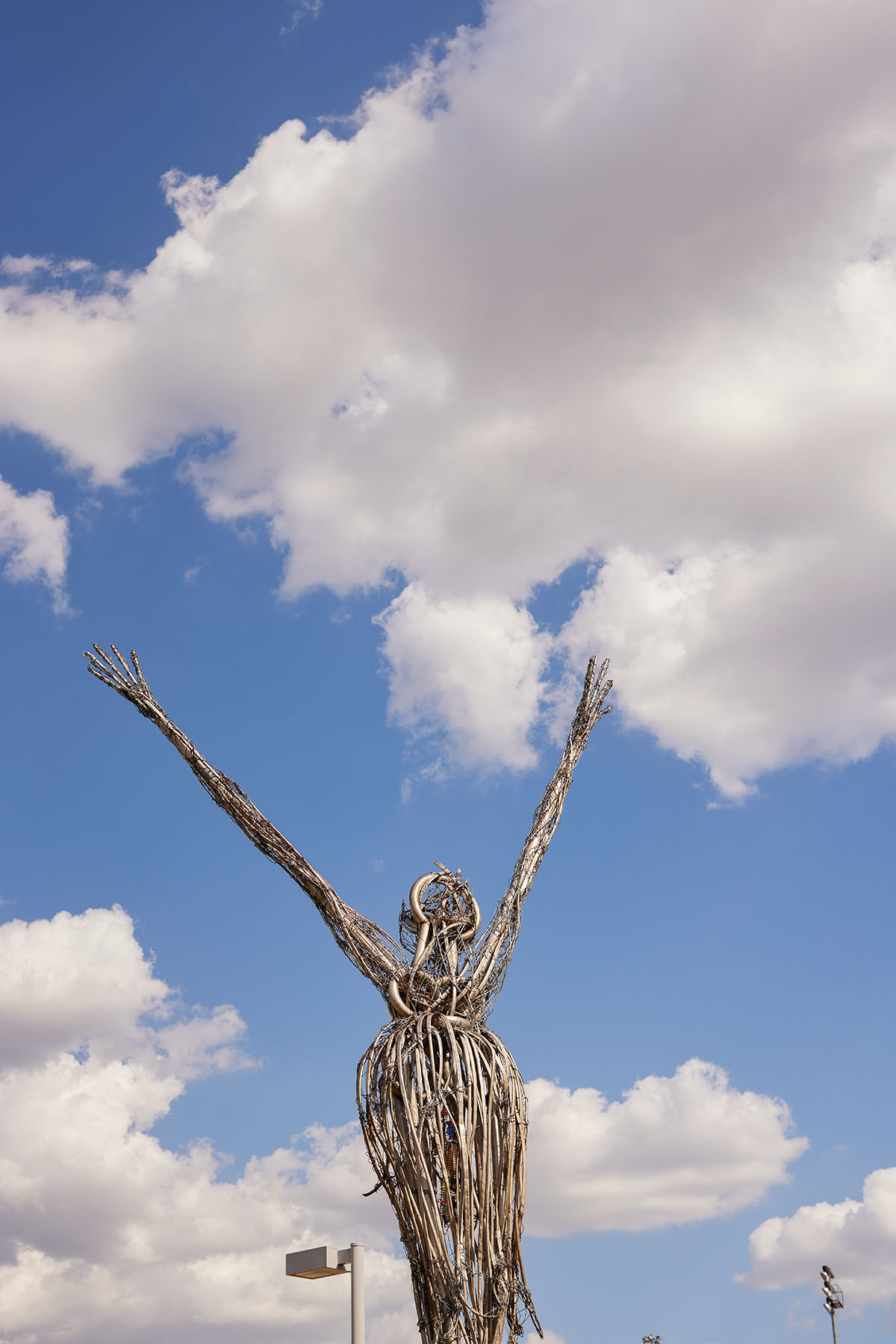 That's what's happening on this warm Sunday in late spring. Lott is teaching an aspiring young Houston artist named Seema Nanda to twist together wire and wood until it looks like something else entirely. Nanda wears industrial work gloves as she curls a piece of a clipped wire coat hanger around a spike of sanded lumber as Lott watches and coaches her on the particulars of his technique. "This is just to show you the basics," Lott says. "How to get started."
The idea, he explains, is to learn about the materials, how the castoff bits of our society can come together to look like something completely new, something with the power to stretch the public's understanding of both art and existence.
"Do the plain geometry and then, while you're doing your geometry, you can develop your technique," Lott says. "And then, once you get your technique, then you can go with symbology. The same as you would if you were doing a drawing."
Lott is a legendary artist with dozens of shows on his resume. His works are mostly haunting Afrocentric human-esque figures gracefully made of wire, metal, and wood. Picture giant voodoo dolls constructed of rusted iron.
"He's a shining example of the creativity that drives art in Texas," says Jennie Ash, the executive director of Art League Houston. "There's a liveliness of spirit in his work, which offers new ways of looking and thinking about the role of the artist and the value of art in community."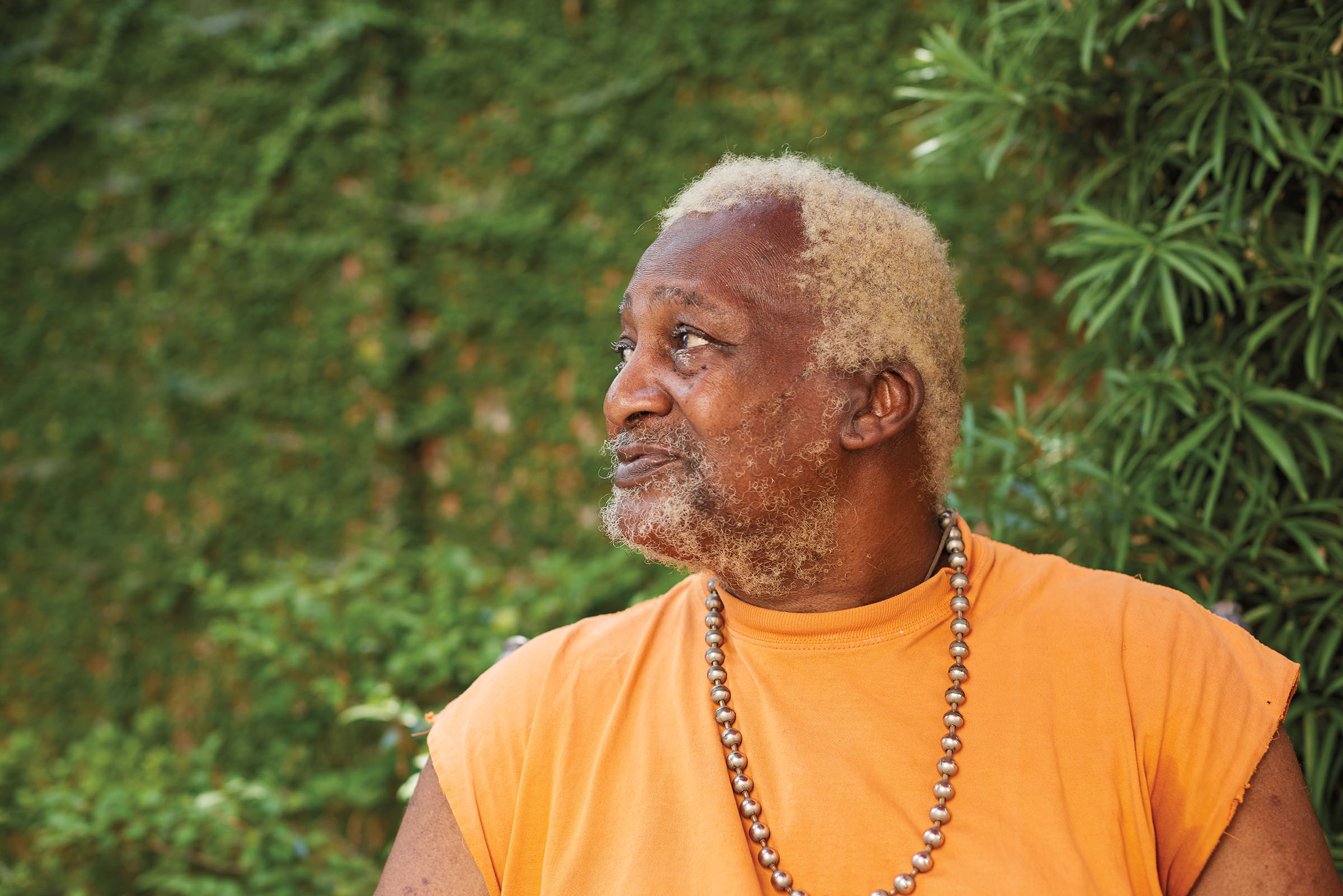 His pieces sell for tens of thousands of dollars, have earned him countless awards, and have appeared in galleries like the Museum of Contemporary Art in Washington, D.C.; the Studio Museum in Harlem; and the Art Car Museum in Houston. Inspired by a lineage of Black artists and decades of community struggles, his art has a subtle activist bent, an unspoken rebelliousness. He's also done as much to advance wire sculpture as any artist in the world.
"Jesse is not only a Texas art icon, but also an American icon," says private wealth manager Craig Massey, who is a patron of Texas art and the chair of the Houston Arts Alliance, an organization that works with the Houston mayor's office to fund art projects across the city.
Through the years, Lott has become a godfather character in the Houston art scene, helping to start nonprofits that benefit up-and-coming artists and mentoring dozens of artists who've gone on to critically acclaimed careers. When he's out of the room gathering more hangers to cut and twist, Nanda calls Lott "a philosopher king."
In spite of the cane, Lott saunters when he walks. He's liable to break into a Stevie Wonder song or a brief dance at any moment. He dots conversations with references to French pointillism painter Georges Seurat and quotes from civil rights leader Malcolm X. His descriptions of art and the creative process are a montage of poetic metaphors.
His thoughts are what he calls "wild horses running through the canyon that I call my mind" or "wild geese that fly through the open spaces." On the development of an idea for a sculpture or drawing: "The vision precedes, and I must go where it leads," he says.
The way Lott sees it, he changes the essential nature of the materials he uses in his art. Like the wooden leg of a coffee table. We call it that, the wooden leg of a coffee table, because that's what the object did—served as the leg of a table. But Lott might decide it's actually the tail of a 5-foot-long mythical beast. Now that it's part of a sculpture he stores along the back wall of his studio, the object has become what it looks like.
Explaining his approach to Nanda, Lott breaks down sculpting with wire to its most simple components. "The most fundamental of marks that can be made is a dot," he says. "A series of connected dots is a line. A series of lines that cross each other, that intersect each other, can create an illusion of a shadow."
Nanda watches as Lott slowly drags his giant, calloused hands through the air. "What you're saying is, it's a drawing, a three-dimensional drawing, right?" Nanda asks.
"A three-dimensional linear representation," Lott says. "The shadow is no longer an illusion."
"He's a shining example of the creativity that drives art in Texas."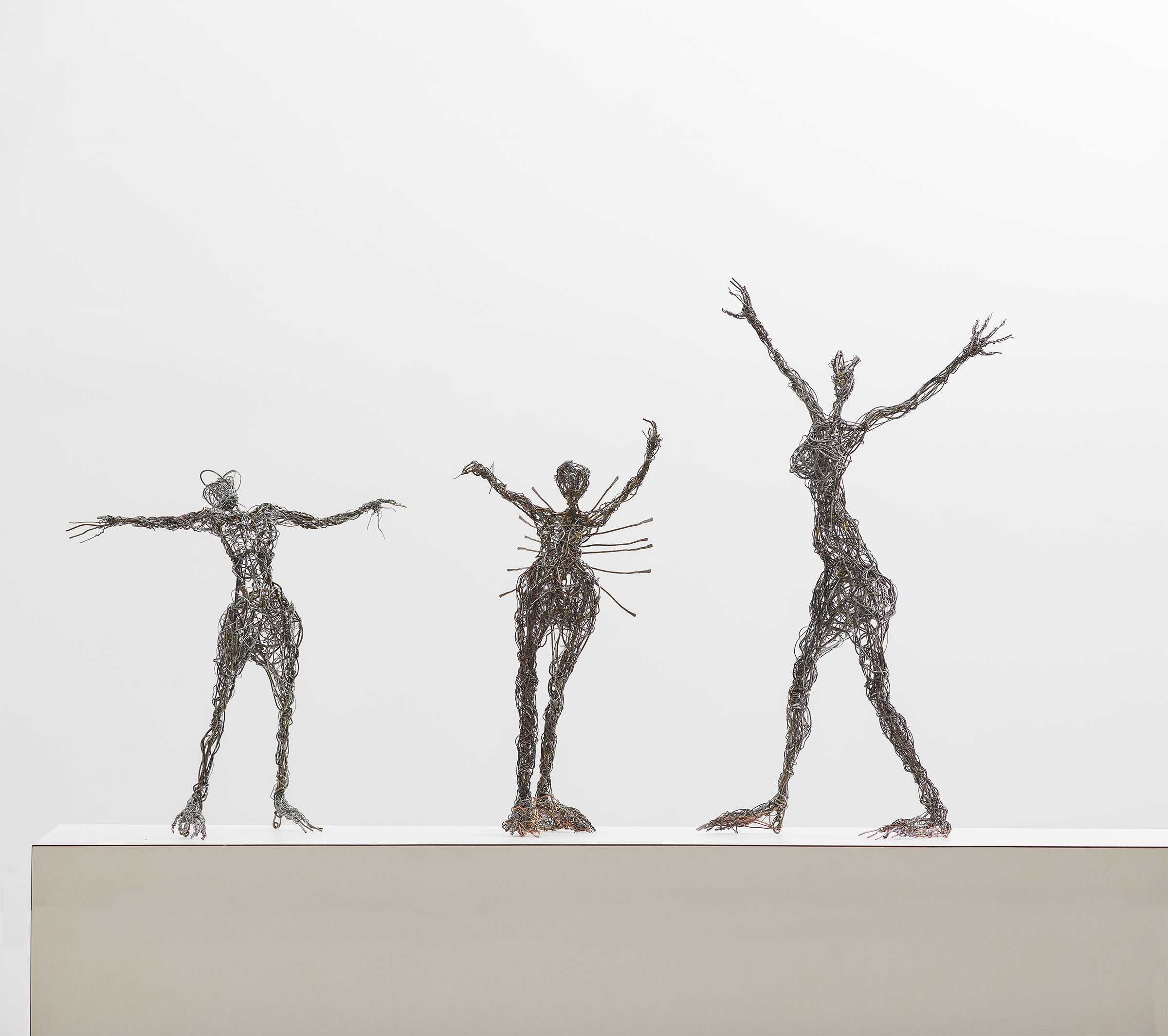 Most of Lott's time is divided between making art and helping other people make art. These endeavors serve a higher purpose than just creation.
"The freedom of expression is a fundamental building block of our democracy," he says. "But the question is, what good is the right to express yourself without the ability to express yourself?"
For Lott, art is a means of storytelling—using scientific observations to invoke history to remark on the present and future. For example, one series of wire figures on display at Deborah Colton Gallery in the West University neighborhood of Houston consists of four humanlike characters with their arms stretched upward, each with sharp rusted fingers and toes. These figures seem like they might be exalting the heavens—or maybe they're screaming into a torturous void.
"History books will be burned," Lott says. "History will be mistold. But the art is there to be interpreted by each person every time they look at it. So, you can tell many, many, many stories with one picture."
Lott's curiosity and desire to express himself go back to his early childhood in the swamp country of Simmesport, Louisiana, where he dug in the mud to see what came up. His family moved to Houston when he was a boy, and he attended school through Kashmere High School, where he played basketball. In 1957, he sold his first piece of art—a painting—at just 14 years old.
At the time, there were almost no public art exhibitions in Houston featuring the works of Black artists. Still, Lott's family encouraged him. His father would protect his son's time in the studio. "The space to do nothing," Lott calls it. "The space to be who I am."
Twists and Turns
See Jesse Lott's art around Houston.
The Spirit of Transportation, Elgin/Third Ward METRORail Station
This sculpture made from stainless steel and mixed metals—renamed Hands Up, Don't Shoot! by the community—depicts a colossal figure with its arms in the air.
Untitled, Hermann Park Lake Plaza
On the southern end of the Houston Museum District, there's an installation that looks like a Black face emerging from—or maybe sinking into—a mound of cement and stone.
Celebration, Houston Hobby Airport
This 12-inch, red-haired, faceless character, made from steel, copper, and brass, is standing askew, arms extended, on a block of weathered, repurposed wood.
These days, because he uses only found objects—he's been called a "magpie artist"—Lott's pieces are often confused for folk art. But he was classically trained. Muralist John T. Biggers, the founding chair of the art department at Texas Southern University, was an early mentor to Lott. Biggers encouraged him to stop focusing on the European-based concept of what art is, and to look instead to African art for inspiration.
Biggers also encouraged Lott to enroll at Hampton Institute, now Hampton University, a historically Black college in Virginia. After two years there, Lott transferred to California State University, Los Angeles. Then he attended LA's Otis Art Institute, now Otis College of Art and Design, where social realist Charles White was his drawing teacher and adviser.
Lott was enthralled by the notion that art influenced by myths and cultures thousands of miles away and hundreds of years in the past could still serve as commentary on the social divides and injustices of contemporary society.
He showed painting and drawing talent, but in his mid-20s he also started producing sculptures made from repurposed objects—the work he's most known for now. It was in line with the Black Arts Movement in America, which focused on community building in the 1960s and '70s. When Art League Houston gave him the Lifetime Achievement Award in 2016, one piece on display was a giant wire hand that somehow looked both robotic and prehistoric. A paper construction he did, Farmer, depicts a man in boots, overalls, a red striped shirt, and a big-collared yellow jacket with floral lining. His 1980 sculpture Big Girl (A Tribute to Eula Love) has a metal face so mysteriously evocative it's impossible not to feel emotional while looking at it.
His three-dimensional pieces and drawings are mesmerizing, stylized yet detailed. A 3-foot metal and glass sculpture called Dragon Dog features dozens of coiled wires comprising a mysterious creature, with spiked, rusted hooks for fangs. Some of his largest wire figurines appear to have thin nests of copper strings that look like individual strands of hair.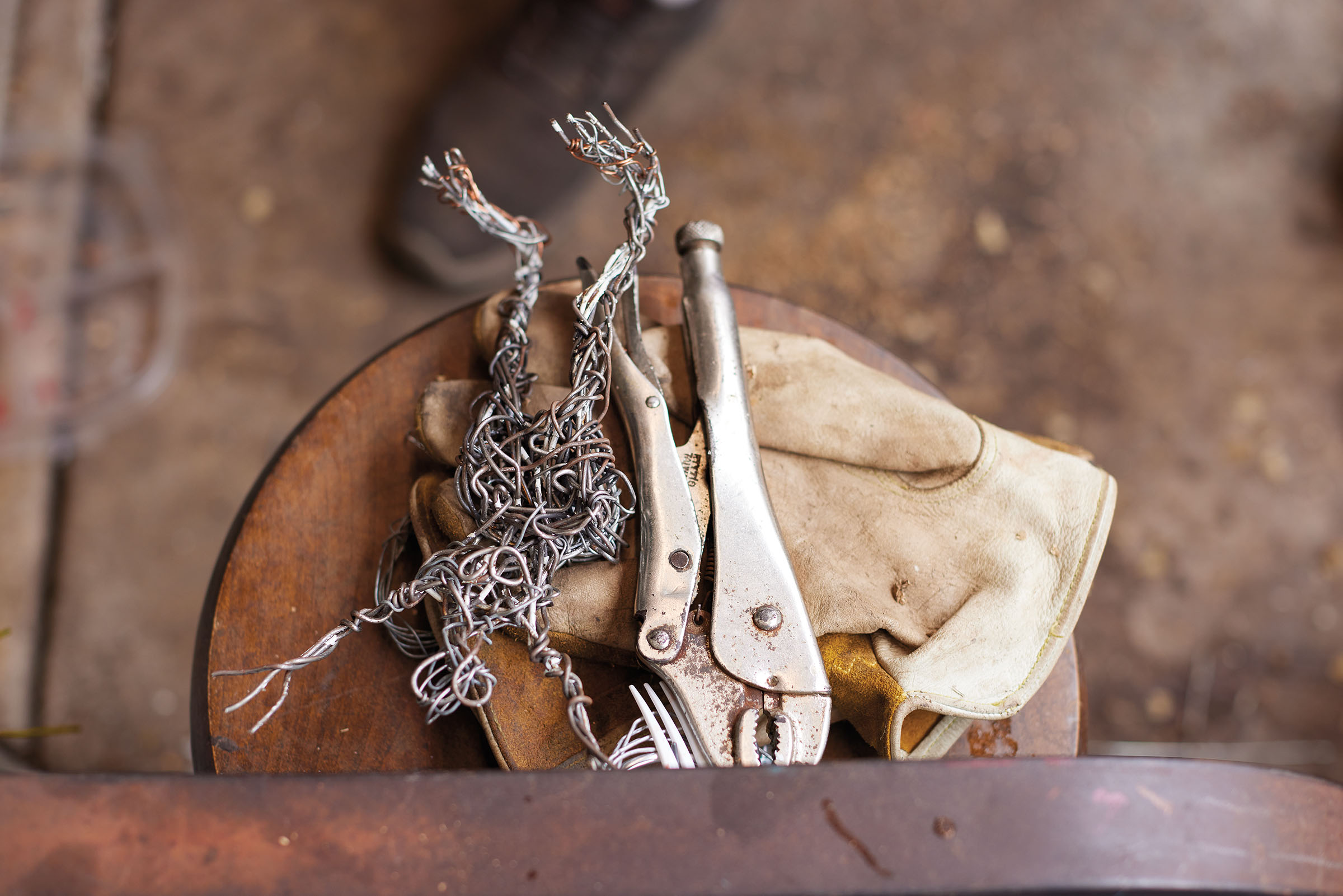 Lott returned to Houston from LA in the mid-'70s, and in 1977 he had his first large solo show, Relics of the Future, at Robinson Galleries. His approach to visual art was like nothing the Houston art scene had ever witnessed—and local collectors immediately took notice. By decade's end, he was gaining national attention, specifically for his 9-foot, 200-pound rebar and wire sculpture Zoroastera: Fire Spitter.
Over the next few decades, his list of accolades grew, as did the demand for his works. In the '90s, he was one of seven Houston artists who founded Project Row Houses, an effort to transform a block and a half of derelict shotgun houses in the Third Ward into a venue for showcasing aspiring artists and a resource for the community. The group came together with local volunteers to fortify the structures and remove needles and trash, turning blight into hope in a way that's garnered worldwide acclaim. In addition to art shows, the program includes housing for young single mothers trying to better the lives of their families.
Rick Lowe, a Houston painter, recipient of a MacArthur "genius" grant, and co-founder of Project Row Houses, cites Lott as a key influence. "His creativity is not bound to the specificity of materials," Lowe says.
People in the community are effusive over Lott. The most high-profile members of Houston's art scene talk about him like he's a religious figure, referencing everything from his vision and his creative spirit to the countless acts of private charity he's extended to the homeless and poverty-stricken.
"Jesse so deeply believes in his mission in life that it just flows," says Deborah Colton, whose gallery represents Lott. "It's from the deepest depths of his soul, in terms of what his art can bring to the world and how it can inspire others."
María C. Gaztambide, the executive director and chief curator of public art of the University of Houston System, says, "Lott serves as a constant reminder that everyone is capable of expressing themselves creatively and how we can all come together through art."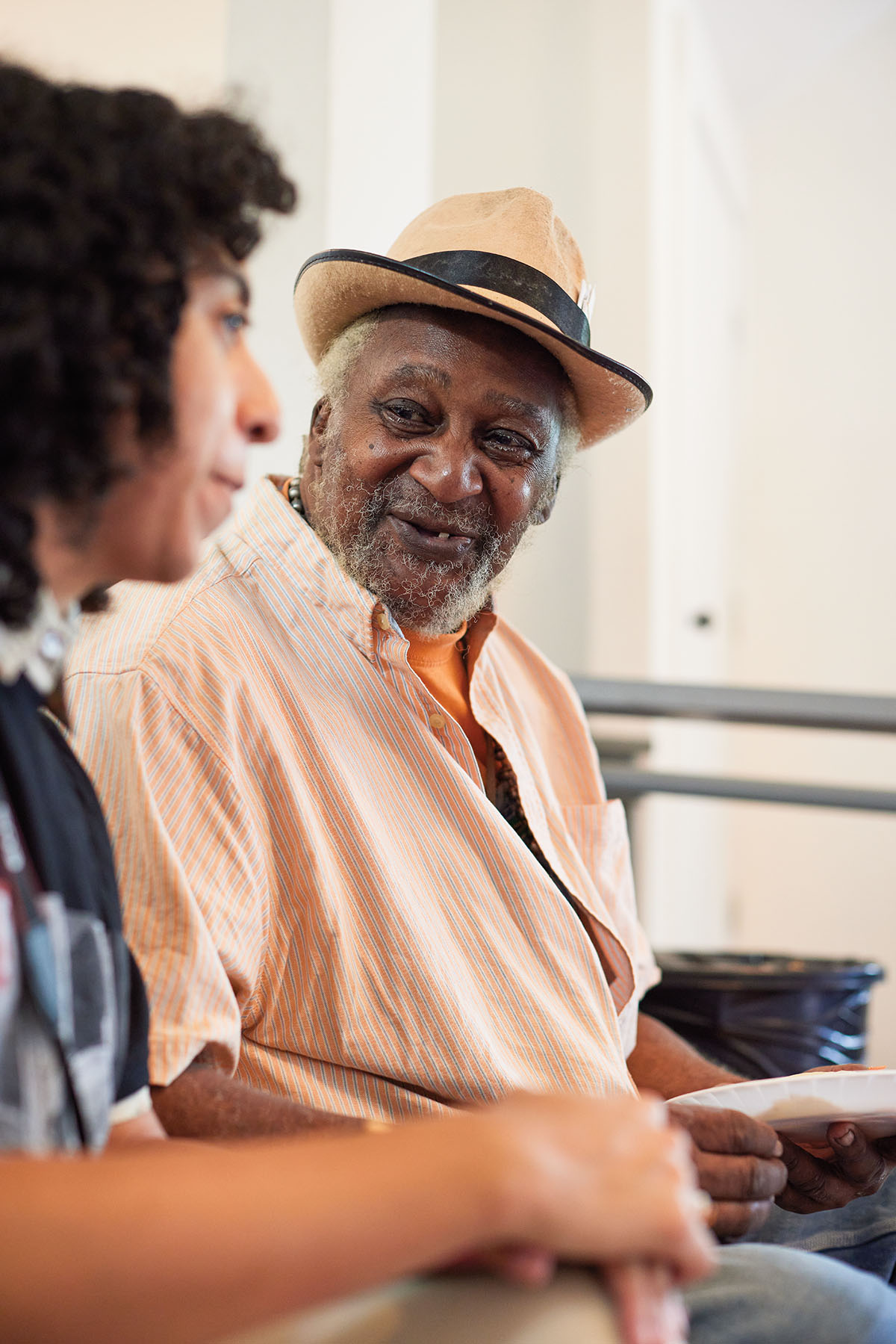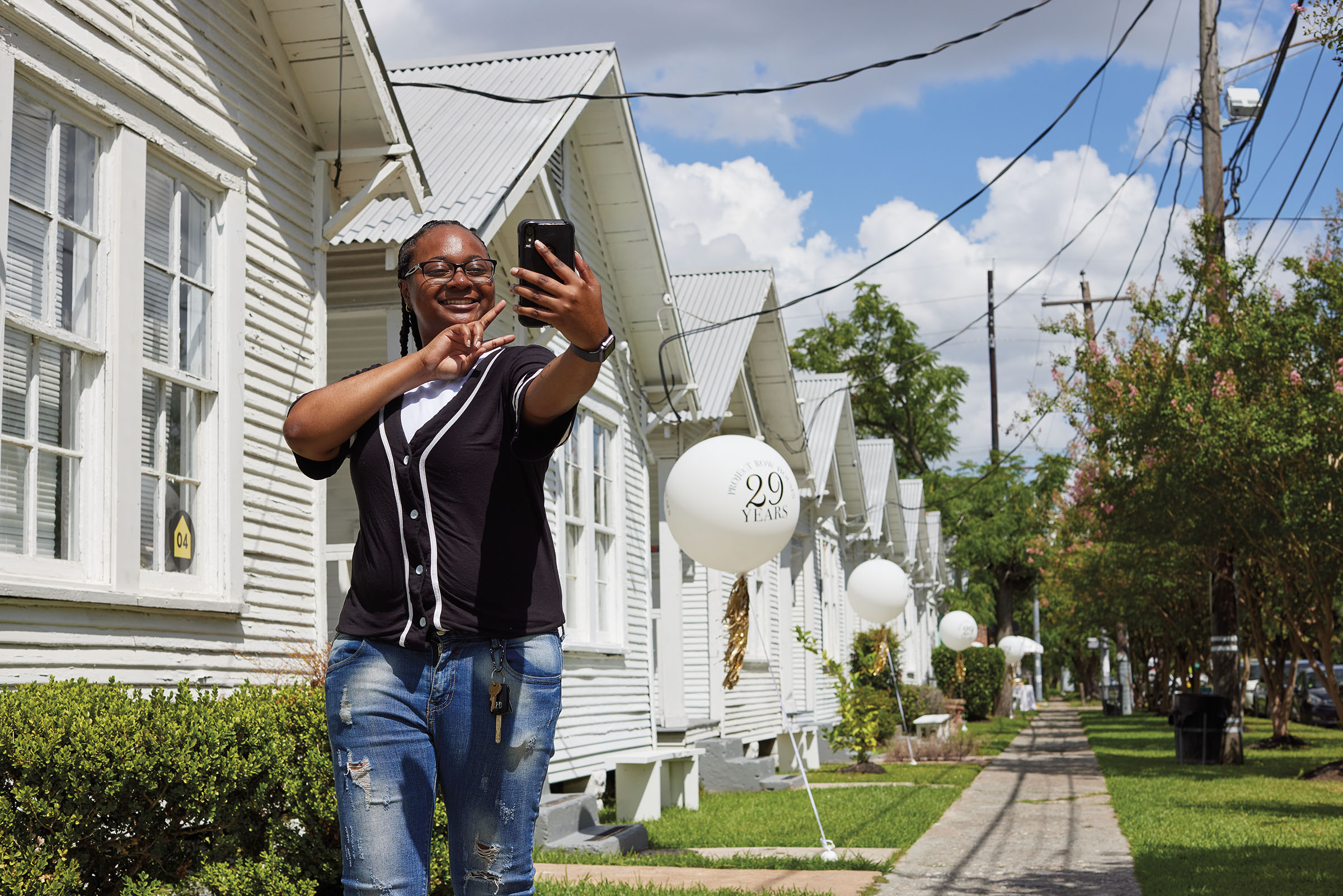 As Lott continues to explain how something goes from a vision in his mind to a finished piece of art, Nanda nods and bends the wire. Lott points at the shape forming in her hands. "You see how this looks like a skeleton?" he says.
"A spine sort of thing," she replies.
Lott points out that the wire being reshaped is now something new. "Remember until very recently this used to be a coat hanger," he says. "You can't put no coat on it now."
Using such mundane source material—and transforming it into singular art—is a key aspect of his work. It's not just a way to prove an artist's supplies needn't be economically prohibitive. It's a way of looking at the world. The objects around Lott's studio that might look like clutter could be something else soon. The magazines might be the flesh of a character who doesn't exist yet. The legs of a stool might be the bones of an animal that lives in Lott's imagination.
"We don't make nothing," he says. "We make decisions."
The belief that every aspect of the world could be recontextualized is commentary, a call to reconsider everything from our justice system to how society views beauty.
It's something else, too. It's a metaphor for a foundational aspect of the human experience. Most of us move through life trying to make the best of what we have in this world, what we're given, what we've found, what we've hoarded. We aspire to transform the objects and the wisdom we've acquired into something meaningful, something that reminds the world we were here. That's not how Lott sees it, though.
"My objective is to ride the wild stallion through the canyon of my mind, to go somewhere," he says. "You don't have to worry about it. They'll take you to some water."
After an hour of philosophizing, student and teacher decide to go get lunch. Nanda volunteers to drive. Lott stands up and grabs his cane. Once outside, he turns his head to the sky and lifts his hands, giving thanks for the sunshine. As he nears the car, he sees something in the street: a piece of stained wood that looks like it came off the bottom of a recliner or a couch.
Lott uses his cane to move the wood closer, then he picks it up and tosses it on a pile of debris in front of his studio. "If you stop and observe," he says. "There's always something there."
From the September 2022 issue