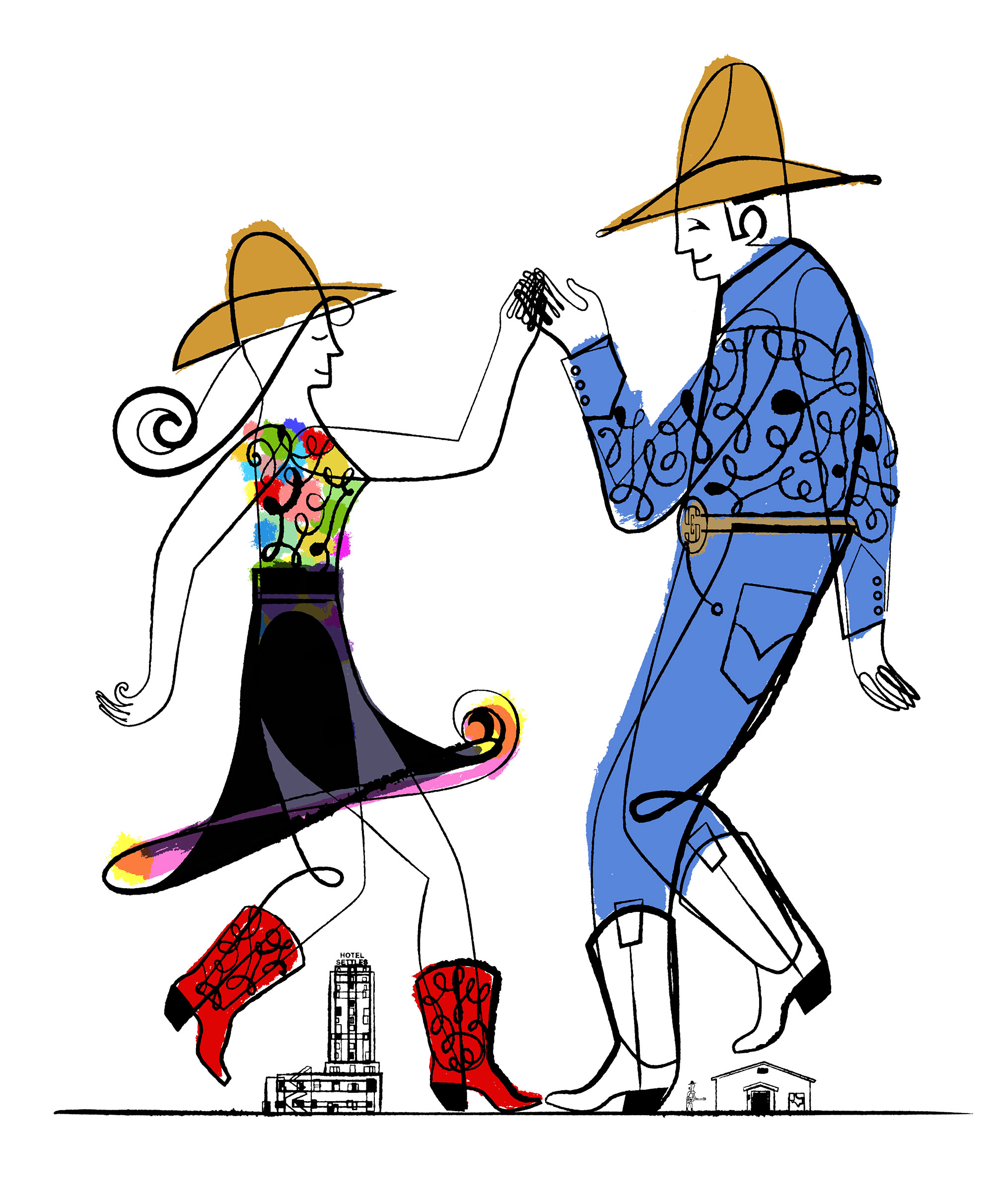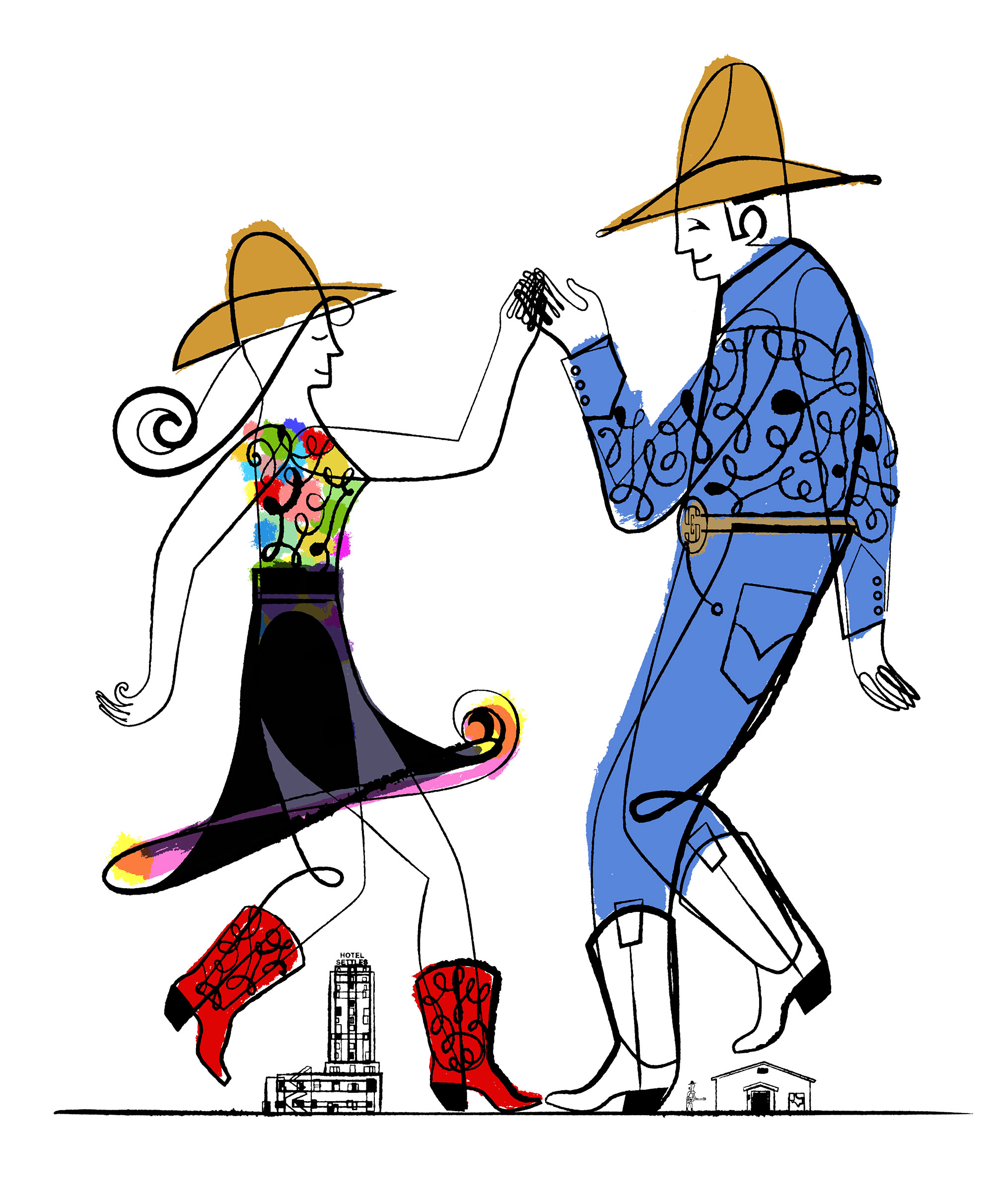 The fog is so thick that when I drive directly over the roadkill—the wheels of my Honda Civic eliciting a terrible crunch—my only solace comes from knowing it was already dead. This weather makes everything seem mystical, as though I were driving into County Cork, Ireland, and not West Texas. State Highway 71 from Horseshoe Bay to Brady winds leisurely, dotted with historic courthouses and Dollar Generals. The cows in the field plod along, steam rising from their backs. Extremely tall fences signal game reserves, and I imagine African kudu lurking in the cottonwoods.
My big city compatriots spend almost no time on roads like these. Most people I know shuttle between Dallas and Houston and San Antonio on crowded, stressful interstates. To a woman raised in Abilene, that's not real driving.
Today, I'm headed to Big Spring, a town located less than two hours west of where I grew up. Both Abilene and Big Spring are West Texas, but not the Far West Texas where New Yorkers make land art and buy property with views of the Davis Mountains. My West Texas is flat, dotted with scrub brush and mesquite trees barely taller than I am (5 feet, 0 inches on my tiptoes). Having left my husband and 18-month-old daughter back in Austin, I'm on my way to meet my parents to go boot-scooting to Western swing at an old dance hall called The Stampede. Though it's been a few years for me, my parents are regulars. We're a music family—an entire room of my parents' house is filled with so many records there's no longer space for a chair to sit on.
I turn westbound onto US 87, close in on San Angelo, and then to Big Spring, passing the telltale signs of pump jacks and wind turbines, scraggly white cotton scattered along the highway ditches like snow. As I drive into the city itself, I marvel at the fruit trees planted in front of banks and churches, popping their fist-sized white blossoms like fireworks.
Downtown is situated between the railroad and what used to be the Bankhead Highway. There's no need to use a map or app to find my hotel because the historic brick building rises far above the rest of the city, its sign the defining feature of the skyline: Hotel Settles in red neon lights. Walking into the lobby, coated in rich carpets and mahogany paneling and polished brass, is like walking into a different era, one where I wouldn't be surprised to find Will Rogers reading a newspaper beneath the chandelier. I slink to the front desk, feeling fantastically out of place in a wrinkled sweatshirt, carrying my suitcase, which is actually a laundry basket (don't judge).
I imagine contemporary travelers walking into Hotel Settles and thinking: "What in the world is a place like this doing all the way out here?" It's hard to picture now, but this gritty town actually has a glittering history. Early 20th century Big Spring had a lot going for it—cattle, sure, and the Texas & Pacific railroad. Then, the oil boom made more people rich, and Cosden Petroleum Corporation and its refinery set up shop here, as did Webb Air Force Base. Between these industries, Big Spring's population swelled to around 30,000 and included a significant upper crust.
Hotel Settles, designed by famed West Texas architect David Castle, opened its doors in 1930 and by the '50s was hosting big-band orchestras in its ballroom every night to crowds dressed in gowns and tuxes. Bryan Mealer wrote a fascinating article on the history of the hotel for Texas Monthly in 2013 (and later published a book The Kings of Big Spring) that tells about professional acrobats Benny and Betty Fox dancing the Charleston on a "platform extended from the hotel's fourteenth floor for a touring act called 'The Dance of Death.'"
From there, it's a story of decline that mirrors the stories of so many smaller Texas towns—Interstate 20 replaced the Bankhead Highway and bypassed downtown, the Air Force base closed, and the oil company relocated its executives to Dallas. The population dipped. Along with much of downtown, Hotel Settles fell into disrepair (and disrepute—it was a flophouse and brothel in its later years). Eventually, in 1980, it closed.
Decades passed, and the city considered tearing the whole thing down. But in the early aughts, hometown boy G. Brint Ryan, having grown extremely rich running a corporate tax consulting firm in Dallas, bought the hotel and spent years and truckloads of cash restoring it to its previous glamour (according to Mealer's article, $1 million was spent on "the original yellow-pine window sashes" alone). Ryan thought the hotel would do for Big Spring what Donald Judd did for Marfa, but critics just thought he was flushing money down the toilet.
When it reopened in 2013, Hotel Settles was hailed by some as the beginning of Big Spring's revitalization. And while the hotel seems to be doing well as a historical attraction and wedding venue, the downtown renaissance hasn't yet materialized. Other than a few scattered antiques shops and restaurants, most buildings still look abandoned.
The town of Big Spring is growing in other ways—the success of fracking in the Permian Basin means black gold is flowing once again. Money from the refinery (now owned by Alon) and the influx of roughnecks drilling the wells that dot the countryside seems to be supporting the strip malls and the Walmart, the oldest Harley-Davidson dealership in Texas, and RV parks that have cropped up anywhere there's an empty lot.
My parents, who have driven in from Abilene, meet me at the hotel. We have some time to kill before the dance and decide to drive around the outskirts of town. Drawn by the promise of a film exhibit, we stop at the Heritage Museum, situated in a lovely stone building on the edge of downtown. In addition to the permanent holdings, which detail cowboy and local history, there's a temporary display—since closed—exploring movies set or filmed in West Texas, including Paris, Texas, and There Will Be Blood. The reason behind the exhibit is the newly released film The Iron Orchard, about the rise of a wildcatter, parts of which were set and filmed in Big Spring, including at the Settles. This wasn't the first time the landmark appeared on the big screen—you can see the hotel's bright sign as Jon Voight drives out of town in the opening scene of Midnight Cowboy.
The exhibit starts me thinking about the actual rural Texas towns people live in today, with Starbucks and Dairy Queens, and the small town West Texas of Hollywood and myth, with dramatic landscapes and grand hotels like the Settles. I think of my daughter, who will likely grow up in Austin, and wonder if she will also carry with her this simplified, romanticized version of the region where I was raised, which is neither here nor there but somewhere in between. I begin to think about how hard it is to pass on a sense of place in a country where few people will die in the same town where they were born.
My first ever visit to Big Spring was when I was 3 years old so my parents could introduce me to Oscar Glickman. In those days, in addition to dancing at The Stampede, Big Spring had another draw for my music-obsessed father: The Record Shop, a purveyor of new wax. Apparently, when Elvis was in town to play the Municipal Auditorium in 1955, he stopped at The Record Shop to sell some of his new 78s. Oscar, the owner, bought the records and took Elvis to lunch. He told him, "If you think you are going to go somewhere with your music, you had better change your style."
Oscar's place was special for two reasons: First, he never sent a record back to the distributor, which was a rarity, and second, he always sold at list price, no matter how popular an artist became ($3.98 for mono, $4.98 for stereo albums). So, when rockabilly resurged in popularity, for example, his basement was still full of the stuff. Collectors showed up, as did celebrities—Ernest Tubb, George Jones, and many more came to Big Spring to hunt for the rare and out-of-print.
My father started going to The Record Shop regularly when my parents moved from Denton to Lubbock in 1973 as newlyweds. My mother worked the weekend shift at the public library, and every Saturday my father would surreptitiously make the nearly two-hour drive (each way) to Big Spring so she wouldn't realize how much money he was spending on his music habit.
In 1977, writer Joe Nick Patoski observed an exchange at The Record Shop between Oscar and two "collectors from Abilene and Lubbock" (my Dad, who had moved with my mom to Abilene by that time, and his friend Jimmy): "What are you kids always spending your money, buying so many records for?" he asked. They said they were afraid Oscar might die and someone would take all the records away. Oscar did die eventually, and when we drive by on this trip, the place is now an antiques store.
That evening my folks and I arrive at The Stampede, 2 miles outside of town on the Snyder Highway. We're here to see Jody Nix and the Texas Cowboys. My parents have danced here more times than they can count, and since I was a kid I've accompanied them more times than I care to count (they are my parents).
The Stampede has been a stop on the Texas dance hall circuit, which includes clubs as well as VFW and American Legion halls, ever since Jody's father, Hoyle Nix, along with Hoyle's younger brother, Ben, opened it in 1954. Its 65th anniversary celebration was held in May. Along with Bob Wills, with whom he was close friends, Hoyle was one of the top connoisseurs of Western swing and probably best known for arranging and popularizing "Big Ball's in Cowtown." The hall is a venue for the Nix family, but over the years a number of important musicians have played here, including Wills, "the king of Western swing;" Johnny Bush, who wrote Willie Nelson's set opener "Whiskey River;" and Bobby Flores, a Grammy-award winning bandleader.
The Stampede's roughly 4,500-square-foot, stucco-painted superstructure is unassuming, with a logo on the outside still declaring it "Home of Hoyle Nix and his West Texas Cowboys." The interior walls were never finished, and the exposed wood lends the place a rustic feel. As Jody always says, "It was built to dance in. It wasn't built for looks." Still, there's a cozy warmth to the place with its red tablecloths and glowing string lights hanging above the dance floor. The only nods to the passage of time are the black light hand stamps at the door, the "No Smoking" sign, and the fact that men are now allowed to wear hats indoors.
We carry a small cooler filled with a few beers because The Stampede is BYOB, but I'm a little embarrassed of my Austin-brewed IPAs, which immediately peg me as an out-of-towner. We sit at a table near the stage, directly facing the open, rectangular dance floor. Our neighbors are a couple from San Angelo. They tell us, "We don't like CMA country music. We're into steel and fiddle." We enthusiastically agree. They say their favorite was Ray Price, who they got to see once at the defunct Stardust in Odessa.
Jody Nix begins with a moment of silence for a woman who had been coming to The Stampede for 30 years and died earlier that day. Then he opens with her favorite song, "Sugar in the Coffee," turning to his band and saying, "G chord, boys." It's a fast one, and the dancers jump right in.
Fashion is eclectic. My mom is in all black, punctuated by her red cowboy boots, and my father sports the "Canadian tux" of denim-on-denim, his uniform since retirement. As I look around, there are people in vests and monogrammed shirts and big turquoise jewelry; 20-somethings in Vans and New Balance tennis shoes; folks in sequins and leopard print and camo print, and at least two Stars and Stripes button-downs from the George Strait clothing line. Eventually, some teenagers slink in wearing letter jackets, and the night is complete.
From the stage, Texas Independence Day gets a shout-out as do The American Rodeo Finals. The band launches into "Key's in the Mailbox" and the floor fills again. For me, the dance floor is as much an attraction as the band itself, the way the couples swim counterclockwise, sometimes in a coordinated swirl as though all one organism, and other times bumping along with little eddies spinning off from the main surge of two-steppers. Onstage, Jody says, "How about a little Bob Wills, boys?" and launches into "Faded Love."
There are all ages and body types here. The kiddos, traded around the dance floor by various adults, are being educated in more than dance moves; they are absorbing an entire musical culture. I see more Latino revelers than in the past, but no African-Americans in the crowd tonight. As much as I love this place and the Western swing it celebrates, I can't escape the ways in which country music culture can be insular, even unwelcoming.
When the band serves up "Jim, Jack, and Rose," one of my late Uncle Randy's favorites, my Dad and I two-step together, singing the hard-partying lyrics under our breath: "Jim Beam, Jack Daniels, and Sweet Gypsy Rose." At one point, Jody dedicates the Bob Wills song "My Adobe Hacienda" to my parents, "Joe and Alice Specht from Abilene." He adds, "There's a man who knows more about the Nix family than I do, and I'm one of 'em." He's referring to my father's music articles, which include The Handbook of Texas Music entries for both Hoyle Nix and The Stampede.
As the night wears on, I wonder if I'll have the chance to bring my daughter here one day. Will The Stampede still be around and, if it is, will she see it as more than just a small-town curiosity? Will she disdain rural life or, like Hollywood movies, fetishize it? Will she love the twin fiddles and steel guitar like we do, or roll her eyes and beg to go home and tinker with her iPad? I'd like to think that because of how I was raised, this place will always feel like home. But the truth is, I grew up and moved away, and I'm not sure I can have it both ways.
Because of the isolated setting, it's unlikely The Stampede will be overrun by hipsters and tourists, as has happened to dance halls in and near Austin and Houston. But that's also what makes it vulnerable. It has to stay beloved by the locals to survive. Of course, unlike the Settles and the glittering parts of Big Spring's past, The Stampede didn't shutter when the executives moved to Dallas or even when the Air Force base closed. It's been here through the booms and the busts, and if this enthusiastic crowd of dancers is any indication, it isn't disappearing anytime soon. So, let's waltz, boys!
From the August 2019 issue