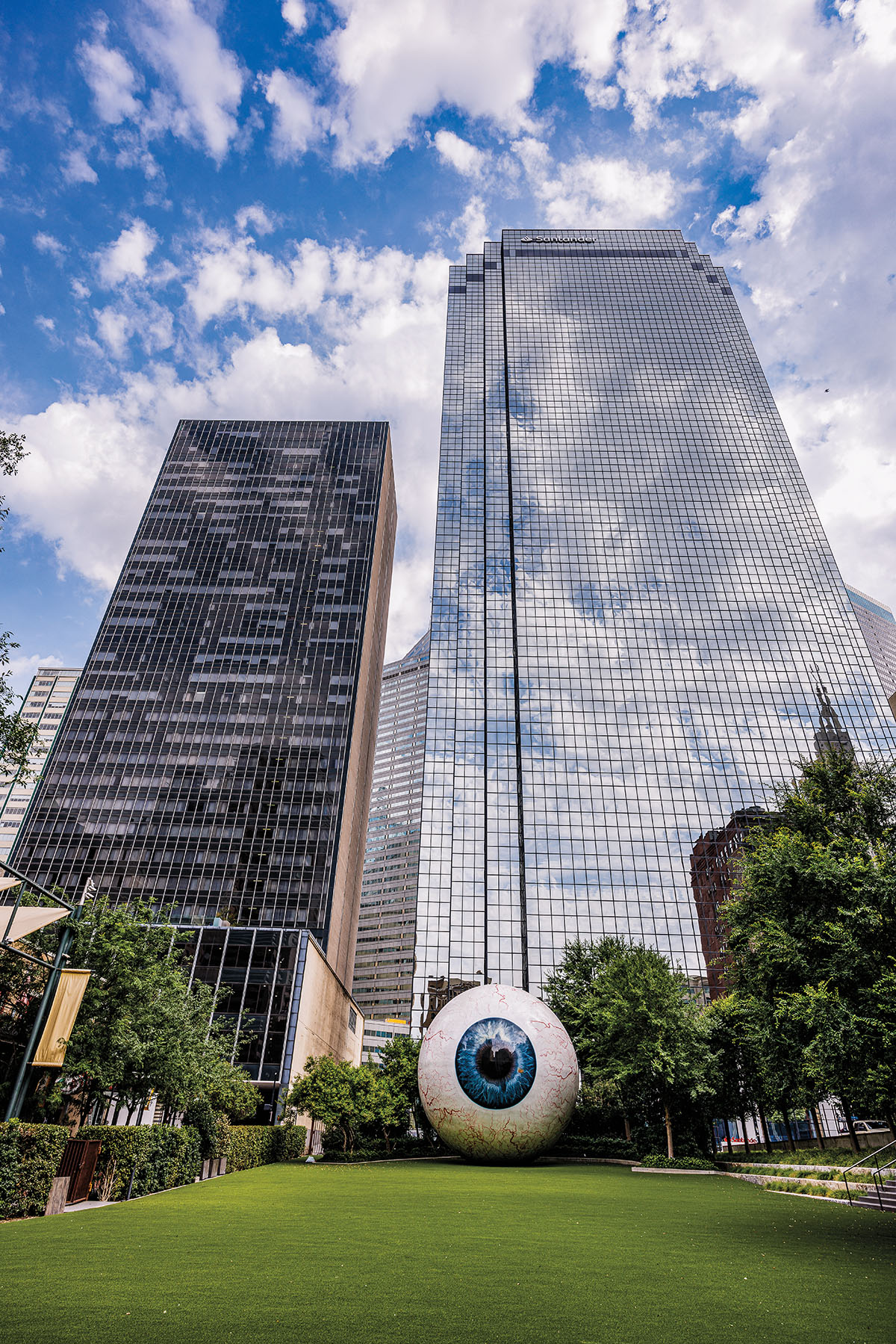 A
quiet path leads from the old mission church toward the river. I'm alone in the thicket, but I can sense the object of my search getting closer. According to one of my informants, this trail will lead me to what might be the greatest artwork in Texas. Above the canopy, it rises into view:
Árbol de la Vida: Memorias y Voces de la Tierra
(Tree of Life: Memories and Voices of the Land) by Margarita Cabrera.
Cabrera, who grew up in Mexico, Utah, and El Paso, debuted Árbol de la Vida in 2018 to mark the 300th anniversary of the founding of San Antonio. It stands at the far south end of the Mission Reach extension of the River Walk, near Mission Espada. Suggesting the shape of a 40-foot-tall tree and the form of an artisanal Mexican handicraft, the massive steel structure is decorated with 700 different hanging ornaments. Each clay-fired ornament was fashioned by a different San Antonian—mostly non-professional artists—and touches on a singular story of local heritage, from an 18th-century cattle queen to a 1950s drive-in movie theater.
Is it the greatest artwork in Texas? Trying to answer that question is the goal of my quest today. I have been writing about art in Texas for nearly a decade, and now I am ready to crown a champion from among all the works of art on permanent display in the state. Árbol de la Vida is one of the most ambitious multivoice artworks I've come across; I could stand beneath it for hours piecing together the various tales. But something tells me I can't call off my search here, not yet. There are too many other masterpieces to explore.
Texas' treasury of artistic riches ranges from highbrow to lowbrow, abstract to narrative, jokey to somber. If Cabrera's work isn't your style, might you prefer Michelangelo's first painting, The Torment of Saint Anthony, at the Kimbell Art Museum in Fort Worth? Or a life-size sculpture made entirely of Cheez Doodles, The Cocktail Party, by New York-based Sandy Skoglund at the McNay in San Antonio? How about the giant eyeball, Eye, by Chicago-based Tony Tasset, on public view in downtown Dallas? Or the Absolute Equality mural in Galveston, celebrating the origins of Juneteenth, painted by a team led by Houstonian Reginald C. Adams? Lubbock native son Terry Allen's Caw Caw Blues in San Marcos, a sculpture of a crow that incorporates the cremains of country musician Guy Clark? Or perhaps the William Henry Huddle painting The Surrender of Santa Anna that hangs in the Capitol in Austin, where Huddle lived?
All these suggestions and more come via a viral tweet by my editor randomly soliciting input on the question:
What is the single greatest piece of art in Texas, whether in a museum or out in the public?

— Michael Hoinski (@michaelhoinski) March 31, 2022
The most popular reply was a photo of a water tower in San Benito featuring the airbrushed portrait of Tejano rock legend Freddy Fender—an ironic pick that likely owes its online popularity to Fender's blow-dried shoulder-length hair and impeccable moustache. The third-most-popular reply clued me into a fascinating artist I'd never heard of, the late El Pasoan Tom Lea, whose epic murals decorate the R.E. Thomason Federal Building and Courthouse in his hometown, among other locations in Texas.
Two other obvious front-runners emerged in terms of sheer quantity of responses. Both are big, expensive 1970s and '80s projects by brand-name artists: the Rothko Chapel in Houston and the Donald Judd sculptures at the Chinati Foundation in Marfa.
I'd agree these are probably the two artworks most associated with Texas by art connoisseurs around the world. I'm an admirer of each. Sitting in the Rothko Chapel, a stand-alone building in the Montrose neighborhood featuring 14 mournful, introspective black canvases by abstract-expressionist painter Mark Rothko, has moved me to tears on more than one occasion. Chinati, an abandoned Army base Judd converted into a massive stage for his repetitive box sculptures, evokes the spare beauty of West Texas. It has transformed tiny Marfa into an international art center. Like the Rothko Chapel, it's a bona fide pilgrimage site.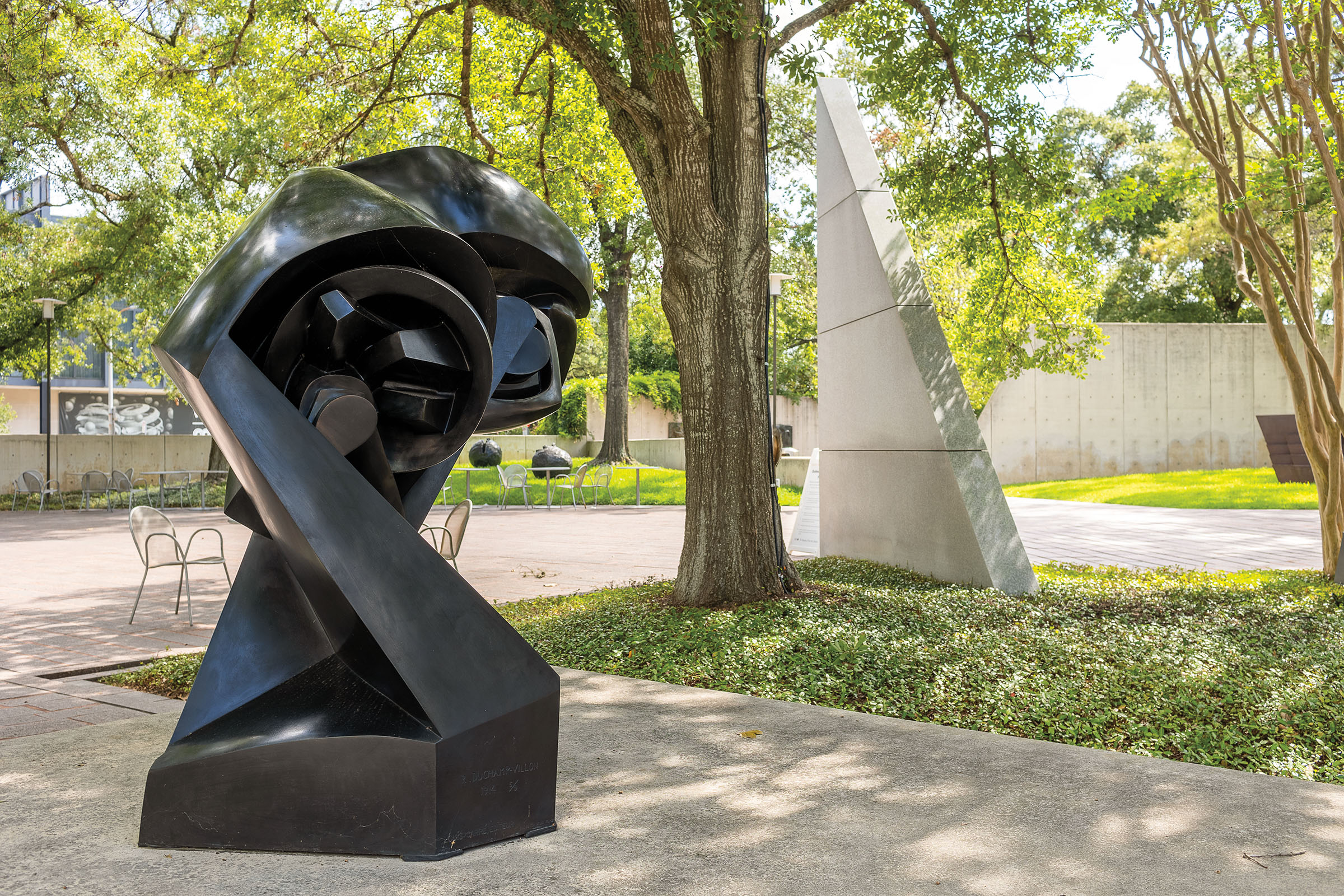 But in my search for the greatest artwork in Texas, I two-step past both Rothko and Judd. These brilliant New Yorkers (Rothko never even visited Houston) have hogged the attention of Texas road trippers for half a century. Why not crown a new champion a bit closer to home? Texas boasts some of the world's greatest art museums, and our public art offerings are impressive, too. Within the United States, I'd say Texas and California are runners-up to New York in terms of which state hosts the best art collections.
For aid in my search, I enlist local experts—people like Riley Robinson, director of the Artpace San Antonio residency space, who nominated Cabrera's sculpture. Phillip A. Townsend, curator of art at the Art Galleries at Black Studies at the University of Texas at Austin, sends me to the inspiring (Forever Free) Ideas, Languages and Conversations by Houston-based Michael Ray Charles at the Gordon White Building on the UT campus. A huge sculpture made of dozens of wooden crutches cabled together in a shape that suggests many intersecting wheels, it conjures the message that many people working to transcend past injuries can together move forward and heal. Susie Kalil, who is the author of Alexandre Hogue: An American Visionary, recommends a trip to the Dallas Museum of Art to see the 1934 painting Drouth Stricken Area by the North Texas artist who is the subject of her book. "With ongoing environmental issues, Hogue was way ahead—the painting has even more relevance today," Kalil says.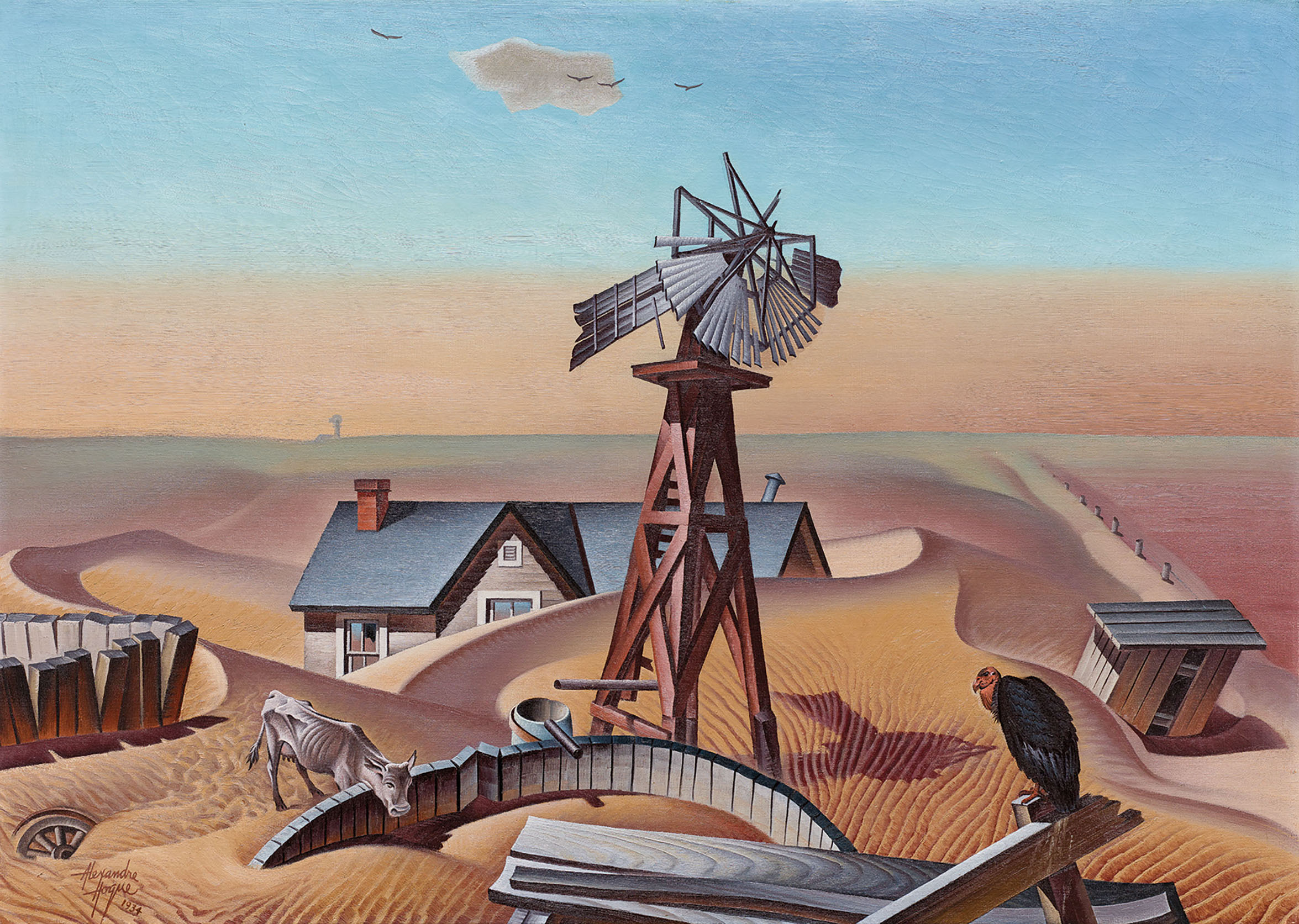 Some Texas museums are great works of architectural art unto themselves, including Louis Kahn's Kimbell Art Museum in Fort Worth, Renzo Piano's Menil Collection in Houston, and David Adjaye's Ruby City in San Antonio. Alison de Lima Greene, a curator at the Museum of Fine Arts Houston, picks the Lillie and Hugh Roy Cullen Sculpture Garden at her home institution, designed by Isamu Noguchi, a notable California-born artist and landscape architect. "He saw it as a 'sculpture for sculpture,'" Greene says.
It's hard sometimes to draw the line between an artwork and a mere feature of the landscape or feat of human genius. Several on Twitter suggested West Texas or Big Bend as the greatest artwork in Texas. One user nominated Dallas Mavericks basketball player Dirk Nowitzki's fadeaway jumper, an elegant shot for a 7-footer. A Whataburger in Corpus Christi shaped like a boat; the Buffalo Bayou Cistern in Houston; brisket; and Willie Nelson's guitar, Trigger, got votes, too. Leslie Moody Castro, a writer and curator for art institutions all over the state, makes a similarly outside-the-box nomination: the giant windmills that dominate the horizon in certain regions of Texas.
Street murals were another popular response—the graffiti Be Someone on an overpass in Houston and musician Daniel Johnston's Hi, How Are You? in Austin were popular picks. Rigoberto Luna, co-owner and director of Presa House Gallery in San Antonio, nominates the San Antonio ceramic mural of local artist Jesse Treviño—La Veladora (The Candle), a three-story image of a Mexican-style votive decorated with the Virgin of Guadalupe. The Virgin's candle shines over the largely poor and immigrant neighborhood. Luna calls it "a beacon of the Westside."
According to Ballroom Marfa director Daisy Nam, the greatest murals in Texas—and the oldest—are in the remote borderland canyons where the Rio Grande and Pecos rivers converge, near present-day Amistad Reservoir. This is where, thousands of years before Europeans arrived in Texas, a hunter-gatherer people recorded aspects of their lives and mythology on rock walls at sites like White Shaman Preserve, using distinctive abstract human forms with stick-figure arms and long bodies. These pictographs are objects of fascination to anthropologists and of worry to conservationists, who fear moisture from the reservoir will soon degrade the paintings.
I visit Seminole Canyon State Park, the most accessible Lower Pecos Canyonlands rock art site, on a cool morning after driving across the reservoir. It's a quick hike down to the archeological site, where a tour guide explains aspects of the ancient artists' lifestyles and visual vocabulary.
"The materials that went into making the pictures were also used for survival," Nam notes, pointing to inorganic materials from minerals found in the area used as pigments and animal fat as a binder. "It was so important to them to make these pictures, no matter how much they needed these materials to survive."
If the story of Texas art starts with these mysterious rock paintings—I'm convinced there's no greater artwork in the state—it begins from a place of deep cultural importance. Looking around the state at the other candidates for best artwork in Texas, all seem to reflect this vision of art as a central part of being alive, as necessary as food and medicine. Here's to the next 10,000 years—if our great works can make it that long.
From the September 2022 issue