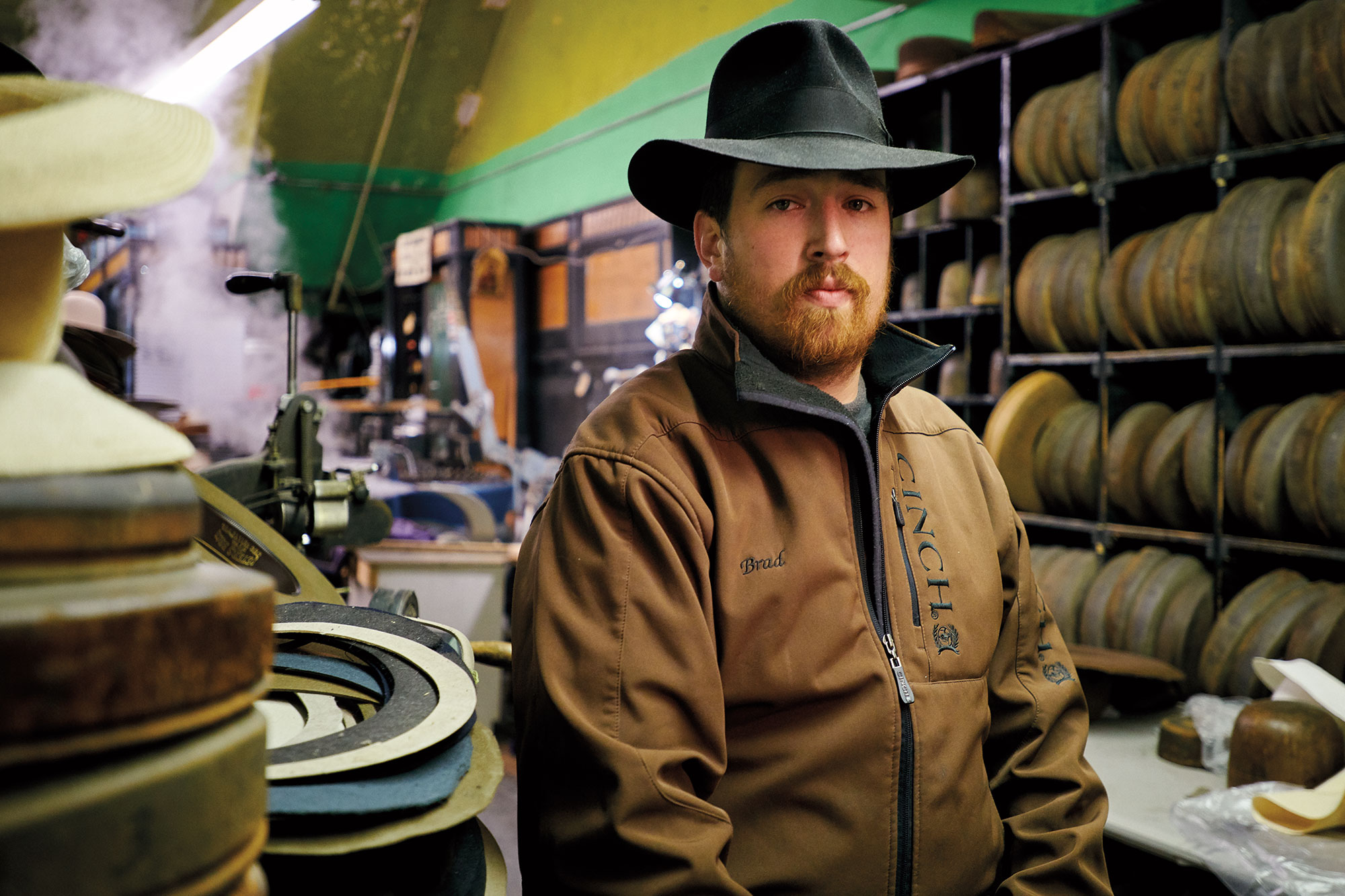 Willie Dedmon calls himself a walking billboard for Peters Brothers Hats, the historic Fort Worth haberdashery. His collection numbers around 60, with headwear stored in various closets around the house and under his bed. Every day, the 65-year-old retiree dons a hat that fits his mood and attire before making his rounds about town.
Get Your Own

Peters Brothers Hats is open Tue-Sat 9 a.m.-5 p.m.

The shop carries a selection of felt and straw Western and dress hats, bucket hats, and flat caps. Retail straws start at $60, felts at $300. There's a six-month wait for custom hats. Custom straws start at $150; custom felts cost $350 for rabbit fur, $600 for 50/50 rabbit-beaver blend, and $1,100 for pure beaver felt.
"I just wear a hat like a gentleman should: You clean up and you put your hat on," Dedmon explains. "I went to get some food the other day and a young man said, 'Mister, where'd you get that hat? That's a nice hat.' I tell a lot of the younger guys, 'That's a taste of the old school. Y'all don't know nothing about that. It's called class.'"
For about 30 years, Dedmon has purchased his hats from Peters Brothers, the downtown storefront that's been handcrafting custom hats for generations. Opened as a shoeshine shop in 1911 by Greek immigrant brothers Tom and Jim Peters, the store expanded into hat renovations and in 1933 moved into its current home as a full-fledged hat shop.
Not much has changed since. A sign with a dapper Western gentleman juggling cowboy hats, installed in 1952, marks the entrance on Houston Street. Inside, under a pressed-tin ceiling, a workshop of century-old equipment sits among shelves of poplar wood blocks and brim flanges—the molds used to shape felt and straw hats. The two-man operation works to a soundtrack of a simmering steamer, whirring sewing machines, and the rhythmic whisk of off-balance ceiling fans.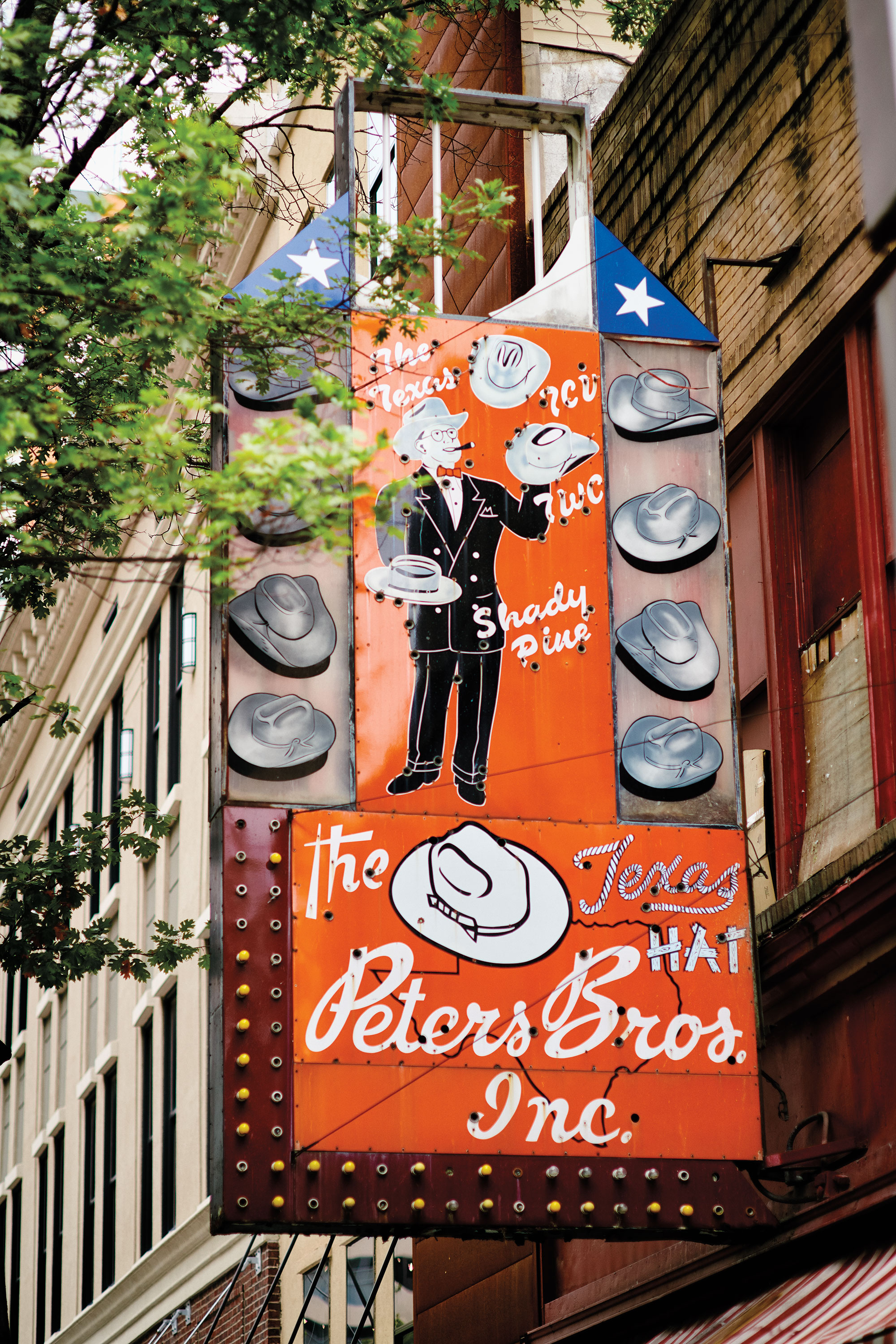 And there's always been a Peters at the helm. Brad Peters, 28, is the fifth generation to run the shop. He took over in 2013 when his grandfather, Joe Peters Sr., passed away.
"I got stuck behind a steamer at about 4 years old," Brad says. "It's just what we did, really. It's not an easy thing to do, and it's not easy to keep what a lot of people consider a dying art alive. But it's the legacy factor that keeps us going."
The legacy factor is strong at Peters Brothers. There aren't too many prominent 20th-century Texans who haven't worn a Peters Brothers hat. Dallas Cowboys coach Tom Landry wore a fedora. President Lyndon B. Johnson wore a Shady Oak, a short-brimmed Western hat. In a glass case, the shop displays hats of historical or sentimental value, including an open-crowned model signed by customer Billy Gibbons, the sharply dressed ZZ Top bluesman.
Joe Peters Jr., owner of the company and Brad's father, reels off spools of celebrity tales, like the time he convinced George Jones to wear a hat. Famous for his coiffed hair, Jones eschewed toppers until Joe Jr. put one on him at the Fort Worth Stock Show and Rodeo. Or the time a man wearing a New York Yankees cap and a Rolex entered the Peters Brothers shop and ordered 36 hats.
"He handed me his credit card, and I looked down and it was Neil Diamond," says Joe, who, despite a proud affiliation with Peters Brothers, now works in the hat department at M.L. Leddy's, a boot store in town. "The last time I saw Neil Diamond, he looked at me and said, 'I love this store, don't ever change a thing.' And I looked at him and said, 'Don't worry, we have no plans to.'"
Peters Brothers' prominence can be traced in part to Amon Carter Sr. (1879-1955), publisher of the Fort Worth Star-Telegram. Whenever a dignitary visited Fort Worth, Carter would gift them a Peters Brothers' Shady Oak, a style he's credited with naming.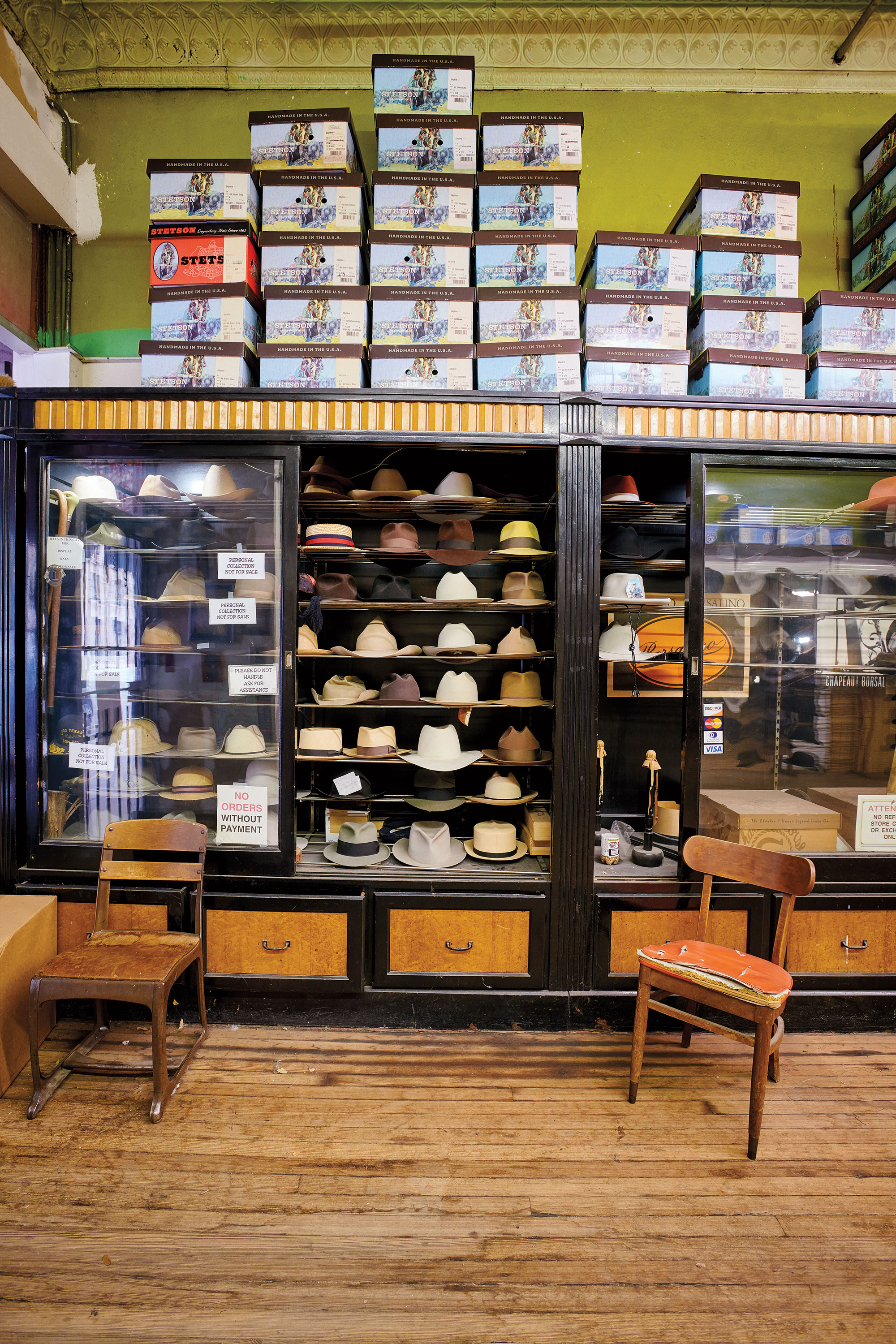 The Shady Oak remains a top seller. Brad Peters says the hat originated with his great-great grandfather Tom, who in 1921 moved to Philadelphia for a few years to work with the John B. Stetson Co. Stetson makes a similar hat called the Open Road. "I'm pretty sure they designed that together, but they couldn't decide on what brim size was right," Brad says. "Ours have just a little bigger brim."
"It's not easy to keep what a lot of people consider to be a dying art alive. But it's the legacy factor that keeps us going."
In a corner of the shop, among various autographed photos, a black-and-white image shows President John F. Kennedy holding a Shady Oak as he stands at a lectern to address the Fort Worth Chamber of Commerce. The photo was taken on Nov. 22, 1963, hours before Kennedy was assassinated in Dallas.
"The story is that they tried to get him to put the hat on, and he said he would put it on when he got back to the White House," Brad says. "Nobody knows where the hat is now."
JFK's refusal to wear the hat on that fateful morning was no surprise. In his 2004 book Hatless Jack, Neil Steinberg recalls the Fort Worth chamber breakfast in the context of the president's distaste for hats and the desperate attempts of the hat industry, which was already in decline, to persuade him otherwise.
Hat manufacturing peaked in the United States way back in 1903. Nowadays the popularity of dress hats comes and goes with fads, largely driven by women and country music. But the allure of a handmade Peters Brothers remains a draw for throwback fans. Case in point, Willie Dedmon, whose favorite styles are felt fedoras and homburgs.
"I get nothing but compliments on those hats," he says. "Every year or so I get a hankering for a new one. And every year I tell them, I'm not buying any more hats, I have enough. And they say, 'He'll be back.'"
Hats Off to Texas Haberdashers
Travel to any corner of Texas, and you're bound to see at least a few locals sporting full-brimmed hats. Whether it's a cowboy-hatted auctioneer rattling off weights and prices at a weekly stock sale or a doting abuelo in a crisp new fedora for his granddaughter's quinceañera, hat wearers find their styles at a variety of Texas shops that make hats by hand, refurbish old headwear, and sell the latest styles off the rack.
Paris Hatters
Around the corner from the Alamo, follow the vintage red-and-white sign to find all styles and hat services at this traditional institution, which opened in 1917 and claims to be "the oldest surviving retail business in downtown San Antonio."
119 Broadway St., San Antonio. 210-223-3453; parishatters.com
Limpia Creek Hats
The selection of straw and felt cowboy hats resonates with West Texas character in a small, rustic building of native rock. Limpia Creek will shape a hat for you while you wait and catch up on the latest news from cowpunchers and deputies who've also stepped in for a new lid.
200 N. State St., Fort Davis. 432-426-2130;
limpiacreekhats.com
Hatco Outlet Store
This is the perfect stop after a tour of the neighboring hat factory, where Hatco makes Stetson, Resistol, Dobbs, Charlie 1 Horse, and other brands. The shop sells cowboy boots, Western apparel, and thousands of hats—felt and straw Westerns, fedoras, wool outdoors hats, and linen flat caps, among others, often at reduced prices.
721 Marion Drive, Garland. 972-494-0337
Peters Brothers Hats
909 Houston St., Fort Worth
817-335-1715
pbhats.com
From the March 2019 issue