S

ix and a

H

alf

M

illion

S

eedlings

S

prouting
A decade after the Complex Fire, Bastrop is healing—and artists, big-city dwellers, and hollywood are taking note
B

astrop First caught

my attention in 2013, when I saw its burned out, ash-covered landscape in the David Gordon Green film Prince Avalanche. It's an oddball story about two highway workers, played by Emile Hirsch and Paul Rudd, who spend a summer painting lines along a country road destroyed by a wildfire. The backdrop was no Hollywood set. It was the Lost Pines of Bastrop after the catastrophic 2011 Complex Fire, the largest wildfire in Texas history. From Sept. 4 to Oct. 29, the fire burned roughly 33,000 acres. I knew about it from the news and from friends, but the movie captured my imagination. It made me curious about this Central Texas town I'd passed by so many times while growing up in Houston and road-tripping to Austin.

The recovery is still a work in progress, though. As of fall 2021, over 6.5 million pine seedlings have been planted on public and private lands, according to the Texas A&M Forest Service. Right after the fire, "it looked like an apocalyptic landscape," says Chris Hrasky, drummer for the Austin-based instrumental rock band Explosions in the Sky. Hrasky had brought Green to Bastrop so he could see the potential shooting location for himself, and when Green scanned the charcoal-colored pines, he was sold. Explosions in the Sky ended up scoring Prince Avalanche, which now serves as a time capsule of what Bastrop looked like in May 2012, less than a year after the fire was finally put out.

Around that time, Hrasky, who lives in Austin, started hiking the hilly trails near the banks of the Colorado River and noticing wildflowers and ground cover sprouting through the ash. He's been a devotee of exploring Bastrop State Park—6,600 acres of trails, fishing spots, and picnic areas—with his dog ever since. "Hiking in Austin is fine, but there are people everywhere," Hrasky says. "Bastrop feels like a nice escape, and that's becoming increasingly necessary."

Back in 2011, the Texas Film Commission designated Bastrop a Film Friendly Texas community, meaning the city and county work with the commission to market the area to the movie industry. Filmmakers like Richard Linklater, who bought a 48-acre ranch in Bastrop County prior to the fire, and the original The Texas Chainsaw Massacre director, Tobe Hooper, understood its cinematic potential years before the designation. The Bastrop gas station from Hooper's movie is now a tourist destination for horror fans.

The burgeoning film community, in tandem with big-city dwellers looking for small town living, has helped catalyze Bastrop's triumphant return from the Complex Fire. In 2000, the town, located 30 miles east of Austin, was home to just over 5,000 residents. Now its population tops 9,000. Not even the pandemic has been a deterrent. "Tourism is alive and well in Bastrop," says Ashton LaFuente, director of marketing at Visit Bastrop. LaFuente says at least 10 new hospitality businesses have opened in town since the pandemic, and the September 2021 Bastrop Music Festival, an economic driver for the community, saw a record-breaking year.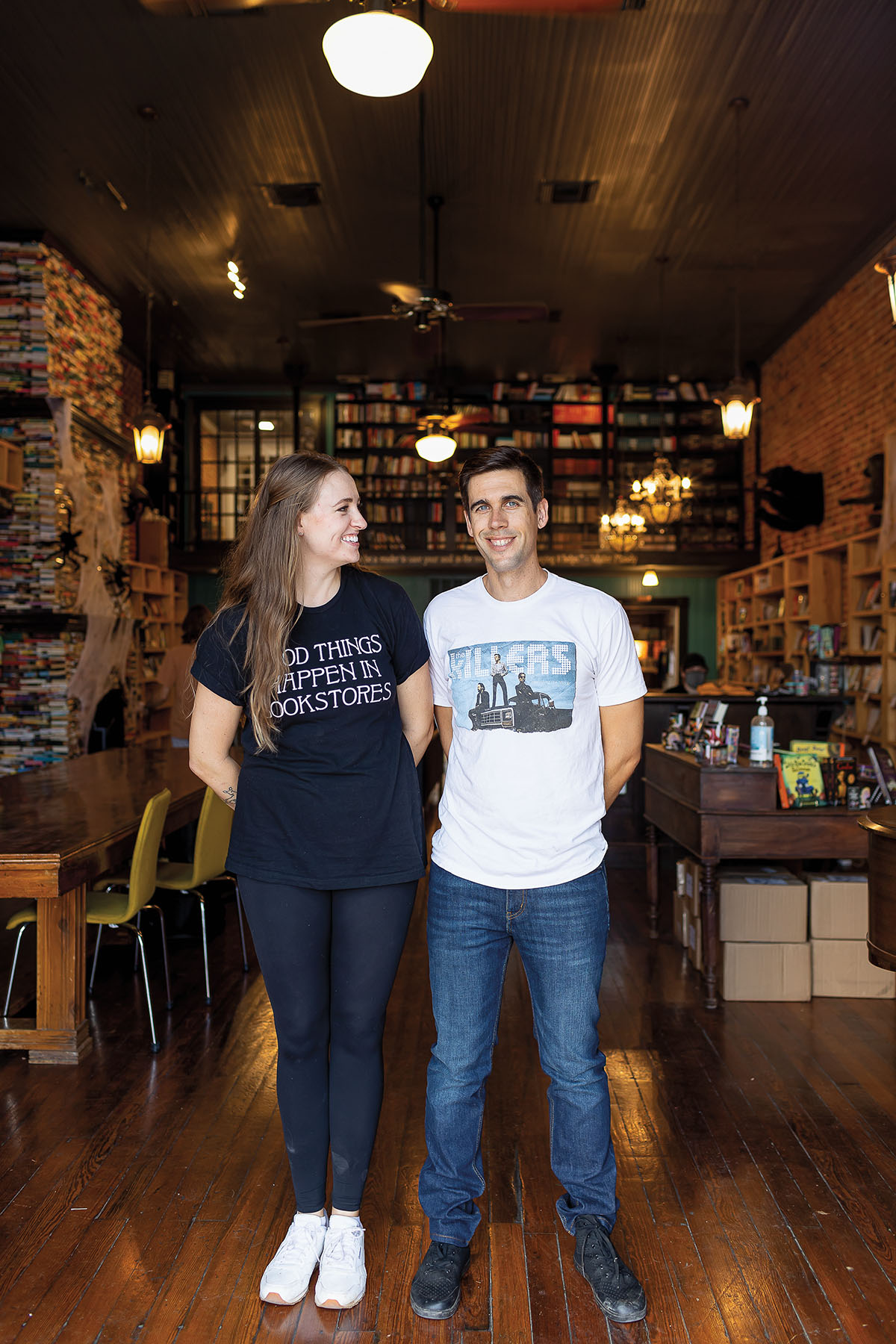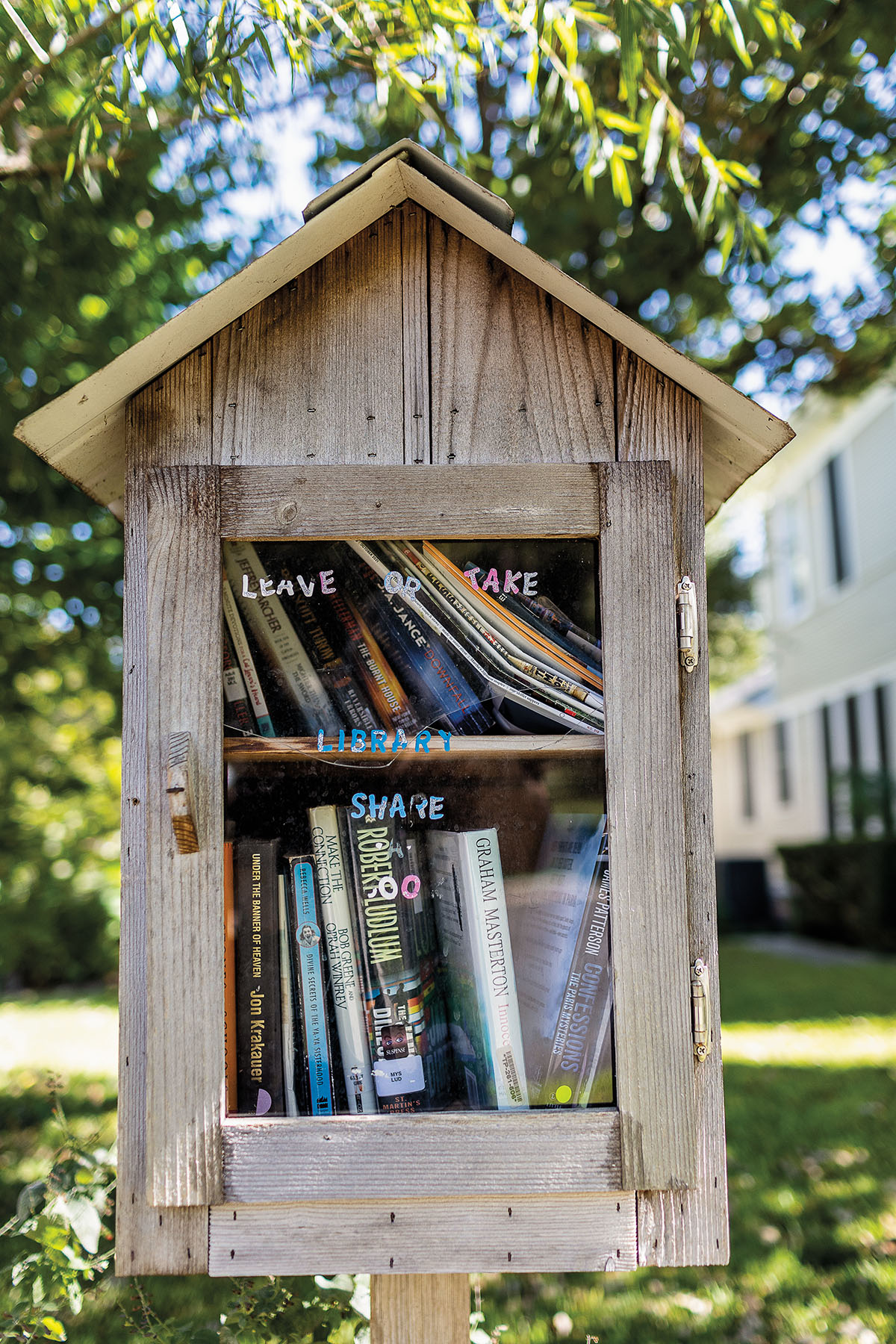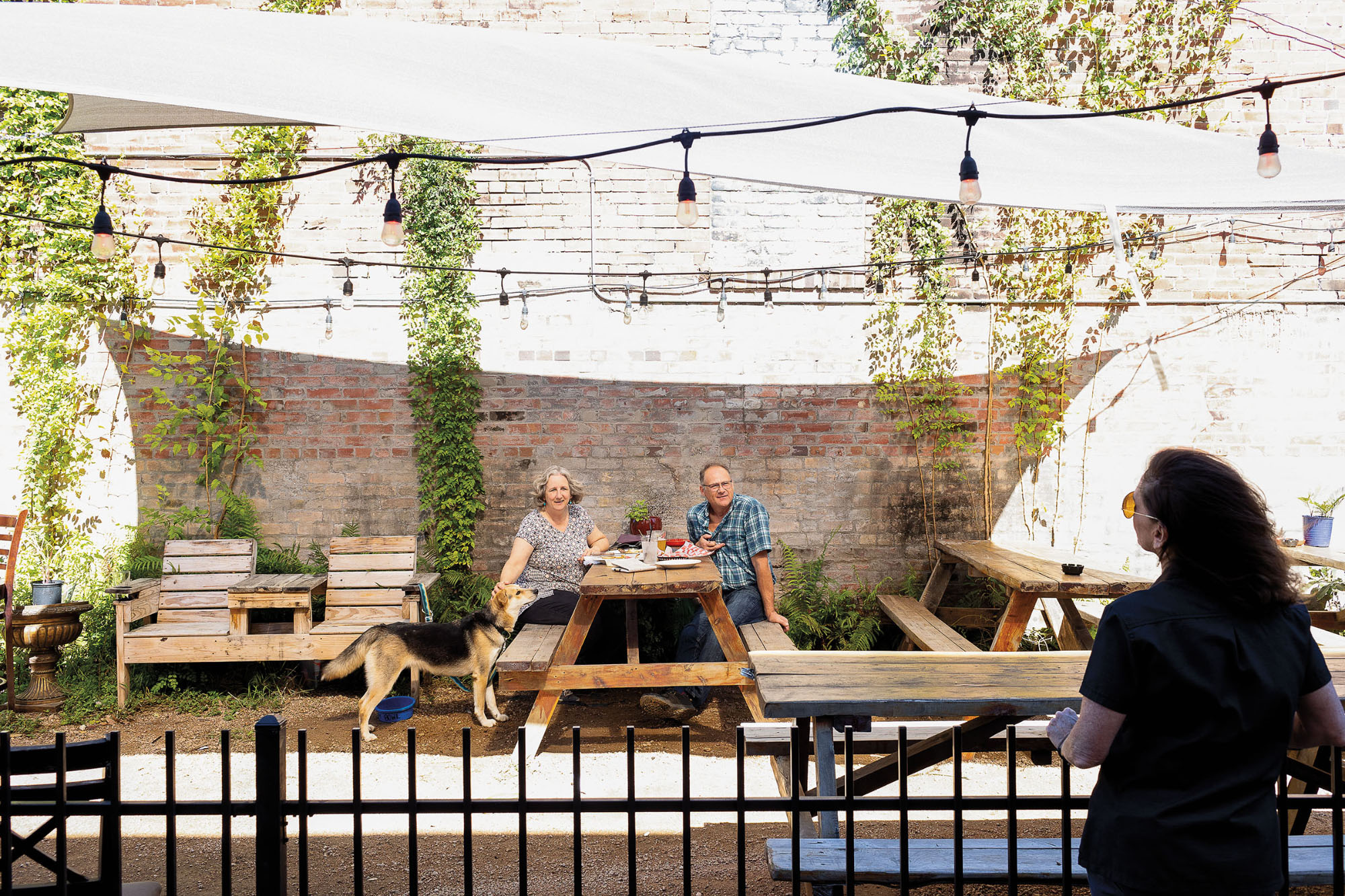 Bastrop was established in 1832 by Stephen F. Austin and named after Baron de Bastrop, a colorful Dutch character whose noble origins are questionable, but whose contributions to settling the area earned him dibs. In 1834, the Mexican government renamed the town Mina after the Mexican Revolutionary hero Francisco Xavier Mina. When the town was incorporated under the laws of the Republic of Texas in 1837, the name was changed back to Bastrop.
Floods and fires have ravaged the area since it was established, but it has always bounced back, and Bastrop now bills itself as the "Most Historic Small Town in Texas." The claim is buoyed by the abundance of historical buildings that attract visitors to downtown. The National Register of Historic Places lists 34 buildings in Bastrop's commercial district, many of them dating to the mid-1800s. The buildings that now house a record store and restaurants were once cathouses and shops that made pressed metal cornices. The original businesses might not exist anymore, but the structures have persisted through natural disasters and decades of growth and change.
"We've had our share of catastrophes," says Dock Jackson, a fifth-generation Bastropian who met me at a no-fuss café called Coffee Dog, across the river and a few miles from Main Street. Jackson is involved with just about every association imaginable, including the Bastrop MLK Scholarship Committee, the Kerr Community Center board of directors, and the Juneteenth Committee. He's also served over 26 years on the city council, helped name streets, and fought for arts programs. He knows everyone in town.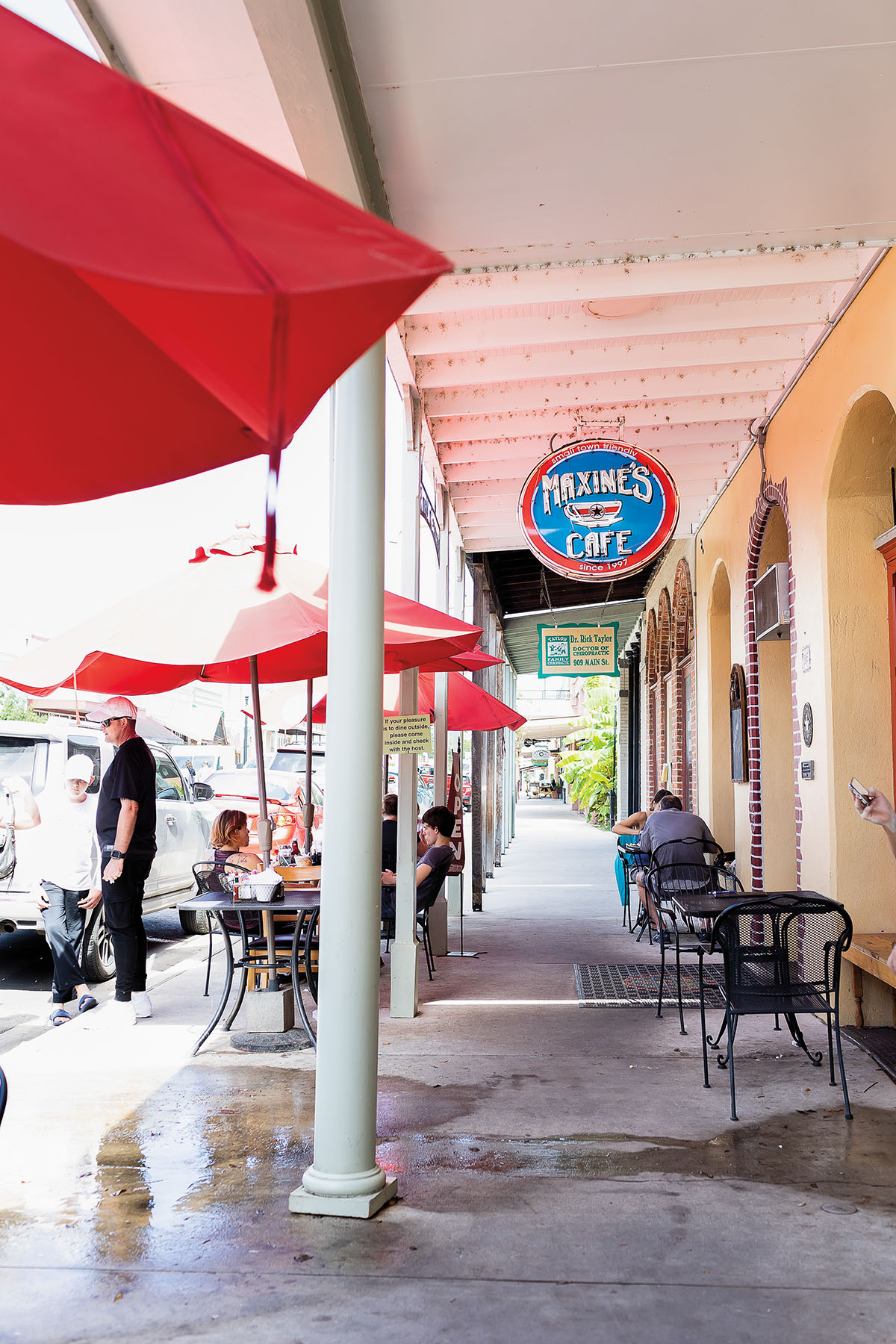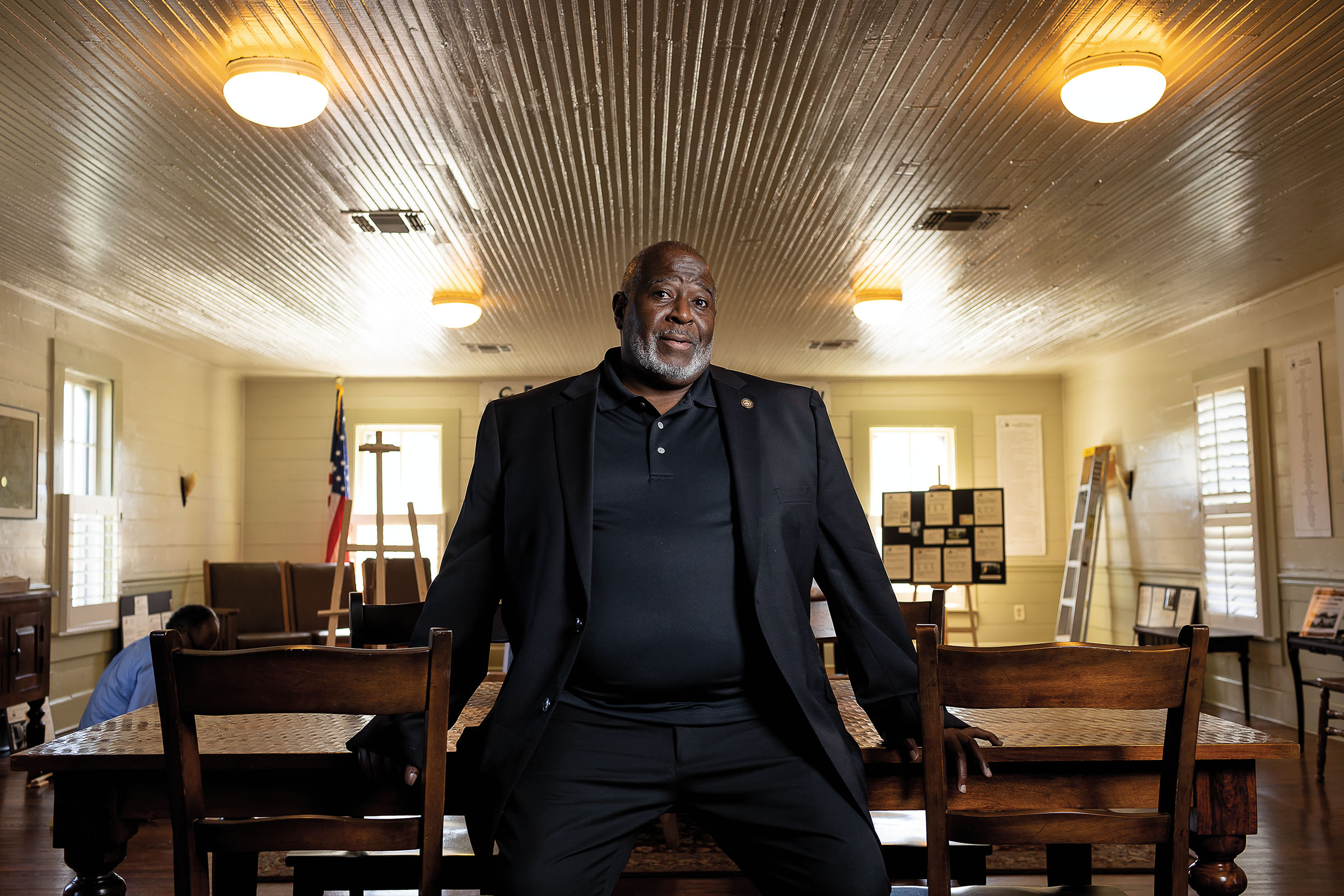 Like Bastrop, Jackson is laid-back and friendly. After he picks up his fancy coffee drink, he heads back to the barista to ask for just a little more sugar. He tells me that in his younger years he did leave Bastrop for a time. He headed to New York to pursue his dream of becoming an actor and singer. He was keeping pace in the city, but then his grandfather had a stroke and Jackson returned home to care for him.
Jackson has spearheaded creative endeavors in Bastrop for decades. This was long before Hollywood actors including Shazam's Zachary Levi and Entourage's Adrian Grenier abandoned California and moved to the area in search of artistic inspiration and a new start. Levi is trying to establish Wyldwood Studios, an arts commune on the outskirts of town. Jackson, who has watched the growth of Bastrop's entertainment industry for decades, tells me the Kerr Community Center on Walnut Street was "the only place African Americans could go for cultural events" during the Jim Crow era.
Like so many buildings in Bastrop, the Kerr building is now on the National Register of Historic Places. Bastrop has over 130 historical buildings, and to the town's credit, instead of razing those old homes and red brick buildings, they've welcomed a crop of newcomers who've been turning those unused dusty spaces into independent bookstores, boutiques, and farm-to-table restaurants.
While not everyone is happy about the massive changes Bastrop is experiencing, Jackson is all for the growth. "We can't stay stagnant," he says. "And there's less and less reason to go to Austin."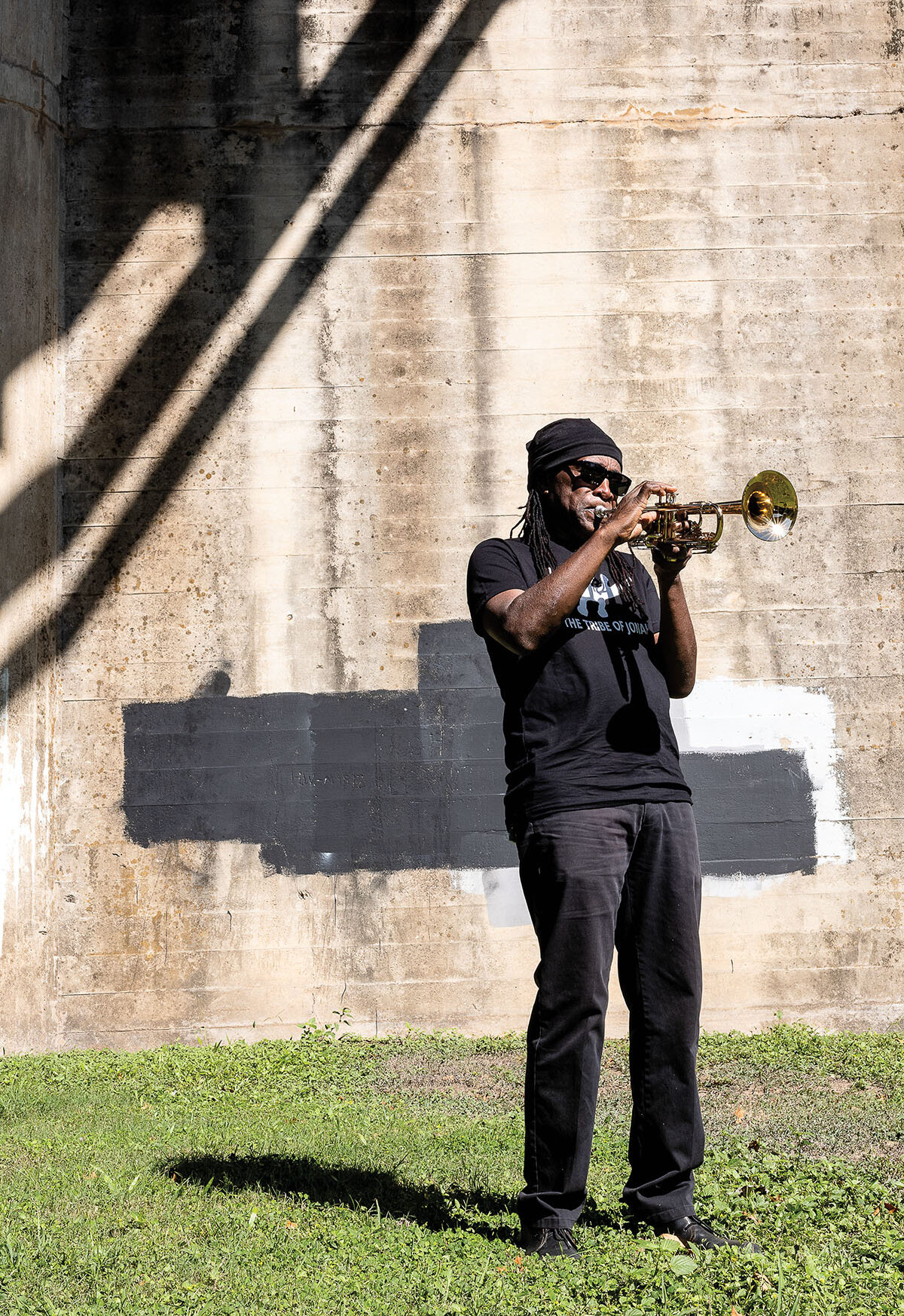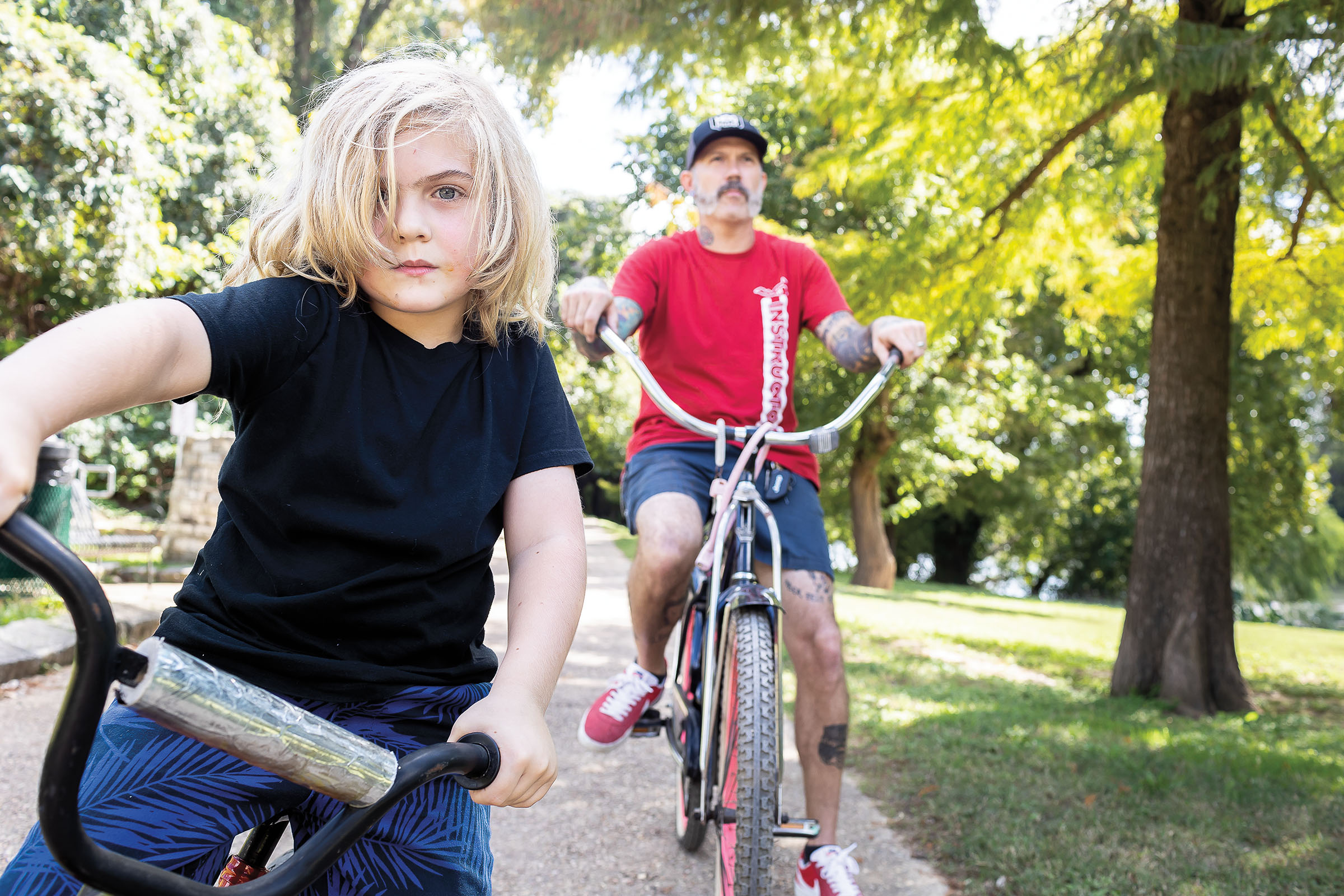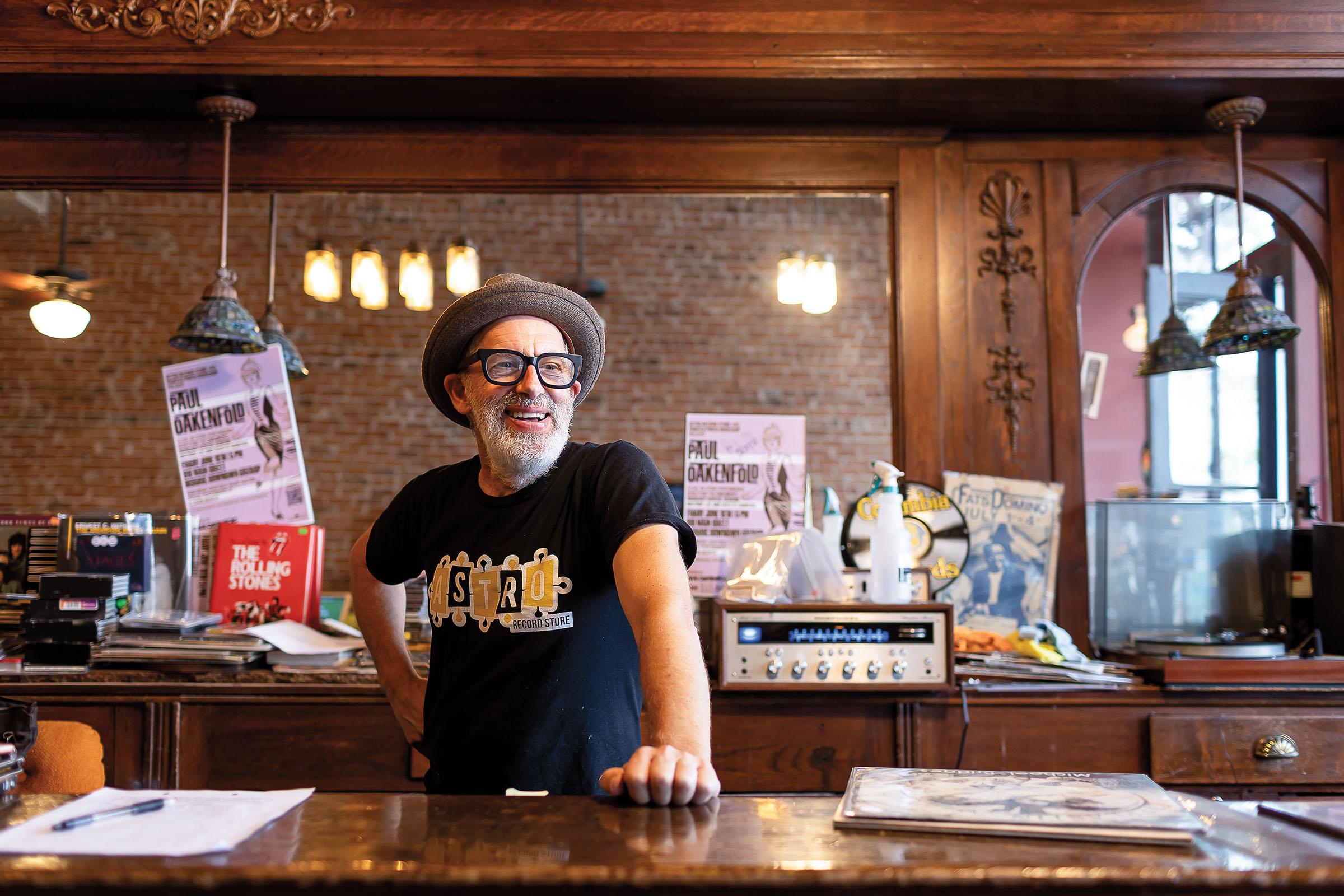 People aren't just stopping into Bastrop these days. They're moving there to play music or paint or open a restaurant in a place that's attempting to maintain its small town quaintness even as its population explodes with artists who've been won over by it.
The roads out of Austin and into small town life lured bestselling author Ryan Holiday and his wife, Samantha. They moved to Austin from New York in 2015 and started raising "gateway animals" like chickens and goats. After a few years watching the traffic slow and the construction speed up, they started questioning why they were in a city at all.
"We thought, if we're going to live in Texas, let's live in Texas," says Holiday, a native Californian, as we sit on a shaded porch behind his bookstore, The Painted Porch. "The draw to Texas was Austin, but we realized we didn't have to live there."
The Holidays bought 40 acres in Cedar Creek, an area in Bastrop County just outside of town, and made the risky move of opening a brick-and-mortar bookstore during a pandemic. "We put down serious roots," he says when I ask whether he plans to stay for good.
As you might expect by now, The Painted Porch is housed in a building that's part of the National Register of Historic Places. On a blazing hot day in late June, Holiday gives me a tour of his 140-year-old red brick building at 912 Main St. The books on sale are carefully curated. Samantha's piano from childhood is in the middle of the main floor, and a tower of books rises above an old fireplace. More than 2,000 books, 4,000 nails, and a couple of gallons of glue went into the tower, which stretches to the ceiling. Holiday displays the better books closer to eye-level and the less interesting books (think something like a 1978 celebrity diet book) higher up.
For native Bastropians who are skeptical of all the growth, Holiday and his young family might represent the next generation of outsiders who are flooding into their town, bringing tourists with them. The Holidays' love for Bastrop is palpable, though, and their aim, just like Jackson's, is to preserve the integrity of the town while helping it thrive into the future. Holiday cites the Colorado River, which is easily accessible for kayaking and fishing just steps from downtown, as one of the perks of living and working in the area.
Holiday thinks Bastrop has a "Mayberry feel," referencing the idyllic fictional town from The Andy Griffith Show. The Holidays recently took over Tracey's Drive-In Grocery, along with Athan and AnneMarie Schindler. The beloved spot was owned and operated by the Chalmers family since 1946, and they handed the reins to the Holidays and Schindlers because, as they indicate on the business' website, they trust them to keep the store operating as the same independent shop locals adore.
Holiday is quick to point me to other small businesses he loves. He touts Maxine's Cafe, which is located right across Main Street from his bookstore and is consistently ranked one of the best breakfast places in Texas. He takes me next door to Astro Record Store, owned by British transplant Kevin "Lippy" Mawby, and rhapsodizes about the classic LPs, vintage record players, and historic wood-carved countertops. A few days before I met with Holiday, The Painted Porch and Astro Record Store hosted an event with famed English DJ Paul Oakenfold, now a Bastrop resident.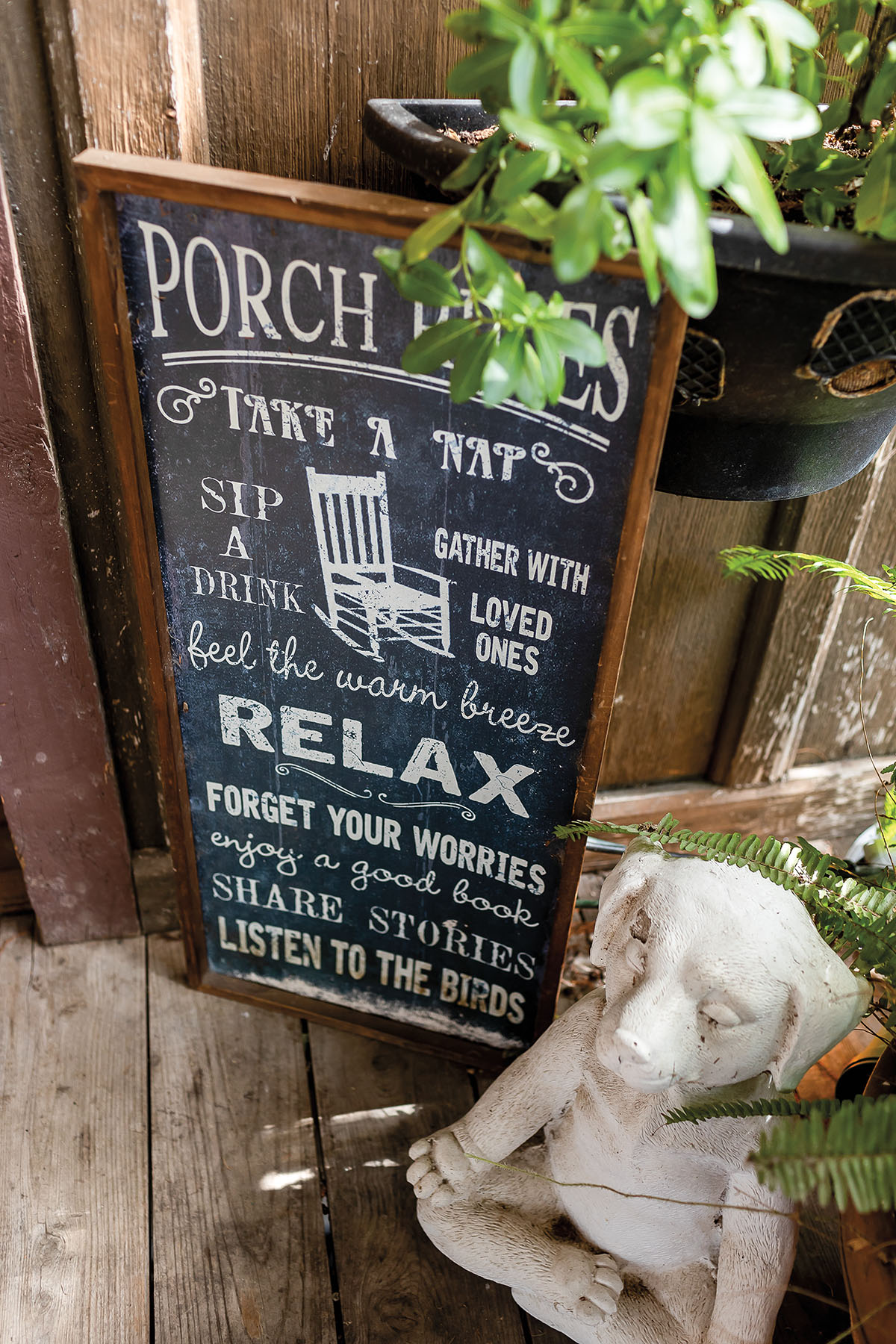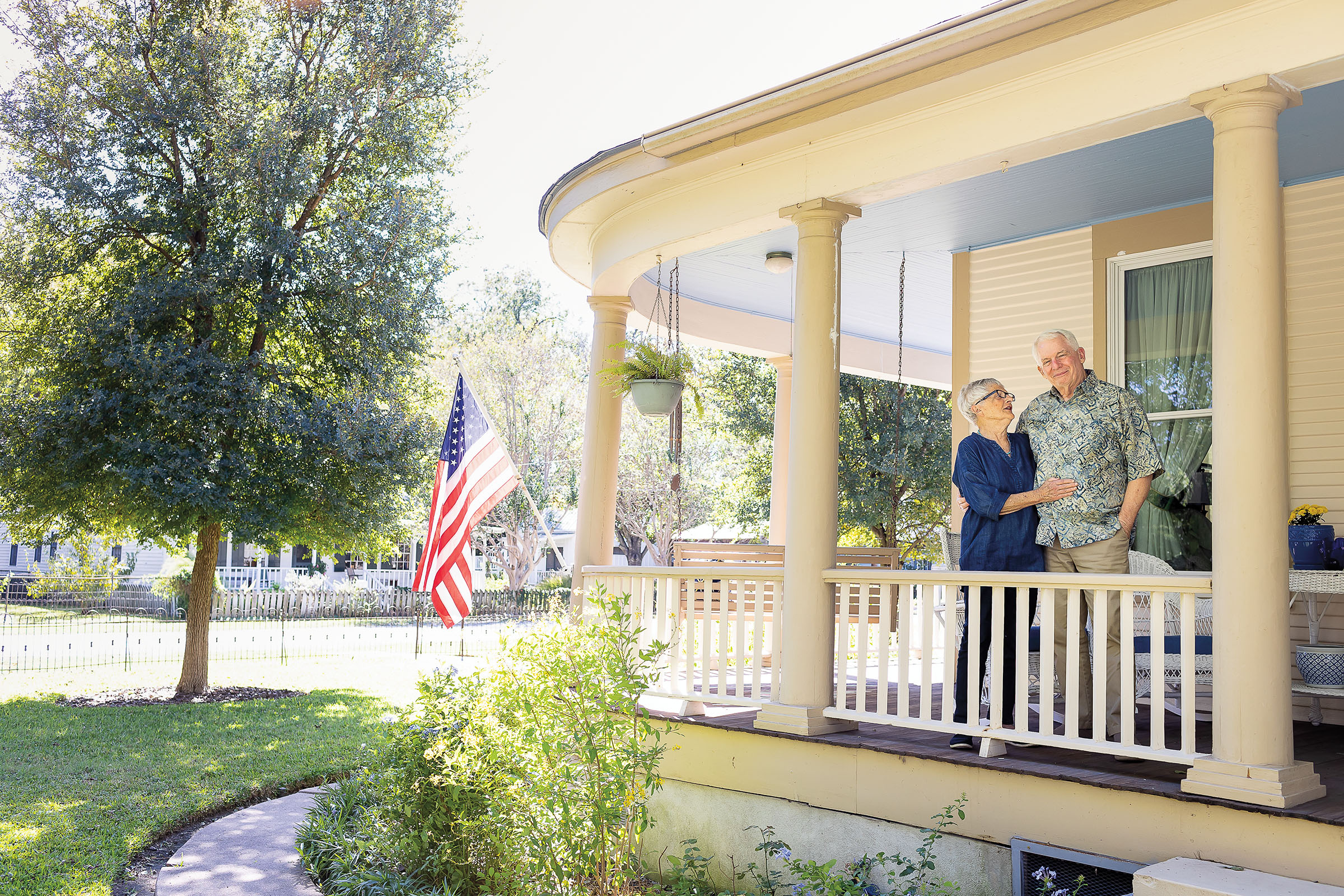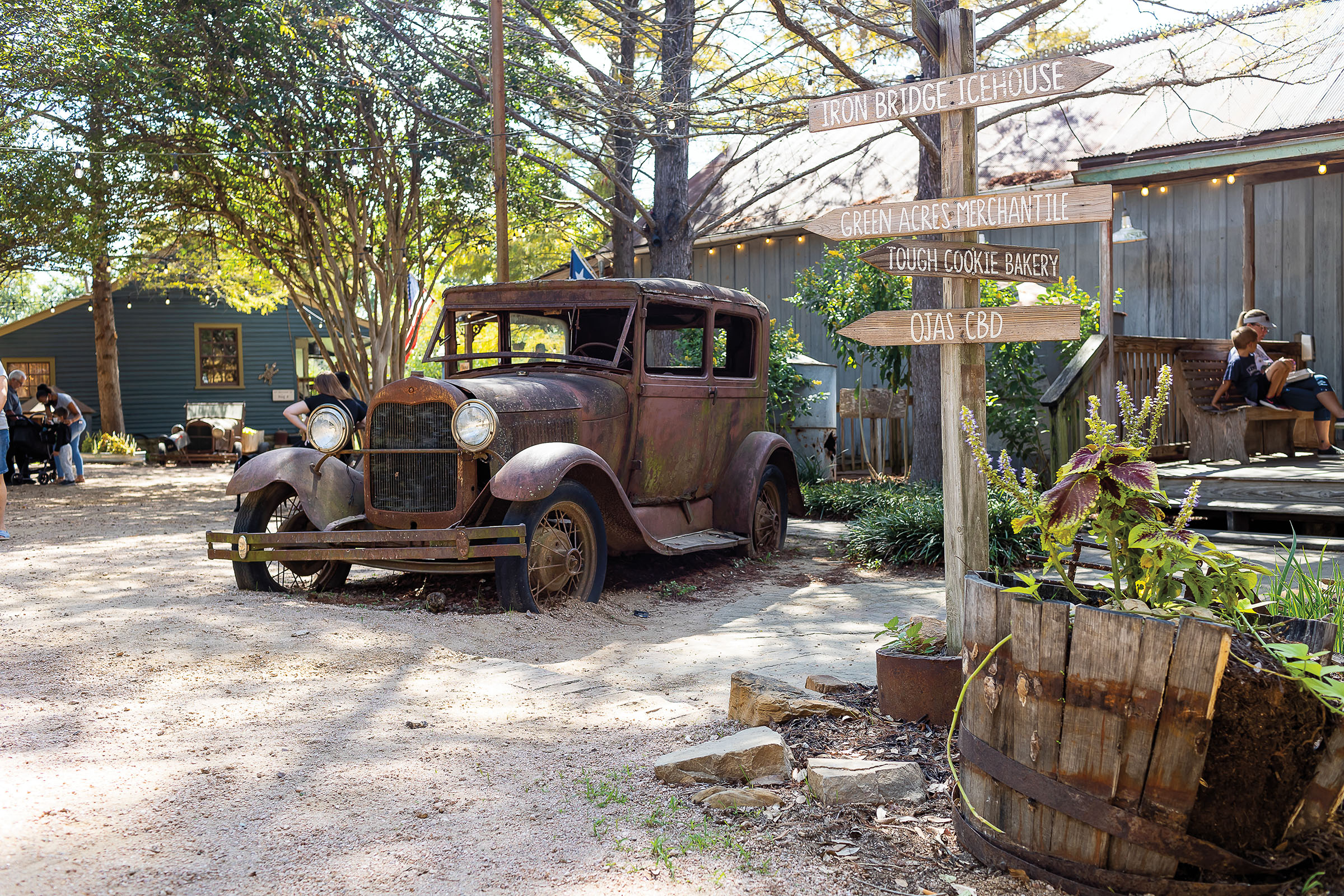 On any given night in Bastrop, you can see a three-piece country band at 602 Brewing Company, or check out local artists' galleries, or stroll through Fisherman's Park and admire the Colorado River. You can cool down with a sweet tea and a Cubano sandwich at Base Camp Deli, visit the Lost Pines Art Center, or wander along Pecan and Elm streets snapping photos of the historical homes. On Saturday nights there's a vibrancy that isn't hampered by endlessly searching for parking spots or waiting in long lines to get into restaurants or bars. On weekdays, Main Street still has that Mayberry quality. It's quiet, but if you just put one foot in front of the other, you're bound to stumble upon something interesting.
Like so many places in Texas that are having the charm bulldozed right out of them, the worry is that all this growth will lead to more cookie-cutter developments and less hometown feel. Classical composer and jazz trumpeter Hannibal Lokumbe, who grew up 20 minutes away in Smithville and now calls Bastrop home, is torn.
"I'm in the middle ground," Lokumbe says. "The world is for all of us to share. Given the river and the trees and the proximity to Houston and San Antonio and Austin, it's the perfect place."
The big question is, how will that change with the introduction of a 546-acre film studio? In June, the Bastrop City Council approved a development agreement with a California-based company—a project unrelated to Wyldwood — amid plenty of resistance by locals whose homes would be impacted by the noise, light, and invasion of actors like Will Smith or Angelina Jolie jetting into town. When I meet with Mayor Connie Schroeder in her office at Bastrop City Hall on Chestnut Street, she proudly shows me the plans for the studio and says, "It's a business deal for us." She reminds me that Bastrop is a Film Friendly Texas town, and the infrastructure impact of the studio is less than what had been previously suggested by a developer for 1,200 homes. "Change is hard," Schroeder says.
Michele Anderson, who heads up opposition to the studio, lives in the neighborhood adjacent to the proposed development. "In our view, it's not beneficial to the community," she says. Anderson cites the fact that the plans include hotels, restaurants, and entertainment on the lot, which would theoretically keep tourists from frequenting local businesses in town. Like many people, Anderson left Austin because of the rapid changes, and seeing that same trend in Bastrop gives her pause. "We're slowly losing who we are," she says.
Jessica Zamora, who works alongside Anderson and lives in Tahitian Village, near the proposed site, worries about the studio's impact on wildlife and her neighborhood. "I do feel it's growing a little bit too fast," Zamora says. "I really wanted it to stay small."
Jackson, one of the city council members who voted in favor of the studio, says it will add to Bastrop's "beautiful mix of old and new."
Chefs Sonya Cote and Kate Rousset left Austin for Bastrop to open Store House Market + Eatery and Eden East Farm in, yep, a historical building that over the years housed a Mexican restaurant, a funeral home, and a brothel, according to Carol Kysar of the Bastrop County Historical Society. Cote says of the changes coming into Bastrop, "I'm a little worried about it because we watched Austin explode, and we couldn't afford to stick around. I hope the city of Bastrop puts a lot of thought into the expansion."
Perry Lowe, a native Bastropian and drummer for the roots band Chubby Knuckle Choir, understands the allure of his hometown. "People go to Austin to work, but they come to Bastrop to truly live," he explains.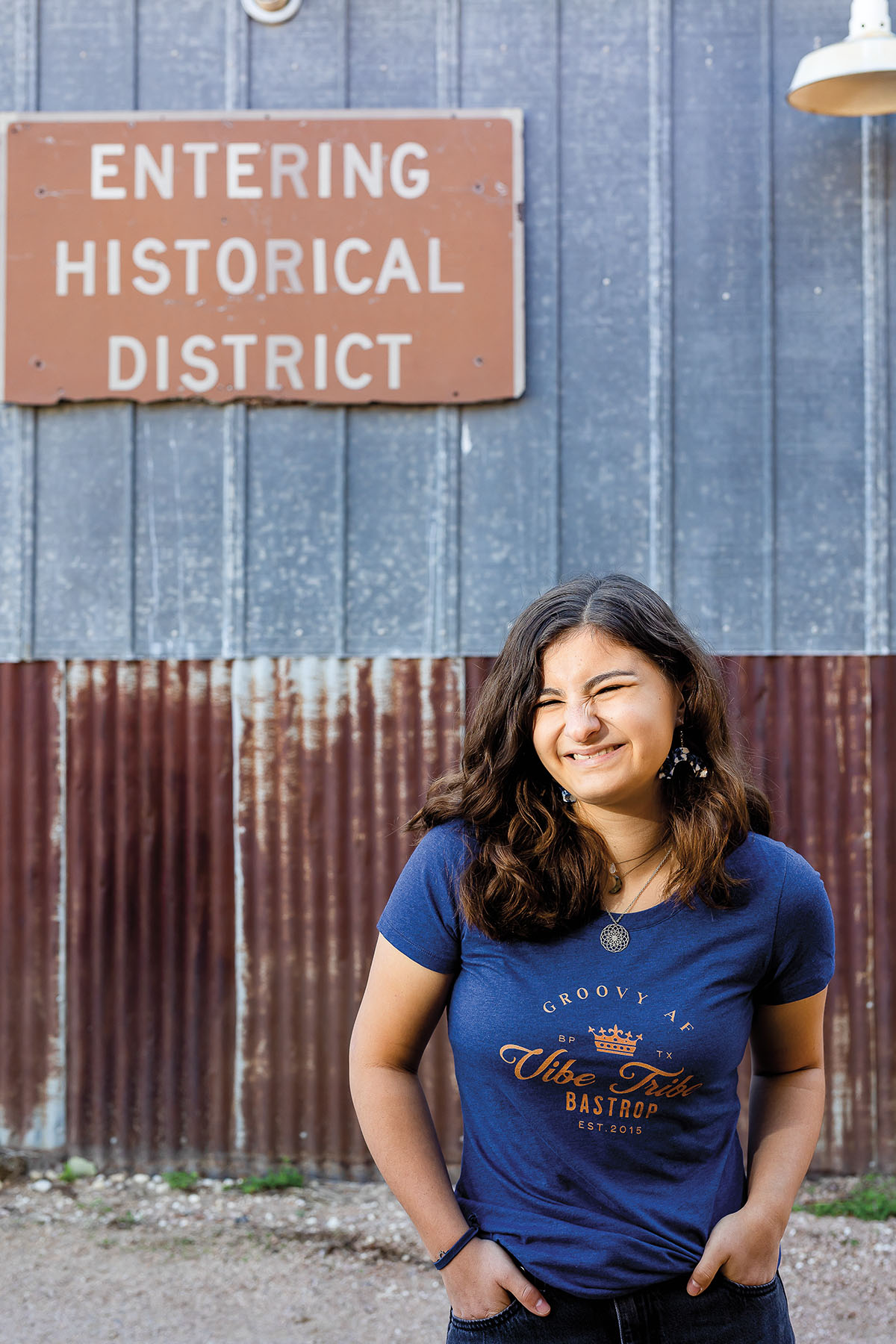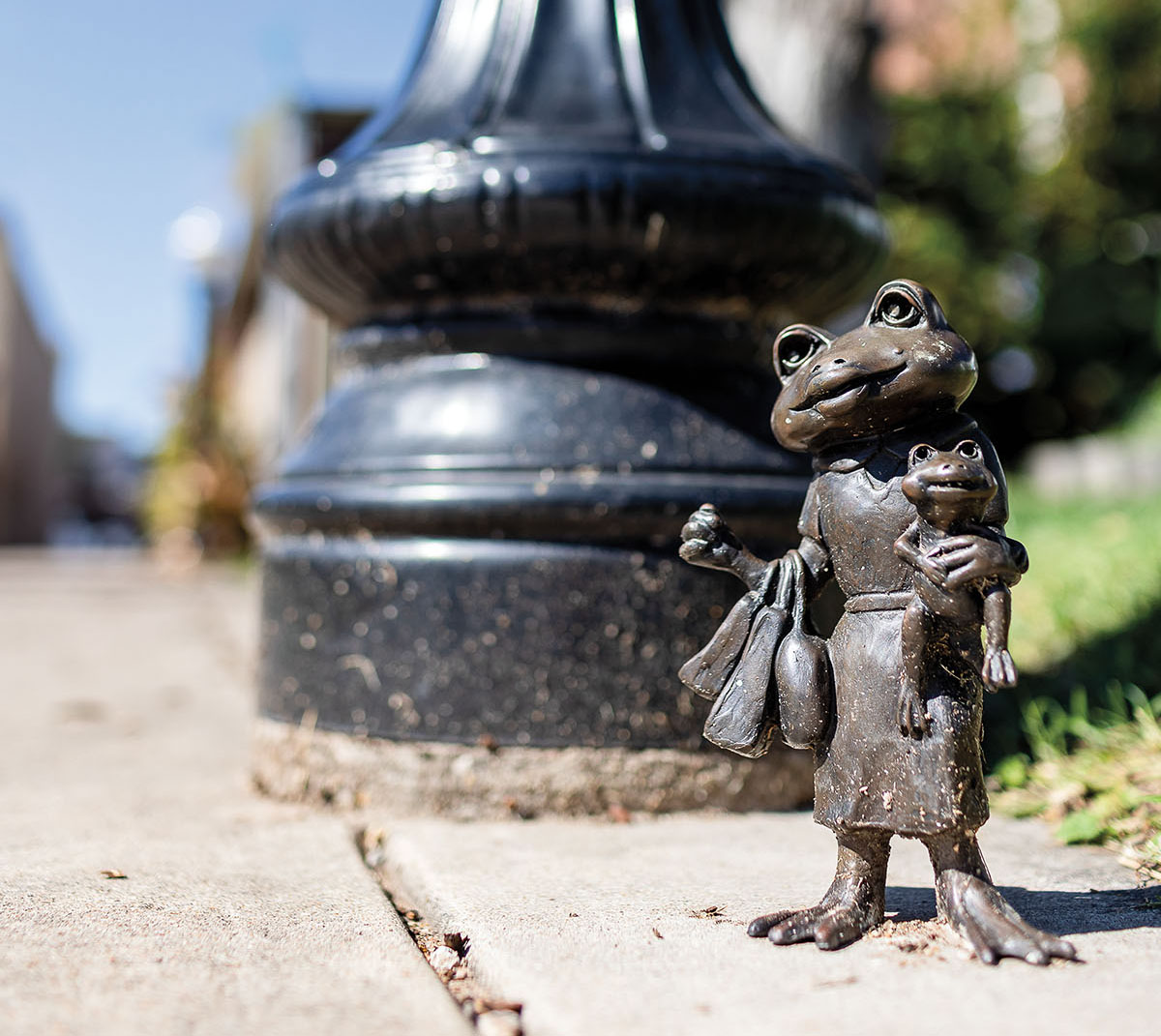 J

ust

E

ast of

W

eird

Thirty miles outside of Austin, opportunities to eat, play, and sleep in style are still abundant.

A staple of downtown Bastrop, Maxine's Cafe is a must-stop for migas, chicken-fried steak, and homemade pecan pie. 905 Main St., 512-303-0919; maxinescafe.com

Lost Pines Art Center hosts glass-blowing workshops, exhibits, and events like Art After Dark, with live music and wine. 1204 Chestnut St., 512-321-8055; lostpinesartcenter.org

Less than 4 miles from downtown, The Reserve at Greenleaf is an eco-friendly "glamping" paradise offering luxury yurts, hiking trails, and kayaking. 408 Laura Lane, 512-988-9928; thereserveatgreenleaf.com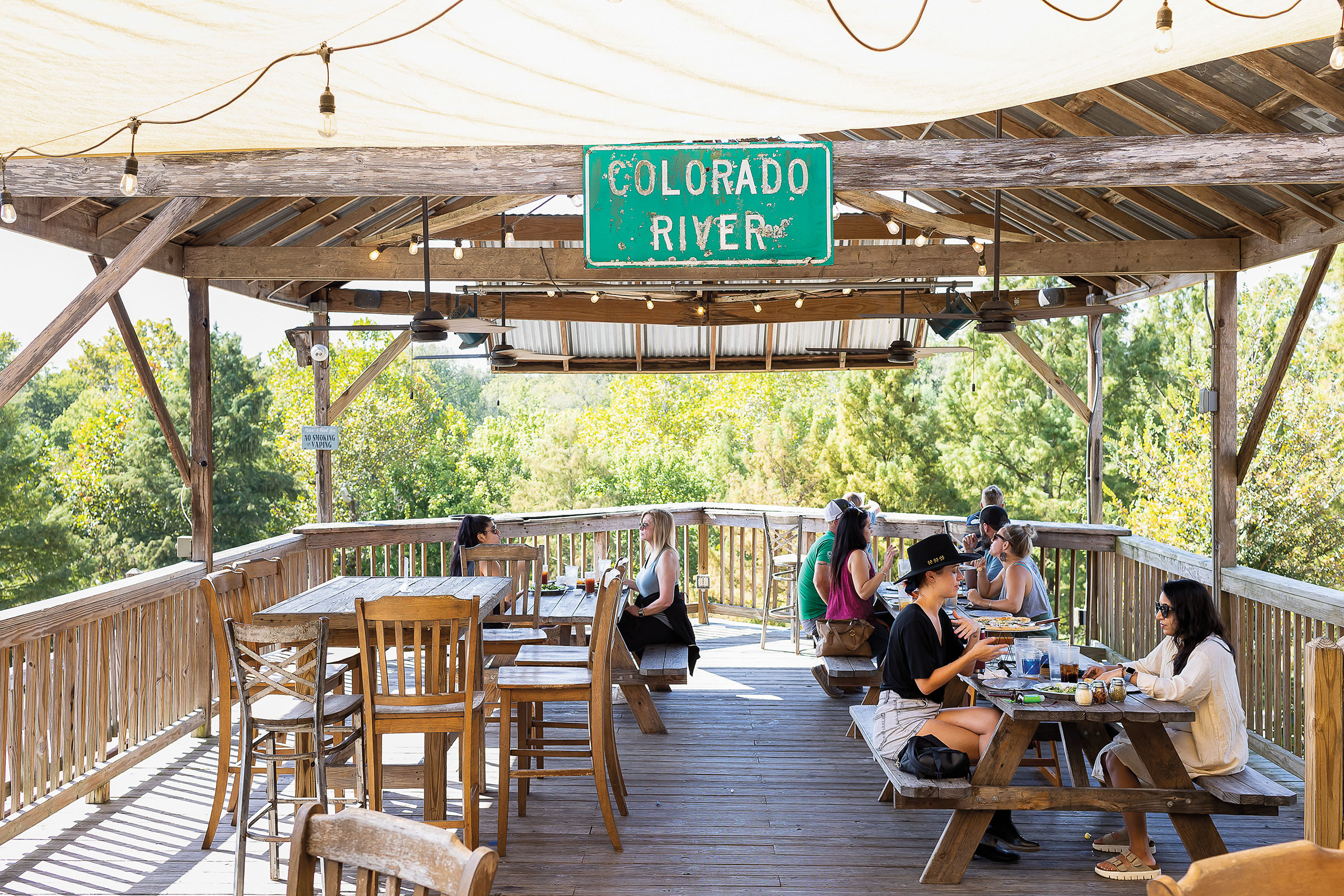 As someone who recently left city life to settle in the rural yet rapidly growing area of Hutto, I understand the conundrum as I've watched Austin's authenticity take a hit while it makes way for more tech companies and pricey real estate. Bastrop still feels like a place that's not trying to be anything but itself. Maybe it's all those historical buildings. Maybe being outside of the capital, Bastropians can watch and learn how to expand without compromising the tightknit feel of the town so many know and love.
During a visit in late June, I wander into R.A. Green Mercantile on Main Street seeking some AC and a little shade. Most of the vendors are closed, but I meet a jewelry maker named Dee Turnbow, who moved to Bastrop from Harlingen 11 years prior to help open a church plant. When I ask what she thinks of all the growth in town, her mouth tightens and her forehead creases with frustration. "People are leaving California for reasons like it's expensive or there's traffic, but they're bringing those same things here," she says. "But it's still Texas. It's still friendly."
I continue down the hall and meet high school sophomore Lauren Martinez, who works at Vibe Tribe, one of the craft stalls. She says she welcomes the changes in her hometown. She likes the energy and the new ideas she's seen. Martinez tells me she wants to travel and see the world when she finishes high school. Then she adds, "But I'll always come back to Bastrop."
From the January 2022 issue