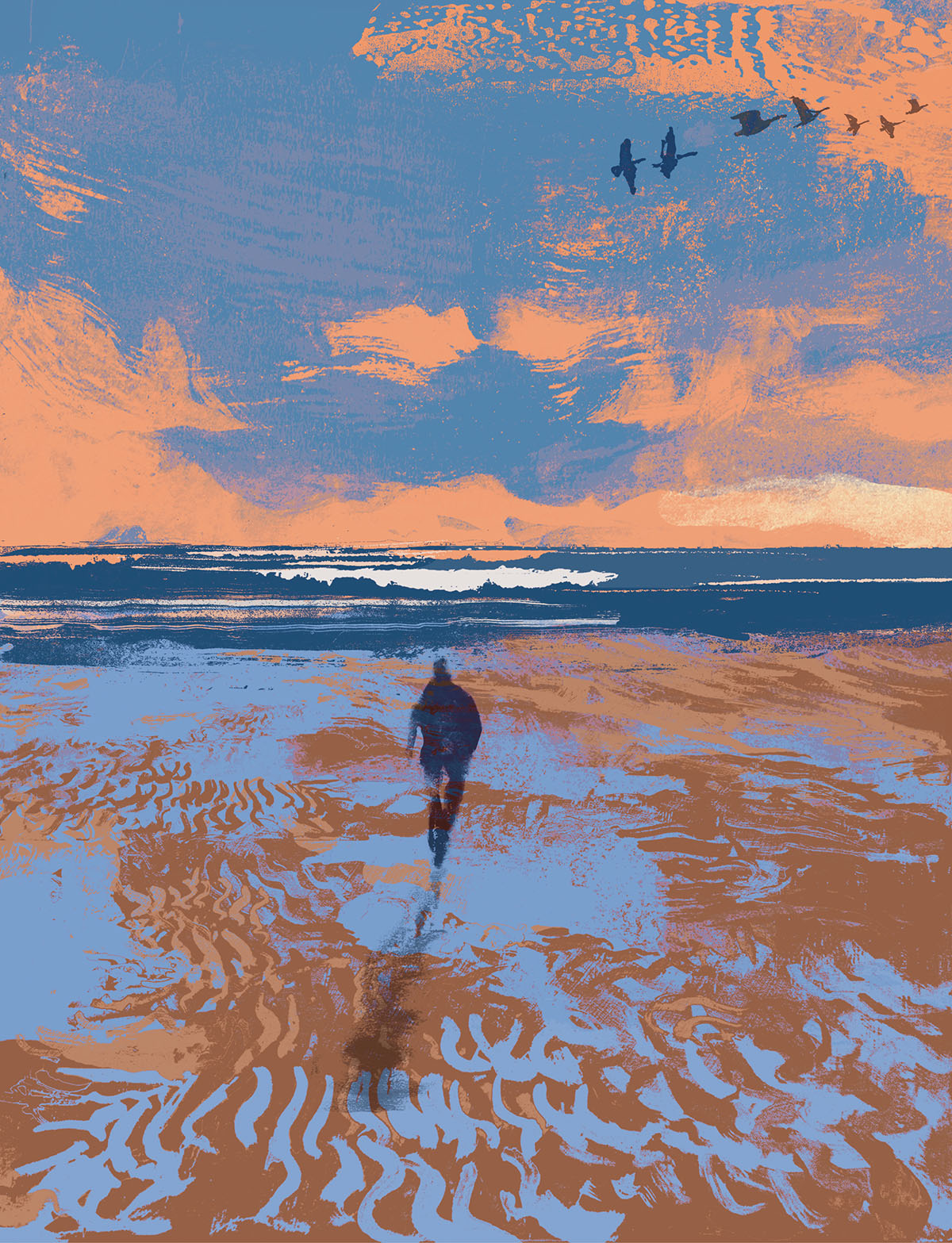 The Water
Asks Me Questions
A Caribbean native finds a home away from home in Corpus Christi
My feet are halfway buried in the sand. I inhale deeply and smell salt—a familiar scent. My eyes are closed. The vibrant red painting the interior of my eyelids tells me the sun is there, shining fiercely. I feel its heat on my arms and embracing my face. The waves' incessant lapping at the shore is like an old song, a mother's lullaby. I hear people talking and laughing, like background actors in a movie. A quick shadow makes the red vanish. A bird. I open my eyes to follow its path and realize I'm smiling. This isn't home, but it feels like it as I stand on McGee Beach in Corpus Christi, inches from the Gulf of Mexico, my new version of the ocean.
I was born and raised in the Caribbean, in Puerto Rico, and I've always lived close to the ocean, less than half a mile from Isla Verde Beach and little more than that from Pine Grove Beach. As I grew up, the beach became the place I went when I wanted to think, to spend time with friends, to soak up the sun, and to recharge. It was also a place that made me feel small. The beach was there for a few heartbreaks, a couple of fights, and several other events that taught me about the fleeting nature of happiness and how hard we must fight to hold on to every speck of it we get. The beach was where I realized friendships aren't forever and life mercilessly pulls people in different directions. The beach was the place I went when I wanted to lounge, plan, read, play hooky, or drink. I was dumb enough to bodyboard some big waves before a few hurricanes despite having no talent for it. I was trying to sell stolen jewelry at the beach the first time someone pointed a gun at me. I was 17 or so and had heard from a friend that selling stolen jewelry was an easy way to make a lot of money. I lasted one day and didn't make a cent. The beach was a constant presence, and eventually it turned into a second home.
But it was also a challenge, a ridiculously large obstacle I had to overcome if I wanted to go anywhere else, including the mainland United States. Only those who have loved their home unconditionally while simultaneously feeling the urge to see what's on the other side can understand this.
My island was 100 miles long by 35 miles wide, which was tiny compared to the size of the world that opened up beyond the Caribbean Sea to the south and the Atlantic Ocean to the north. Looking out at the water, I had dreams of going somewhere bigger, somewhere different. Like many other island kids, I grew up thinking about the world on the other side of the ocean, dreaming about the possibilities that awaited me there—if only I could manage to make my way across the great blue divide.
When I moved to Austin in the summer of 2008 to pursue a doctorate in journalism at the University of Texas, I didn't realize how much I was going to miss the water, how desperately I'd crave the uninterrupted view all the way to the horizon and how my ears would ache at the absence of the poetry of waves. Austin has much to offer—diversity, great food, museums, bookstores, a storied music scene—but it's a landlocked city. Places like Barton Springs and Deep Eddy are lovely, and I've spent my share of afternoons soaking in both, but they aren't like the ocean, and I need the ocean. For an island boy, living far away from the coast leads to a malaise worse than homesickness. I call it "agitated stagnation of the soul." Corpus Christi isn't the Caribbean, but it's the closest thing I've found in Texas.
The first time I drove to Corpus Christi was in 2010. I had been in Austin two years, and I told my friends I missed the ocean. They all offered similar solutions: Go to UT's pools, jump in a river, take a dip in a lake, visit the Blue Hole in Wimberley, and spend the day at Jacob's Well Natural Area or at Hamilton Pool Preserve. They were trying to help, but their recommendations weren't what I was looking for.
Getting out of the car in Corpus Christi and smelling salt in the air felt like a piece of home had flown all the way to Texas to crawl into my nose and reveal a huge absence. That first weekend in Corpus Christi, I walked Shoreline Boulevard and spent as much time as possible with my feet in the water. I saw people throwing crumbs to seagulls, walking their dogs, frolicking under the sun, and staring out at the water, just like I'd done so many times back home.
I knew they were thinking about many things, but at least some of them had to be thinking about the world on the other side of the ocean—and some of them were surely far from home. I was comforted by the idea that the feelings I had considered so personal were much more universal. I realized there is a thin thread that connects us and keeps us from feeling completely alone.
Looking at the people who stared longingly at the ocean made me realize most of us desire to see other places but miss home terribly once we leave. I was living more than 2,000 miles from home, seeing other places, seizing opportunities I had dreamed about. Like most migrants, I was building a life here, trying to become a writer after starting to write in English for the first time—something I began doing right after moving to Austin and seeing the many publishing opportunities available to folks writing in English. I was building a life that prevented me from going home. The sea gulls and brown water of Corpus Christi would have to do. Since then, I've gone back to Corpus Christi many times, and each time I feel the city receiving me like an adopted son.
Approaching Corpus Christi always forces a mental change in me, a transitory disengagement from all problems and stressors. The landscape remains flat, but the yellow grass, empty space, odd house, and sporadic cows that make up most of what I see on Interstate 37 melt away as soon as I approach the town of Mathis. I look forward to Mathis because that's when the giant windmills of the Karankawa Wind Farm make their appearance. I love being surrounded by them and the quixotic science fiction landscape that stretches as far as the eye can see—"Those thou seest there … with the long arms, and some have them nearly two leagues long," as Don Quixote tells Sancho in Miguel de Cervantes' classic. While the psychological shift is profound, the windmills herald the arrival of something better, something that feels wholeheartedly like a piece of home: palm trees.
Driving into Corpus Christi on I-37 means I must also put up with the eyesore that is the CITGO Corpus Christi Refinery, which covers 890 acres like a ragged metallic scar spewing thick white smoke into the blue Texas sky. But the appearance of palm trees, which show up at about the same time as the refinery towers, almost make up for it.
Palm trees are Corpus Christi. Two of them show up on the city seal. They are sprinkled on both sides of I-37. They stand like quiet sentinels in many neighborhoods. They are a mainstay of Shoreline Boulevard and Ocean Drive, arguably the prettiest drive in Corpus. The city and its residents love their palm trees so much that the ones that died in the freeze of 2021 have already been replaced despite the chaos we have collectively endured since then.
While palm trees embody Corpus Christi's aesthetic, they also unlock some of my most treasured memories of home. Reading at the beach. Spending weekends camping in La Selva in Guánica. Kayaking with my friends, paddling urgently as if we could beat back adulthood. Drinking cold beer to fight the oppressive summer heat as we bobbed in the waves. Getting my heart broken by a green-eyed mermaid. Fishing with one of my best friends before life pulled us in different directions. The list of reminiscences goes on and on, and a palm tree hovers over all of them. Still, the things that keep me going back to Corpus Christi aren't just the palm trees or the smell of salt in the air; I'm intrigued by the complicated historical and cultural connections between Puerto Rico and my Texas version of it.
Corpus Christi—Latin for "body of Christ"—has adopted the nickname The Sparkling City by the Sea from longtime tourism advertisements. Meanwhile, Puerto Rico is referred to as La Isla del Encanto—The Island of Enchantment. While both names sound like they could have been dreamed up by a marketing team for a Florida resort, I love them for their unabashed attempts to conjure visions of magical places. Also, much like when Puerto Rico was "discovered" by Christopher Columbus in 1493, Alonso Álvarez de Piñeda, a Spanish explorer, discovered Corpus Christi in 1519. In Puerto Rico, the Taíno tribe preceded Columbus, while the Karankawa in Corpus Christi came long before de Piñeda. And like Puerto Rico, which Columbus named San Juan Bautista in honor of St. John the Baptist, Corpus Christi received a religious name in the form of the Christian feast celebrated on the day it was discovered: the Feast of Corpus Christi, also called Solemnity of the Most Holy Body and Blood of Christ, a festival that honors the presence of Jesus' body in the Eucharist.
Both places share a dark colonial history (Puerto Rico is still a colony), and I think that makes cities possess a rich soul born of everything its people have endured, every change they were forced to process. Corpus Christi's soul reminds me of Puerto Rico because both places have developed a similar identity: independent, eclectic, relaxed.
During my first visit to Corpus Christi, I stayed at a hotel decked out with beach décor. The restaurants around the hotel looked the same—kitsch and fish. Like Puerto Rico, Corpus Christi relies on tourism as an economic driver. Colorful beach house rentals, water sports, and all the hotels sprinkled along the coast make it an alluring destination.
Corpus Christi is part of Texas, but it's easy for me to forget that when I see jet skis zooming around or look at the collection of sailboats at the Corpus Christi Marina, their masts reaching to the sky like thin fingers trying to tickle the clouds. Places that look like postcards tend to serve the kinds of people who buy postcards to send home. Corpus Christi's beaches, boat tours, birdwatching, fishing, festivals, restaurants, and attractions including the USS Lexington Museum, South Texas Botanical Gardens & Nature Center, and Texas State Aquarium all serve the town's second-largest industry. It's the same back home, where tourism represents about 10% of the gross domestic product annually.
During one trip to Corpus Christi, an older woman at the beach started talking to me about how she loved the water but was afraid it wasn't clean. That afternoon, also on the beach, I struck up a conversation with a Mexican American who was walking his pit bull. I always feel welcome in Corpus Christi, and a big part of that is the people. Around 63% of Corpus Christi's population is Hispanic. With all its Mexican restaurants and Spanish speakers, there's no denying Corpus Christi has a distinctive Latino flavor that permeates its vibrant culture.
I witness it in the Selena Quintanilla-Pérez statue—Santa Selena!—overlooking the water. Selena's career exploded right when I was starting to dream about being a writer, in the early 1990s, and her triumph buoyed my dreams. I love encountering the Mirador de la Flor memorial, which houses her statue and where her music plays in the background as people write their names and leave her love notes on the ground.
Only those who live with the bittersweet taste of another language constantly on their tongue understand how amazing it is to be surrounded by people who speak the language they grew up speaking. In Corpus Christi, I can walk into just about any restaurant and order in Spanish. El idioma, al igual que el mar, es un hogar lejos de casa. Language, just like the sea, is a place far from home.
But no place is perfect. There's more to Corpus Christi than beautiful palm trees, clean sidewalks next to the water, and cool restaurants and coffee shops. Every time I've gone back to Puerto Rico since 2008, I find it a bit more run-down. A few more businesses have shuttered, and there is a slight increase in the general sense of decay beyond the places we keep shiny for tourists. The same has happened in parts of Corpus Christi. While huge mansions with fresh coats of paint and perfectly manicured lawns line Ocean Drive, there are dozens of abandoned houses just blocks behind those mansions, mere minutes from the water. Granted, this reality is in large part an affliction many destinations across the country are grappling with in the post-pandemic era.
My most recent trip to Corpus Christi was this past April. I drove up and down Ocean Drive and Shoreline Boulevard because I love to do so, but like on every previous trip, I also spent time driving around Sixth and Seventh streets. The area includes crumbling wooden fences, abandoned shopping carts, piles of trash, mangy cats licking themselves on sagging porches, rusty AC units puttering under windows, and bygone places that have been boarded up and sport signs that read NO TRESPASSING BY ORDER OF THE CORPUS CHRISTI POLICE DEPARTMENT VIOLATORS WILL BE ARRESTED CRIMINAL TRESPASS P.C. 30.05.
The dichotomy between the prettiest places in Corpus Christi and the ugliest is made more apparent by the proximity of the two, and that also reminds me of home. Corpus Christi isn't landlocked. In fact, one could say the city occupies a perfect spot with the Gulf of Mexico to one side and the contiguous United States to the other. But some of it reminds me of Puerto Rico because it looks like a place that is both thriving and struggling, attractive and tired, though a place where tourism is key. I don't know what to expect every time I go home, and I don't know what to expect every time I return to Corpus Christi, but something calls me to both places, something otherworldly keeps me dreaming about spending more time near their very different oceans.
"No man ever steps in the same river twice, for it is not the same river and he is not the same man," the Greek philosopher Heraclitus once declared. The same applies here. Every trip I take to Corpus Christi feels like a return to a home away from home, but every time I'm there, a different city is waiting for me. Finding those alterations upon every return makes me take stock of who I am, what I've accomplished since the last time I was there and what I've done with my life since I moved away from home.
Whenever I stand in front of the ocean—in Puerto Rico, Corpus Christi, or anywhere else—the water asks me questions about how I've been since we last saw each other and how hard I've worked at chasing the dreams that drove me away from it. During the trip I made to Corpus Christi this spring, I told the ocean I'm in flux: I'm growing in some respects and declining in others. The ocean asked me why I keep coming back, and my answer was clear: I was born in a place that is both gorgeous and fractured, a place I'm eternally homesick for. The place where I was born, and Corpus Christi, call to me because they are both inspired and in transition. And so am I.
From the July 2022 issue