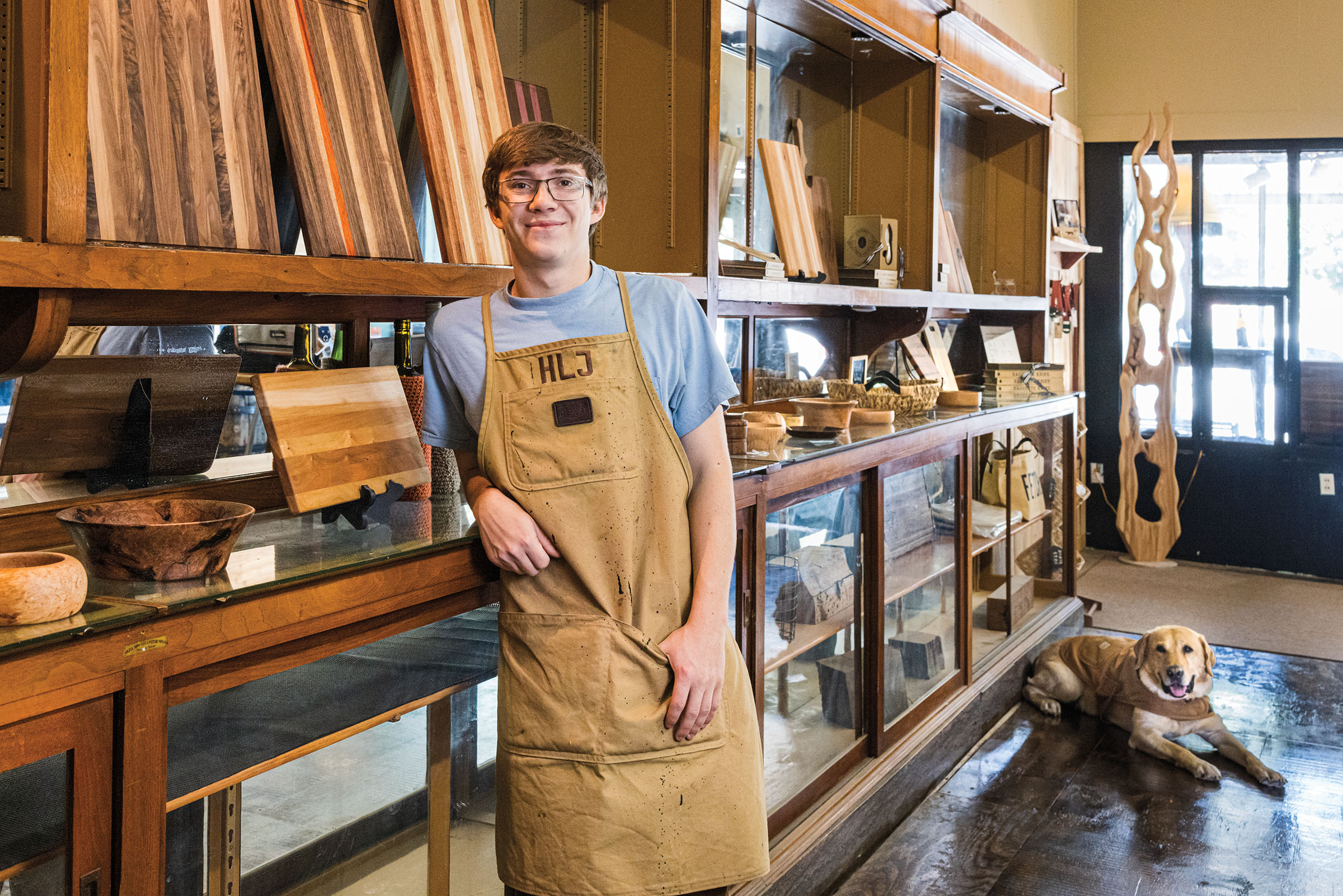 W
hen the door to Hank's on the Square in downtown Gilmer opens, the sweet scent of wood shavings wafts across the room. In his workshop, Hank Jenkins, 20, turns bowls on a lathe, creates charcuterie and cutting boards, and builds custom creations such as cornhole boards. The front of the shop displays his work and other gift items, while he and Butters, his 5-year-old yellow Labrador retriever, live upstairs. Jenkins, who grew up 8 miles west of town in rural Upshur County, opened his shop in October 2021, adding another local draw to Gilmer's square. Gilmer was founded as the Upshur County seat in the mid-1840s thanks to its location at the center of the new county. The town was a cotton-ginning center and in the late 19th century became a hub of sweet-potato farming. Though yams are no longer a signature crop, and many locals now work in the nearby cities of Longview and Tyler, Gilmer celebrates its agricultural heritage every October with the East Texas Yamboree.
Downtown Squared
"My family has lived in and around Gilmer for three generations. From all the other town squares I have been around, I think we have the coolest one. I might be a little biased, of course, since I live here. I've noticed many more young people walking around, and a lot more skateboarders. Several restaurants have opened on the square, and others, like Joe's Place, a hamburger joint, have been here forever. My dad ate there when he was in high school. We even have a sushi restaurant downtown, Sushi To's, that's pretty popular. And a coffee shop, Uncle Joe's Coffee, opened recently."
Chamber Man
"I joined the Gilmer Area Chamber of Commerce and am now its youngest-ever board member. The chamber has helped me out a lot; it has gotten me a lot more publicity. For example, I got an interview on a Tyler television station. And the chamber's Facebook page promotes all our local businesses, including mine."
Yamtastic
"The Yamboree was started in 1935 to celebrate the county's sweet-potato crop. It now lasts four days, attracting thousands of visitors. For me, the Yamboree used to just be the livestock show. I showed goats twice and then helped my buddy show chickens. But being downtown during last year's Yamboree opened my eyes to how many people come. It was shoulder-to-shoulder on the square. And now we have several other events, such as Art on the Bricks [in May], where local artists show their work."
In the Pines
"A lot of people, including me, enjoy going to Lake Gilmer, which is on Kelsey Creek in the Cypress River basin, a few miles west of town. There's fishing, swimming, and a lot of hiking and biking trails. I enjoy riding my mountain bike there. Then there's Barnwell Mountain Recreational Area, which is about 5 miles northeast of town. It is privately owned. Barnwell has trails for dirt bikes and ATVs, and there's an RV park as well as tent-camping sites."
Town Trivia:
Population:
5,270
Number of Stoplights:
9
Year founded:
1846
Nearest City:
Longview, 21 miles southeast
Marquee Event:
East Texas Yamboree, Oct. 19-22
Map it:

Historic Upshur Museum, 119 Simpson St.
Life After High School
"I have been out of high school a little over a year. A lot of my friends, like me, decided to learn a trade and didn't go to college, though some did. Some are becoming electricians or doing construction, while several do oil-field work in the Marshall area, or near Shreveport, or way out in West Texas."
That Small-Town Life
"Gilmer's size fits me just fine, though I had to adapt to living in town after living in the country my entire life. The trash truck comes early in the morning, often disturbing my sleep. But I enjoy being able to walk to one of the square's restaurants for a meal when I don't feel like heating up something in the microwave. Butters has become a familiar sight on the square when I take him for a walk. Butters' 'front yard' is the lawn around Upshur County Courthouse. I have customers who come into the store just to see Butters. The biggest plus for me is that I am close to most everything. I no longer have to drive 15 miles just to get to the grocery store, or to buy lumber, or most anything else I need."
From the August 2022 issue