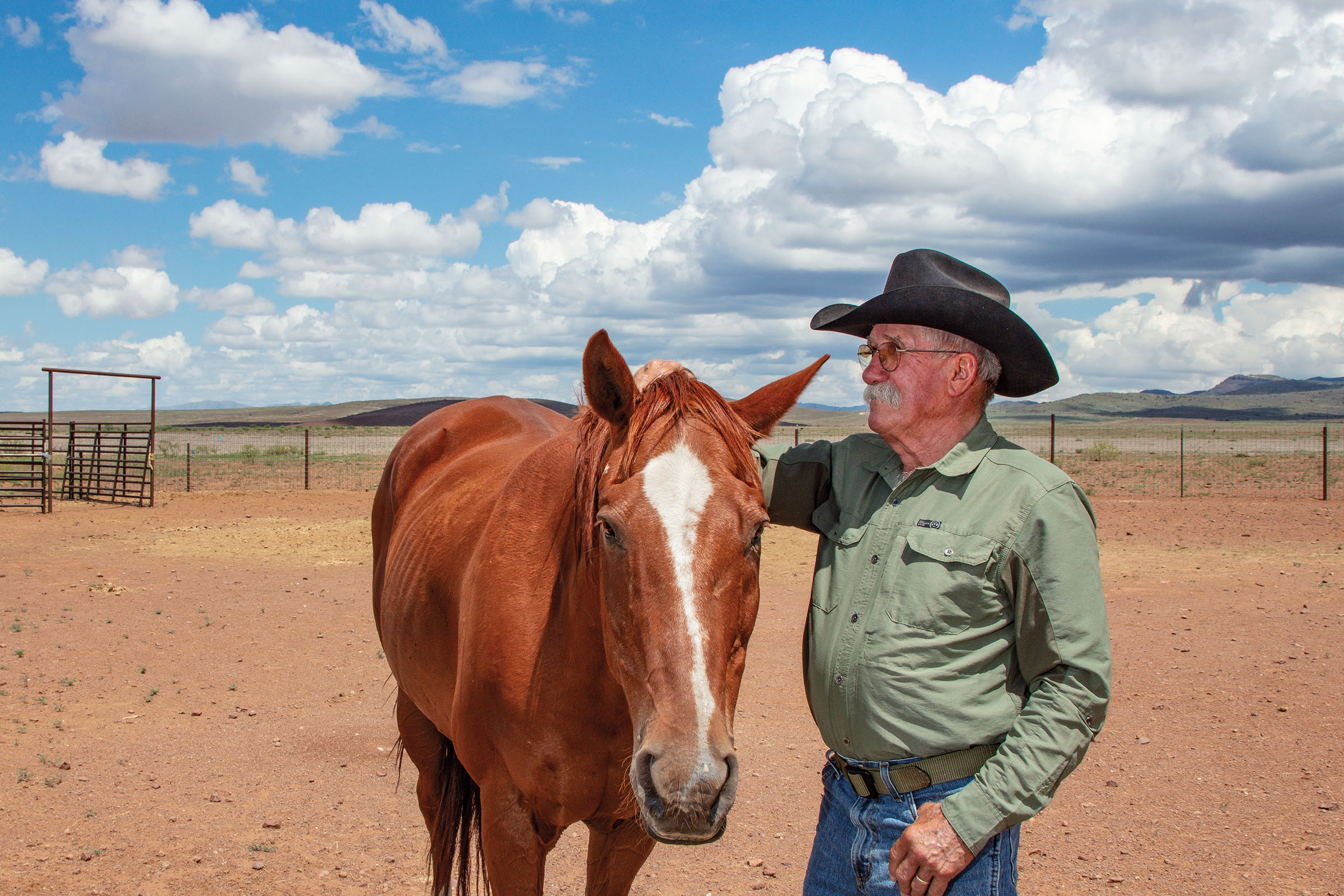 Other states were carved or born,
Texas grew from hide and horn.
Other states are long or wide,
Texas is a shaggy hide,
Dripping blood and crumpled hair,
Some fat giant flung it there,
Laid the head where valleys drain,
Stretched its rump along the plain.
Other soil is full of stones,
Texans plow up cattle bones.
—Berta Hart Nance
With her poem "Cattle," Albany teacher Berta Hart Nance won the Texan Prize at The Poetry Society of Texas' annual competition in 1931. "For several years this prize has been won with a poem on cotton," Nance wrote several years later. "I determined to try what I could do with cattle as a subject."
Nance, who grew up on a ranch in Shackelford County, was onto something: Her poem tapped into the cultural tradition of cowboy poetry, and to this day, poets recite "Cattle" on stages across Texas and the West.
Cowboy poetry was born in the trail-driving era of the 1870s, when cowboys herded Longhorns to northern railheads on such well-known routes as the Chisholm and Goodnight-Loving trails. To stave off boredom, cowboys wrote poetry about their work and repurposed old folk songs to fit their surroundings.
"Along the way, a variety of poem and song traditions were recalled, modified, reinvented, and regionalized," Utah professor David Stanley wrote in his 2000 book, Cowboy Poets & Cowboy Poetry, "particularly the verbal art of sailors and soldiers, largely English and Irish in origin, which combined with the songs and hollers of black cowboys and the corrido tradition of the vaqueros."
These poems and songs quickly entered the oral tradition of cowboy poetry. The authors were forgotten, but their words lived on, scuffed and polished through the years as they drifted from one reciter to the next. What's remarkable is that working cowboys still know these poems, and beginning with a revival of the genre in the 1980s, cowboy poets have been gathering in places like Alpine, Lubbock, Fort Worth, and Abilene to share their works, both traditional and new.
"At the first gathering that I attended, I was knocked out by, first of all, the honesty of the work I was hearing," recalls Andy Wilkinson, a poet and songwriter from Lubbock. "I was also very, very much taken by the fact that this was all acoustic. It was like a folk club of the '50s, only it was in the '90s."
The first person to collect cowboy poems and songs was Jack Thorp, a cowboy originally from New York City. In 1889, Thorp rode into a camp of Black cowpunchers in eastern New Mexico and heard one of the cowboys singing and playing banjo.
"The campfire flickered and fell," Thorp wrote in Pardner of the Wind, a book of his true stories published in 1945, five years after his death. "I knew there would be maybe half a dozen men sprawled around it, their day's riding done, supper over, and a banjo-pickin' cowboy to tell a story under the stars."
Transfixed, Thorp quit his job with the Bar W Ranch the next day to embark on a yearlong, 1,500-mile song-collecting journey across Texas and New Mexico. The result was his 1908 book, Songs of the Cowboys. It included Thorp's composition "Little Joe the Wrangler," which would become one of the best-loved cowboy songs of all time. Thorp's book was followed in 1910 by Texan John Lomax's monumental collection, Cowboy Songs and Other Frontier Ballads, which included an introduction by President Theodore Roosevelt.
Lomax's subsequent collection, Songs of the Cattle Trail and Cow Camp, was published in 1919 and included the poem "Lasca." Although many consider "Lasca" to be the definitive Texas poem, it was actually written by Englishman Frank Desprez, who spent three years on a Texas ranch in the 1870s before returning to London. The Montana Stockgrowers Journal first published "Lasca" in the 1880s, and it spread throughout the West. It recounts the tale of a Mexican beauty who saved her lover's life in a stampede:
I want free life and I want fresh air;
And I sigh for the canter after the cattle,
The crack of the whips like shots
     in battle,
The melee of horns and hoofs and heads
That wars and wrangles and scatters
and spreads;
The green beneath and the blue above,
And dash and danger, and life
     and love—
And Lasca!
"Lasca" became so popular that in 1919 The Newark Advocate in Ohio reported, "There is scarcely an American who has not read the poem, recited it, or committed it to memory." And in 1951, Mabel Major, a Southwestern scholar at TCU, said, "If you want to tell a native Texan from a refugee from the United States—that is, if he is over 50—just ask him if he knows 'Lasca.'"
With the advent of B Western films and Hollywood singing cowboys in the 1930s, cowboy poetry seemed to fade away. The nation was urbanizing, and poetry recitations gave way to new forms of entertainment. Authentic cowboy songs were overshadowed by country hits from Nashville. Then, in the 1980s, folklorists doing fieldwork on Western ranches discovered cowboy poetry was actually alive and well. Cowboys were still reciting and singing old classics, and ranch folks were writing poetry about their lives.
In 1985, the first Cowboy Poetry Gathering was held in Elko, Nevada, bringing together bona fide cowboy poets, reciters, and singers. Red Steagall, the beloved musician and poet who lives in Azle, attended the first Elko gathering. "I fell in love with that art form," says Steagall, who in 1991 was named the "Official Cowboy Poet of Texas" by the Texas Legislature. "I realized that those are the people that I want to talk to. So, for five years I didn't write another song. I wrote nothing but poetry."
On the Trail of Cowboy Poetry in Texas
There's something about hearing the spoken word from the stage that brings poetry to life. I've been attending and performing at cowboy poetry gatherings in Texas for over 25 years, hooked early on by the energy and camaraderie between the reciters and the audience. Here are my favorite gatherings in the state. —A.H.
The Red Steagall Cowboy Gathering at the Stockyards in Fort Worth.
Oct. 22-24. redsteagallcowboygathering.com
Texas Hill Country Cowboy Gathering in Fredericksburg.
Oct. 23. texashillcountrycowboygathering.com
The Lone Star Cowboy Poetry Gathering at Sul Ross State University in Alpine.
Feb. 18-19. lonestarcowboypoetry.com
Cowboy Poetry Under the Stars at the Western Heritage Classic in Abilene.
Held annually in May. westernheritageclassic.com
Not long after the first Elko gathering, Nevada buckaroo Waddie Mitchell performed on The Tonight Show, and regional gatherings started taking shape across the West. In West Texas, the Texas Cowboy Poetry Gathering held its inaugural event at Sul Ross State University in Alpine in 1987.
Texas cowpunchers with a gift for poetry began coming out of the woodwork. Larry McWhorter, the son of cowboy and Texas Playboys fiddler Frankie McWhorter, grew up in the Texas Panhandle and wrote poetry that pulled from his own experiences and those of old-timers. McWhorter captured the code of the Texas cowboy in words like:
The other boys called him
      an old windbag
His tales just an old man's prattle.
But there was a time he could do
      a day's work
On horses we couldn't saddle.
Joel Nelson was working on the 06 Ranch near Alpine when he read about the first Elko gathering in Western Horseman magazine. Nelson had loved poetry since he was a boy and tried his hand at writing verse during his service in the Vietnam War.
"I started hearing a little bit of poetry from that first gathering and I thought, 'I can do better than that,'" recalls Nelson, who helped found the Alpine gathering and has become one of the most respected voices in the genre.
Another Texas poet who garnered national attention is the late Buck Ramsey, of Amarillo. Ramsey cowboyed in his youth but was confined to a wheelchair after a horse wreck left him paralyzed from the waist down. When he discovered cowboy poetry gatherings, he began reviving old songs and writing poems that challenged the traditional forms while staying true to cowboy lingo.
The 1990s and early 2000s were prolific years for cowboy poetry in Texas, although we lost several of the genre's leading lights. Ramsey and Larry McWhorter both passed away—in 1998 and 2003, respectively—but not before cementing a legacy of written words that will be recited for generations. Nelson, who now runs the Anchor Ranch near Alpine, continues to write original poetry and recite classics, including "Anthem," the venerated poem by his friend Ramsey:
And in the morning I was riding
Out through the breaks of that long plain,
And leather creaking in the quieting
Would sound with trot and trot again.
I lived in time with horse hoof falling;
I listened well and heard the calling
The earth, my mother, bade to me,
Though I would still ride wild and free.
And as I flew out on the morning,
Before the bird, before the dawn
I was the poem, I was the song.
My heart would beat the world
     a warning—
Those horsemen now rode all with me,
And we were good, and we were free.
And so the tradition continues.
From the September 2021 issue