Sedrick Huckaby is a Big Momma's boy. The Fort Worth contemporary artist is devoted to the spirit of his late grandmother, Hallie Beatrice Carpenter, or "Big Momma," and finds inspiration in her century-old home. Located in Fort Worth's Polytechnic Heights neighborhood, or Poly to locals, the house's raw shiplap walls are adorned with Huckaby's paintings of family and neighbors. Huckaby creates works here, but next year the space will take on new life when Huckaby opens it as a project space for artists, tentatively called Big Momma's House.
Two Sedrick Huckaby paintings are on display at UT-Austin's Blanton Museum of Art—Big Momma's House: Living Room, through this summer, and The Family: Rising Sun, until fall 2020. His work is regularly on view at Valley House Gallery & Sculpture Garden in Dallas.
After attending college on the East Coast, Huckaby came back to his native Texas to make art about his people, alongside his wife, Letitia Huckaby, a photo-based artist. A University of Texas at Arlington art professor and 43-year-old father of three, Huckaby draws, makes prints, sculpts, and does installations, but painting is his predominant form. He applies thick layers to canvas in a technique called impasto. It's a style that attracted former President George W. Bush, a budding artist, to enlist Huckaby as a teacher. Huckaby's low-key demeanor is at odds with his credentials. He was the recipient of a 2008 Guggenheim Fellowship and this May was a finalist in a National Portrait Gallery competition. The San Francisco Museum of Modern Art, Whitney Museum of American Art in New York City, and Museum of Fine Arts, Boston, all collect his work.
A rooster crows outside as Huckaby imagines Big Momma's House taking shape as a project space. In one room are pews configured to resemble a chapel, where he envisions hanging paintings of abstracted figures. In another room are wire birdcages intended as a statement on incarceration. And in a third, 101 tiny sketches depict people he encountered on the street, a project called The 99%. Huckaby says the lithographs, completed in 2013, changed the way he approaches art.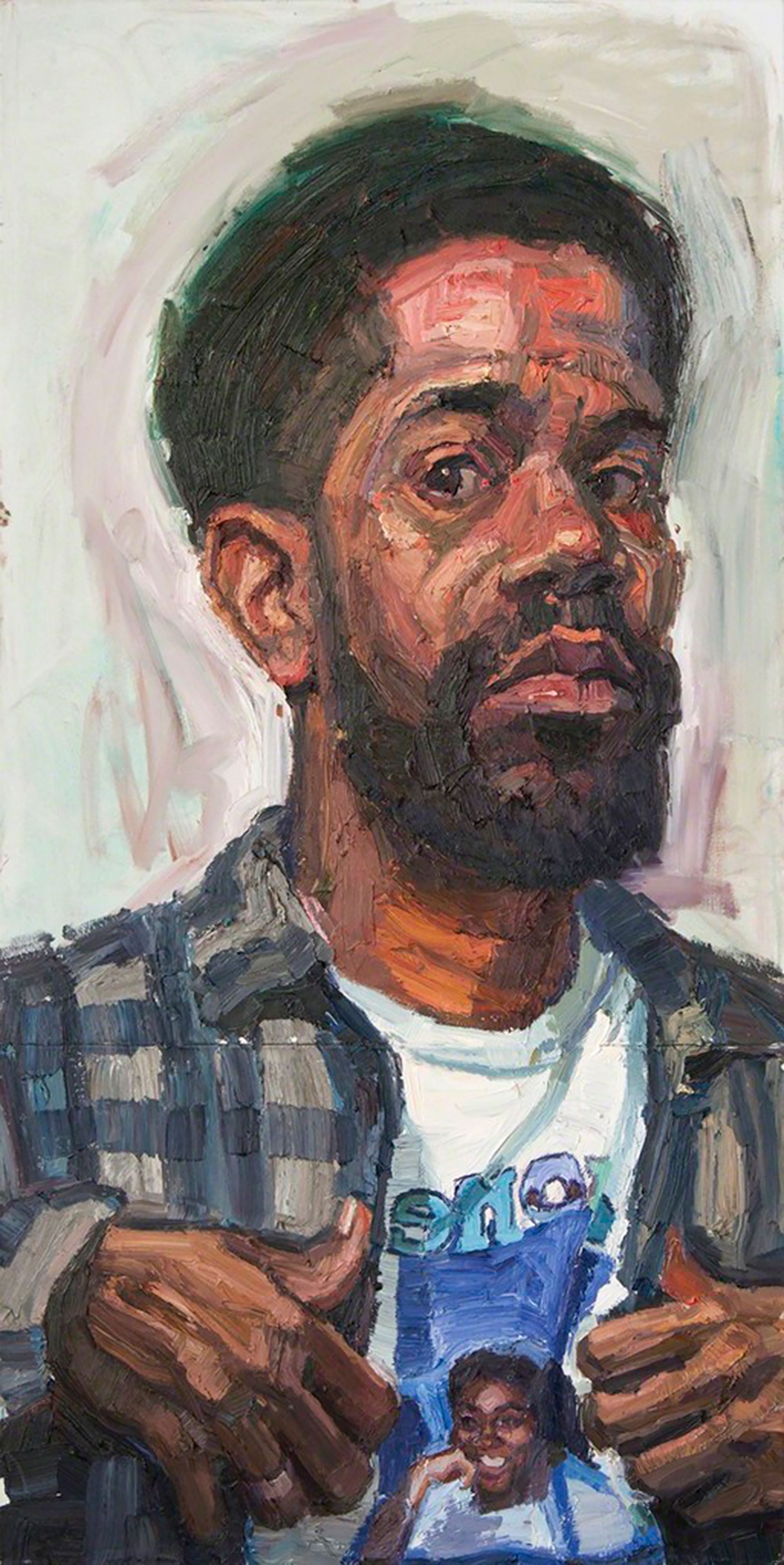 Q: What is The 99% project?
A: Highland Hills is the neighborhood I grew up in. It's a predominantly black neighborhood in south Fort Worth. It's rather small. There's one way in and one way out. This project was about hearing their voices. I went around drawing people and talking to them, and I would take little quotes from different ones and put them on the drawing. Somewhere along the line, I discovered I like drawing, painting, and sculpture, but I also like social engagement. I think art can be more than just making objects of contemplation. I'm discovering that now.
Q: Where did you get your start as an artist?
A: Like many of the kids in my neighborhood, I played basketball and street football. But I also participated in a lot of the programs that we had. We had a rich cultural legacy with groups like Imagination Celebration [a youth arts advocacy nonprofit now called Imagination Fort Worth]. I took my first painting class with them at the Modern Art Museum of Fort Worth during middle school. They had classrooms set up in the back of the Modern, and they would have a professional artist come in and teach painting. There was a lot of diversity of things like that.
Q: What is the focus of your work?
A: Usually I deal with issues of family, faith, and community. It's important to tell the stories of the people here. When was the last time you heard somebody mention Fort Worth on the national stage? You might hear Dallas. I think that in every city, in every state around the U.S., there are these small pockets, communities that you really just don't hear from. This is the place I know. It's about sticking a microphone to them and saying, "What are we here?"
Q: In 2008, you did a series of paintings and drawings capturing the final scenes of your grandmother's life. Why are Big Momma and this house important to you?
A: She was a person who was central to the family's unity. This house is where people would gather at the holidays, and everybody felt very welcome. As I've worked here and had to remove the carpet and take the sheetrock off the walls, you just start to really unveil the whole idea and thought of this space. There are all the memories that we have as a family. But the house was originally built in 1900, well before we ever came. So you see the histories of all of these people that have come and added to this place. You'll see spots where doors were boarded up and windows were in different places. And so it becomes not just the memories that I have, but a discovery of lives lived.
Q: What are your plans for making this house a project space for artists?
A: I'll probably start with three artists in the first year who have ideas about how to engage the community and let them do a project here. I'm interested in artists who have that kind of mindset of not just enlivening the community and not just bringing a cultural beauty and an enhancement to the community, but who can also help to elevate it and transform it.
Q: What's an example of that?
A: There was a lady I talked to for The 99% project who talked about a community orchard. I think it's a biblical idea that has to do with gleaning. When they would plant the fields, they would leave the corners of the fields for anybody who might be in need to just take what they need at the corners. And so she had an idea about a kind of gleaning garden. It was an orchard. It would just be a lot where trees would grow, and in due season people could pick fruit from it. And I thought, huh, that's interesting. There are people with all sorts of ideas out there, and they just need to be taken seriously.
Q: What was it like working with President Bush?
A: He was naturally drawn to using a lot of paint. I would try to show him about the use of impasto or glazing or wet-into-wet, or whatever kind of technique that seemed like it would be helpful, and just offer my critique. He is a pretty courageous artist. One of the things you want students to do is work on their own. And every time I would come, he'd have three or four things he was working on. I distinctly remember how easy he was to teach and willing to jump right into a lesson and not hesitate.
Q: What are some of your favorite spots in Fort Worth?
A: The Botanic Garden is great. I like that it has a balance of both manicured areas and areas that are less manicured and a little more natural. They have these wonderful Japanese gardens. It's like a world, and then there are worlds within that world. The museums are really great: the Amon Carter, the Modern, the Kimbell, the Community Arts Center. In that area there's also the Casa Mañana Theatre and the Museum of Science and History. So the whole Cultural District over there is great. There's also this wonderful bike trail along the Trinity River that goes for miles and miles. I don't even know where it stops.
From the August 2019 issue