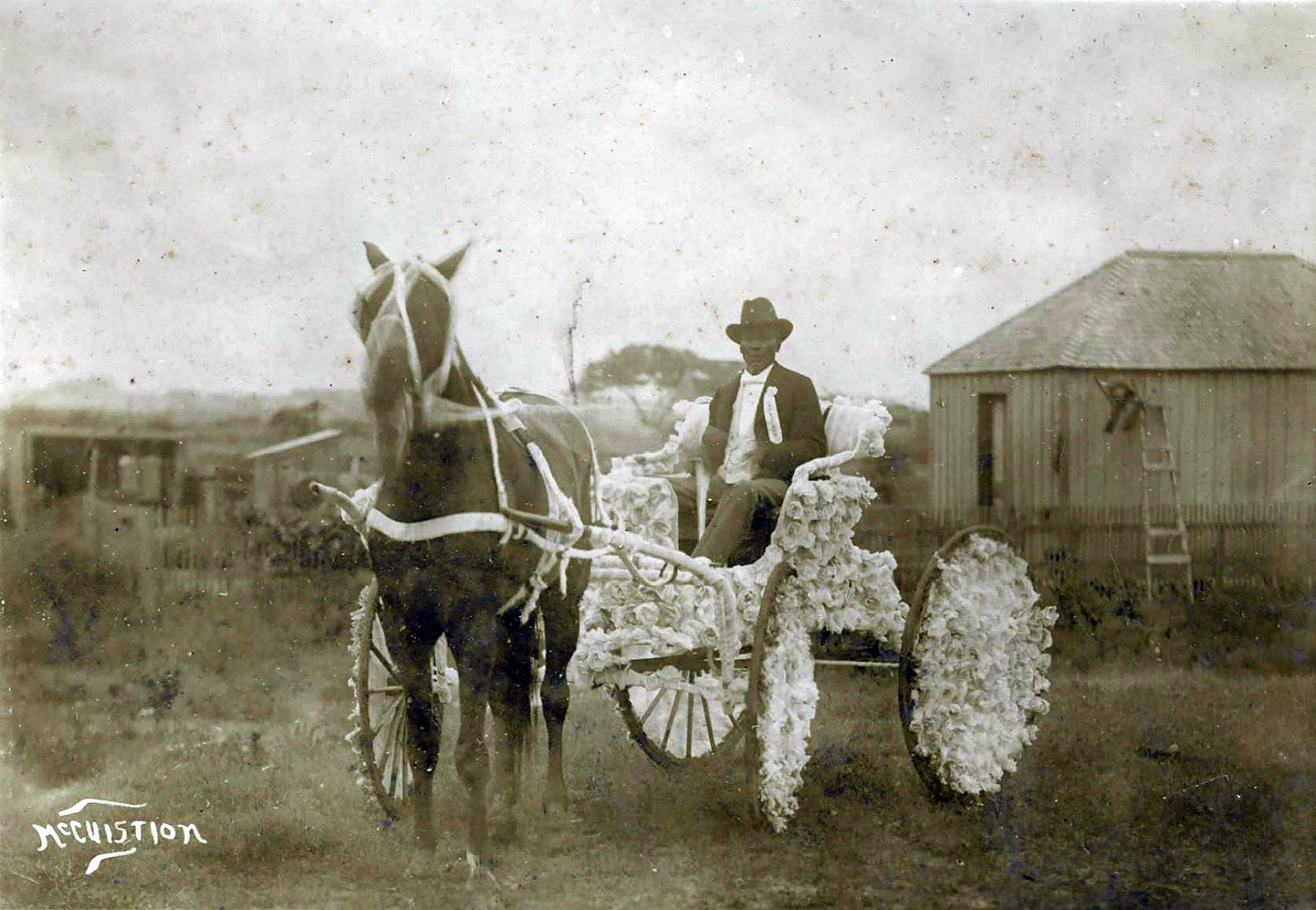 Juneteenth:
A Visual History
By Traces of TexasAbove photo: Mr. Daniel. N. Leathers Sr., in a decorated carriage.
Leathers, born into slavery in North Carolina in 1855, moved to Corpus Christi, became a successful merchant, and was involved in state politics. A public housing development in Corpus Christi named in his honor was demolished in 2017 to make way for the Harbor Bridge.
Courtesy DeGolyer Library, Southern Methodist University
In June 1865, Major General Gordon Granger arrived in Galveston, along with 2,000 federal troops, to occupy the former Confederate state. On June 19, Gen. Granger issued several general orders—among them, orders that declared the state government of Texas illegitimate, that Confederate soldiers and officials must report for parole, and that cotton was to be bought and sold with government oversight. General Order No. 3 pertained to the institution of slavery in Texas.
The full order reads:
"The people of Texas are informed that, in accordance with a proclamation from the Executive of the United States, all slaves are free. This involves an absolute equality of personal rights and rights of property between former masters and slaves, and the connection heretofore existing between them becomes that between employer and hired labor. The Freedmen are advised to remain at their present homes, and work for wages. They are informed that they will not be allowed to collect at military posts: and that they will not be supported in idleness either there or elsewhere.
By order of Major-General Granger, F.W. Emery, Maj. & A.A.G."
This order was delivered to enslaved African Americans in Galveston two and a half years after the Emancipation Proclamation was issued in Washington.
Many of the formerly enslaved people who heard the news left plantations and headed north. Those who remained in Galveston, however, marked June 19 the following year with a celebration. The day was dubbed Emancipation Day but, slowly, the term Juneteenth—a portmanteau of June and 19th—took hold. Celebrations and recognition of the day began to spread to neighboring states.
Representative Al Edwards, a Democrat from Houston, introduced a bill in June 1979 that called for Juneteenth to become a state holiday. The legislature passed the act in 1979, and Republican Governor William P. Clements Jr. signed it into law. The first state-sponsored Juneteenth celebration took place in 1980.
On June 17, 2021, President Joe Biden signed legislation into law making Juneteenth a federal holiday.
Part 2:
Juneteenth Celebrations
Part 3:
Stories of the Formerly Enslaved